⏳ The TL;DR.
The Braintrust community has grown from 50k to over 700k in just the last 2 weeks!
Congrats to Curve Health, Guardian Life, Cisco, Solana Labs, Pacific Western Bank, TaskRabbit, Goldman Sachs, Endaoment, and more awesome clients who have hired recently on Braintrust!
Braintrust proves why fees matter by showing how much traditional talent marketplaces and agency models take away from user earnings. Spoiler: it's a lot.
Co-Founder Adam Jackson on Forbes: it's time to forget hybrid work and embrace distributed work.
Connect, learn ways to earn BTRST, and stay up to date with all things Braintrust by joining the conversations there: Discord and Telegram.
Want to be a part of this movement… full time? Braintrust is hiring for Social Media Manager, Senior Product Manager, Talent Operations & Matching, Senior Product Manager, Talent Experience, and a Crypto Community Lead!
Co-Founders Adam Jackson and Gabe Luna-Ostaseski give a behind-the-scenes look at what's been going on at Braintrust, plus answer some of the most common questions:

💸 Client Updates.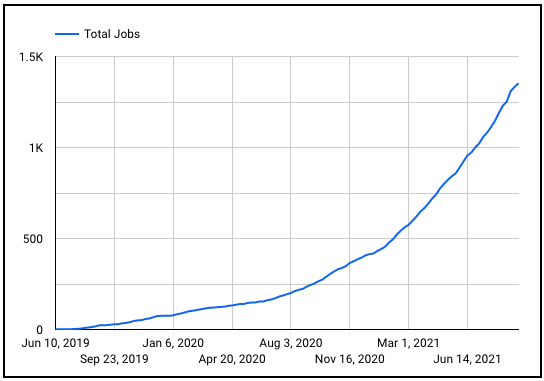 Total jobs on Braintrust over time.
Looking to get hired? Check out all the opportunities on Braintrust with these awesome brands: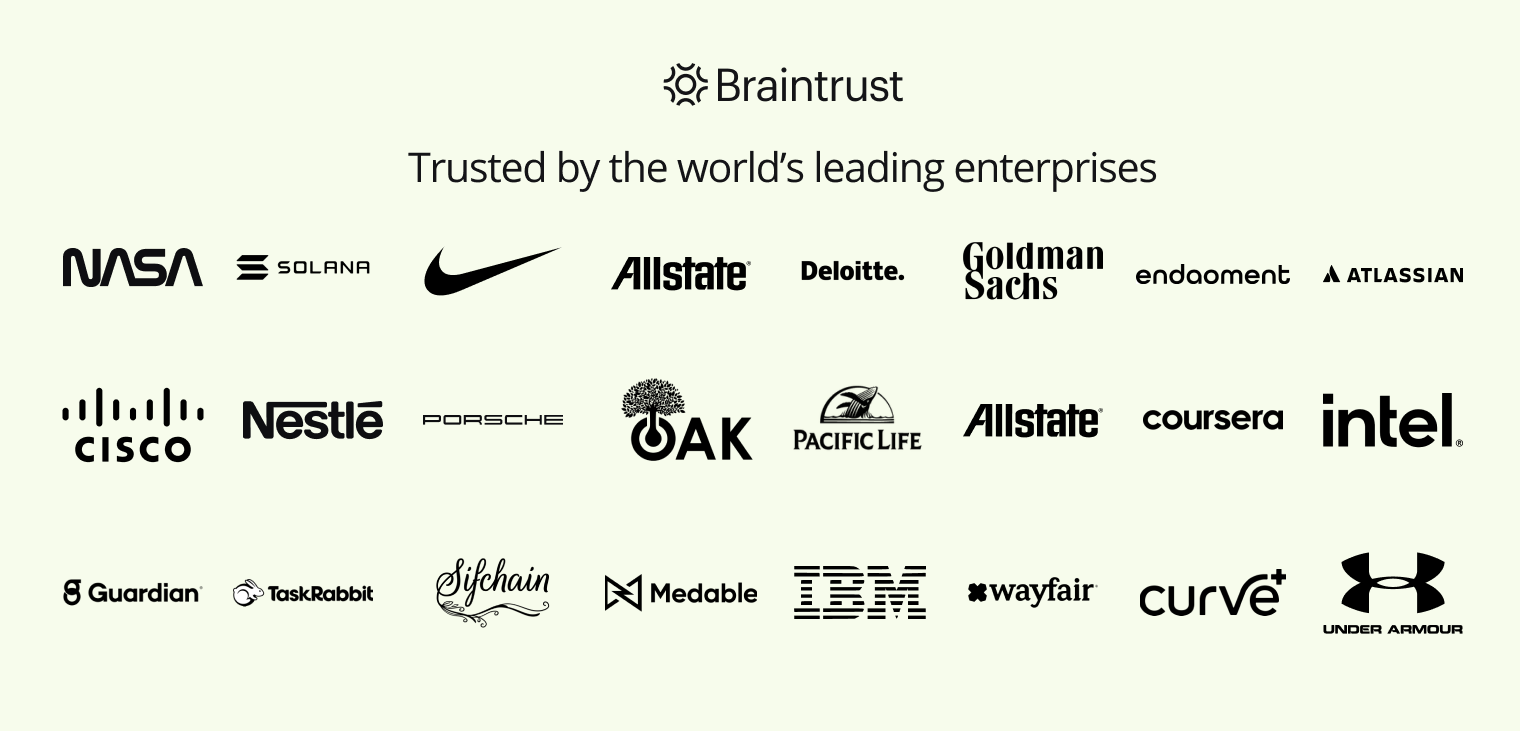 🦄 Network Growth.
Transparency is a given on Braintrust, so we're going to level with you.

Since the Coinbase listing, Braintrust has experienced a rapid increase in bots attempting to take advantage of BTRST-earning opportunities. Thanks to our robust security and authentication protocols, they have not been successful. However, they have created a bit of a spam traffic jam that's making it hard to share numbers right now. So until we can completely clear it up, we're pausing on reporting on Total Talent. We can't wait to get back to sharing this with you soon!

Let's highlight a few amazing talent on the network who've recently landed jobs! If you're looking to do the same, take a look at their profiles and grab some inspiration for how you can improve yours to better tell your unique story and highlight your strengths.

📝 Hot Off the Presses.
How much do talent really lose to profit-seeking middlemen and outdated talent platforms? Everyone knows they charge exorbitant fees, but how big is the impact of this wage rake?

Turns out, pretty big. Check out the latest blog, Why Fees Matter, to see the incriminating details: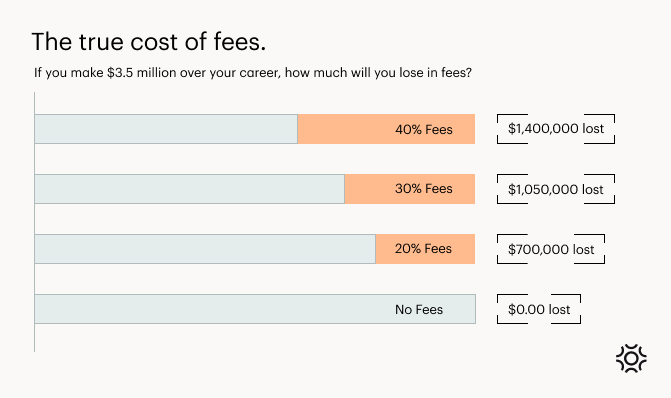 This kind of profiteering and wage abuse is why Braintrust was founded. Workers deserve to keep their hard-earned money, and the simple truth is that you don't need to charge these fees if you have a smarter system that values equity and ownership. Why Fees Matter is the first in a series of blogs about the Braintrust whitepaper that breaks down the unique ways that this network model is better, fairer, and will be more successful than anything else out there. Check it out.

Some more food for thought:
👪 Community Spotlight.
In the last 2 weeks, the Braintrust community has grown from 50k members to over 700k. That kind of growth is absolutely out of this world.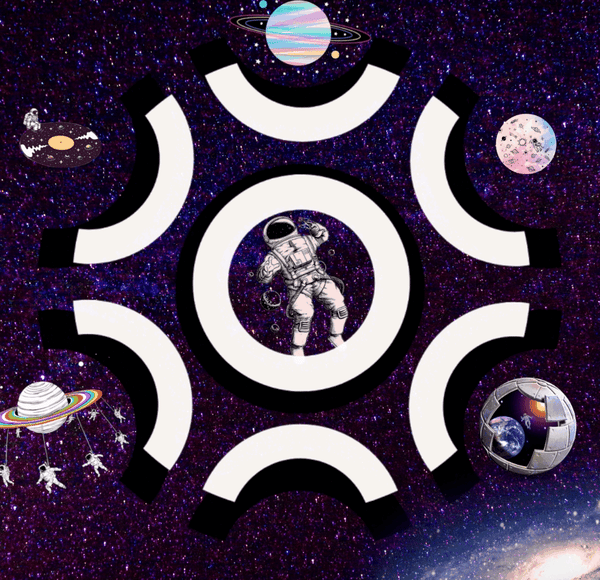 A fun icon gif from the community!

And while Braintrust is incredibly excited about all the new members who are excited to join this movement, the focus is (as always) on ensuring that this community remains a place of learning, connection, and development for the incredible freelancers who build it.

As such, the following projects are all top priority:
Continued focus on community events like profile and proposal reviews, new talent onboarding, how to withdraw BTRST tokens, and more.
Running creative bounty programs that give network members more fun opportunities to earn BTRST - like the icon bounty you see above!
Building more support documentation in the help center and ramping up more community members to help field common questions.
🏛️ Network Infrastructure.
Last week's growth report announced that BTRST withdrawals are live!

This is exciting news, but the process is a little more complicated than some users are familiar with - particularly those who are new to the crypto space. So in addition to that helpful graphic shared last week, Infrastructure is hosting a special event to break down how to withdraw BTRST and answer all the most pressing questions about the process.
Because, let's be honest, sometimes crypto can be confusing and there are a lot of new terminology and security protocols to get familiar with. But that will never be a reason that Braintrust users can't access their tokens.

And because helping is Instrastructure's love language, they're working with other network users to build out even more useful documentation in the Help Center, including:
Withdrawing BTRST Tokens (available now!)
How to get approved as a Talent on Braintrust
How to regain access to the Braintrust Telegram group
Understanding referral rewards

💻 Product Improvements.
Onboarding communications are about to become better-timed, better-looking, and just all-around-better. And not a moment too soon!

With thousands of new users signing up for Braintrust as Talent, clients, or connectors, Braintrust is pushing out new and improved onboarding communications to help new users get acquainted with the product. If you're one of those new users receiving these brand new emails… well then lucky you!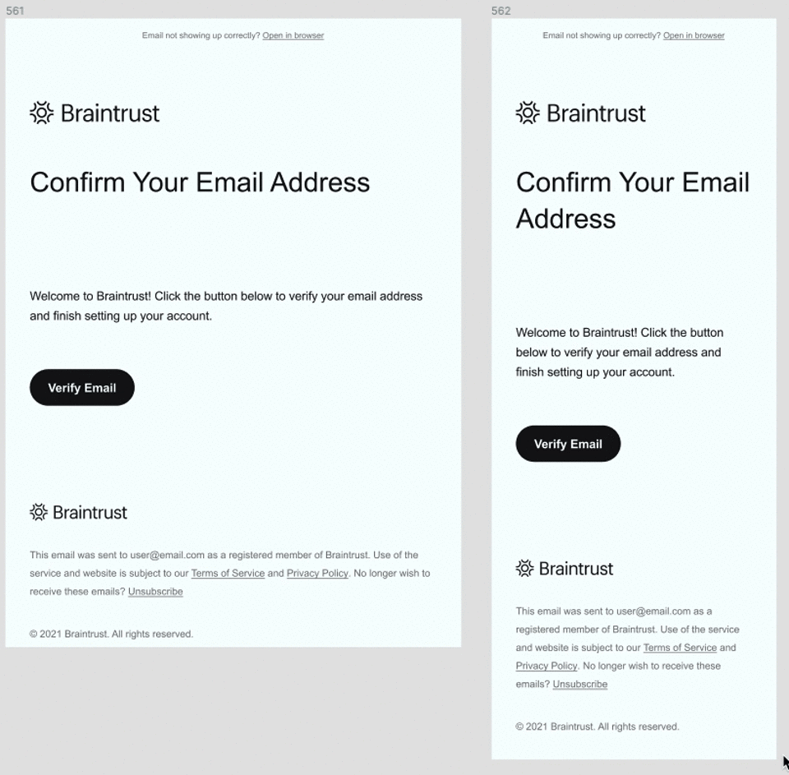 A quick look at the new and improved email templates.


Other notable Product updates this week include:
Developing a new referral sign up process
Updating the Talent home page
Nudges to complete your profile
👤 Living Braintrust's Values.
One of Braintrust's values is to be community-driven. And that value has been on display in spades! With a massive influx of new users, there have been a ton of questions to answer and work to do to help acquaint them with all things Braintrust. Let's take a moment to recognize how this community has rallied together to make the experience here great for everyone!


A note of thanks from one community member to others!

🚩 Weekly challenges and red flags.
The BTRST token launch and listing has really put Braintrust on the global stage. This is fantastic news and a huge growth catalyst for the network! But it also means there are a lot more questions that need answers, more accounts that need attention, and unfortunately some spam attempts to block. The challenge is balancing all this while still delivering what Braintrust is known for: quality jobs, individualized care and concern, and a supportive