Talent is everywhere. Opportunity, unfortunately, often is not.
That's why Braintrust was created: To spread economic opportunity more equitably around the world as the first user-owned, decentralized talent network — one where 50% of the talent come from more than 150 countries outside the United States.

Coinbase gets that mission. In fact, it has a similar one: To increase economic freedom in the world. Which is why it's the perfect match for the BTRST token, used by talent to govern the network they make their living on, that just launched on Coinbase today. Read more about the Coinbase listing here.

Support from America's largest crypto exchange is another step toward achieving a true ownership economy, one in which you, the talent, own the value of your work.

Decentralization, brought to you through BTRST.
From day one, Braintrust has been committed to full decentralization. Everyone who has built the network has been working independently as contributors to the platform themselves. And through that collective effort, the Braintrust ecosystem has grown, now matching thousands of Talent with hundreds of Fortune 1000 enterprises paying out millions of dollars each month.
The secret behind that success: crypto.
Braintrust uses blockchain technology to create an immutable record of ownership and control over its network. That ownership is programmatically distributed to users — both the clients that offer jobs on the platform and the talent that fill them — in the form of the BTRST token, with each token signifying one vote in Braintrust's governance system.

BTRST token holders can discuss and propose ideas for improvement on the network, vote on change proposals, and stake their tokens as collateral to make their bids stand out in a competitive market.

That means more say over how you work, and how you are rewarded for that work.

The tokens can also be redeemed for special perks offered by other Braintrust community participants, everything from free or discounted software and products to career resources.

Earning BTRST through the Braintrust Connector Program.
In DeFi, liquidity providers play a crucial role by bringing in new users — adding new talent and clients who help set the initial price and supply of assets in the marketplace.
At Braintrust, anyone can join this community of "connectors" by signing up, and receiving a unique referral code, which they can use to bring in other talented people.

When those connector-introduced users begin participating in the marketplace, the Braintrust protocol automatically rewards the connectors with a percentage of the transaction price in BTRST tokens.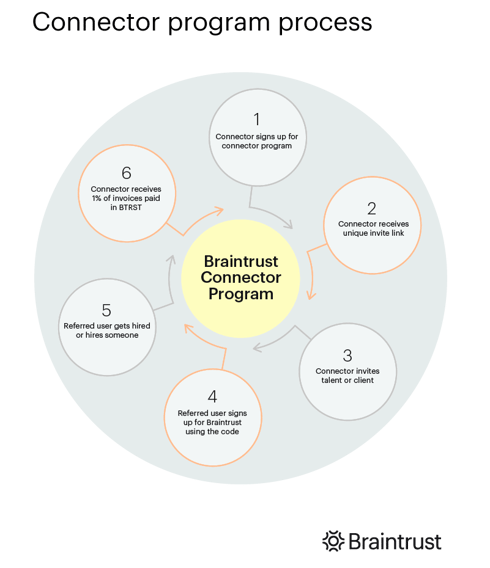 Tokens can also be earned in other ways, such as working to refer and vet new talent to the network or taking BTRST Academy courses to level up your career.

It's a simple, fair proposition: Do more to build the network, and you receive more tokens, meaning more say over the future of the network you make your living on.
BTRST is breaking big.
The Braintrust talent network is building a true ownership economy around the world through its use of BTRST.
Paying out millions in earnings to Talent. Gross Service Volume (GSV) on Braintrust has grown from $3.5 million in 2020 to a $30 million run rate in 2021, since coming out of stealth in June 2020.
Growing the community. The Braintrust community has surged to more than 50,000 people, with top knowledge workers — including designers, software engineers, mobile developers and others — from across the globe.
Partnering with top enterprises. In the last quarter, the Braintrust community has begun working with significant clients, from Goldman Sachs, WeWork, and Twitter to Nestle, Keller Williams, and AllState.
Want to get involved?
Stay connected on Discord and Twitter to hear the latest — and start earning tokens as a community member by helping build the Braintrust network.