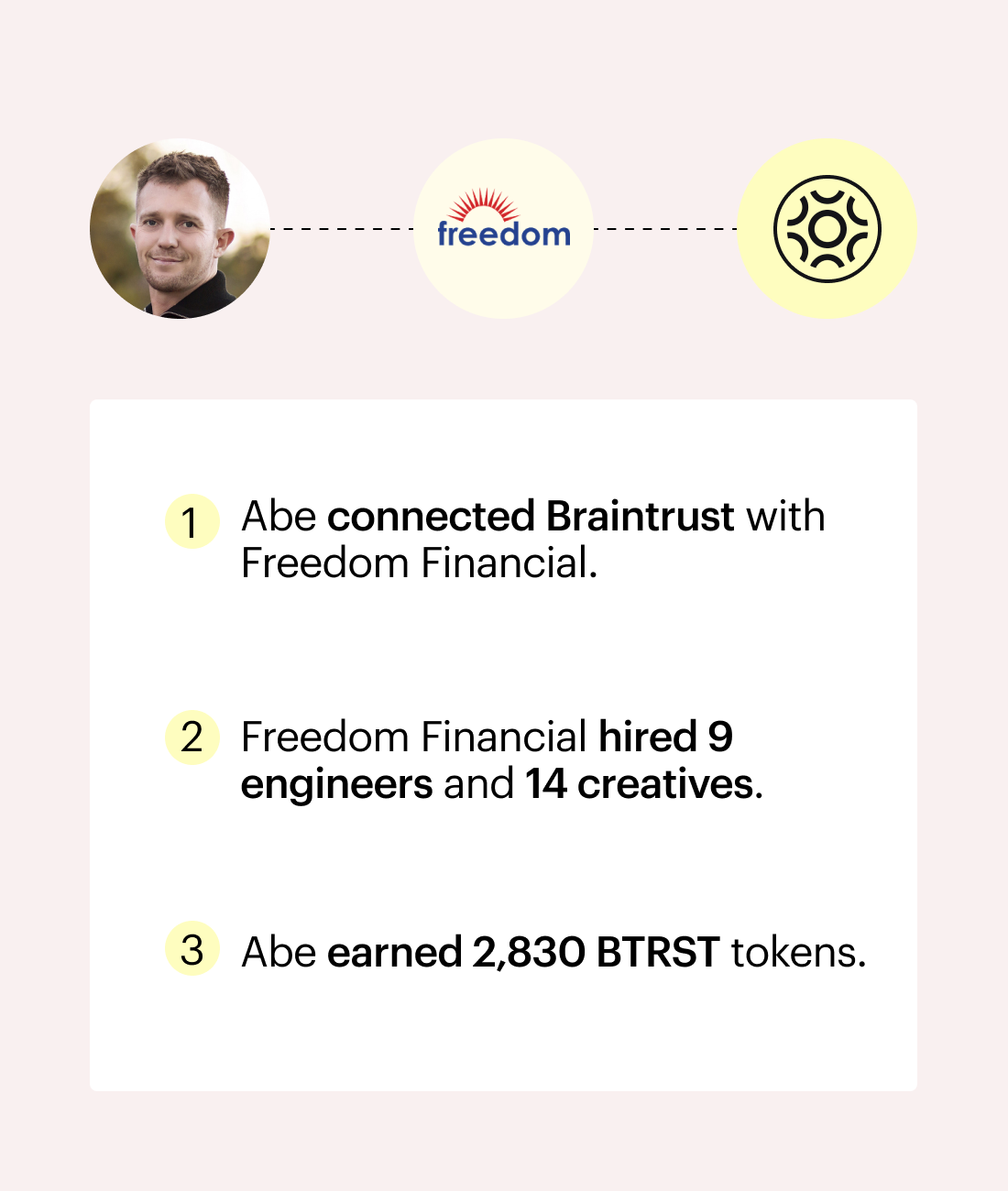 How it works in 3 easy steps:

Hop on a call with us to review your LinkedIn connections.
Make a few intros using our readymade templates.
Earn 2% of every invoice in BTRST tokens when your referral hires. Looking to refer Talent instead?
All you need is a Braintrust account and you'll receive a
unique referral link.
Braintrust is the decentralized talent network that enables companies to find, hire, and manage top tech talent for a fraction of the cost of agencies or other hiring solutions. We help companies save time by providing them with direct access to vetted, highly skilled talent and removing administrative burdens to hiring. We are built on the Ethereum blockchain and are powered by our native token, BTRST.
Who can refer clients to the Braintrust network?
Anyone! If you are connected to hiring managers across digital product, engineering, design, marketing, project management, or IT, then we'd love for you to join the Braintrust Connector Program.
What type of company should I refer to Braintrust?
You can introduce any companies that are hiring technical & design talent. Braintrust helps a range of companies, from early stage start-ups to crypto projects to Fortune 1000s, i.e., Nike, Goldman Sachs, Pacific Life, ConsenSys, Solana, NASA, The Dyrt, etc.
Who are the best contacts to introduce to Braintrust?
Hiring Managers (Manager, Director, VP) across digital product, engineering, design, marketing, project management, or IT.
C level executives.
HR / Talent Acquisition Leaders.
Don't have contacts with those titles? That's fine - previous or current clients / employers, ex-colleagues, friends, and anyone else in your network that is hiring are all great folks to refer to Braintrust.
How do I get started referring companies to Braintrust?
Fill out the Connector Opt-In form, and the Braintrust team will provide you with next steps and helpful resources.
If I have a company in mind, can I refer them immediately?
Yes! Please introduce them to Leeanna Lyman at leeanna@usebraintrust.com. If you would like sample messaging or if you have questions before making the introduction, please reach out via email or fill in the above form.
How much BTRST can I earn for referring clients?
When referring clients, you earn 2% of the total contract value for every individual that your referees hire. The reward is paid out in BTRST tokens. There is a $100,000 cap per client that you refer.
When will I receive my BTRST reward?
If the client you referred hires a contractor, you will receive your BTRST shortly after the client completes each invoice. Your BTRST will accumulate throughout the length of the contract.
If the client you referred hires a full-time employee, as a direct hire, you will receive the entirety of the BTRST reward shortly after the client completes the initial payment.
Where will I receive my BTRST reward?
The BTRST tokens will automatically deposit into your Braintrust Wallet. No action required on your end.