Braintrust just wrapped up a successful Q2, including impressive wins like a 46% growth in Talent in 3 months, a 14% increase in hourly talent earnings, the official launch of Governance, some incredible innovations from renowned clients, and much more. You can read about it all here from Braintrust founders Adam Jackson and Gabe Luna-Ostaseski.
⏳ The TL;DR.
You could sum up Braintrust's Q3 goals in two words: growth and decentralization.
Braintrust will continue to grow, including Talent on the network, clients hiring on the platform, and community members who are just excited about being part of the world's first decentralized, user-owned network. And there's a lot that goes into making sure that happens - and ensuring it goes smoothly.
Here's what Q3 has in store for Braintrust:
💸 Client Goals.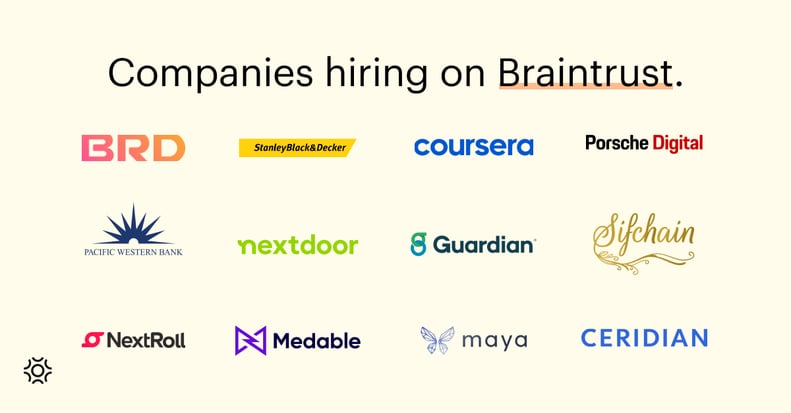 Just a few of the companies who hired on Braintrust in Q2.
If it were as simple as "get more clients", you could stop reading this right here (but it's not so please don't). It's not just getting more clients to sign on, but also increasing the number of jobs on the platform, the number of opportunities available to Talent, increasing network GSV (billings) and GCV (bookings), and improving job fill rate.
And while it seems like sales deals on Braintrust are as easy as ABC (Braintrust always be closing), there's a lot more that goes into it.
Here's how Braintrust plans to achieve client growth:
Aggressively ramp up the Braintrust Connector Program (read: a special referral program where individuals connect Braintrust with potential customers).
Improve job fill rate by relentlessly evaluating potential new roles and working with Talent Ops to improve matching. More matching = more organic client growth/expansion.
Boost client retention through Customer Satisfaction surveys and providing more hands-on support.

🦄 Network Growth Goals.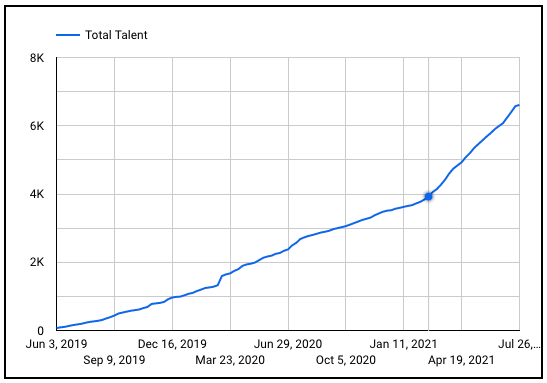 The growth of Talent on the network
What would Braintrust be without all the incredible talent on the platform? For Q3, Talent growth is a HUGE priority, along with making improvements to all the other stuff that makes their experience on the network positive: more jobs, increasing fill rate, and better job matching, etc.
To make that happen, these are the Q3 goals:
2x the number of new talent on Braintrust compared to Q2.
2x the number of job placements compared to Q2
Increase the rate that open jobs are successfully filled


And here are the tactics that the Community will implement to execute them:
Add 4 more dedicated Community Talent Sourcers to find and bring more awesome Talent into the network. (Interested in applying? Email talent-team@usebraintrust.com!)
Make Talent screening faster and more enjoyable by fine tuning the workflow and adding 2 more Community Talent Screeners to expedite the process.
Increase the accuracy and rate of talent-job matches by adding 2 more Community Talent Matchers.

📝 Marketing Goals.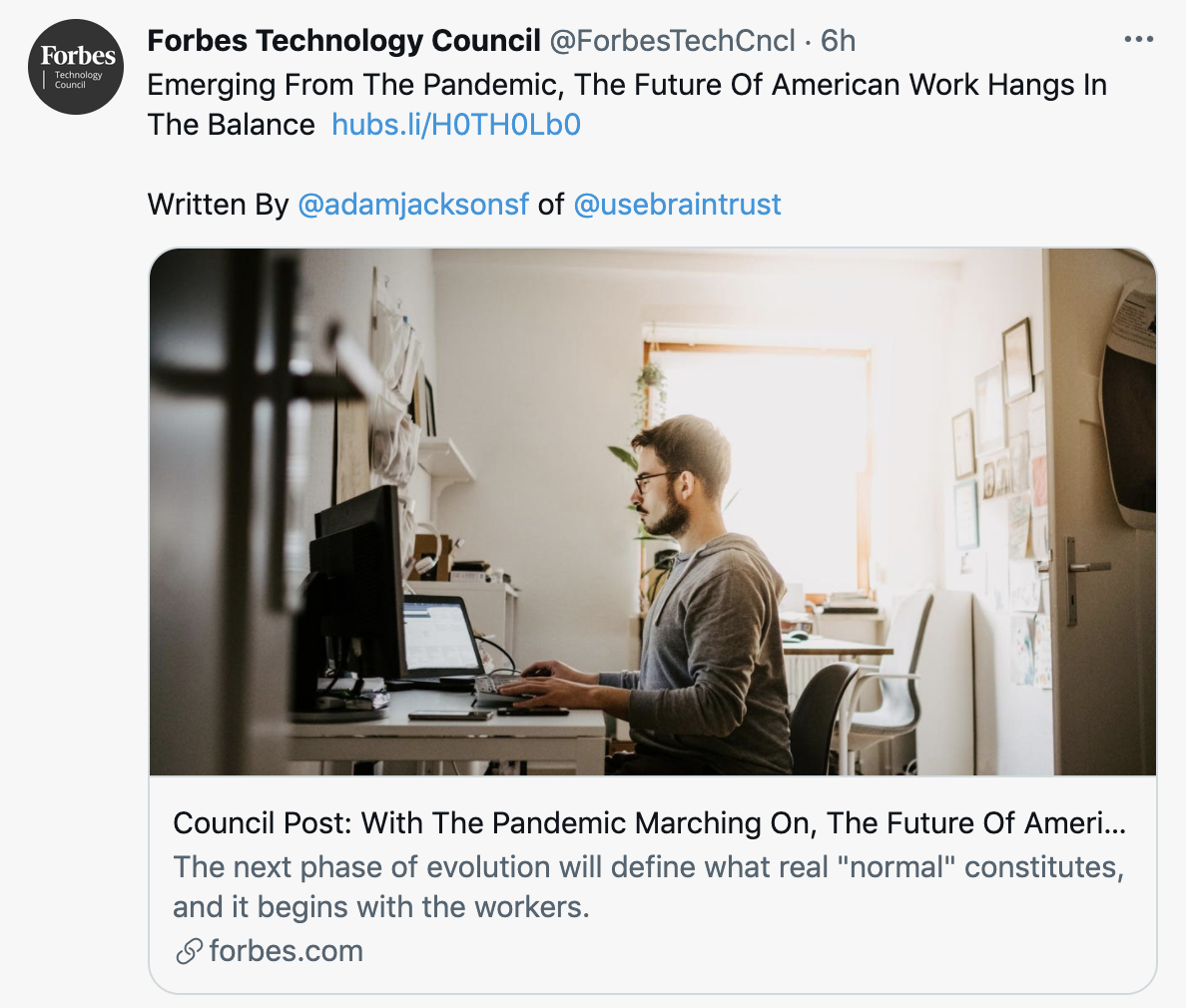 The latest from CEO Adam Jackson on Forbes.
Do people love Braintrust? Yes. Do enough people know about Braintrust? No. That's why Q3 is all about spreading the word about Braintrust and the network's mission, to bring in more talent, and to welcome new clients! Here's how:
Build a content machine and distribution engine that consistently cranks out helpful, inspiring, and actionable information about the Braintrust network.
Implement targeted marketing campaigns to find and attract more awesome Talent to join.
Get on the radar of more media by sharing valuable insights into topics like the future of work and the ownership economy. Friends introduce friends to more friends, right?


👪 Community Spotlight.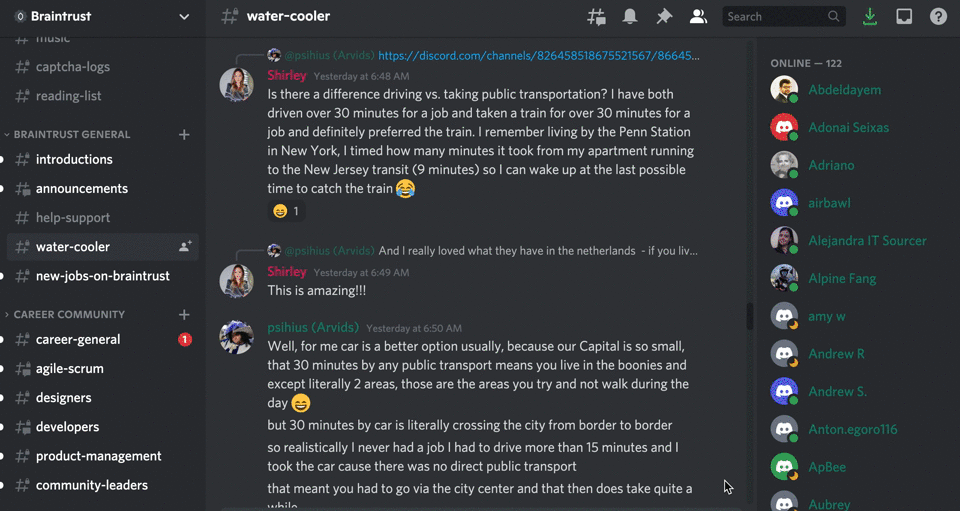 Join Braintrust on Discord to connect with amazing people and hear all the network news first!
Community is everything (but you already know that). And Q3 goals are all about empowering the community to do more, to own more, and to thrive in all its decentralized glory.
So get ready to see a lot of initiatives that empower the thousands of Braintrust users to take charge of their own careers AND the future of the Braintrust network, including:
Growing the Braintrust Discord server to 20k and empowering the users there to network, share ideas, and move positive changes forward for the platform.
Launch community-led development events (like profile and proposal reviews) and open up the monthly network updates to as many contributors as would like to be involved.
Create community groundswell initiatives (like increasing engagement on social

!) to empower Talent to share their stories about Braintrust to their audience - and bring in more talent in the process.

🏛️ Network Infrastructure Goals.
The bigger you want to build a house, the stronger the foundation has to be. It's the same with building a network, and infrastructure is the foundation that will enable this decentralized, user-controlled network to work function THRIVE no matter how big it grows (and it's going to grow BIG).
Here are 3 important infrastructure projects that need to happen in Q3 to ensure the long-term thrive-ability of Braintrust:
Mint the BTRST token. That's right, it's going LIVE in Q3. Soon, not only can you earn BTRST, but you can vote with BTRST, see how many people own BTRST, brag about your BTRST, and hold it in a real (digital) BTRST wallet.


Continue the path to decentralization by putting more power in the hands of the community, including: launching community-based support, testing community arbitration for dispute resolution, and start open sourcing the Braintrust platform.
Improve the client experience by building custom payment options, better invoicing capabilities, and granular permissions settings.

💻 Product Goals.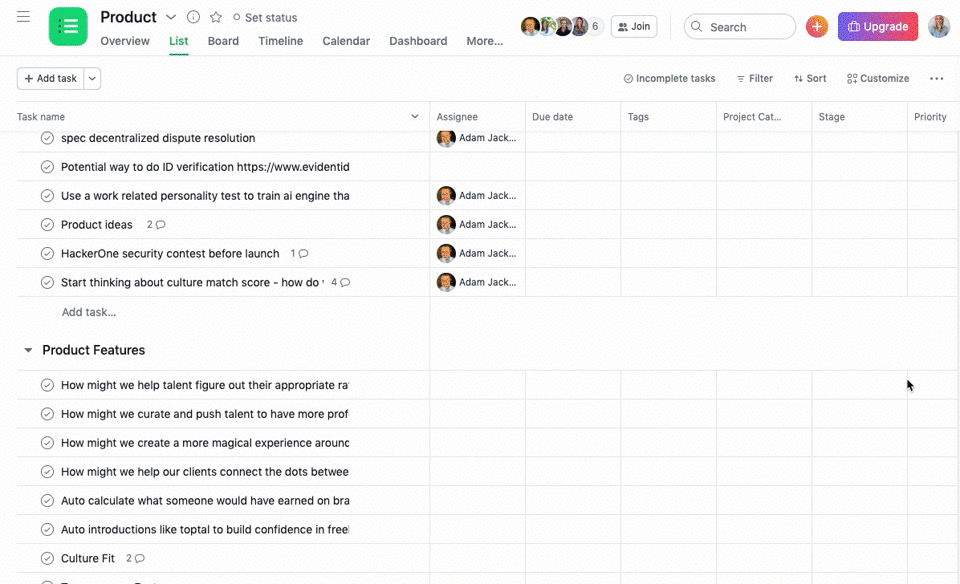 In case you were wondering, there are still a lot of ideas for changes to the product.
All the improving and fine-tuning and beautifying that product went through in Q2? Well it's just the tip of the iceberg. Q3 is all about improving the product experience. Because the product should help freelancers grow their careers and enterprises grow their businesses. And it should be easy and enjoyable to use.
So here's what's in store for product in Q3:
Improve the talent experience by streamlining onboarding, which will help improve fill rate and talent engagement in the process.
Improve the client experience by improving job matching and job discovery capabilities.
Start capturing product analytics to understand how users are using the product to identify other areas for improvement.

👤 Braintrust HR + Culture Goals.
One of the hardest things to implement for a fast-growing network is a core culture and HR best practices. After all, talent growth basically is never-ending onboarding and you're adding new personalities to the culture every day. So how can HR + Culture positively impact the network and ensure it stays focused and a positive place for all users in Q3 (and beyond)?
Here's how:
Make rapid network scale a breeze by streamlining processes and procedures. Q3 is all about enabling people to collaborate in a frictionless fashion
Improving the processes and frequency by which people can provide feedback. This way, Braintrust can stay focused on what it's users want/need/care about.
Foster a culture of trust, learning, and growth by hosting events that empower users to do just that.

🚩 Quarterly challenges and red flags.
The path to decentralization is not linear. There are a hundred different things Braintrust needs to build to ensure that the user base who owns the network has access to the tools and information they need to steer this rocket ship. So if it feels like there are a hundred different things going on at Braintrust, that's because there are.