⏳ The TL;DR.
Freedom Financial Network, Twitter, MyFitnessPal, Guardian Life, Oak Security, Fabric, Datacamp, and more hired on Braintrust last week!
Protocol called it. Braintrust is putting the job market on the blockchain and fixing what's broken in the way we hire.
Governance is in full swing on Braintrust, and token staking is on the ticket!
Job discovery is getting an upgrade on Braintrust, and the community is making sure it's perfect.
Connect, learn ways to earn BTRST, and stay up to date with all things Braintrust by joining the conversations on Discord and Telegram.
Want to be a part of this movement… full time? Braintrust is hiring for a Social Media Manager, Senior Product Manager, Talent Operations & Matching, Senior Product Manager, Talent Experience, and a Crypto Community Lead!
📸 Growth snapshot.
💸 Client updates.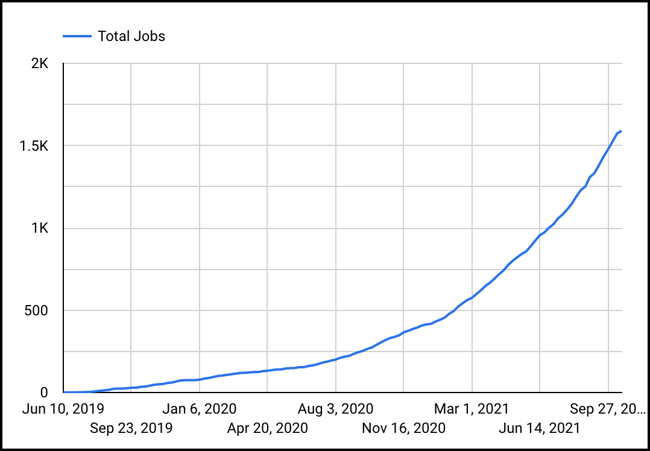 Total jobs on Braintrust.


Job postings are skyrocketing on Braintrust! Just check out some of the amazing brands hiring on Braintrust: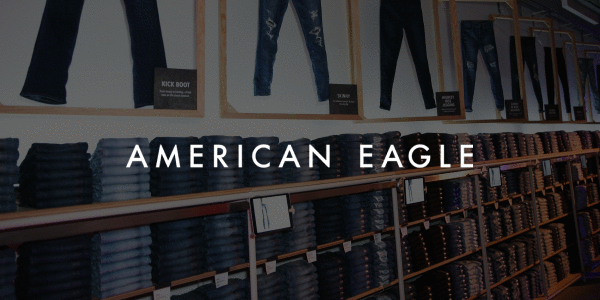 🦄 Network growth.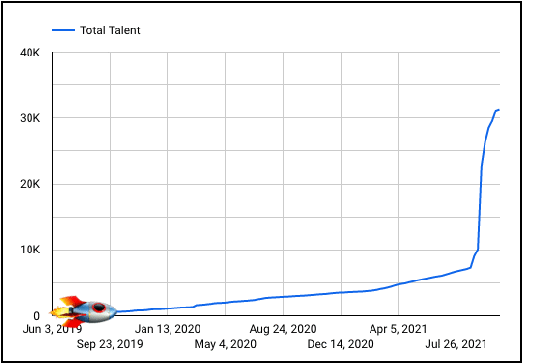 Total talent on Braintrust.

Talent metrics are back and they are BIG! Over the past month, the number of talent in the Braintrust community has increased by 24,000 to 31,700! That's some stellar growth. And it means more and more talented people ambitious to own their careers on Braintrust. #ownit

Let's take a moment to celebrate some amazing Talent on the network who have recently landed jobs: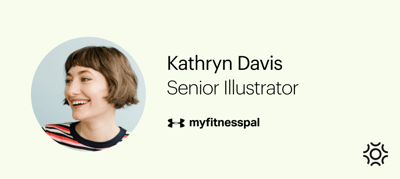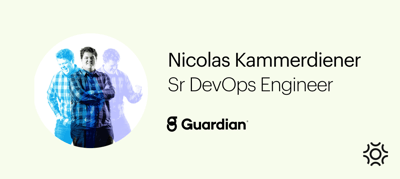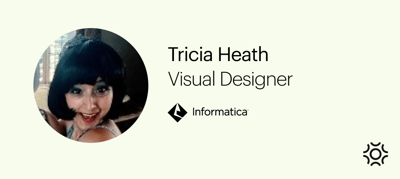 📝 Hot off the presses.
Have you ever read something so great, you wish you'd written it yourself? This is the perfect example of that.

Protocol published an insightful article about Braintrust that explains EVERYTHING; the unique advantages of this Web3 network model, the value Braintrust brings to both talent and clients, how crypto is changing lives (even for people who aren't interested in it), firsthand testimonial from UX Designer Zoe Rem, and so much more. It's impossible to pick a favorite part, but this one's pretty close:

"That's one promise of crypto or Web3 products: Instead of enriching one company and its investors, the fee goes toward building the network." - Tomio Geron, Protocol.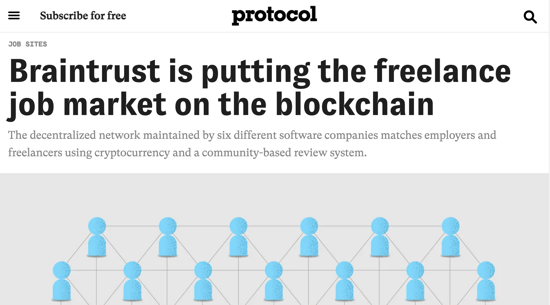 Braintrust only curates the best for you. Have a look at (or a listen to) these thought-provoking pieces from the past week:
Adam Jackson spills a secret on one of the top crypto podcasts, The Defiant: "Nike is in crypto, and they may not fully be aware."
Power to the workers: Braintrust breaks down how Web3 is ushering in a new era of independence and control for users in the latest blog - Why ownership and governance matter
Joe Sweeny think it's a bet that crypto networks will take down the Ubers, Doordashes, AirBnBs, and Upworks we have today.
👪 Community spotlight.
There are over 700k members of the Braintrust community from all over the world. Over 140 countries, in fact. Which is a fantastic thing! But it does make the group chat a little difficult to follow…

But thanks to some stellar community members from Vietnam and Russia, the latest (incredible) press feature on Braintrust from Protocol is now translated into Vietnamese and Russian! And it's even been published on Saigon Tradecoin in Vietnam: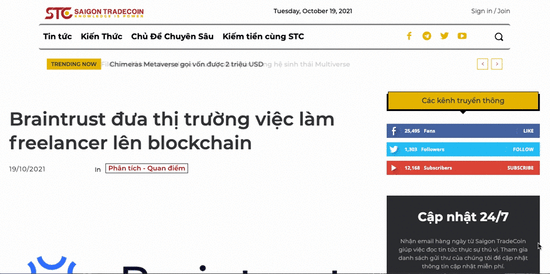 Thanks to the initiative, time, and drive to #ownit, even more people around the world can easily learn about what's being accomplished on Braintrust.

Another highlight? Braintrust has been hosting weekly info sessions to share what's unique about this community, what opportunities are available for freelancers, and how to get involved. And attendance for them has increased 84% over the past 2 weeks! Interested in seeing for yourself? RSVP to join the next one - weekly on Tuesdays at 9 AM PT.


🏛️ Network infrastructure.
Governance is having a phenomenal couple of weeks on Braintrust.

Last week's Growth Report shared that token staking was up for off-chain vote on Snapshot. Well … it passed!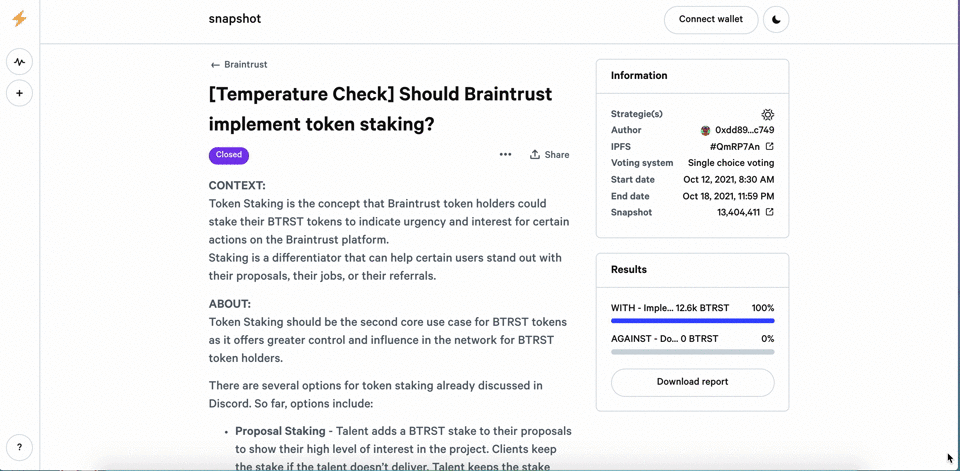 The Community will need to determine which of the three forms of token staking to implement first (token, job, and referral), and understand the work involved. So a few community members are putting together a helpful doc to collect more feedback! #feedbackisfuel #communityled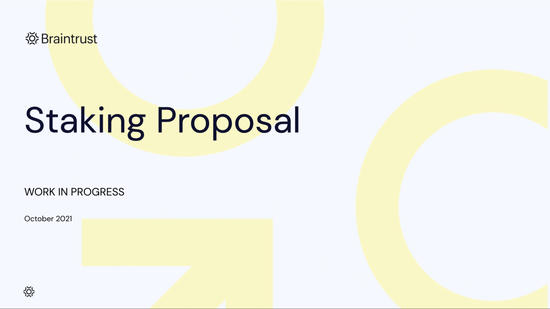 Other exciting things that the Braintrust community is putting to an (off-chain) vote:

If you're curious about what's going on with Governance, join the conversations in the Braintrust Governance channels on Discord!


💻 Product improvements.
Product is finding ways to simplify and improve your job search. Or scroll. Or slide. Or share.

Job discovery is a big priority project on Braintrust right now, and the network is testing three new visual formats for Talent to learn about new job postings in-platform: Social, Graphic, and Carousel.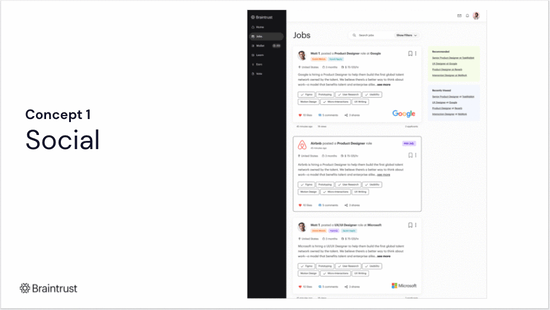 Once designs are finessed a bit more, Braintrust will crowdtest these options with some members of the Talent community to see which is easiest, most intuitive, and most helpful for finding the perfect job for you … plus, get feedback for improvement! #communitydriven

Other important product initiatives include:
Testing a new profile completion nudge feature to help Talent get their profiles in tiptop shape.
Improving a streamlined onboarding experience.
Developing requisites for location and working hours so Talent and companies can better understand who is available to take on jobs.
👤 Living Braintrust's values.
A core value of Braintrust is to #ownit. And now that governance is up and running, there are tons of community members who are living that value on a daily basis by taking the initiative to propose changes, engage in important discussions about the future of the network, and advocate for the best path forward.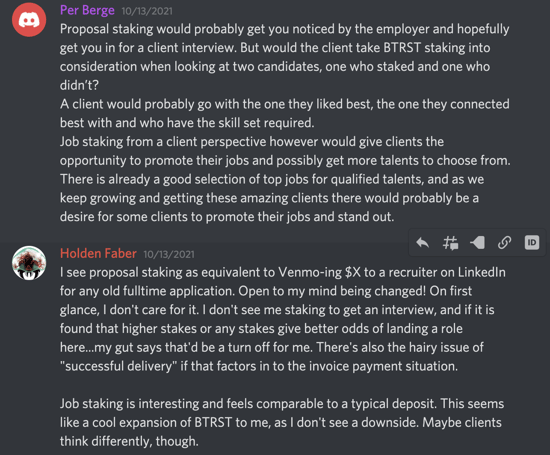 🚩 Weekly challenges and red flags.
Between the token launch, the Launch Contest, the Coinbase listing, and the buzz around the BTRST token, everybody is curious to hear the latest. A big focus for Braintrust is ensuring that everyone knows just how much progress the network has made, and helping field questions from lots of excited community members!