⏳ The TL;DR.
Logitech, WeWork, Cisco, Solana Labs, Medable, TaskRabbit, Goldman Sachs, CarGurus, and more are all hiring on Braintrust.
Braintrust makes way for a new kind of network participant, opening opportunities for participation to crypto enthusiasts.
James Moore turned a coding hobby into a thriving freelance career on Braintrust, making $225,000 and counting.
Connect, learn ways to earn BTRST, and stay up to date with all things Braintrust by joining the conversations there: Discord and Telegram.
Want to be a part of this movement… full time? Braintrust is hiring for Social Media Manager, Senior Product Manager, Talent Operations & Matching, Senior Product Manager, Talent Experience, and a Crypto Community Lead!
🧨 BTRST Breaks the Internet!
The Coinbase listing is big news. Like break-all-the-records-and-surprise-everyone kind of big, and we'd like to share a few growth metrics from just the past 24 hours that highlight how incredible this moment has been for the network.
The Braintrust Twitter following increased by 110k
Co-Founders Adam Jackson's Twitter increased by 103k and Gabe Luna-Ostaseski's increased by 101k, respectively
All in all, over 105k Twitter mentions. So many that they actually broke the internet - notification centers couldn't even load!
Telegram exploded with 82k new members
Site traffic skyrocketed with 20k more views than the previous daily record

Thank you for being part of this community and this movement. The future of work has never looked brighter… it's time that we own it.

💸 Client Updates.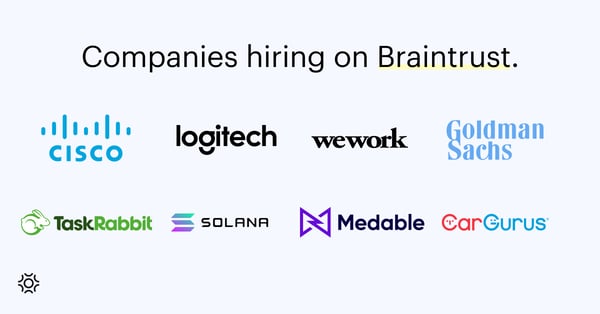 A few clients who are hiring now on Braintrust!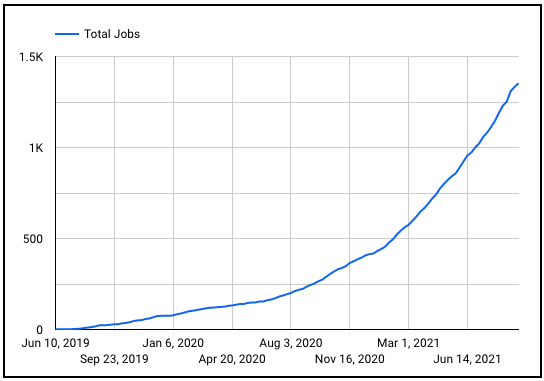 Total jobs on Braintrust over time.


In the wake of the BTRST launch and Coinbase listing, even more companies are looking to hire great talent on Braintrust.

Designers: Ceridian, Cisco, Honda, MyFitnessPal, Etsy, Medable, Nestle Purina, Courier, Pacific Western Bank, Compass, Logitech, Playground, Exer Labs - see them here.

DevOps/Admin: SupportLogic, Stanley Black & Decker, Fulcrum Workforce Solutions, Mesmer, BRD, Compass - Check out the roles.

Engineers: WeWork, Blockparty, American Eagle Outfitters, BRD, Goldman Sachs, Lab Zero, Nortal, Oak Security, Pendo.io, Porsche, Twitter, wayfair, Ceridian, Diligent Robotics - See all the opportunities here.

Product and Project Managers: Citi, Logitech, Nortal, Medable, XBTO, Fulcrum Workforce Solutions, Aledade, LendKey Technologies, Twitter, Lab Zero - check out the job board.

Marketing and Writer/Content Creators: Fabric, Medable, Decentology, Fabric, Freedom Financial Network, Solana Labs, Rapyuta Robotics - check out the roles here.

And many, many more on the job board!

🦄 Network Growth.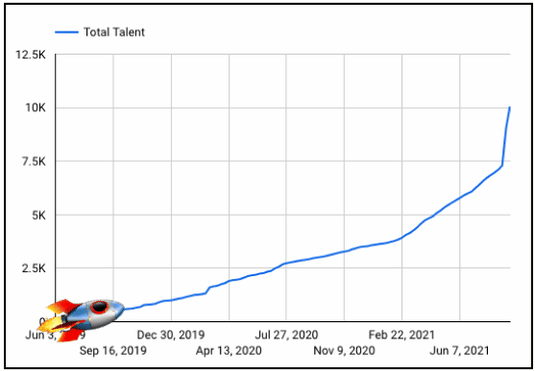 How the Braintrust network has grown.

You know we always report on Total Talent weekly, but in the last few days Braintrust contributors have seen a rapid increase in bots attempting to compromise those token rewards. As various contributing teams address this, we're pausing this week on sharing this metric.

Looking for some inspiration on how you can improve your Braintrust profile and get hired? Check out these Talent who recently landed jobs and see how they described themselves and their experience to attract clients:

📝 Hot Off the Presses.
This is the biggest news for Braintrust since the mainnet launch!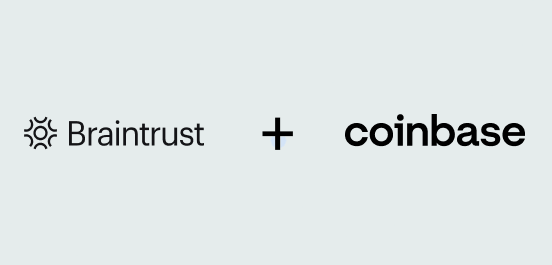 BTRST is officially listed on Coinbase! This is a huge milestone in Braintrust's mission to spread economic opportunity more equitably around the world. By partnering with Coinbase, whose mission is to increase economic freedom in the world, Braintrust is building trust and gaining momentum globally. And the surge of interest and recognition for this project since the Coinbase listing has been both humbling and reaffirming.

What we are building together as a community is a better, brighter, more fair and equitable future of work for everyone.

More things to read and watch and get excited about:
👪 Community Spotlight.
There is nothing quite as inspiring as a Talent success story. And this week, Braintrust has an incredible one to share.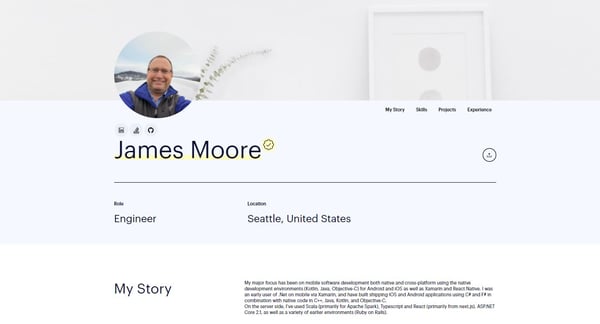 Meet James Moore, an Engineer in the network who started out coding as a hobby in college. Now 30 years later, he's still coding… but as a full-time freelancer. His favorite thing about Braintrust? The ease of finding quality, interesting work and the ability to make a real impact for the clients he works with.

On Braintrust alone, he's made $225,000 - and counting. And thanks to our model that takes zero fees from Talent, James has kept every penny of those earnings. Check out his amazing story here.

Aside from cheering on great Talent in this network, Community has been hard at work welcoming thousands of newcomers and sharing the Braintrust story. If you're new, here are a few great places to get caught up on all things Braintrust:
🏛️ Network Infrastructure.
Now that BTRST is live on mainnet and listed on Coinbase, token-holders are officially in control of all the BTRST they've rightfully earned by helping build this network. And Infrastructure has been hard at work ensuring the process to withdraw those tokens, should you choose, is available and understandable to everyone in the network… especially if you're not a seasoned crypto enthusiast!

Here's a rundown of the process to withdraw your BTRST: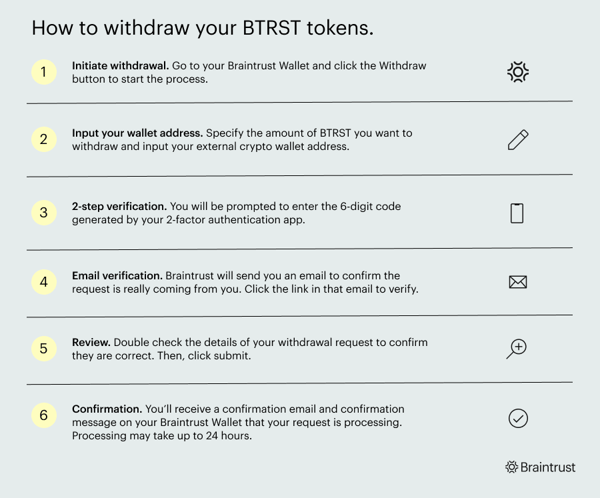 Aside from ensuring key functionalities for the token, Infrastructure has also been hard at work on:
QA-ing the Braintrust public dashboard. When this goes live soon, it will be next-level transparency.
Adding more documentation to the Help Center - big influx of new users = lots of questions!

💻 Product Improvements.
There are tons of ways to get involved with Braintrust, even if you're not a freelancer or looking to hire a freelancer.

And thanks to a streamlined sign-up process in product, choosing your journey with Braintrust has never been easier.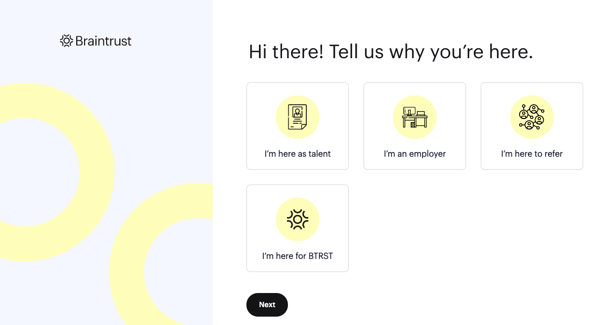 Choose your own journey on the Braintrust sign-up page.

So if you're a newcomer here and you're looking to learn about and earn some BTRST, there are tons of options for you! Like referring new talent to the network, referring clients, bounty programs (check out Discord for more details), special projects to help build the network, and more.
Other notable Product updates this week include:
Improvements to the onboarding communications flow
Developing a new referral sign up process
Updating the Talent home page

🚩 Weekly challenges and red flags.
There has been a massive increase in talent applications, new Discord and Telegram members, inquiries, partnership requests, etc., since the Coinbase announcement. The #1 priority for Braintrust right now is filtering through these as fast as possible - without compromising on attention to detail.
As part of the Braintrust network's user ownership, contributors have made it possible to receive BTRST for completing actions on the platform, such as completing Braintrust Academy courses or profile submission and completion. In the last few days, Braintrust contributors have seen a rapid increase in bots attempting to compromise those token rewards. Fortunately the token deployment security protocols worked as designed and no tokens were actually stolen. Various contributing teams are working to bring all systems back online, at which point accounts and rewards will be reviewed for legitimacy. Thanks for your patience and support!