To the Braintrust community,

When we had this crazy idea three years ago, we imagined something that had never been done before: a blockchain-powered talent network that gave power and ownership to the workers who built it.

If all that previous work was a step toward fulfilling that mission, this last quarter was the biggest leap yet. It has been a huge few months for Braintrust, particularly with the network launching the BTRST token, the key mechanism behind governance on the first decentralized, user-owned Talent network.

The Coinlist sale in early September instantly spread economic opportunity to token holders from 122 countries, while the subsequent Coinbase listing drove hundreds of thousands of people to learn more about Braintrust.

In Q3, the network saw massive quarter over quarter growth...
Community: 13x growth to 700,000 Talent, clients, connectors, BTRST holders and fans.
GSV: 38% increase from $16M to $22M.
Clients: Nearly 500 companies are hiring on Braintrust, including top brands such as Deloitte, Twitter, Ernst & Young, Solana, IBM, American Eagle, Nestle, Atlassian and Nike. Jobs: 600+ new jobs posted
Press: 17+ press mentions and 5 podcasts live.
Discord: 14x increase in members.
Telegram: 12+ local communities formed in languages including Russian, Vietnamese, Turkish, Spanish and more.
YouTube: 21k hours of YouTube videos watched.
Twitter: 90x growth on the Braintrust Twitter.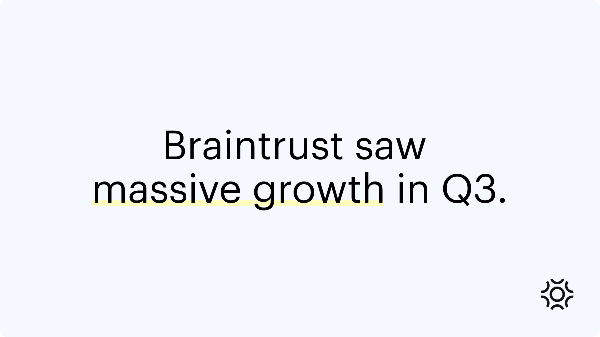 Braintrust's promising Q3 growth primes the network for continued expansion in Q4 of 2021 and onward. Through the creation and distribution of the BTRST token, the Braintrust network has taken a critical step in ushering in a new model for talent marketplaces. The dramatic shift to remote work, the mass adoption of distributed models by major enterprises, the public maturation of crypto markets … these trends have opened the door for Braintrust to grow in many ways.

Our continued focus on the long term.
We reject the notion that success is driven through pursuing short-sighted goals. The true marker of success will be the value we create for our network participants over the long term. Our intent has been and always will be building an enduring crypto project that will be here for decades.

The community's decisions so far reflect this dedicated focus on driving the core metrics that enable the network to succeed over the long term — client, job, and GSV growth, repeat usage, and the strength of the Braintrust brand.

From the very beginning, the community and its contributors have focused on building a useful, growing, and sustainable network first, then pursuing progressive decentralization over time. That choice differs from other networks, so we wanted to share some of the guiding principles behind that choice.
Talent and clients come first. Core contributors to the network have focused relentlessly on meeting the needs of the network's core customers. In just two years, Braintrust has attracted tens of thousands of top knowledge workers and more than 100 Fortune 1000 companies. Braintrust will continue to prioritize the acquisition of top Talent and clients.
Rapidly expanding community governance. The network nodes and early contributors will continue to support governance proposals to upgrade the protocol. Any token holder can propose, vote and enact proposals that are used to move the network forward in delivering more value to its participants. This process is already underway, with 10 community proposals, including token staking, already passing public votes.
Transparency as default. The network and community will prioritize transparency at all times, continuing to publish community reports, videos, and network health information on a regular basis, along with a public dashboard updated in real time.

The network and community have grown substantially. And yet, it feels in some ways like Braintrust is just taking the first steps on this journey. You are joining at a time where the network is only at the cusp of its potential to fundamentally change the way we work, paving the path for a system that spreads economic opportunity more equitably around the world.

Thank you to the Braintrust community members, spanning 147 countries around the world, that have enabled such early, groundbreaking success by working together to build the future of work.

— Adam Jackson and Gabe Luna-Ostaseski, Co-Founders of Braintrust