Winner Update: All winning participants were sent an email notification with next steps on September 30th. If you did not receive an email, unfortunately, you were not a winner. There were over 360k entries and similar names. We thank everyone for their enthusiasm and participation. There will be many more ways to earn BTRST in the future.
You took a chance.

Instead, you allowed yourself to believe in a simple, yet surprisingly radical, future: one that allows you to own your work while spreading economic opportunity more equitably across the globe.

And now, thanks to the chance you took, the rest of the world is seeing that vision too.

The Braintrust movement you built has experienced unprecedented growth the last few weeks, fueled by the mainnet launch of the BTRST token, followed by global recognition with the BTRST token listing on Coinbase.

The Braintrust Discord grew 14x. And the Braintrust Telegram? 40x, with 82,000 new members!

The Braintrust Twitter account @usebraintrust was mentioned more than 105,000 times in 24 hours... your excitement literally broke our Hootsuite account. And even more impressive, the Braintrust Twitter community grew to over 150,000 followers - that's 15x growth in a matter of days. Everybody from Yahoo! News to Decrypt and The Hustle is now talking about the future of work, one in which talent like you own the value they create and have a say over the place where they make their living.

The stats are clear: the Braintrust movement is thriving. And there was one number specifically that deserves a closer look: 360,000.

That's how many people participated in the Launch Celebration Contest, in which Braintrust rewarded 20,000 BTRST tokens.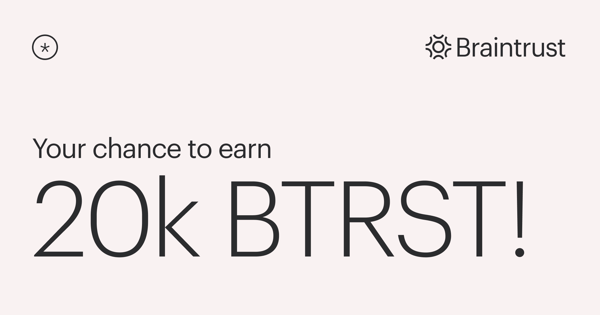 Let's take a look at why the contest, and the Braintrust launch as a whole, was such a success.

It's all about aligned incentives.
Braintrust is creating the first user-owned, decentralized talent network because the old way — where network operators are incentivized to extract as much as possible from their users through high fees — simply didn't work in your best interest.

The structure of the Launch Celebration Contest is a fitting microcosm for a better way, one where both the network and its users benefit thanks to aligned incentives.
The BTRST token gives each of you on the Braintrust network a vote on how it is governed. One token equals one vote, which means those who do more to grow the network are rightly rewarded with more say over its future.

The Launch Celebration Contest was built on this principle.

Those community members who did more to learn about the movement and spread word of this new way of work — such as sharing it on Twitter or joining lively Web3.0 discussion on Discord or referring others to join the movement — were rewarded with more entries in the 20,000 BTRST token contest.

That meant they had a higher chance of winning more tokens, and thus, more say over the network they helped grow.

Aligned incentives mean full transparency.
Aligned incentives are a beautiful thing. You are naturally motivated to build the network, because you benefit from its success. And the network is built to work in your interests, since you are the ones who control it.

That means the network doesn't just help your career flourish, but it also naturally works to be as transparent as possible along the way.
Surprise! 500 additional winners are chosen 🎉
Braintrust is publicly listing the winners of its Launch Celebration Contest, which can be viewed at the end of this article. In addition to the 537 initial contest winners, Braintrust is going one step further to spread economic opportunity … by extending 2 BTRST tokens to a random set of 500 more entrants!

Winners will be notified via email by Thursday, September 30, 2021 with instructions on how to claim their BTRST tokens.

The intent of the Braintrust contributors running this contest is to reward those community members who played by the rules and acted in good faith. While there may have been some contestants who listed higher on the leaderboard, that doesn't necessarily mean all of their entries were valid and counted in the final contest tally.

A number of steps were taken to ensure fairness, with organizers screening out suspected bots and automatic entries for...
Failed CAPTCHA or email verification
Invalid emails or emails from suspect domains
Multiple entries from a single IP address
Abnormal amount of referrals who signed up, but did not participate with any action in the contest

Example of entries removed from suspect domains.

Example of entries removed due to multiple submissions.

The results are in: everybody wins.
Seeing this massive influx of community members helps the entire movement. New talent and clients mean more jobs, more qualified candidates to fill them, and more global economic opportunity.

That's why Braintrust can charge no fees to Talent, and why Talent keep 100% of the money they earn on the network.

That's how Braintrust can offer high-quality jobs from 100 of the Fortune 1000 companies — a massive achievement, considering the network doesn't pay a cent in paid marketing.

You can continue to help grow the movement and build a better future for work.

And the 537 Contest winners are...
Setiawan S. - 1000 BTRST
Salman S. - 500 BTRST
Nguyen N. - 500 BTRST
Alexey K. - 500 BTRST
Pham Minh T. - 500 BTRST
Hiep H. - 500 BTRST
Cuong N. - 500 BTRST
Sergey F. - 200 BTRST
Nakul S. - 200 BTRST
Danil S. - 200 BTRST
Dmitrii N. - 200 BTRST
Maksood A. - 200 BTRST
Mohamad Nor Maliki B. - 200 BTRST
Gautam G. - 200 BTRST
Sasi K. - 200 BTRST
Arup M. - 200 BTRST
Thanh N. - 200 BTRST
Mustafa talha İ. - 200 BTRST
Budimam M. - 200 BTRST
Madun B. - 200 BTRST
Galang A. - 200 BTRST
Neeraj P. - 200 BTRST
Artem E. - 200 BTRST
Viktor Z. - 200 BTRST
Nguyen H. - 200 BTRST
Hera K. - 200 BTRST
Dika L. - 200 BTRST
Long V. - 200 BTRST
Shwetanshu S. - 200 BTRST
Anh L. - 200 BTRST
Chetan P. - 200 BTRST
Yogi Agung P. - 200 BTRST
Bogdan S. - 200 BTRST
Prince Z. - 200 BTRST
Thang Y. - 200 BTRST
Sergey K. - 200 BTRST
Khairul I 200 BTRST
Tuan M. - 20 BTRST
Thinh Y. - 20 BTRST
Tien D. - 20 BTRST
Thomas C. - 20 BTRST
Daehwan K. - 20 BTRST
Rohan R. - 20 BTRST
Thanh L. - 20 BTRST
Bone V. - 20 BTRST
Maulana A. - 20 BTRST
Numan Ö. - 20 BTRST
Yoshiki K. - 20 BTRST
Matthew G. - 20 BTRST
Nam P. - 20 BTRST
Doan N. - 20 BTRST
Hiep J. - 20 BTRST
Md danish A. - 20 BTRST
Vishnu C. - 20 BTRST
Helge A. - 20 BTRST
Tai L. - 20 BTRST
Pavel P. - 20 BTRST
Vu A. - 20 BTRST
Thi Hoai T. - 20 BTRST
Renat B. - 20 BTRST
Vladimir S. - 20 BTRST
Gallus Q. - 20 BTRST
Tanzil K. - 20 BTRST
Chi L. - 20 BTRST
Liza S. - 20 BTRST
Lê Minh T. - 20 BTRST
Utkarsh S. - 20 BTRST
Dnevniki I. - 20 BTRST
Nong V. - 20 BTRST
Evgeniy A. - 20 BTRST
Mstislav E. - 20 BTRST
Nicky O. - 20 BTRST
Saheb K. - 20 BTRST
Kaan K. - 20 BTRST
Rawal S. - 20 BTRST
Nguyễn Thành T. - 20 BTRST
Vladimir M. - 20 BTRST
TRẦN L. - 20 BTRST
Pavel V. - 20 BTRST
Serhii N. - 20 BTRST
Jim V. - 20 BTRST
Reza H. - 20 BTRST
Van A. - 20 BTRST
Vitalii L. - 20 BTRST
Kavi A. - 20 BTRST
Md S. - 20 BTRST
Vadim A. - 20 BTRST
Tuan N. - 20 BTRST
Oleksii R. - 20 BTRST
Jiwon K. - 20 BTRST
David L. - 20 BTRST
Nguyen L. - 20 BTRST
Lê T. - 20 BTRST
Dika H. - 20 BTRST
Advertising A. - 20 BTRST
Dmitry D. - 20 BTRST
Quynh N. - 20 BTRST
Vu B 20. - BTRST
Rasya A. - 20 BTRST
Oleksandr O. - 20 BTRST
Pavel A. - 20 BTRST
Victor K. - 20 BTRST
Md sahadat H. - 20 BTRST
Tran T. - 20 BTRST
Om K. - 20 BTRST
Egor M. - 20 BTRST
Tan V. - 20 BTRST
Vadim G. - 20 BTRST
Moynol I. - 20 BTRST
Joshua M. - 20 BTRST
Michael C. - 20 BTRST
Tom J. - 20 BTRST
İsmail A. - 20 BTRST
Sacha R. - 20 BTRST
Md Jewel R. - 20 BTRST
Mehmet Y. - 20 BTRST
Abhishek A. - 20 BTRST
Minh L. - 20 BTRST
Swiper S. - 20 BTRST
Vu Thi B. - 20 BTRST
Kim P. - 20 BTRST
Sumit S. - 20 BTRST
Junkyu C. - 20 BTRST
Mohammad T. - 20 BTRST
Sushant B. - 20 BTRST
Pere N. - 20 BTRST
Dreamer I. - 20 BTRST
Robinson T. - 20 BTRST
Kate L. - 20 BTRST
Dong Geon K. - 20 BTRST
Jorge M. - 20 BTRST
Svetlana R. - 20 BTRST
Reza A. - 20 BTRST
Martin C. - 20 BTRST
Suresh K. - 20 BTRST
Thi Trang N. - 20 BTRST
Mahrusul M. - 20 BTRST
Jacek M. - 20 BTRST
Nguyễn Hoàng L. - 20 BTRST
Vitya S. - 20 BTRST
Danil I. - 20 BTRST
Ima Scarborough S. - 20 BTRST
Jo A 20. - BTRST
Viet Huu C. - 20 BTRST
Lance H. - 20 BTRST
Madhu G. - 20 BTRST
James J. - 20 BTRST
Ilya E 20. - BTRST
Vitalik K. - 20 BTRST
İsmail K. - 20 BTRST
Phat N. - 20 BTRST
Hershel M. - 20 BTRST
Марсель И. - 20 BTRST
Prab H. - 20 BTRST
MD Tazammul H. - 20 BTRST
Uğurcan K. - 20 BTRST
Yuki U. - 20 BTRST
Linh N. - 20 BTRST
Inger A. - 20 BTRST
Dileep Kumar S. - 20 BTRST
Herman C. - 20 BTRST
Rohit K. - 20 BTRST
Sergey B. - 20 BTRST
Vu Van Q. - 20 BTRST
Kotha K. - 20 BTRST
Phan Van T. - 20 BTRST
Denis A. - 20 BTRST
Nguyen T. - 20 BTRST
Djanik V. - 20 BTRST
Airdrop F. - 20 BTRST
Carlo jay J. - 20 BTRST
Anh P. - 20 BTRST
Tetiana B. - 20 BTRST
Ivan S. - 20 BTRST
Kolia V. - 20 BTRST
Diding A. - 20 BTRST
Thông N. - 20 BTRST
Kim J. - 20 BTRST
Igor S. - 20 BTRST
Michinori I. - 20 BTRST
Subin H. - 20 BTRST
Duy N. - 20 BTRST
Bao N. - 20 BTRST
Phuong V. - 20 BTRST
Nguyen T. - 20 BTRST
Apit S. - 20 BTRST
Manish V. - 20 BTRST
Nguyen Viet T. - 20 BTRST
Bünyamin A. - 20 BTRST
Sreeraj M. - 20 BTRST
Maria Y. - 20 BTRST
Anjing K. - 20 BTRST
Marek P. - 20 BTRST
Roman P. - 20 BTRST
Tai L. - 20 BTRST
Nikita S. - 20 BTRST
Matt G. - 20 BTRST
Tolik D. - 20 BTRST
Pavel K. - 20 BTRST
Shubham K. - 20 BTRST
Irmgard B. - 20 BTRST
Renat N. - 20 BTRST
ifeanyi E. - 20 BTRST
Md M. - 20 BTRST
Emerson H. - 20 BTRST
Boris K. - 20 BTRST
Josh B. - 20 BTRST
Bozhena V. - 20 BTRST
Nguyen T. - 20 BTRST
Mahmad G. - 20 BTRST
Bayu N. - 20 BTRST
Duong T. - 20 BTRST
Trevor S. - 20 BTRST
Rohit K. - 20 BTRST
Ayib J. - 20 BTRST
Yonggyu K. - 20 BTRST
Cathany L. - 20 BTRST
Nguyen C. - 20 BTRST
Artem D. - 20 BTRST
Russell B. - 20 BTRST
Jamie O. - 20 BTRST
Nguyenky A. - 20 BTRST
Ngô Đ. - 20 BTRST
Annaram T. - 20 BTRST
Patrick O. - 20 BTRST
Bryan S. - 20 BTRST
Brent J. - 20 BTRST
Aleksandr B. - 20 BTRST
Rick H. - 20 BTRST
Trinh D. - 20 BTRST
Nguyen H. - 20 BTRST
Clayton P. - 20 BTRST
Greg D. - 20 BTRST
Brent H. - 20 BTRST
Randall C. - 20 BTRST
Sergey P. - 20 BTRST
Roland L. - 20 BTRST
Johny S 20 BTRST
Gudepu P. - 20 BTRST
Wallace M. - 20 BTRST
Howard G. - 20 BTRST
Lester B. - 20 BTRST
Corey. - O 20 BTRST
Dep C. - 20 BTRST
Bipul J. - 20 BTRST
Tom G. - 20 BTRST
Mykyta R. - 20 BTRST
Ross W. - 20 BTRST
Jake L. - 20 BTRST
Adrian H. - 20 BTRST
Bernard P. - 20 BTRST
Marat A. - 20 BTRST
Ainur S. - 20 BTRST
Enrique H. - 20 BTRST
Marshall M. - 20 BTRST
Billy B. - 20 BTRST
Konstantin Z. - 20 BTRST
Leon S. - 20 BTRST
Kerem E. - 20 BTRST
Kevin S. - 20 BTRST
Roman K. - 20 BTRST
Dianka L. - 20 BTRST
Randy E. - 20 BTRST
David R. - 20 BTRST
Danny G. - 20 BTRST
Ilia M. - 20 BTRST
MD Jubayarul I. - 20 BTRST
Brysen K. - 20 BTRST
Logan P. - 20 BTRST
Jesse E. - 20 BTRST
Pawel P. - 20 BTRST
MD Chand J. - 20 BTRST
Tor L. - 20 BTRST
Victor W. - 20 BTRST
Tung T. - 20 BTRST
Michael L. - 20 BTRST
Juan R. - 20 BTRST
Sergey M. - 20 BTRST
Chu D. - 20 BTRST
Dong T. - 20 BTRST
Sam M. - 20 BTRST
Timur S. - 20 BTRST
Lan A. - 20 BTRST
AMDI I. - 20 BTRST
Onur G. - 20 BTRST
Alena K. - 20 BTRST
Pablo S. - 20 BTRST
Ankit Y. - 20 BTRST
Rafli C. - 20 BTRST
Dan B. - 20 BTRST
Joe P. - 20 BTRST
Lance B. - 20 BTRST
Hugo L. - 20 BTRST
Dimka G. - 20 BTRST
Nam N. - 20 BTRST
Zhiwar S. - 20 BTRST
Dmytro Z. - 20 BTRST
Ilya B. - 20 BTRST
Husen Abdul A. - 20 BTRST
Ihar K. - 20 BTRST
Mohammad A. - 20 BTRST
Fauzan M. - 20 BTRST
Kolya N. - 20 BTRST
Mst Mazeda B. - 20 BTRST
Saint B. - 20 BTRST
Bryson L. - 20 BTRST
Artur F. - 20 BTRST
Murat Ç. - 20 BTRST
MD Sajib H. - 20 BTRST
Ufuk G. - 20 BTRST
minkyo P. - 20 BTRST
Ildar Z. - 20 BTRST
Inga B. - 20 BTRST
Khairullin R. - 20 BTRST
Ashish S. - 20 BTRST
Leonardo L. - 20 BTRST
Zulfiqar A. - 20 BTRST
Cade I. - 20 BTRST
Aldi P. - 20 BTRST
Lop N. - 20 BTRST
Dmitrii N. - 20 BTRST
Tung N. - 20 BTRST
Thinh D. - 20 BTRST
Jaroslav P. - 20 BTRST
Artem K. - 20 BTRST
Yusuf K. - 20 BTRST
Никита Р. - 20 BTRST
Thi Huong N. - 20 BTRST
Vetal V. - 20 BTRST
Yuva R. - 20 BTRST
Oleh H. - 20 BTRST
Denis N. - 20 BTRST
Nikolay L. - 20 BTRST
Viet Trung N. - 20 BTRST
Han V. - 20 BTRST
Dmitriy B. - 20 BTRST
Daigoro M. - 20 BTRST
Минаев С. - 20 BTRST
Denis M. - 20 BTRST
Alexandr T. - 20 BTRST
Thanh H. - 20 BTRST
Alex N. - 20 BTRST
Nguyễn T. - 20 BTRST
Dương Ấ. - 20 BTRST
Nguyen A. - 20 BTRST
Ahmet Can E. - 20 BTRST
Van Cu L. - 20 BTRST
Ruslan K. - 20 BTRST
Opu K. - 20 BTRST
Yesset Y. - 20 BTRST
Diana P. - 20 BTRST
Beluga L. - 20 BTRST
Stanley G. - 20 BTRST
Van Thanh G. - 20 BTRST
MD Shahed A. - 20 BTRST
Vera G. - 20 BTRST
Harry A. - 20 BTRST
Hung P. - 20 BTRST
Sergei K. - 20 BTRST
Svetlana S. - 20 BTRST
Fran F. - 20 BTRST
Amal R. - 20 BTRST
AirdropAlert B. - 20 BTRST
Le T. - 20 BTRST
Hoa P. - 20 BTRST
Sourav B. - 20 BTRST
Boy K. - 20 BTRST
Deraka D. - 20 BTRST
Le Hoang T. - 20 BTRST
Minh D. - 20 BTRST
Syed Muktaderul I. - 20 BTRST
Dmitriy P. - 20 BTRST
Shahriar Hasan J. - 20 BTRST
Trung kiên Đ. - 20 BTRST
Georgiy K. - 20 BTRST
Daioual M. - 20 BTRST
Võ B. - 20 BTRST
Tarik Bin Ziyad B. - 20 BTRST
Hassan R. - 20 BTRST
Artem P. - 20 BTRST
Aleksandr M. - 20 BTRST
Valeria S. - 20 BTRST
Yiğit P. - 20 BTRST
Deepak K. - 20 BTRST
Nikhil B. - 20 BTRST
Nguyen K. - 20 BTRST
Yauheni L. - 20 BTRST
Riann P. - 20 BTRST
Oğuzhan A. - 20 BTRST
Pavel S. - 20 BTRST
Vu D. - 20 BTRST
Kristin V. - 20 BTRST
Quan H. - 20 BTRST
Orlan M. - 20 BTRST
Rajat Kumar B. - 20 BTRST
Parth P. - 20 BTRST
Md R. - 20 BTRST
Son T. - 20 BTRST
Thinh N. - 20 BTRST
Ngoc Long N. - 20 BTRST
Endsley E. - 20 BTRST
Minh V. - 20 BTRST
Deepansh K. - 20 BTRST
Kyrylo S. - 20 BTRST
Airdrop detector C. - 20 BTRST
Fajar R. - 20 BTRST
Riya K. - 20 BTRST
Aleksandr D. - 20 BTRST
Dzianis H. - 20 BTRST
Sulistiyo Budi T. - 20 BTRST
Tri P. - 20 BTRST
Rizqi T. - 20 BTRST
Minh D. - 20 BTRST
Huu T. - 20 BTRST
Marko O. - 20 BTRST
May L. - 20 BTRST
Fadli A. - 20 BTRST
Abhi G. - 20 BTRST
Karthik R. - 20 BTRST
Dindin F. - 20 BTRST
Vu T. 20 - BTRST
Tuyen D. - 20 BTRST
Aman V. - 20 BTRST
Grisha K. - 20 BTRST
Andrey G. - 20 BTRST
Nguyen V. - 20 BTRST
Mildred M. - 20 BTRST
Maksim L. - 20 BTRST
Sergey B. - 20 BTRST
Tahmid A. - 20 BTRST
Quang D. - 20 BTRST
Panther K. - 20 BTRST
Chu Van D. - 20 BTRST
Vu H. - 20 BTRST
Nguyen M. - 20 BTRST
Navid R. - 20 BTRST
Md R. - 20 BTRST
Perdi H. - 20 BTRST
Bozzang J. - 20 BTRST
Kashish K. - 20 BTRST
Anh T. - 20 BTRST
Ileen L. - 20 BTRST
Vladislav B. - 20 BTRST
Kaung K. - 20 BTRST
Sahyadi H. - 20 BTRST
Teler P. - 20 BTRST
Ngoc Son V. - 20 BTRST
Jerome B. - 20 BTRST
Pranay V. - 20 BTRST
Bohdan N. - 20 BTRST
Airdrop T. - 20 BTRST
Nguyễn C. - 20 BTRST
Galih N. - 20 BTRST
Dat P. - 20 BTRST
Evgeny K. - 20 BTRST
Bé B. - 20 BTRST
M Syahreja A. - 20 BTRST
Roman Z. - 20 BTRST
Reno S. - 20 BTRST
Drake C. - 20 BTRST
Viktar S. - 20 BTRST
Igor P. - 20 BTRST
Kibaek J. - 20 BTRST
Lavr F. - 20 BTRST
Yura S. - 20 BTRST
Crypto A. - 20 BTRST
Ilnur K. - 20 BTRST
HubertMontez H. - 20 BTRST
Oleg B. - 20 BTRST
Cuong C. - 20 BTRST
Anderey $. - 20 BTRST
Alexander A. - 20 BTRST
Altcoin H. - 20 BTRST
Dmytro C. - 20 BTRST
Nhân T. - 20 BTRST
Sayan R. - 20 BTRST
Sasha C. - 20 BTRST
Norman A. - 20 BTRST
Ravi K. - 20 BTRST
Jay F. - 20 BTRST
Jason H. - 20 BTRST
Nikita P. - 20 BTRST
Md Deloar H. - 20 BTRST
Vy N. - 20 BTRST
Olga P. - 20 BTRST
Hubert G. - 20 BTRST
Ankit G. - 20 BTRST
Mohammed M. - 20 BTRST
Vladislav Z. - 20 BTRST
Dmytro B. - 20 BTRST
Martin S. - 20 BTRST
Roman K. - 20 BTRST
Phan A. - 20 BTRST
Krishna P. - 20 BTRST
Ahmad F. - 20 BTRST
Wadim A. - 20 BTRST
Gem B. - 20 BTRST
Kartick G. - 20 BTRST
Marshall M. - 20 BTRST
Calvin C. - 20 BTRST
Anatoliy G. - 20 BTRST
Ruslan N. - 20 BTRST
Ivan K. - 20 BTRST
Farhan G. - 20 BTRST
Holli C. - 20 BTRST
Glen B. - 20 BTRST
Kenji Y. - 20 BTRST
Nguyen V. - 20 BTRST
Snake R. - 20 BTRST
Antonio G. - 20 BTRST
Didu C. - 20 BTRST
Thinh Truong N. - 20 BTRST
Svitlana K. - 20 BTRST
Kshiteej S. - 20 BTRST
Sergio D. - 20 BTRST
Roland X. - 20 BTRST
Fany G. - 20 BTRST
Vladislav. - B 20 BTRST
Nam V. - 20 BTRST
Hilari E. - 20 BTRST
Paal R. - 20 BTRST
Bipin R. - 20 BTRST
Tran D. - 20 BTRST
Pavelek B. - 20 BTRST
Aleks V. - 20 BTRST
HungElkins H. - 20 BTRST
Khan B 20. - BTRST
Ramil A 20. - BTRST
Doohwi C. - 20 BTRST
Arnoldo M. - 20 BTRST
Israel W. - 20 BTRST
Herbert H. - 20 BTRST
Michael L. - 20 BTRST
Changho B. - 20 BTRST
Raihan K. - 20 BTRST
Eric E. - 20 BTRST
HymanFontenot H. - 20 BTRST


500 Random Winners List
Arpit K. - 2 BTRST
Warren O. - 2 BTRST
Allan B. - 2 BTRST
Mahir Görkem O. - 2 BTRST
Don D. - 2 BTRST
Daryl B. - 2 BTRST
Ted M. - 2 BTRST
Ismail K. - 2 BTRST
Denis Timoshenko T. - 2 BTRST
Irfan K. - 2 BTRST
Marian B. - 2 BTRST
Free T. - 2 BTRST
Anh D. - 2 BTRST
Mykola H. - 2 BTRST
Khrystyna K. - 2 BTRST
Noob S. - 2 BTRST
Van Hieu V. - 2 BTRST
Yan P. - 2 BTRST
Nelson B. - 2 BTRST
Trung P. - 2 BTRST
Melvin R. - 2 BTRST
Gausiya T. - 2 BTRST
Taha D. - 2 BTRST
Dipan M. - 2 BTRST
Tri T. - 2 BTRST
Bruce D. - 2 BTRST
Loc N. - 2 BTRST
Vladislav L. - 2 BTRST
Danny C. - 2 BTRST
Atta S. - 2 BTRST
Anshit R. - 2 BTRST
Dd J. - 2 BTRST
Tran T. - 2 BTRST
Le H. - 2 BTRST
Ilya K. - 2 BTRST
Yurii D. - 2 BTRST
Airdrop G. - 2 BTRST
Nam P. - 2 BTRST
Rafael G. - 2 BTRST
Albert A. - 2 BTRST
Daniel G. - 2 BTRST
Vadym B. - 2 BTRST
Jimmy M. - 2 BTRST
Jacob C. - 2 BTRST
Liu C. - 2 BTRST
Andrew B. - 2 BTRST
Jack N. - 2 BTRST
Kaplanbek A. - 2 BTRST
Vyacheslav S. - 2 BTRST
Daniil F 2. - BTRST
Priyank S. - 2 BTRST
Na T. - 2 BTRST
Duong T. - 2 BTRST
Semih Ş. - 2 BTRST
Sri G. - 2 BTRST
Bumilangit B. - 2 BTRST
Prasad A. - 2 BTRST
Hung P. - 2 BTRST
Vu Tuan T. - 2 BTRST
Dmytro S. - 2 BTRST
Daniil B. - 2 BTRST
Anwar S. - 2 BTRST
Iif F. - 2 BTRST
Artem V. - 2 BTRST
Phu Cuong L. - 2 BTRST
Kamal K. - 2 BTRST
Tim B. - 2 BTRST
Nguyen V. - 2 BTRST
Rahul R. - 2 BTRST
Tran H. - 2 BTRST
Taejong R. - 2 BTRST
Arkadiy R. - 2 BTRST
Thanh T. - 2 BTRST
Victor B. - 2 BTRST
Andrii K. - 2 BTRST
Jeffrey J. - 2 BTRST
Reza A. - 2 BTRST
Nayyar A. - 2 BTRST
Minh H. - 2 BTRST
Vishnu K. - 2 BTRST
Vishnu Prasad P. - 2 BTRST
Truong P. - 2 BTRST
Ramdan Y. - 2 BTRST
Sami U. - 2 BTRST
Meraj Ahmed M. - 2 BTRST
Ramjan K. - 2 BTRST
Le B. - 2 BTRST
Abu T. - 2 BTRST
Kamonashis S. - 2 BTRST
M Aziz Y. - 2 BTRST
le H. - 2 BTRST
Ersin O. - 2 BTRST
Ridho H. - 2 BTRST
Oleg Y. - 2 BTRST
Akash K. - 2 BTRST
Adim M. - 2 BTRST
James C. - 2 BTRST
Omar M. - 2 BTRST
Sukanto D. - 2 BTRST
Liton B. - 2 BTRST
Aleksandr M. - 2 BTRST
Kirill U. - 2 BTRST
Philip A. - 2 BTRST
Pavan K. - 2 BTRST
Artur D. - 2 BTRST
Ashish G. - 2 BTRST
Ravi B. - 2 BTRST
Hoang M. - 2 BTRST
Shuhei Y. - 2 BTRST
Bradley C. - 2 BTRST
Ady S. - 2 BTRST
Ahiru S. - 2 BTRST
Minho N. - 2 BTRST
Nima G. - 2 BTRST
Swadhin P. - 2 BTRST
Tekchand M. - 2 BTRST
Sagar J. - 2 BTRST
Shahid S. - 2 BTRST
Vadim M. - 2 BTRST
Ka Wing C. - 2 BTRST
MD Musfekur Ahmmed R. - 2 BTRST
Giri A. - 2 BTRST
Yakoub N. - 2 BTRST
Crypto O. - 2 BTRST
Michael O. - 2 BTRST
Airdrop M. - 2 BTRST
Hanif F. - 2 BTRST
Ehsan H. - 2 BTRST
Mai T. - 2 BTRST
Tha B. - 2 BTRST
loc D. - 2 BTRST
Thai P. - 2 BTRST
Pham H. - 2 BTRST
Manu K. - 2 BTRST
Md R. - 2 BTRST
Nguyen D. - 2 BTRST
Kenneth M. - 2 BTRST
Uddesay K. - 2 BTRST
Shuvo K. - 2 BTRST
Uzi R 2. - BTRST
Abdelsalam H. - 2 BTRST
Mrzak Z. - 2 BTRST
Gumilar A. - 2 BTRST
Ilnur A. - 2 BTRST
Vy N. - 2 BTRST
Alvin A. - 2 BTRST
Hari A. - 2 BTRST
Lendra A. - 2 BTRST
Ahsan A. - 2 BTRST
Kenneth R. - 2 BTRST
Lam N. - 2 BTRST
Vasiliy K. - 2 BTRST
Ali F. - 2 BTRST
Mohammad M. - 2 BTRST
Sudaraka S. - 2 BTRST
Sorabh Y. - 2 BTRST
ALEKSEI B. - 2 BTRST
Dany C. - 2 BTRST
İsmet Y. - 2 BTRST
Phan V. - 2 BTRST
Rustam S. - 2 BTRST
Farrux X. - 2 BTRST
Tran Phi G. - 2 BTRST
Alisher B. - 2 BTRST
Bugray S. - 2 BTRST
Srinivasarao A. - 2 BTRST
Eziz D. - 2 BTRST
Dutasam M. - 2 BTRST
Jihee K. - 2 BTRST
Rivaldo P. - 2 BTRST
Taik Ki Y. - 2 BTRST
Le Nguyen A. - 2 BTRST
Bogdan C. - 2 BTRST
Alexey I. - 2 BTRST
Raman K. - 2 BTRST
Suraj T. - 2 BTRST
Hanif A. - 2 BTRST
Kazuya M. - 2 BTRST
Rifki Firmansyah P. - 2 BTRST
Yeakub A. - 2 BTRST
Firdosh Q. - 2 BTRST
Kesharisinh P. - 2 BTRST
Md M. - 2 BTRST
Saleem A. - 2 BTRST
Van T. - 2 BTRST
Sarfaraz A. - 2 BTRST
Kim J. - 2 BTRST
Hoàng Lê Bảo H. - 2 BTRST
Ty N 2. - BTRST
Aydin M. - 2 BTRST
Justin G. - 2 BTRST
Ronald B. - 2 BTRST
Nguyen Truong T. - 2 BTRST
Rapli S. - 2 BTRST
Thuong H. - 2 BTRST
Techno R. - 2 BTRST
Hải P. - 2 BTRST
Renat M. - 2 BTRST
Abi F. - 2 BTRST
Evgenii O. - 2 BTRST
Baris D. - 2 BTRST
Arlan G. - 2 BTRST
Harshal M. - 2 BTRST
Daichi U. - 2 BTRST
Haru H. - 2 BTRST
Cảnh Q. - 2 BTRST
Truong Van T. - 2 BTRST
Gimung C. - 2 BTRST
Emrah S. - 2 BTRST
Vignesh S. - 2 BTRST
Solanki S. - 2 BTRST
Pak Long L. - 2 BTRST
Piyush Y. - 2 BTRST
Валентин І. - 2 BTRST
Mehrdad A. - 2 BTRST
Роман Т. - 2 BTRST
Huy N. - 2 BTRST
Hùng Văn Nguyễn H. - 2 BTRST
Amantha K. - 2 BTRST
Nguyễn Đoàn Phương T. - 2 BTRST
PS Y. - 2 BTRST
Artur A. - 2 BTRST
Eason C. - 2 BTRST
Dinh D 2. - BTRST
Sanal R 2 BTRST
Tony N 2 BTRST
Maurice P 2 BTRST
Ade F. - 2 BTRST
Huy T. - 2 BTRST
Kamran H. - 2 BTRST
Lorine B. - 2 BTRST
Minh N. - 2 BTRST
Wahyu A. - 2 BTRST
Stanislav D. - 2 BTRST
Grant P. - 2 BTRST
Ngoc Khanh L. - 2 BTRST
Thanh Phong T. - 2 BTRST
Sonu R. - 2 BTRST
Taj M. - 2 BTRST
Maxim S. - 2 BTRST
Michael E. - 2 BTRST
Francisco T. - 2 BTRST
Ilya K. - 2 BTRST
Mikhail L. - 2 BTRST
Cuong N. - 2 BTRST
Tuan N. - 2 BTRST
R S. - 2 BTRST
Barry W. - 2 BTRST
Vy Duc N. - 2 BTRST
Tatyana R. - 2 BTRST
Riyan M. - 2 BTRST
Wen jie L. - 2 BTRST
Warren D. - 2 BTRST
Akram T. - 2 BTRST
Mahibar R. - 2 BTRST
Asiri N. - 2 BTRST
Don V. - 2 BTRST
Святослав А. - 2 BTRST
Thang Q. - 2 BTRST
Vladislav C. - 2 BTRST
Cao Thanh T. - 2 BTRST
Thai N 2. - BTRST
Антон И. - 2 BTRST
Priyadarshi M. - 2 BTRST
Debraj R. - 2 BTRST
Mrinmoy M. - 2 BTRST
Tyler L. - 2 BTRST
Tien A. - 2 BTRST
Jackson F. - 2 BTRST
Sahed S. - 2 BTRST
Ngân M. - 2 BTRST
Tien N. - 2 BTRST
Ryan L. - 2 BTRST
Suffyan B. - 2 BTRST
Maksym Z. - 2 BTRST
Scott S. - 2 BTRST
Anurag T. - 2 BTRST
Duy Tan D. - 2 BTRST
Minas A. - 2 BTRST
Trung N. - 2 BTRST
Takeo N. - 2 BTRST
Peyman M. - 2 BTRST
Andrii M. - 2 BTRST
Александр Б. - 2 BTRST
Berkay I. - 2 BTRST
Nataliya K. - 2 BTRST
Richard V. - 2 BTRST
Danial B. - 2 BTRST
Aleksandr B. - 2 BTRST
Dip K. - 2 BTRST
Svetoslav N. - 2 BTRST
Aleh Z. - 2 BTRST
Ruslan B. - 2 BTRST
Maxim S. - 2 BTRST
Ruslan P. - 2 BTRST
Princess F. - 2 BTRST
Andrey G. - 2 BTRST
Grigorii L. - 2 BTRST
Tinh L. - 2 BTRST
Pham L. - 2 BTRST
Oleg P. - 2 BTRST
Cosar K. - 2 BTRST
Nick N. - 2 BTRST
Burak S. - 2 BTRST
Daniil D. - 2 BTRST
Ilya I. - 2 BTRST
Tung H. - 2 BTRST
Роман К. - 2 BTRST
Cong N. - 2 BTRST
Wenxu G. - 2 BTRST
Haruki L. - 2 BTRST
Jezz K. - 2 BTRST
Andrii L. - 2 BTRST
Han C. - 2 BTRST
Helix L. - 2 BTRST
Sergey G. - 2 BTRST
Dmytro S. - 2 BTRST
Angelina B. - 2 BTRST
Sasha R. - 2 BTRST
Ekin A. - 2 BTRST
Oleksii A. - 2 BTRST
Natalya G. - 2 BTRST
Alexey K. - 2 BTRST
Bikash K. - 2 BTRST
Ali G. - 2 BTRST
Fred S. - 2 BTRST
Tharun T. - 2 BTRST
Quy T. - 2 BTRST
Phu hai L. - 2 BTRST
Denis H. - 2 BTRST
Doğukan A. - 2 BTRST
Katsushi N. - 2 BTRST
Le T. - 2 BTRST
Petr G. - 2 BTRST
Wu M. - 2 BTRST
Yarcan T. - 2 BTRST
Artem T. - 2 BTRST
Dmitry M. - 2 BTRST
Ben Z. - 2 BTRST
Jose C. - 2 BTRST
Mehmet Ö. - 2 BTRST
Roman S. - 2 BTRST
Mohammad Y. - 2 BTRST
Andrei N. - 2 BTRST
Hanna V. - 2 BTRST
Aliaksandr K. - 2 BTRST
Tran C. - 2 BTRST
Behrooz H. - 2 BTRST
Simo M. - 2 BTRST
Evgeniy D. - 2 BTRST
Uğur T. - 2 BTRST
Nguyen L. - 2 BTRST
Valentin T. - 2 BTRST
Cliff John M. - 2 BTRST
Rubsil K. - 2 BTRST
Андрій М. - 2 BTRST
Vasily M. - 2 BTRST
Mukul R. - 2 BTRST
Nguyen V. - 2 BTRST
Salih N. - 2 BTRST
Mrinmoy P. - 2 BTRST
Himanshu S. - 2 BTRST
Vũ thị A. - 2 BTRST
Nikita V. - 2 BTRST
Subhash Y. - 2 BTRST
Vitalii P. - 2 BTRST
Alexander Y. - 2 BTRST
Minty S. - 2 BTRST
Xinwang H. - 2 BTRST
Timofey B. - 2 BTRST
Ba Nguyen D. - 2 BTRST
Regina S. - 2 BTRST
梦隆 李. - 2 BTRST
Vahobjon A. - 2 BTRST
Bohdan S. - 2 BTRST
Alexander P. - 2 BTRST
Johnson J. - 2 BTRST
Stanislav F. - 2 BTRST
Natalia K. - 2 BTRST
Deng J. - 2 BTRST
Natsumi T. - 2 BTRST
Yu L. - 2 BTRST
Edward M. - 2 BTRST
Askar M. - 2 BTRST
Lourdes W. - 2 BTRST
Lukasz S. - 2 BTRST
Filip M. - 2 BTRST
Ari A. - 2 BTRST
Stanley C. - 2 BTRST
Deniz K. - 2 BTRST
Mary Rose Q. - 2 BTRST
Nguyen V. - 2 BTRST
Aref D. - 2 BTRST
Dean A. - 2 BTRST
Aleksandr K. - 2 BTRST
Chan S. - 2 BTRST
Amir K. - 2 BTRST
Yudai O. - 2 BTRST
Nikolai R. - 2 BTRST
Van N. - 2 BTRST
Huong H. - 2 BTRST
Sergey O. - 2 BTRST
Daniel K. - 2 BTRST
Asad Z. - 2 BTRST
Tarek T. - 2 BTRST
Simply D. - 2 BTRST
Rock M 2. - BTRST
Nguyen H. - 2 BTRST
Grace N. - 2 BTRST
Marcin S. - 2 BTRST
Firat K. - 2 BTRST
Sumithra P. - 2 BTRST
Aglena P. - 2 BTRST
Alexey M 2 BTRST
Tomasz B. - 2 BTRST
Hüseyin T. - 2 BTRST
Mert Can B. - 2 BTRST
Iman T. - 2 BTRST
Sergii N. - 2 BTRST
Prasad S. - 2 BTRST
Mumin İ. - 2 BTRST
Gleb M. - 2 BTRST
Vladimir L. - 2 BTRST
Ooi Y. - 2 BTRST
Almaz N. - 2 BTRST
Sahal A. - 2 BTRST
Aleksander L. - 2 BTRST
Denys P. - 2 BTRST
Adrian Q. - 2 BTRST
Mustafa C. - 2 BTRST
Kiryl B. - 2 BTRST
Rafal H. - 2 BTRST
Wai C. - 2 BTRST
Mateusz S. - 2 BTRST
Hien D. - 2 BTRST
Yaşar S. - 2 BTRST
Tomasz W. - 2 BTRST
Adrian J. - 2 BTRST
Антон К. - 2 BTRST
Mehmet T. - 2 BTRST
Sata N. - 2 BTRST
Mathieu M. - 2 BTRST
Thao V. - 2 BTRST
Lee Y. - 2 BTRST
Krzysztof G. - 2 BTRST
Miłosz K. - 2 BTRST
Nikita V. - 2 BTRST
Fatih Ö. - 2 BTRST
Kartike K. - 2 BTRST
Tom F. - 2 BTRST
Long M. - 2 BTRST
Sergey F. - 2 BTRST
Josue C. - 2 BTRST
Le Duc H. - 2 BTRST
Yesna R. - 2 BTRST
Amber A. - 2 BTRST
Damian G. - 2 BTRST
Azizcan Ç. - 2 BTRST
Özgür S. - 2 BTRST
Steward L. - 2 BTRST
Artur B. - 2 BTRST
Дмитрий О. - 2 BTRST
Atawhai M. - 2 BTRST
Zoren J. - 2 BTRST
소희 김. - 2 BTRST
Hendro W. - 2 BTRST
Mai V. - 2 BTRST
Mikhail M. - 2 BTRST
Denis B. - 2 BTRST
Nikita L. - 2 BTRST
Tam L. - 2 BTRST
Yasaman R. - 2 BTRST
Vladyslav K. - 2 BTRST
Yahya U. - 2 BTRST
OLEKSAND H 2 BTRST
Daniyar I. - 2 BTRST
Delcio B. - 2 BTRST
Japa P. - 2 BTRST
Giulio M. - 2 BTRST
Jean Y. - 2 BTRST
Afolabi O. - 2 BTRST
Bhupendra P. - 2 BTRST
Adlan D. - 2 BTRST
Szymon M. - 2 BTRST
Nguyen T. - 2 BTRST
Ryo Y. - 2 BTRST
Raj K. - 2 BTRST
Gourab M. - 2 BTRST
Rustam M. - 2 BTRST
Ahmet Can A. - 2 BTRST
Еевгений Ж. - 2 BTRST
Serhii M. - 2 BTRST
Mobasshir M. - 2 BTRST
Dung N. - 2 BTRST
Thành đạt D. - 2 BTRST
Heo J. - 2 BTRST
Nimal R. - 2 BTRST
Ilya K. - 2 BTRST
Udit Rout R. - 2 BTRST
Cristiano M. - 2 BTRST