Three years ago, we had a crazy idea to build a blockchain-powered marketplace for talent. To start a community where talented people are finally rewarded fairly for their abilities, no matter where they live. We had a deep belief that giving ownership and control to the community wasn't just better for people, it was better for business.
In 2020 we started to make that vision a reality. We built a platform then kicked off an invite-only beta. We onboarded our early talent community and some incredible brands like Nestlé and TaskRabbit. From January through early March we saw some impressive early traction and the future was looking bright.
Then ... COVID hit.
And the economy basically shut down overnight. Our growth came to a screeching halt, revenue was down 55% in April, and large customers paused their projects. Take the fear, uncertainty, and doubt that plagues almost every startup and every founder, and dial it up to 10. Maybe 11.
We had both been through the 2008 financial crisis as startup founders and learned some valuable lessons about how to lead through times like this. We caught our breath, made some smart cuts to expenses, and extended our runway.
And after two months of uncertainty, something remarkable happened ... The phone started to ring off the hook.
At first we didn't understand exactly what was happening but then we started to hear some patterns. Large enterprises were essentially locked out of their offices, forced into becoming remote companies overnight and needed to rapidly scale up their talent base to move their businesses online.
We didn't fully grasp this last June, but this was the perfect storm. The collision of forces that created an ideal environment for adoption of an enterprise talent network.
We signed three large enterprise customers in the course of a few weeks and every day we were receiving new requests. We decided it was time to come out of stealth and share our vision with the world. Fortunately for us, the story got picked up widely by The New York Times, Bloomberg, Fortune, Yahoo Finance, and many more.
The next 30 days were like nothing we've ever experienced before. We got 258 inbound leads from companies wanting to sign up. We worked around the clock for months to onboard new customers and rapidly scale up our talent community.
We've had a goal of building in public to share more of what's happening as the network evolves. We wanted to take some time today to reflect back on this past year and share some highlights. (Subscribe to our newsletter to stay in the loop with future updates!)
One of the highlights?
We just had our first million-dollar month.
And no, we're not talking about a million dollars in revenue for Braintrust. We're talking about a million dollars in the pockets of freelancers in more than 100 countries. That's literally the beginning of the fulfillment of the vision that we had so many months ago. And we think we're on track to put well over $10 million into freelancers' hands each month by the end of the year … all without taking a penny of their earnings.
We feel this is one small step towards our vision of spreading economic opportunity more equitably around the world.
We want to talk about what that actually means and how that works. But first … some of the big highlights:
Our first million-dollar month: the first month we sent a million dollars to freelance talent around the world! (Are we allowed to repeat something we're excited about?)
Over 1,000 vetted and approved freelancers on the Braintrust platform across 100 countries.
52,000 freelancers on our waiting list (we'll get to you!).
We grew during COVID!
Amazing clients who are sourcing talent on the platform like Porsche, Nestlé, Coursera, Stanley Black & Decker, Nextdoor, TaskRabbit, and so many more.
Average project size: $57,000.
Amazing press coverage in

Fortune

,

Bloomberg

,

TechCrunch

,

The New York Times

,

Coindesk

, and

more

.
Grew a LinkedIn community from zero to over 18,000 people (

join us there

).
Got 50 of the Fortune 1000 as clients(!!).
Started a podcast on the way work should work (

check it out!

)
And so much more ...
But we want to start with Alberto.
Alberto is a developer that doesn't live in Silicon Valley. He's also a developer that didn't go to Stanford or MIT. In fact, he's a self-taught developer who lives in Brazil. And he's now completing major projects with one of the biggest brands on the planet: Porsche.
Porsche is building new consumer experiences for their drivers and customers, and they needed a front-end developer. Braintrust connected Alberto with Porsche, and they've been working together for over a year now. We talked to Alberto, and what he loves -- besides working with one of the most amazing automotive brands on the planet -- is that he gets to do what he enjoys doing. He gets to keep 100% of what he makes. And he can do it from his home while being part of the amazing community of talent and clients that is growing on the Braintrust platform.
We also talked to Porsche.
And Porsche said that they were in a global talent war with companies like Google and Facebook and Apple and Amazon. And even though Porsche is an amazing company with a legendary history and a passionate following … that's hard to compete with. Not to mention we helped Porsche cut out the expensive middlemen that charge 40% overhead.
The Braintrust community, however, made it happen. That's amazing, and it's a fulfillment of what we started this company to do.
It's tough out there for talent.
If you look at what's going on in the typical Silicon Valley on-demand company, workers are getting squeezed. Uber takes a 25% fee from its drivers. Poshmark takes a 20% cut from its sellers. Upwork, which has an average job size of less than $500, takes a big chunk of freelancers' revenue.
And the giant consultancies, which are corporate America's answer to skill deficits and scaling challenges at major corporations that are not big tech companies, are even worse. They are literally taking 50-70% of what the developers and consultants they're sending to clients should be making.
And it's not easy for companies.
But it's also hard for companies that need to hire talent and can't easily find it. Go to Upwork, where the platform basically encourages 500 sort-of-kind-of-not-really qualified people to apply for every tiny task, and you've got to sort through a lot of rocky ore to find the gold.
(And that's not fun for talent, either: build proposals for 50 jobs, maybe get one.)
Going the consultancy route is even worse: slow, painful, process-clogged, and expensive. In some cases, we're seeing a 5X mark-up for talent that clients have to pay, that doesn't go to the talent, and just feeds a few fat middlemen. Or you can try to hire and spend three to four months, plus maybe $50-100K in headhunter fees.
This is why we started Braintrust: better for talent, better for business.
We're replacing the middleman with software. And we're helping companies move at lightning speed.
Our goal is to reinvent the current system of work in a way that actually works for everyone. And the reality is that we're making some amazing progress here.
Our brand is evolving too.
There's always been a healthy dose of creative tension between us which often leads to intense debates. But what unites us is our deep respect and trust for each other. We built the first iteration of the Braintrust website for literally $500. After some back and forth, we both agreed that the brand and website that we designed two years ago were no longer representative of who we have become.
So we're excited to announce the brand-new Braintrust website, which is faster and better and more usable and just generally more awesome in every dimension. Plus, it is entirely built by talented people who are in the Braintrust network. We are eating our own dogfood here: a huge amount of the work of building this platform and this community is done by the community itself.
Every pixel you see on the interface and every line of code that's been committed has been written or created by Braintrust Talent. We're now up to over 100 people from at least a dozen countries who have contributed to building the platform.
That's exciting to us. We're living the model, not just selling it.
As part of the rollout of the new site, we knew the brand needed a refresh to reflect how we've evolved. Here's a sneak peek … let us know what you think!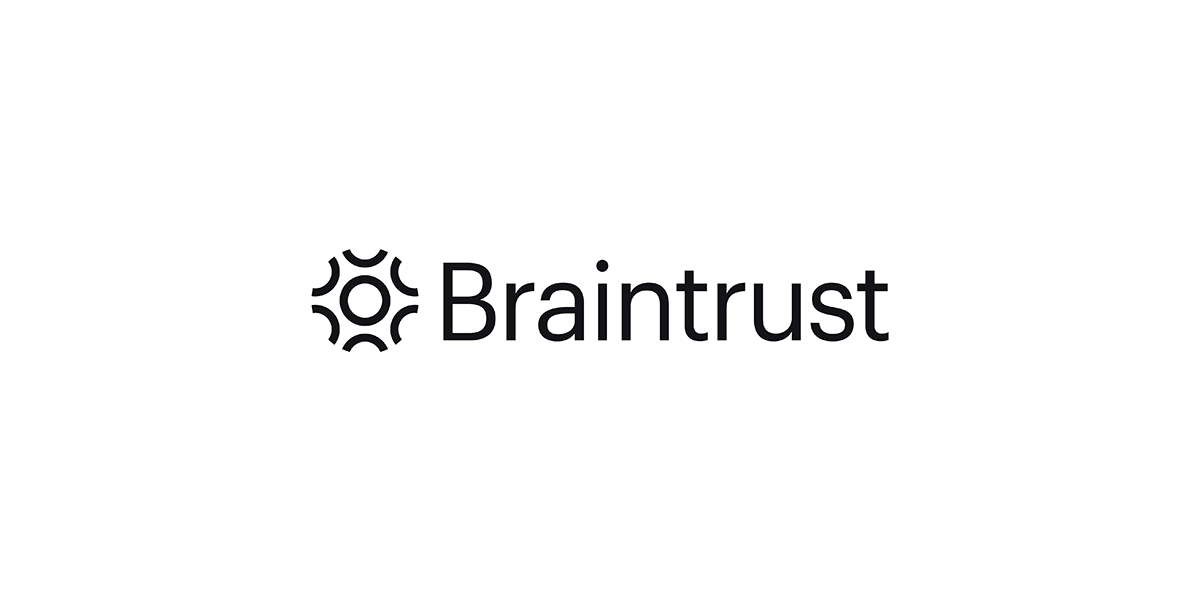 And look: we get it. Building in public and launching in public means that when we don't get it right, we hear about it. And we want to. The way we make the platform better for everyone is when we hear what's not amazing. What's too slow. What's too complicated. What sucks.
So we mean it when we say it, let us know! Drop us a note at hello@usebraintrust.com.
Let's be real, of course there are also challenges.
If we had to put metaphorical pen to metaphorical paper, there are three things that we think have been really exceptional about our progress this past year. But these are also the challenges that we're currently working on solving, and we want to be transparent about this to the community.
Scaling up the community and job mix to meet demand.
This is not easy, especially during COVID. Specific skill taxonomies are critical, and hitting 40 or 50 criteria just right for the perfect fit isn't easy. But we've made massive progress.
Building the Braintrust platform in a decentralized way.
Our whole ethos is around decentralization, so being able to build the product and platform and community in a decentralized way is amazing. That means opening up even more opportunities for the community to vet itself, for level five Python developers, perhaps, to vet other level five Python developers. Lots of room to grow here, but also: a great start. And, every person involved in every piece of this is rewarded with BTRST, our platform token.
Offering the world's most compelling talent marketplace.
We've talked about the challenges here for both talent and clients. This just needs to be better -- faster, easier, with less overhead and waste -- to unlock the opportunities that we see: new ways of doing business, new ways of building product, and new ways of structuring both work and companies.
Our commitment to building in public going forward.
As a blockchain project, Braintrust is rooted in the belief that openness and transparency are better for the world.
We're following a progressive path to full decentralization where our community of talent will own and control the network. Going forward, we're committed to sharing more of our challenges, network developments, and accomplishments in public.
Today, we're filled with profound gratitude for all those that have trusted us with this crazy idea. Our community, our customers, our investors, and our core team have all enabled us to be where we are today.
We've taken one small step in accomplishing our vision and we hope you join us for the next part of our journey.
You can follow along by subscribing to our newsletter to hear the latest news and by joining our community of 18,000+ on LinkedIn.
Gabe & Adam