We're ushering extractive economics out the door by replacing them with a true ownership economy, one in which workers control the network they make their living on — with the help of crypto.

The way the world works, simply put, doesn't. But after today, it will.

The BTRST token has just launched on the Ethereum mainnet. That means thousands of you, the talent, are now official community owners and govern the Braintrust network. You're able to use your tokens to vote on key decisions and to control the future of the platform you make your living on.

And what a living it is! After coming out of stealth in June 2020, Braintrust has grown Gross Service Volume (GSV) from $3.5 million in 2020 to a $30 million run rate in 2021. And Braintrust is adding new enterprise clients and projects every day, with recent top-tier additions including Goldman Sachs, American Eagle Outfitters, Atlassian, Under Armour and Wayfair — all key contributors offering projects that now average nearly $100 per hour on the platform, without any fees on talent at all.

Want to learn more? Check out Braintrust's seminal white paper — and read on!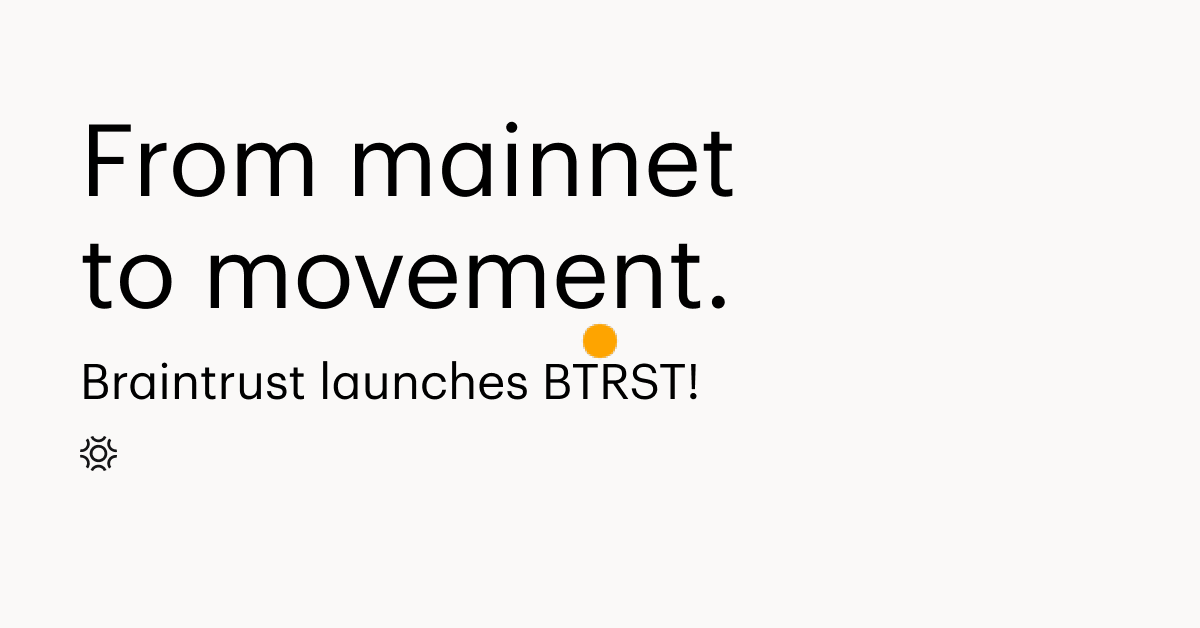 Say goodbye to extractive economics.
Companies know they are only as valuable as their talent — and they love saying so in corporate retreats and glossy pamphlets. But when the rubber hits the road? Too often, they refuse to give you control over how you work and how you are rewarded for that work.


They rely on extracting value, but don't return it equally to those who create it.

It's the same exploitative mindset we see impacting too many workers, and it has to change. Thankfully, it's about to.

Say hello to the ownership economy.
By launching the BTRST token, the Braintrust network is pioneering a new model: the ownership economy, in which the network exists to serve the interests of the users.

Now on the Ethereum mainnet using the ERC20 standard, the BTRST token is being released with a fixed supply of 250 million, meaning the total number of tokens in circulation can never surpass that amount.

The BTRST token is the core building block of Braintrust's entire community governance model: it powers everything. With it, token holders can discuss ideas to improve the network, propose changes, and vote on change proposals.

Each token represents one vote, so users who earn more — by participating in community building activities, successfully completing projects, screening talent to join the network, and taking courses on Braintrust Academy — will, deservedly, have greater say on how the network develops.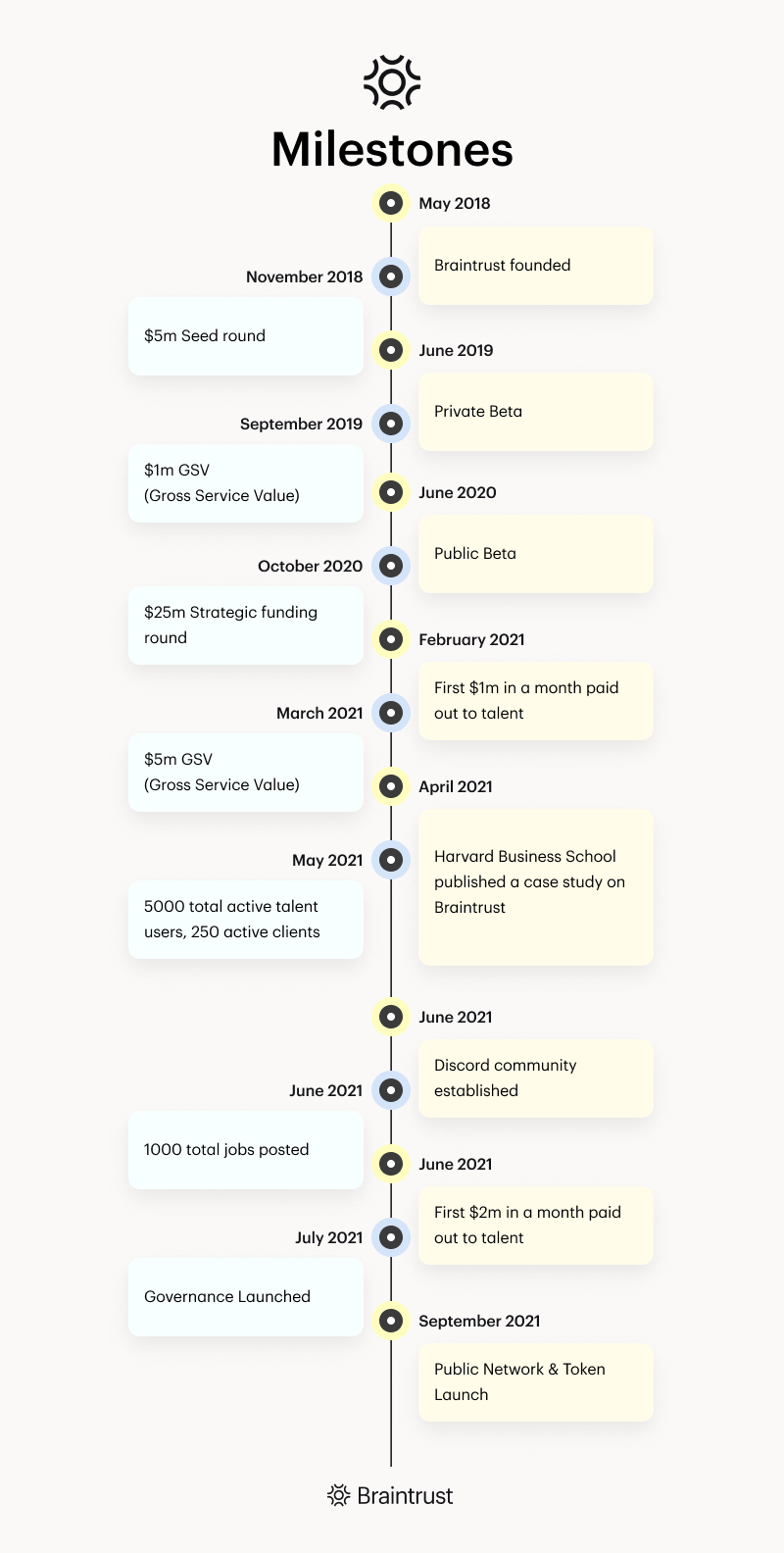 A look at Braintrust's growth journey.
Where incentives are aligned.
With the BTRST token, Braintrust is using crypto to take the power, control, and value that once sat with centralized marketplaces and redirecting it back to you, the community. What does that mean? Everyone benefits — well, everyone except for people who love extracting value from their users and not giving them a voice in the future of the networks they participate in.

For Talent, this new way offers the freedom of flexible work plus the stability of consistent high-paying jobs. Jobs on the platform have more than doubled in the last year, and the average job is now almost $100 an hour, with talent earning 100% of their hourly rate. Great people attract great people, which is why the talent community has grown by 75% in just a year, with almost 50% of Braintrust's client and talent acquisition coming through referral programs based on BTRST tokens.

For Enterprises, this new way offers the ability to access top technical talent quickly while scaling to meet the demands of a constantly changing world. In the last fiscal year, Braintrust's client community has more than tripled in size, with the average project growing to $57,000 — and some as large as $300,000.

For Connectors, anyone who uses a personal referral code to help supply the network with new talent and clients, this new way is able to programmatically reward them with a portion of future transactions done by the referred parties — encouraging the organic formation of recruitment and referral agencies within the network.

The best part? The talent, connector and enterprise communities benefit from, and feed, the other's success. It's an alignment of incentives that forms wonderful synchronicity — a beautiful friendship, indeed.

How You Can Get Involved:
You can read more about how Braintrust wants to reshape the way we work. You can also get involved by:
Read the white paper here.

Chatting with us on Discord. Learn how to start earning and governing with the BTRST token

on our community channel

.
Get social. Have thoughts about the future of work and the BTRST token? We would love to hear them - tweet at us!