It's been a quarter since our last founder update when we announced that Braintrust is building in public, so we thought the time was ripe to check back in and provide an update on how Q2 has been at Braintrust.
We liked doing this so much, we think we'll make it a more common occurrence - so stay tuned!
A TL;DR of Braintrust highlights from the last 3 months.
Braintrust Talent are now earning 14% more than they did in Q1–that's an hourly pay increase from $80.50 to $91.61.
The number of Talent that have applied to join Braintrust increased from 4,601 to 6,732. That's a 46% increase in just one quarter with 52,000+ more on the waiting list!

Community Talent referrals are up 300% since Q4. Braintrust isn't just user-owned now–it's user-grown. Just look at that spike in the past 6 months!

The Network started to release weekly growth report updates on the blog. They include growth stats, our newest clients, new product updates, hot content, and so much more.
Released The Knowledge Work Demand Index to expose what's wrong with hiring today - and what businesses can do to beat the competition and hire successfully.

Braintrust launched Governance to give members the power to control how the network grows. It happens in 4 steps: Ideation, Vote Off-Chain, Vote On-Chain, Execution.
But it's not just about what Braintrust is doing. It's who we're doing it with.
In Q2, some of the world's most innovative companies hired new Talent on Braintrust. Here are just a few:


Let's celebrate amazing client wins.
But not the fact that our Sales team signed these clients. We're celebrating the success these clients had because the world-class Talent they hired enabled them to accelerate innovation and surpass their goals.
This quarter, Braintrust published its first-ever client story (and then 2 more). It's been a long-held dream to share stories like this, and now… we finally have!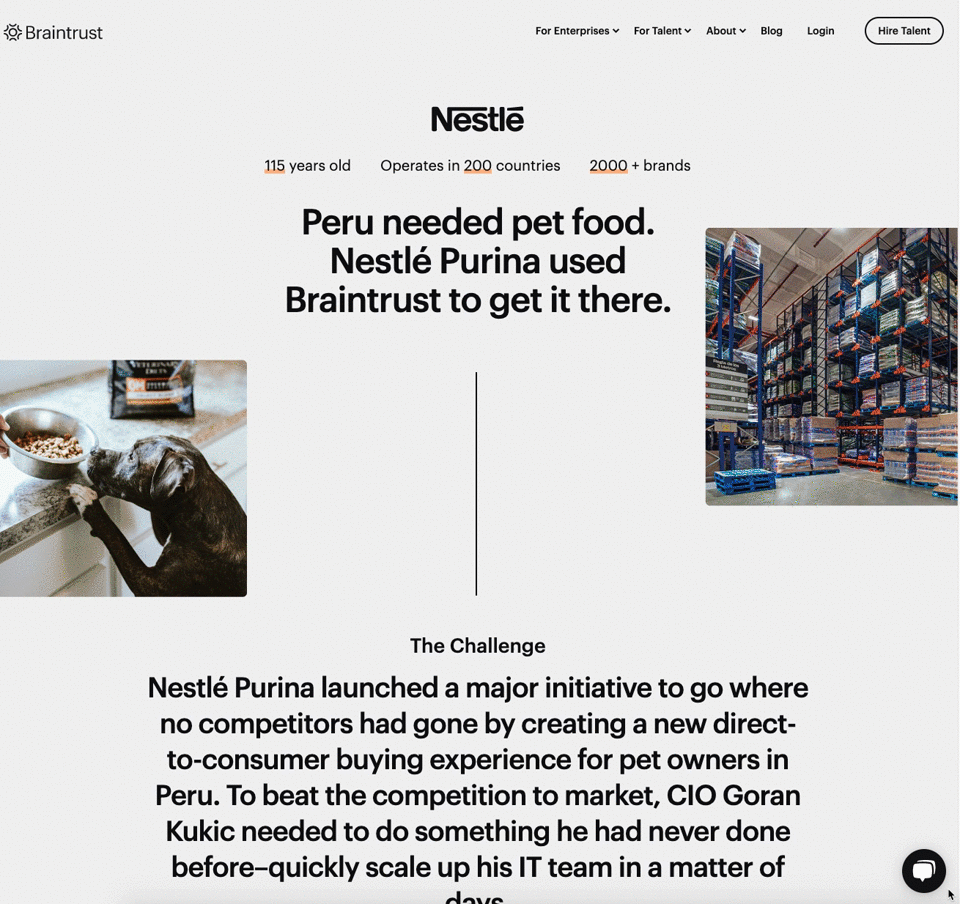 The first-ever Braintrust client story is about how Nestlé quickly scaled up their team to bring a D2C pet food buying experience to Peru. And because they used Braintrust to make it all happen, they were able to hire 8X faster, save $310,000, and beat the competition to market.
Here's why Nestle's story is such a big deal.
It demonstrates the value that Braintrust brings to teams. It doesn't matter whether you're a small business or a Fortune 1000 company–this network will help you accelerate innovation and reach your goals faster than you ever thought was possible.
(In fact, 45% of companies that hired on Braintrust in June were SMBs! Innovation knows no bounds.)


Here's why Nestle's story is not a big deal.
It's not that unique.
Nestlé is a powerhouse company–don't get us wrong! You could write volumes about their innovation and business prowess.
But if we're being 100% transparent (as we promise to be), then you can look anywhere on the Braintrust platform and find companies saving hundreds of thousands of dollars, leaving expensive consultants in the dust, and innovating faster than ever before.
Like Pacific Life and TaskRabbit, for instance.


Here's the team that brought this story to life.
This story would never have been told without the help of incredible Braintrust Talent. A special shout out to Chris Allen (Designer & Art Director), Cody Fisher (Copywriter & Content Strategist), and WX Digital Agency (Web Development) for bringing it to life! And of course, major kudos to the hybrid team of Braintrust Talent below and Nestlé FTE for having a kickass win worth writing about:
Clients aren't the only ones inspiring us.
Braintrust isn't just about getting access to awesome jobs. The real value of Braintrust is in being part of the community. In working together to help grow the network. And in sharing - and receiving - resources, best practices, and new opportunities that help one another other succeed.


Here's a recent example.
This quarter, this user-owned and user-controlled network published its first piece of user-generated content.
Braintrust produced The Freelancer's Project Fit Checklist, written by Braintrust Talent Michael Gorman (Writer/Editor/Strategist), designed by Braintrust Talent Ashmita Nair (Art Director & UX Designer), and crowd-sourced by the rest of the Braintrust community.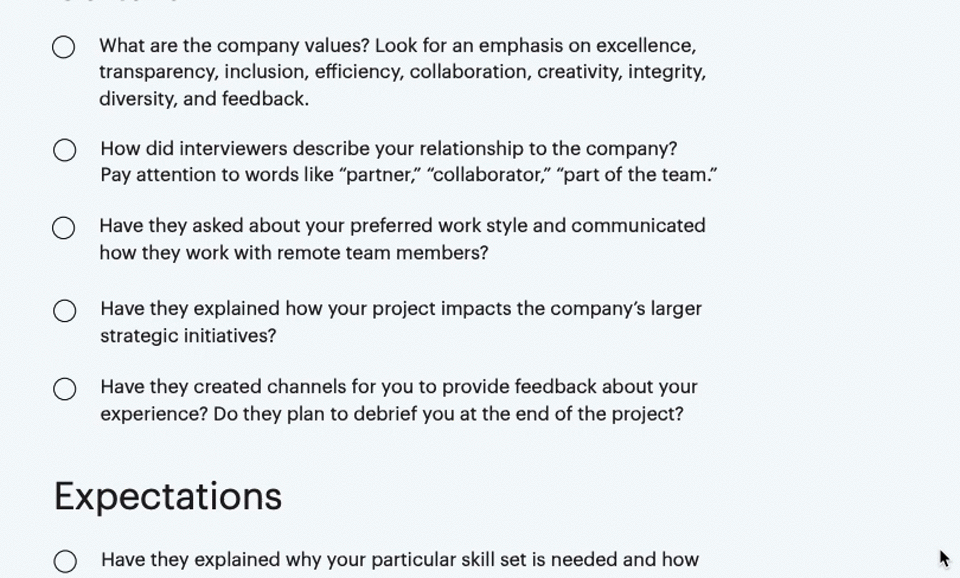 Why the checklist? It's simple.
The mission of Braintrust is to give Talent access to the best job opportunities. This checklist makes it easier for those Talent to figure out which jobs are the right ones for them and ensure they're set up for success.
And the fact that the Community itself created it? That's what really impresses us.
Oh, and here's a tip for enterprises out there: this checklist will give you great insight into what it takes to win over the best talent.


How Braintrust delivered on Q2 goals.
The network's goals for this quarter were two-fold: to thrive and to scale.
To do that, we came up with the four main initiatives below:
1. Increase the job fill rate by 45%.
After months of focusing on this challenge, it looks like Braintrust hit the 42% mark! There's more work that needs to be done to inch up to 45% stay there, but nonetheless, we couldn't be more proud of this team.

Hires percentage = fill rate for Q2.
2. Enable Talent to drive 50% of all new Talent referrals.
Right now, Talent are driving 38% of all new sign-ups. Things are trending in the right direction. And the team is throwing fuel on the fire by upgrading the referral experience, sign-up process, and onboarding flows to help drive this number even higher.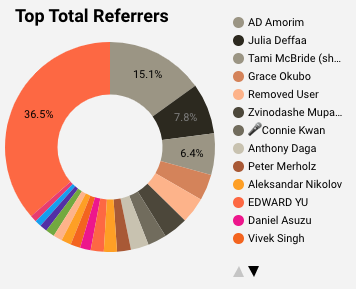 3. Improve the product experience for both Talent and Clients.
Product just unveiled the first few iterations of its rebrand, and is actively working on improving product navigation, referral programs, and onboarding processes. This is a long-haul effort and to be honest, it's taking longer than we originally anticipated–but we have good reason to be excited about the progress.
Here's a peek at some of the in-progress updates happening to Talent profiles that will enable users to better share their skills, experience, and past projects:


4. Build governance processes that help the network decide how to grow the platform.
In Q2, Braintrust conducted a (successful) Governance beta! With participants from the Community, the entire 4-step voting process was tried and proven to be effective. It happens in 4 steps:
Ideation: users discuss and suggest changes to be made
Vote off-chain: users take a poll on Snapshot to determine if there is enough interest and public support for the change proposal to move to official voting.
Vote on-chain: users vote with their BTRST tokens (don't worry, they don't actually have to spend them) for the proposed change.
Execution: if the vote passes, the change is automatically incorporated into the blockchain.
This beta was monumental because it proved how Governance will work for this decentralized network, and how its users can exercise their ownership and control over how the network grows and develops. And now, it's official... Braintrust Governance is live along with the voting portal!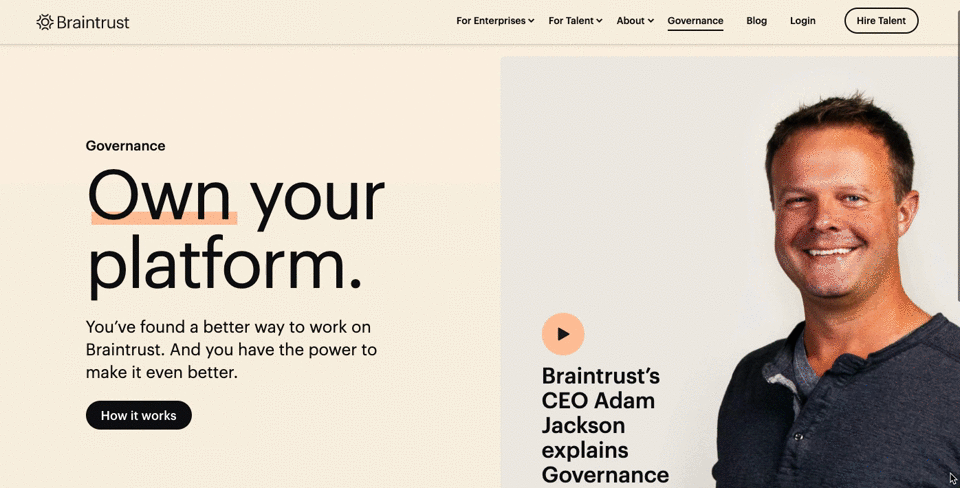 Community love.
We've been hearing a lot of great feedback from the community about how Braintrust is making a difference in their lives. As founders, this is incredibly rewarding to see. As fellow members of this user-owned community, it inspires us to continue working to make Braintrust even better. We are so proud to be building this network alongside this incredible community!
Want to shout about Braintrust? Share your thoughts on Twitter and LinkedIn.



Some closing thoughts.
There've been a lot of wins (and challenges) this quarter, but the bottom line is that none of this would have been possible without you. Whether you're Talent, clients, investors, or just an interested viewer–we see you and we're grateful for all you do to help this network grow and thrive.
Here are 3 great ways to participate in this growth journey with Braintrust:
Join the Braintrust Discord! There are tons of conversations happening daily about what's going on in the network, new jobs, development opportunities, and much, much more.
Subscribe to Braintrust's newsletter. Each one is packed with the most important news updates and content (like hot jobs sent to your inbox if you're a freelancer, or resources to help businesses accelerate innovation) to keep you up to date with all things Braintrust.
And, join our fast-growing community of 19,000+ followers on LinkedIn and Twitter.
Till next time,
Gabe & Adam