The WYSC (why you should care):
If you've been reading these updates, you know how Braintrust has been pacing towards goals. Well this week, they're resetting the clock and starting Q2 with a new, fresh, ambitious set! Stay tuned to these updates and you'll see how the team progresses towards achieving them.
🚩 Weekly challenges and red flags:
The hardest part about goal-setting is paring down. Each department in the Braintrust Core Team has a ton of goals to better the network, but they had to pare down and focus only on the ones that are most business-critical. Sometimes, being growth-minded means putting a dream on pause for a quarter.
🧠
Braintrust Core Team job opportunities.

Want to roll up your sleeves and help Braintrust achieve all these goals? Check out these open positions and apply to join the team that's building the future of work.



Interested in getting involved another way?
Refer great Talent to join Braintrust by sharing this link here!

👨‍💻 Company Updates.

How job fill rate changed throughout Q1.
The biggest priorities in Q1 were improving job fill rate and increasing the number of approved Talent on Braintrust. Q2 will continue focusing on these goals as well (because consistency is key), but with more advanced tactics and better results.
Fueled by the successes and the learnings from Q1, the Core Team is ready to get to work!

💸 Sales Updates.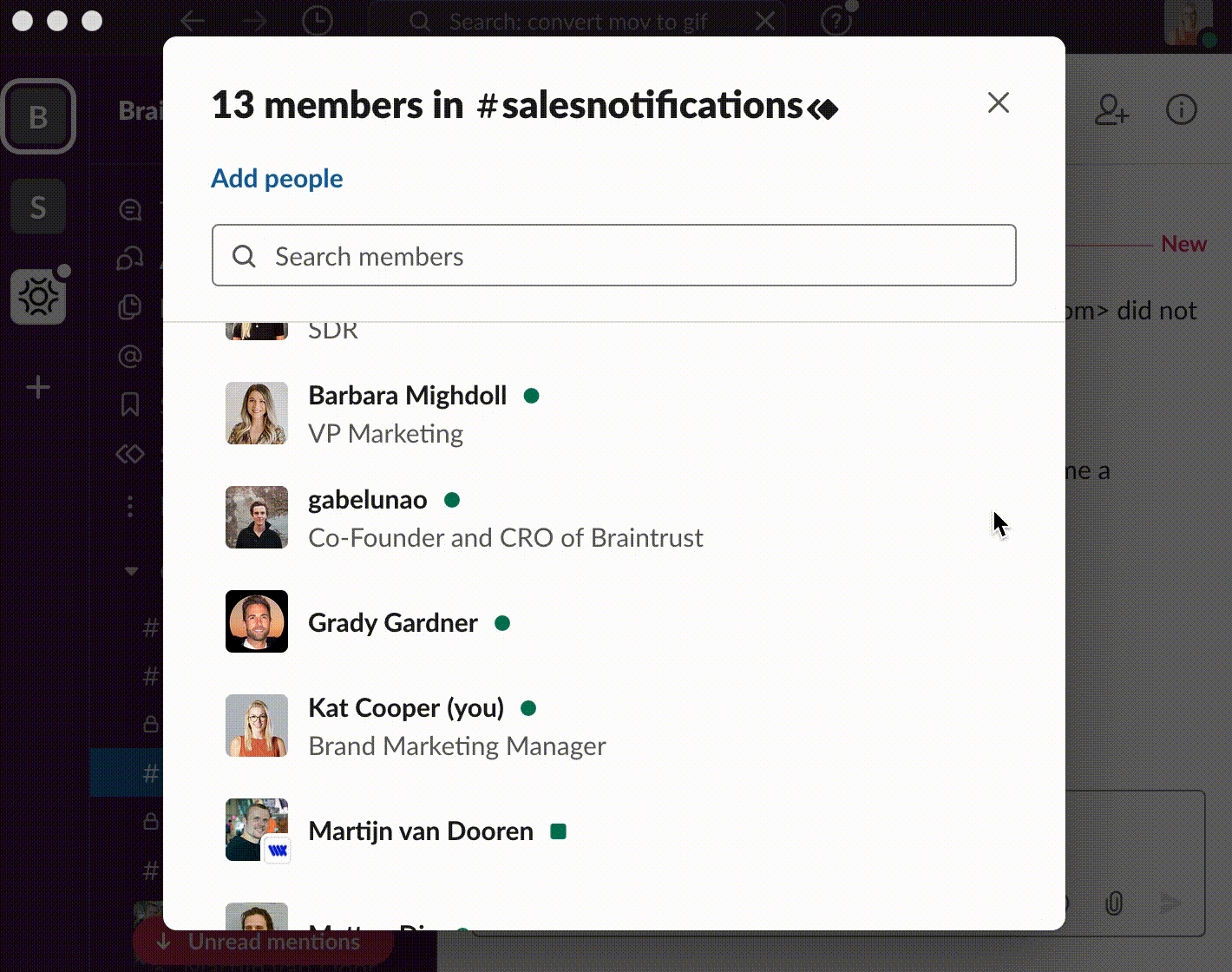 The Sales Slack channel is about to get a lot more crowded in Q2.

Q2 Goals:
Close 15 new Enterprise client deals - aiming big for those big brands!
Set up existing clients to drive 60% of overall business growth.
Set up SMB (small to mid-size businesses) clients to drive 25%+ of overall business growth.
Achieve below a 15% monthly customer churn rate.
Achieve a job fill rate over 45%.
The plan to reach them:
May: Team onboarding is step one, and with 2 new Account Managers and 2 new Account Executives starting, Sales will be plenty busy on that front.
End of May: Launch version 1 of the Braintrust CSAT automation. And if that sounds like gibberish, it just means launching a productized way to gauge customer satisfaction.
Weekly: The team is aiming to add 5+ new Connectors every week. (Connectors is a fancy word that means a person who introduces the Sales team to potential clients. So, Sales is looking to find more of these amazing referrers!)

🦄Talent Updates.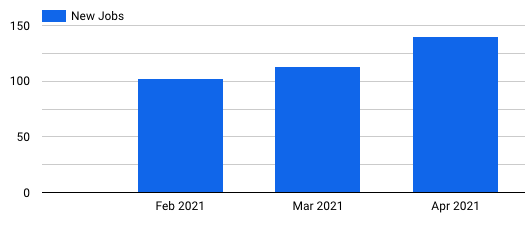 How the number of new jobs on Braintrust grew over Q1.
Q2 Goals:
Achieve a 45%+ job fill rate.

Successfully fill 200+ jobs!

Add 1,500+ new approved Talent to the platform.

Aim to onboard 250+ approved Talent every week by the end of the quarter

Stretch goals (because thinking big is the Braintrust way): May - 350, June - 500, July - 600.
The plan to reach them:
May/June: Work with Marketing to help them drive higher volumes of Talent sourcing.
May: Implement a protocol for when job surges (an event where a client adds a bunch of jobs to the platform at one time) occur.
May: Hire 2 more Talent sourcers (people who find potential Braintrust Talent) and 1-2 more Talent matchers (people who match Talent to open jobs on the platform).
May: Improve Talent measurement and analytics capabilities.
Full quarter: Recruit 30+ new community screeners (approved Talent who help screen new Talent applicants).

📝 Marketing Updates.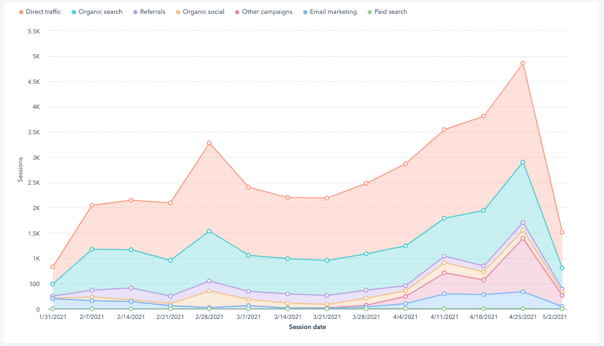 A look at the Braintrust website traffic over all of Q1.
Q2 Goals:
Client marketing: Aim to drive 25% of all new business from Marketing activities.
Talent marketing: Drive 30% of all new approved Talent from Marketing activities.
Revamp the brand narrative and build the persona messaging framework.
Prepare for public launch.
The plan to reach them:
Launch a quarter-long campaign themed "A better way" to generate top of funnel leads for both Talent and Clients, and continue to drive them down the funnel.
Build a Talent nurture email program for the entire Talent lifecycle, including driving Talent to apply, onboarding and product communications, and helpful resources.
Produce client and talent stories to showcase Braintrust's value.
👪 Community Updates.

There were a ton of Talent referrals in Q1… Q2 is about to be even better.
Q2 Goals:
Improve the referral program so that it enables the Talent community to drive 50% of all prospective Talent referrals.
Increase Talent event attendance for Monthly Approved Talent All-Hands to engage more of the community to participate in building Braintrust.
Empower the Braintrust community to self-organize events without the help of Core Team.
Implement a community engagement tracking and measurement system. The idea here is to understand how, when, and who is staying engaged with the community!
Prepare community for public launch
The plan to reach them:
Make structural improvements to the Talent referral program, including building easy referral actions right into the product dashboard.
Hand off more organizational tasks to community leaders to decentralize ownership.
Evaluate tech stacks for building a community engagement tracking system and a community satisfaction survey.
Work with community members to encourage them to share more of their stories and be the voice of Braintrust!

🏛️ Infrastructure Updates.

A peek at early-stage Figma wire frames for the self-service support center.
Q2 Goals:
Build all required systems and processes to promote BTRST token utility and prepare for the public launch.
Improve talent and client technical/customer support while reducing impact on Braintrust Core Team.
Strengthen Braintrust's financial ecosystem to bulletproof payments to talent.
The plan to reach them:
Develop and test on-chain voting for the community. (If you're looking for some information on blockchain governance to help decode some of the lingo in these updates, check out this article.)
Build, test, and deploy a self-serve customer support and ticket system to alleviate workflow for Braintrust Core Team.
Onboard a new banking partner and payment partner.

💻 Product Updates.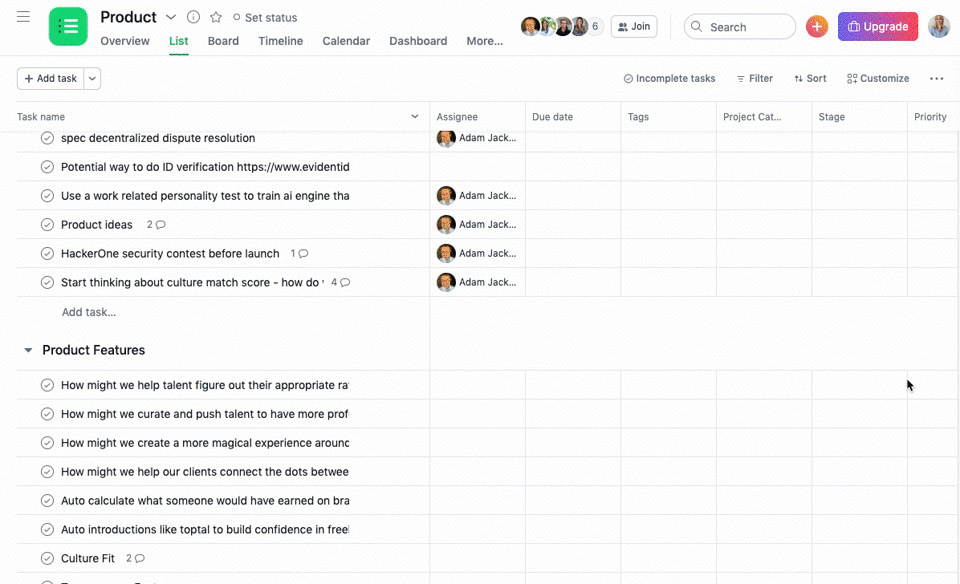 The Asana project for all the Product feature requests going live this quarter! ....just kidding.
Q2 Goals:
Make talent onboarding fast, easy, and delightful while maintaining quality.
Grow organic talent referral volume and quality.
Prepare for public launch.
The plan to reach them:
Streamline the product experience for sign up, Talent approval, profile creation, and profile completion.
Improve the Talent referral user experience and test new ways to improve and expand the impact of the referral program, including testing other distribution channels like email, Slack, and forums.
Make governance processes accessible from the Braintrust website and the product dashboard.

👤 HR + Culture Updates.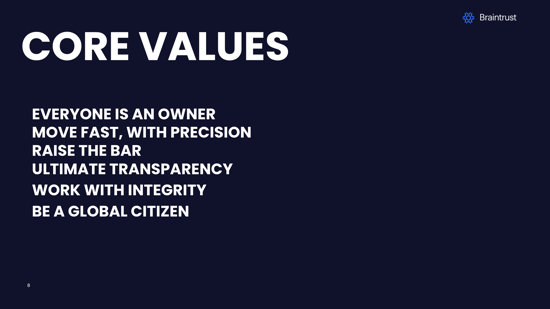 A peek at the old version of the Braintrust Culture and Values deck that's getting a facelift this quarter.
Q2 Goals:
Sourcing & Recruiting: Make 13 best in class hires for the Core Team.
Onboarding: Continue to hone the onboarding process to make it more efficient & effective.
Culture & Values: Open source the Braintrust culture and values so the entire network is infused with them.
The plan to reach them:
Leverage strategic relationships to increase hiring referrals and bring in the Talent team to help source candidates for Core Team roles.
Focus on building clear, goal-based onboarding plans for employees, removing any friction in the process, and creating "introduction to Braintrust" materials which can be repurposed for every new hire.
Get feedback from the community on the Braintrust culture and values, and work together to create clear documentation for them. Then, host them in a publicly accessible place and add them as resources for Talent and client onboarding processes.