🤝 Node expansion.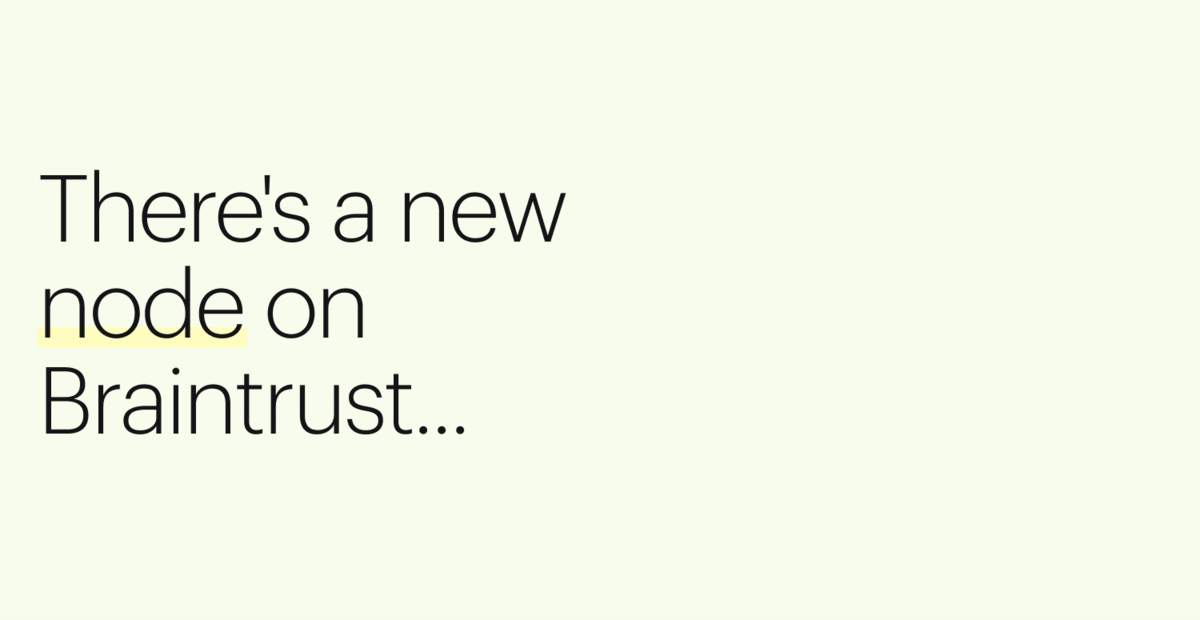 Braintrust is getting bigger and better. Last week, we officially announced that Kunai has been added as a node on the network! This addition was proposed and approved by the community and has a massive impact on the future growth trajectory of Braintrust.

Kunai is a distinguished digital product agency with deep expertise in the financial services industry. Not only do they bring over a deep bench of Talent, an impressive client roster, and GSV to the network (last year they did over $12M in GSV). They're also proving the case for something even bigger: a model for how node expansion can drive massive growth into new industries and geographies on this Web3 network. Learn more here.
👀 Transparency as a rule.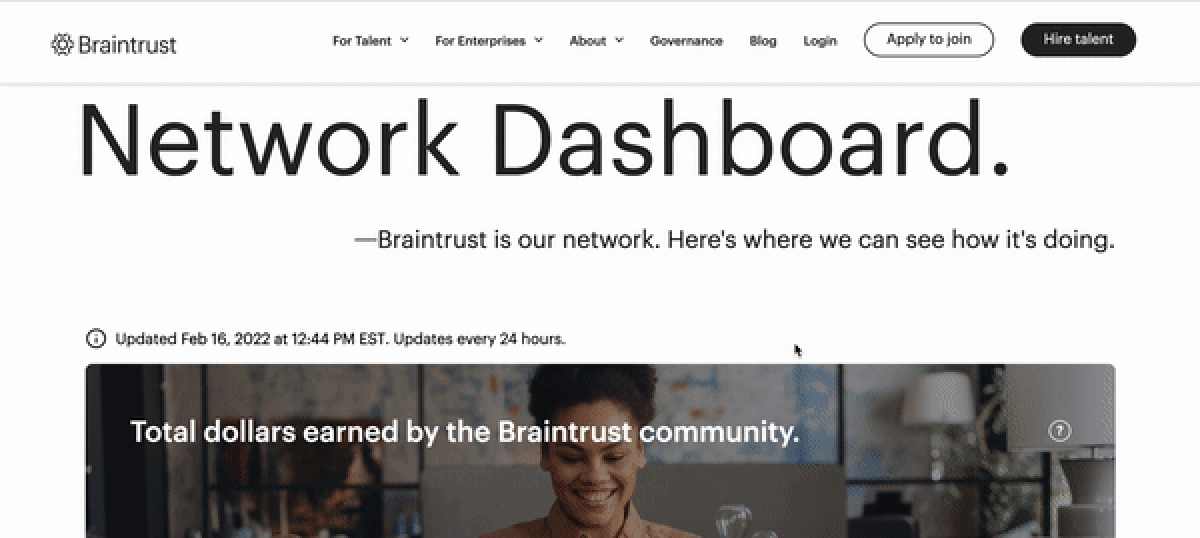 Last month, Co-Founders Adam Jackson and Gabe Luna-Ostaseski got real about the value of transparency on Braintrust. The bottom line? We're not just building in public or open-sourcing our product so that other people can learn from what we're doing.

Braintrust is committed to full transparency because it enables all our owners to make informed decisions about the network's future. The Network Dashboard is a key tool in enabling that transparency, with real-time stats on network sales volume, Talent and job growth, client fees collected and converted to BTRST to fund the DAO, Talent market rates by skill, and more. Check it out.
💸 Talent earnings
Our mission is to spread economic opportunity more equitably around the world. Gross Service Value (GSV), the total dollars Talent have earned on Braintrust, is the metric we use to measure progress on that mission.
In February, Talent surpassed $44.5M in total earnings on Braintrust. That's progress this whole community should be proud of.
💼 Client updates.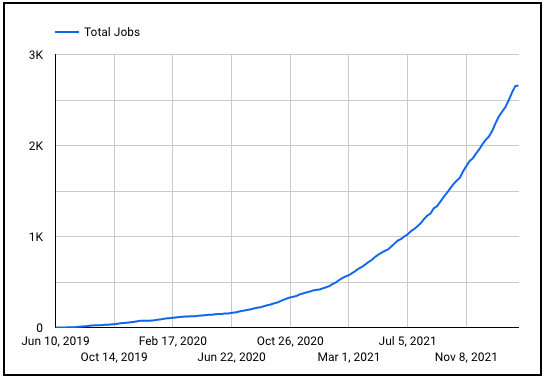 The total number of jobs posted to the Braintrust platform.
Over 2,600 jobs have been posted on the Braintrust platform so far. And in February, over 60 companies hired talent on Braintrust!

If that isn't a sign that Braintrust's Web3 model is a better way to hire, we don't know what is.

Here are a few of the brands who hired last month: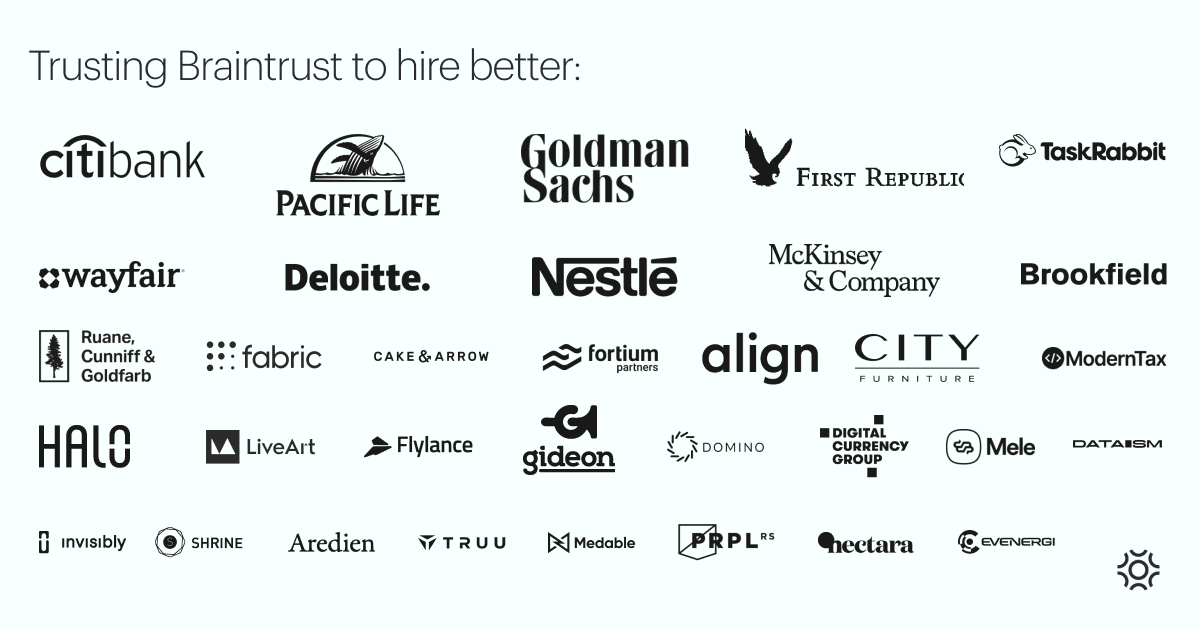 🦄 Network growth.
The total number of Talent who have signed up for Braintrust.
At the time of this writing, almost 46,500 Talent have signed up from all around the world to join Braintrust.

Interested in joining too? Apply as Talent.
🏛 Network infrastructure.
One of the biggest Grant projects from the MVP wave is Builder Grant A004 to create a Support Ticketing System. And if implementing a solution into a platform that has been out of stealth for nearly 2 years without one doesn't sound hard enough, it has to be open-source.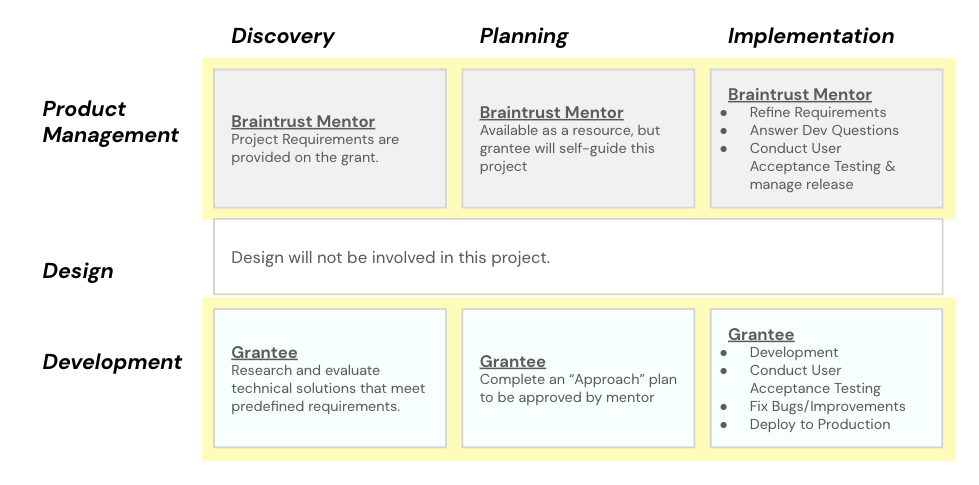 The Grant project scope.
Thankfully Sameer Kanda, a Full Stack Engineer on the network, is already on the case. The grantee is evaluating open-source solutions and discussing deployment, hosting, and CI/CD pipeline with HexOcean, a core node responsible for platform development. Soon, the ability to flag, escalate, and track user issues all the way to completion will be live (and it can't come a moment too soon).

Meanwhile, a couple other big infrastructure projects in progress include:
Setting up the ability for Talent to get paid in crypto.
Evaluating possible healthcare partners for US Talent.
🖨 Hot off the presses.
You've probably read Web3 leader and Founder of Not Boring Packy McCormick's deep dive on our model, Braintrust: Fighting Capitalism with Capitalism. But did you know he joined Braintrust Live last month to share more of his expertise with our community? You can catch his fireside chat here:

Speaking of insightful content about Braintrust, the community has been a content machine lately. Here are a few interesting articles from the community about the Fee Converter and our Web3 model:
👪 Community spotlight.
If we could frame all the user generated genius content this community makes, we would.

In fact, we kind of did! There have been so many amazing community-generated memes, infographics, and visuals that explain what the Fee Converter is and how it impacts this network. So we created a tweet wall to showcase the contributions!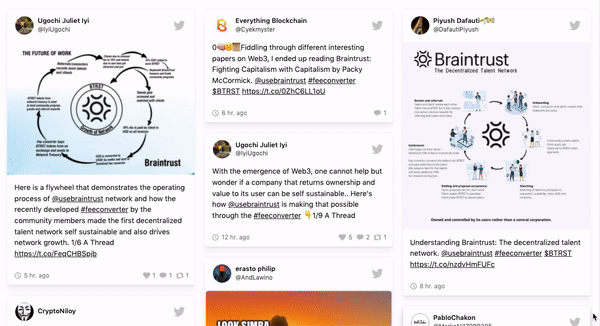 Braintrust Talent being the best and most creative on Twitter.
And those aren't even the only community contributions from the past month. Here are a few more notable things this community has done lately to help out other members:

💻 Product improvements.
We believe that feedback is fuel ⛽️ The problem is, the product has never had a great place to direct it.

Until now: Introducing the Braintrust Frill Board, a tool that helps users easily point out product bugs, inefficient user-experiences, and request needed product improvements all in one place. And the really cool part is that users can give feedback on top of other people's feedback (pretty meta, right?) by up or downvoting others' submissions.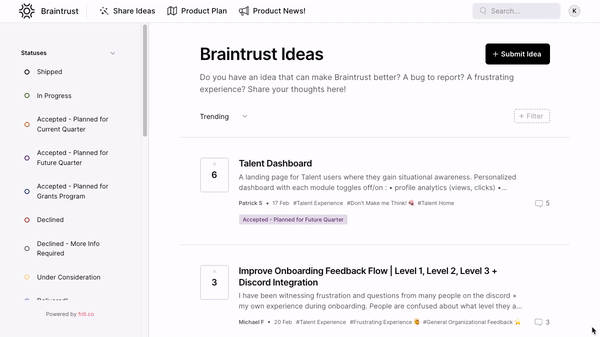 Braintrust Frill Board.
And aside from building communication and dev prioritization efficiencies, Braintrust is also investing heavily in enabling the community to contribute to building the product. These community Grant projects are kicking off with grantees:
Pilot Grant 1: Slack Job Notifications.
Pilot Grant 2: Job Alerts Management.
Builder Grant 001: Badging.
Builder Grant 002: Jobs Module.


🤝 How to get involved:
There's a lot happening on Braintrust, and there are tons of ways you can help build this growing network: