Braintrust is building the best experience for finding work.
And today, you, the builders of the Braintrust community, took a critical step in building that future, passing a community proposal to add the digital product agency Kunai as a node to the network.
The vote to add Kunai as a node to the network — which works with top clients such as Mastercard, Capital One, and American Express and had $12M in 2021 GSV — signifies a major expansion into the financial services industry.
However, it also paves the way toward something far greater: a model of node expansion into other lucrative industries and geographies that can drive a drastic increase in GSV and client fees converted to BTRST to fund incentives and rewards programs for our community.

Node expansion: a huge force multiplier.
Right now, Talent in the $5.3 trillion tech market have to sift through hundreds of subpar options to find work — and then the middlemen mark up their rates, driving their earnings down.
Braintrust is bringing together the world's best Talent and clients in one space to unify together in building the best experience for finding work.
The network has already driven $40M in GSV in just 18 months, seeing 15% MoM growth while giving Talent control of the network through the BTRST token.
Braintrust has done all of that with just six nodes working alongside the community. How much more could be accomplished with just a few more nodes?
Node expansion offers a huge opportunity as a force multiplier for the network.
After all, new nodes don't just drastically increase the liquidity of jobs and Talent. They also funnel their GSV through the network thanks to the Fee Converter smart contract.
What's more, they represent a great opportunity to expand economic opportunity. As new nodes from all around the world plug in and push the network forward, they will have tremendous ability to amplify their own brand and add new clients as well.
Braintrust is building the Web3 Agency playbook.
This is how Braintrust is building the playbook for a new "Web3 Agency" model, one which offers a redefined experience with deeper transparency, increased agency collaboration, and a flatter engagement structure.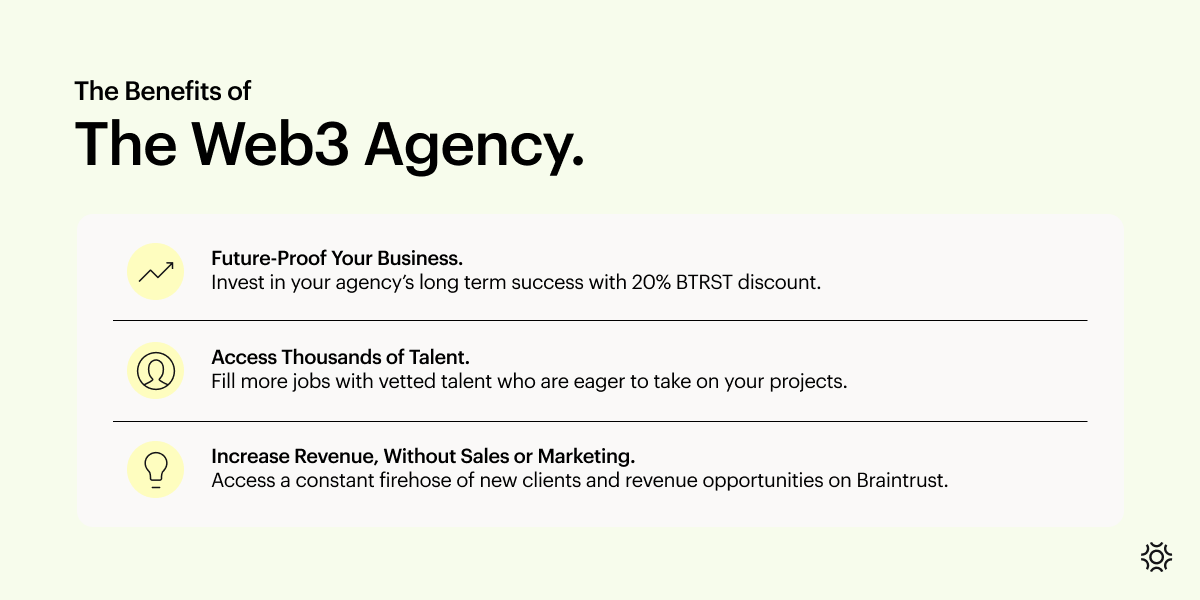 Here's how agencies benefit from a Web3 model:
Future-proof their business: With 10% of your revenue paying network fees, agencies are granted BTRST at a 20% discount, investing in the agency's long term success.
Access thousands of Talent: Fill more jobs with vetted talent on Braintrust eager to work on your interesting projects.
Increase revenue, without sales or marketing: Agencies get access to a constant firehose of new clients, thanks to the brand power of Braintrust.
By adding value for agencies, Braintrust network owners also get additional value in return.
Here's how Talent benefit:
True market rates: True global market rates emerge for Talent, leveling the playing field and creating healthy competition. That's why Braintrust is transparent about market rates through the network dashboard. If agencies don't stay competitive with their rates, they won't win work. Profit margins and fees for agencies are compressed … which means Talent get to keep more.
Expanded job opportunities: Job expansion into new industries and geographies, expanding economic opportunity across the globe and increasing the quality of jobs on the network.
More BTRST to fund community programs: Even more fees are collected in GSV, which means more value for the community — thanks to the fact that 10% of node GSV is converted into BTRST through the Fee converter.
Announcing the $60M GSV Refer a Node Competition.
The community is launching a competition to reward people who drive agencies to become new nodes on Braintrust, with the goal of adding $60M in new GSV through node expansion in 2022. In order to apply, agencies must have $10M+ GSV projected for 2022, must have the ability to fill 10+ roles per month with Talent who have expertise in software engineering, design, and product management, and must specialize in a specific industry or geographic region.
One winner will be selected each month of the competition, receiving 1% of total node GSV contributions in BTRST from their referred node (up to $10K). Want to learn, and earn, more? Apply to be a Node or refer an agency now.
Proving the Web3 Agency model with Kunai.
Let's use Kunai as an example.
Kunai specializes in recruiting and vetting top tech Talent. By joining Braintrust, they will help fill jobs for, and expand jobs offered by, financial services clients on the network.
As a new node, Kunai will stand up a full recruiting team that sources, screens, and matches Talent, which takes pressure off other Braintrust nodes — extra resources that allow for exponential growth.
Even if the digital product agency just kept its 2021 pace in the coming year, that would mean an additional $12.5M GSV on Braintrust — a 31% increase in GSV.
That's a great addition for the BTRST community, converting $1.2M of client fees into BTRST immediately through the Fee Converter smart contract, which means more tokens for community development.
And that's just from one node!
Each new node approved by the community leads to more clients offering high-quality jobs to Talent, with each transaction leading to more client fees converted.
Each new node shares in that success, getting access to new client leads that come in because of the strength of the Braintrust brand, while also receiving BTRST tokens that give them say over the network they work on.
It's a cycle of mutually aligned incentives that drives rapid community growth — and its potential is unlimited, with the ability for teams from countless lucrative sectors to join together in forming the best experience for finding work.
Node expansion drives network expansion.
Today, Kunai brings its considerable expertise in a financial services market worth trillions globally, with the industry's application sectors alone expected to be worth $164B by 2025.
Tomorrow, new nodes could break ground for Braintrust with clients and Talent in health care, automotive services, insurance, and other geographies growing the jobs available in regions like Europe, Africa and Asia.
That's why it's so critical for you to rally in reaching out to high-quality agencies whose businesses may be a fit for the first decentralized Talent network.
Want to Participate?