⏳ The TL;DR.
Braintrust prepares for the launch of the BTRST token on the Ethereum Mainnet in September!
Allstate, Solana, Keller Williams, TaskRabbit, Endaoment, Sifchain and more hired on Braintrust last week
Take a crash course in ownership economics by reading Why Braintrust Was Founded by Adam Jackson and Gabe Luna-Ostaseski
Braintrust is hiring like crazy - explore open roles here
Get a behind-the-scenes look at what's going on at Braintrust on Discord

💸 Client Updates.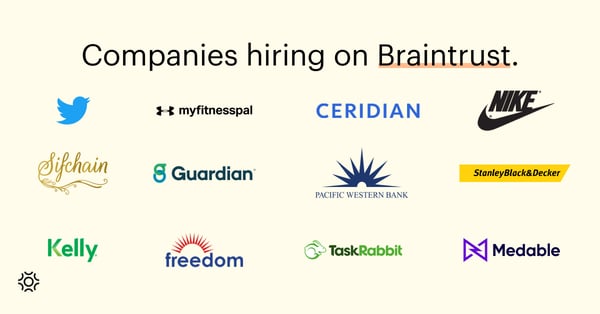 A few clients who are hiring now on Braintrust!
Total jobs on Braintrust over time.

There are a TON of job opportunities on Braintrust right now. Check out a few of the companies hiring per role below:


Designers: Fabric, Medable, Compass, Chartbeat, Freedom Financial, Goldman Sachs, Nextroll, Ceridian, Keller Williams, MyFitnessPal, Peachee, Nortal, Nine Labs - see them here.

DevOps/Admin: BRD, Guardian Life, Mesmer, Crosslake Technologies, Noumena Partners, Fulcrum Workforce Solutions, Mesmer, Lottery Now - Check out the roles.

Engineers: American Eagle Outfitters, Goldman Sachs, Jackson Family Wines, Porsche, Stanley Black & Decker, Supersapiens, Twitter, Wayfair, DubClub, Versusgame - See all the opportunities here.

Product Managers: Citi, Nortal, Compass, Nike, Millicent, Goldman Sachs, Guardian Life, Pacific Western Bank, Braintrust - check out the job board.

Marketing and Writers/Content Creators: Myriad, Rapyuta Robotics, Medable, Serotonin, Guardian Life - check out the roles here.

And many, many more on the job board!

🦄 Network Growth.

How the Braintrust network has grown.


Here's a high-level look at some impressive growth metrics:
7,018 total talent have signed up for Braintrust
5,072 total referred users
1,210 total jobs

If you're a Braintrust Talent reading this and you're looking to get hired, there may be improvements you can make to your profile. Take a look at these Braintrust Talent who recently landed jobs, and see how they told their unique stories to attract clients!

📝 Hot Off the Presses.
Braintrust is a blockchain-powered talent network, and very proud of it. But have you ever wondered why blockchain is in the mix? Or why you constantly hear the term "user-owned and controlled"?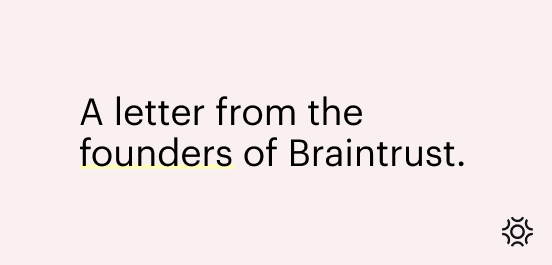 Then check out Why Braintrust Was Founded, a letter from Co-Founders Adam Jackson and Gabe Luna-Ostaseski. Think of it like a declaration of decentralization or an ode to the ownership economy. Or, just a letter that shares the real human emotion and motivation behind all these $5 words and fancy tech. It's the "why" behind all the work that goes into building this user-owned network. And not to come off as biased, but it's a pretty inspiring story. Check it out.

A few good reads:

Then tweet at us and tell us what you think!

👪 Community Spotlight.
Talent in the Braintrust community are so good, they can sell themselves.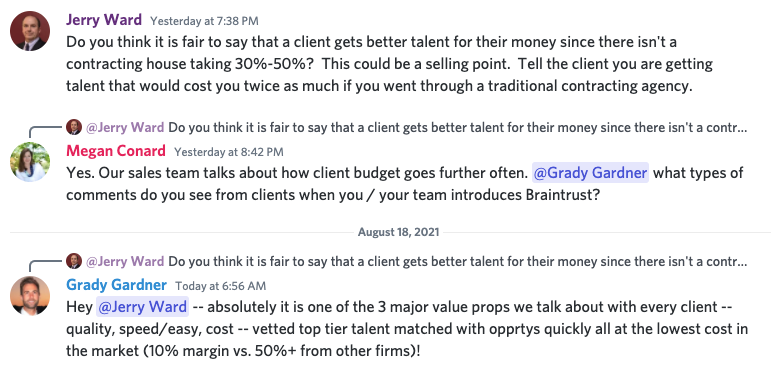 This is just an example of the many convos happening on the Braintrust Discord, where folks are sharing career tips, productivity ideas, new hot jobs, interesting developments in their respective career fields, posting helpful articles about crypto, and much more. Join us there!

And with the BTRST token launch coming up soon, the community is preparing for an interactive AMA session on Wednesday, August 25 at 9 AM PT to share all the most important details about the launch. Whether you're a Braintrust Talent, client, fan, or curious observer, you're welcome to join and learn all about the new BTRST token, including:
What to expect when BTRST launches on the Ethereum Mainnet
What you'll soon be able to do with BTRST
How to set up your crypto wallet
And any questions you may have! Submit them ahead of time here.

🏛️ Network Infrastructure.
Let's talk token!

If you haven't heard/read anything else on this page/paid any attention to your emails from Braintrust, the BTRST token is about to launch on Ethereum Mainnet in September! And prep work is no joke. Just this week, Braintrust is testing token withdrawal functionality, testing voting processes, reviewing all documentation, and building a Braintrust Academy Course to help network members get acquainted with the token.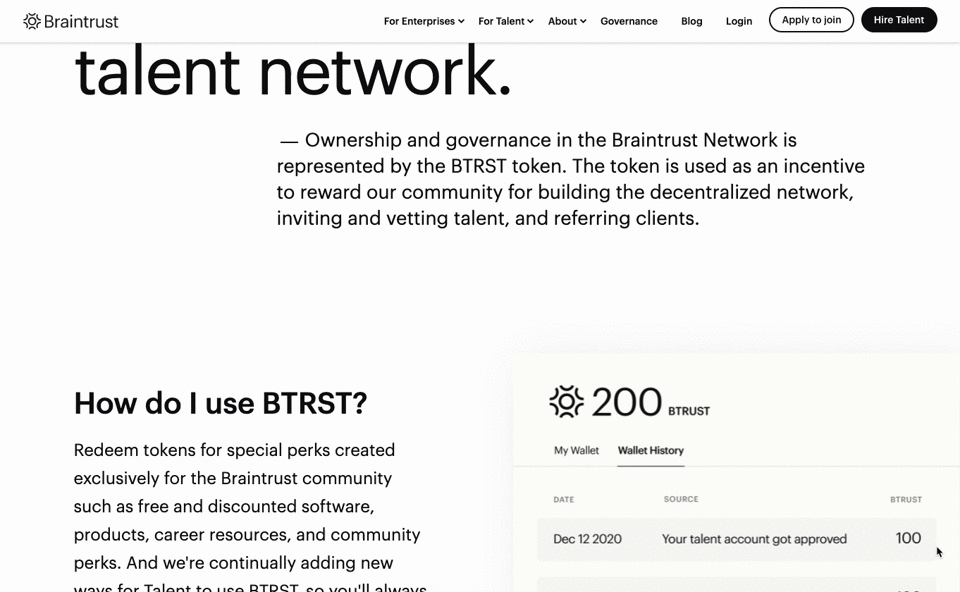 And this old page? It's about to get an upgrade with helpful, actionable, and exciting information about how you can earn and use BTRST once it launches on Mainnet. STAY TUNED!

Here's the status of some other important Infra projects:
The public dashboard is in development
Help Center updated with new BTRST reference materials
The Chrome extension to help build talent profiles will be back on the docket in September… post BTRST launch.

💻 Product Improvements.
Infra isn't the only one hustling to prepare for the BTRST token launch on Mainnet. Just check out the laundry list of product updates slated to go live in time (note… this isn't even everything!):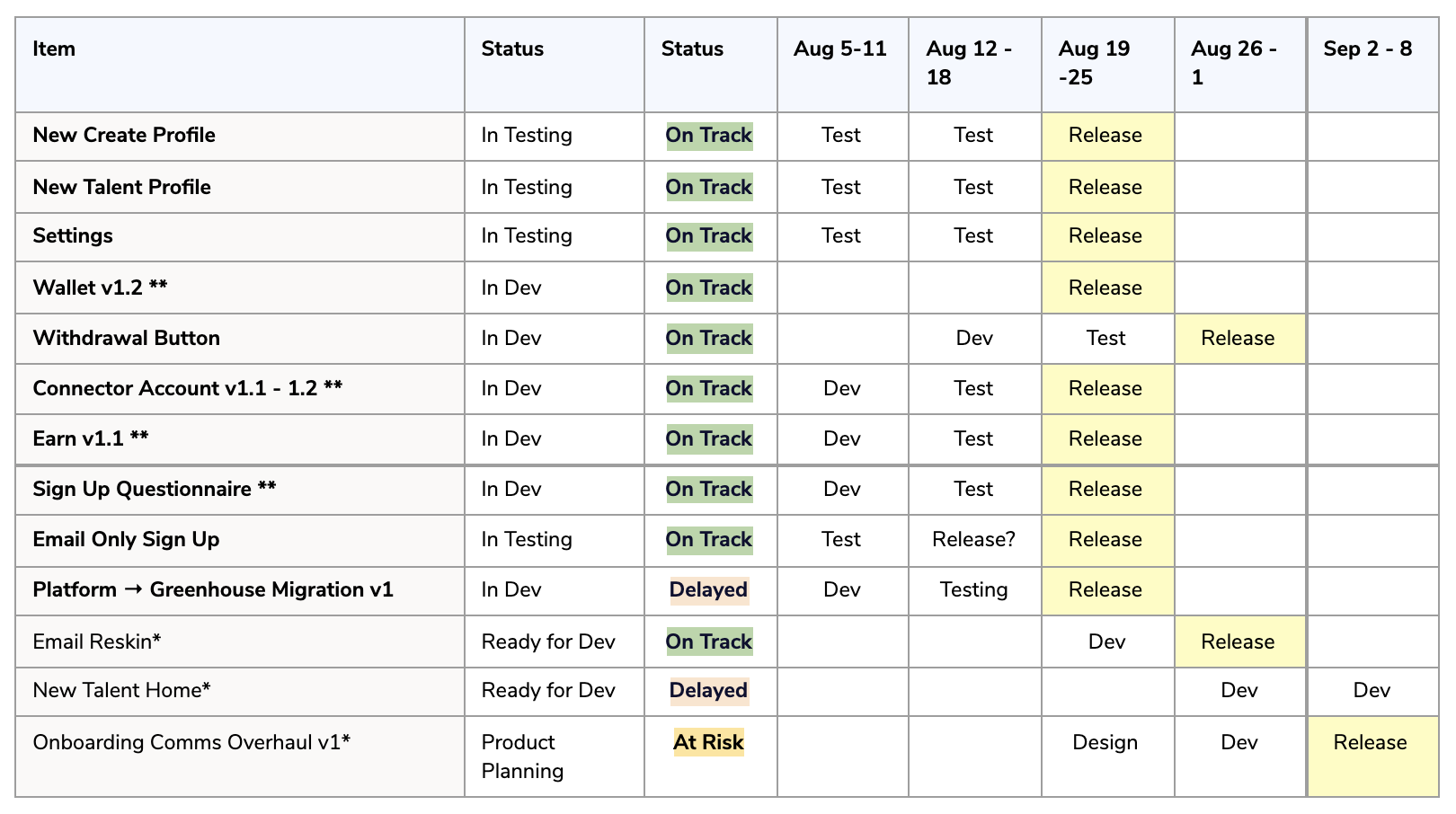 As you can see, there is a ton scheduled for testing and release this week. So if you log on to the Braintrust app and start seeing cool things like updates to talent profiles, a shiny new wallet, and more ways to earn BTRST, you're bound to be excited. And we'd love to hear what you think! Tell us your thoughts on Discord.

Post-launch priorities include:
Making more improvements to the onboarding experience
Making job discovery easier and more delightful
Building out the product team - know someone who might be interested? Check out these roles and apply today:

👤 Braintrust HR + Culture Updates.
HR + Culture is putting the "work" in "network". As Braintrust continues to grow at rapid scale, they're focusing on improving onboarding processes. The goal is to make them easier, better, and more productive for both parties. That includes creating a helpful bank of resources to orient new team members, building clear and fair 30, 60, 90 day plans, and sharing as much about the team's working culture as possible.

Here's a peek at an onboarding deck in progress: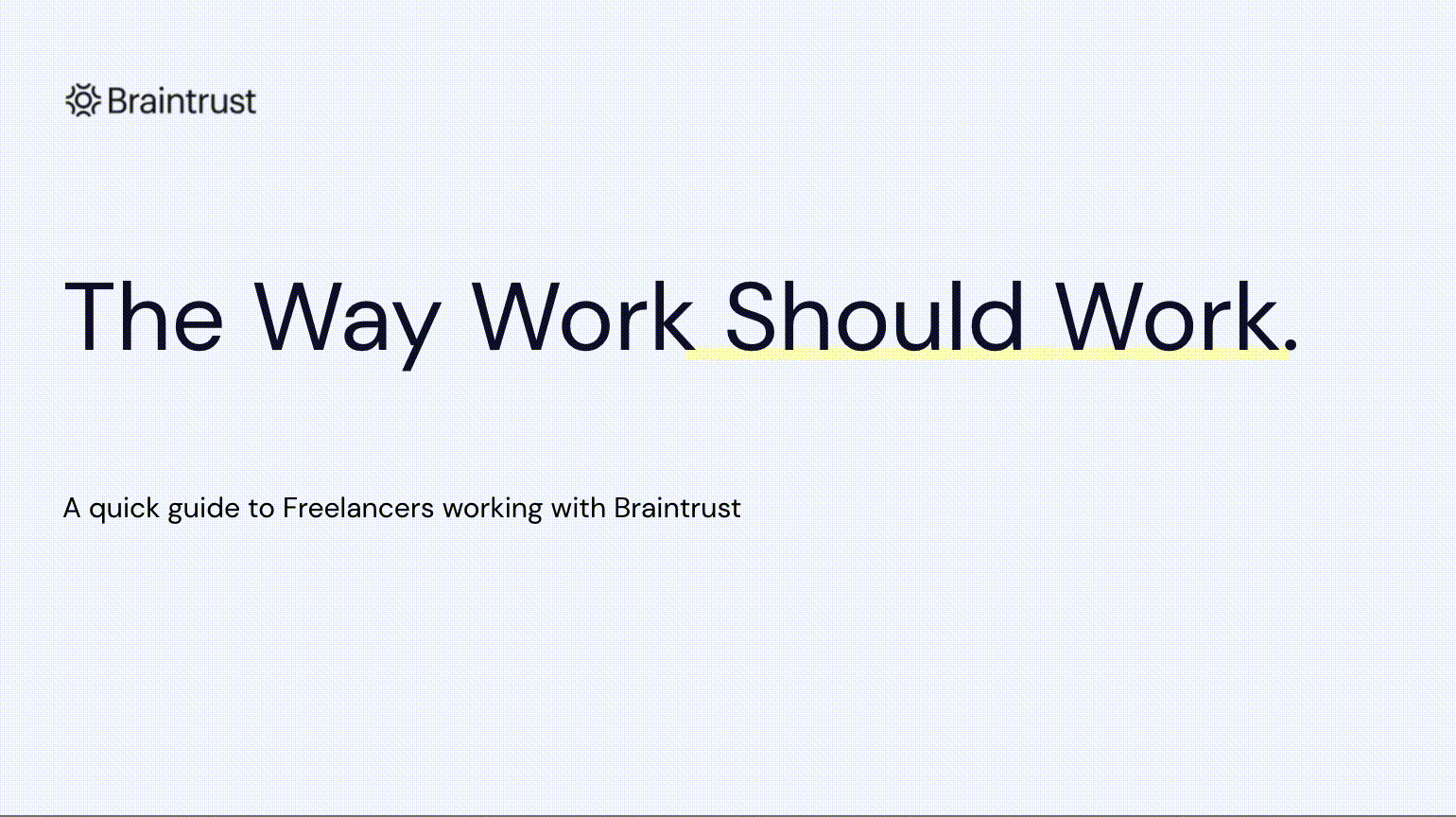 And speaking of growth.... Check out these full-time roles at Braintrust, and come join a group of hardworking, fast-paced, community-minded professionals! All jobs are fully remote and fully awesome.

🚩 Weekly challenges and red flags.
It's crunch time. Launching a token is no easy feat, and there are a lot of things left to do to get this thing off the ground. Braintrust needs to be laser-focused, identify risks before they throw off schedules, and GET 👏 IT 👏 DONE 👏 !