⏳ The TL;DR.
The BTRST token launched on the Ethereum mainnet on September 1, 2021!
New whitepaper alert! Braintrust: The Decentralized Talent Network is now available.
Understanding BTRST: Token Economics published this week!
Goldman Sachs, Atlassian, American Eagle Outfitters, Under Armour, Porsche, Wayfair, and more amazing brands are hiring on Braintrust!
The Information, Decrypt, Cointelegraph, ChainNews, CNYES, CryptoHamster, Blockcast, Investing.com, and more media outlets are reporting on the launch!
Get in touch with the Braintrust community and learn ways you can earn BTRST by joining Discord.
Stay up to date with all things BTRST by joining the Braintrust announcements channel on Telegram.
Want to be a part of this movement… full time? Braintrust is hiring for Social Media Manager, Senior Product Manager, Talent Operations & Matching, and Senior Product Manager, Talent Experience!
📝 Note from the Co-Founders
In today's system of work, workers get screwed. While talent are indisputably the most valuable asset in a company's arsenal, talent needs are overlooked. They get poor pay, little say, and zero control over how the companies they work for operate. But not anymore.

This week, Braintrust officially launched the BTRST token, and work will never be the same again. It will be better.

Braintrust is giving ownership and control back to the workers. Thanks to the BTRST token, which represents ownership and governance on the network, Braintrust users can build a system of work that puts their needs first.

We'd like to give a huge thank you to all the incredible community members and supporters who believed in our mission and put time, energy, and care into making this launch happen. We couldn't be more grateful for you, or more excited for what the future holds.

Braintrust. It's your work, your network, your future. It's time you own it.

-Adam Jackson and Gabe Luna-Ostaseski

📖 Default to Open
One of Braintrust's core principles is openness, and we're committed to being as transparent as possible across every aspect of the network. We provide public updates about what's happening on the network (like these weekly growth reports), and we're pushing live a public dashboard with a ton of metrics shortly.
💸 Client Updates.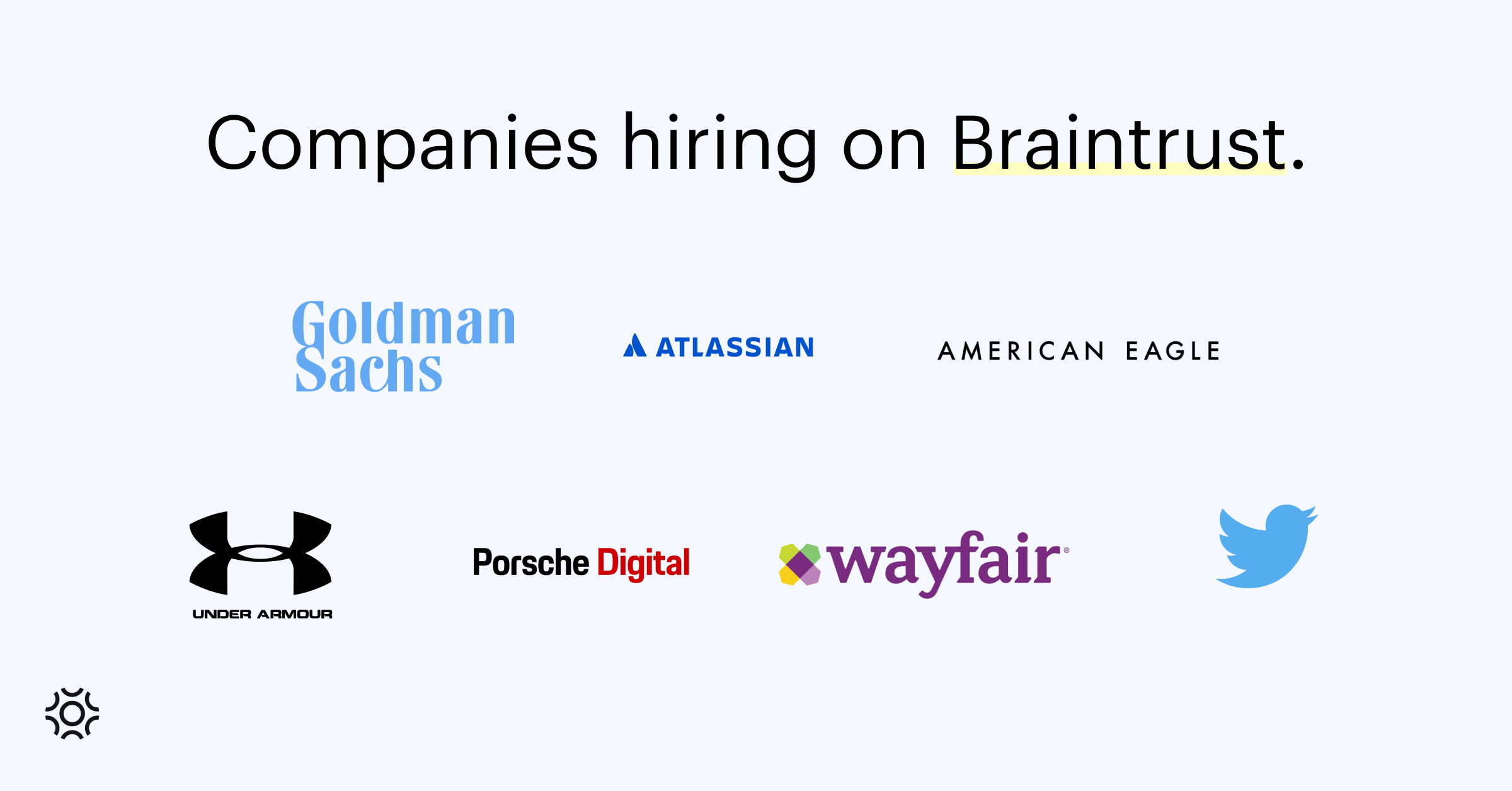 A few clients who have recently hired freelancers on Braintrust!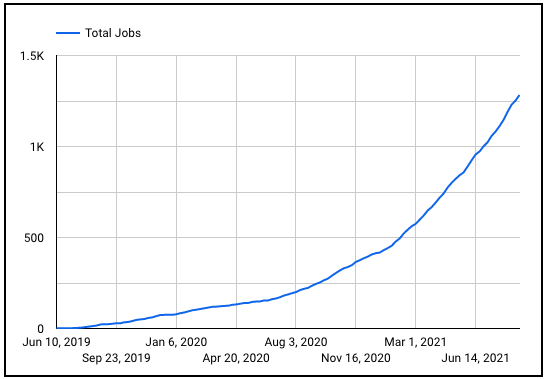 Total jobs on Braintrust over time.



Braintrust clients are the best. We're proud to partner with incredible brands who offer interesting, meaningful job opportunities for the Talent community. This token launch is for them too, so let's give a little appreciation and shout out some of the open roles they're looking to fill!

Designers: Ceridian, Medable, MyFitnessPal, XBTO, Courier, Logitech, Bluebird, Playground, Cisco, ACELER8, MyFitnessPal - see them here.

DevOps/Admin: Stanley Black & Decker, Crosslake Technologies, Fulcrum Workforce Solutions, Mesmer, BRD - Check out the roles.

Engineers: American Eagle Outfitters, BRD, Fabric, Goldman Sachs, Lab Zero, Oak Security, Twitter, Supersapiens, Wayfair, Ceridian, Diligent Robotics, Guardian Life, Keller Williams, Sifchain, WeWork, William Hill - See all the opportunities here.

Product and Project Managers: Twitter, Lab Zero, Aledade, ITRenew, Nike, Citi, Nortal, Compass, Medable, Fulcrum, Lendkey Technologies - check out the job board.

Marketing and Writer/Content Creators: Fabric, Freedom Financial Network, Solana Labs, Medable, Rapyuta Robotics, Decentology - check out the roles here.

And many, many more on the job board!

🦄 Network Growth.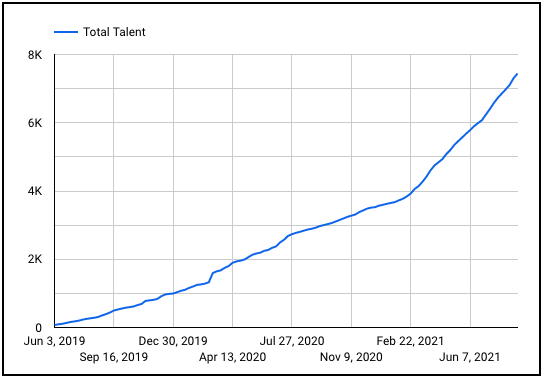 How the Braintrust network has grown. Now that's a steep curve.

Pay close attention to these growth metrics… now that BTRST is on the map/mainnet, these numbers are about to skyrocket 🚀
7,304 total talent have signed up for Braintrust
5,311 total referred users
1,283 total jobs

Are you on the network and looking to get hired or approved? Join the Braintrust Discord and check out the #become-approved-talent channel and the #profile-and-proposal-help channels to get 1:1 support! And in the meantime, here are a few key tips from the Community 👇👇

Include a clear headshot in your profile. Your headshot is the first thing a hiring manager sees when they click on your profile. Show your personality and professionalism with your photo.

Visually balance your profile. In the "Skills" section try to have an even number of skills, about 10-15 of your strongest skills. In the "Projects" section, try to have an even number of projects, 4-6 is a good number. Don't forget to include pictures in the thumbnails.

Think of your Bio section as your magazine cover. What makes you unique? Key things to include in your bio are the years of relevant experience, the high level industries you've worked in, recognizable companies you've worked with, and your career achievements.

📝 Hot Off the Presses.
Braintrust is incredibly proud to announce the publication of the most defining asset in a blockchain project: the whitepaper. Braintrust: The Decentralized Talent Network is a comprehensive document that breaks down:
The problem with today's talent network model and extractive Web 2.0 marketplaces
The emergence of Web 3.0 networks and the ownership economy
How Braintrust is poised to fix what's broken in today's system of work
How BTRST enables that to happen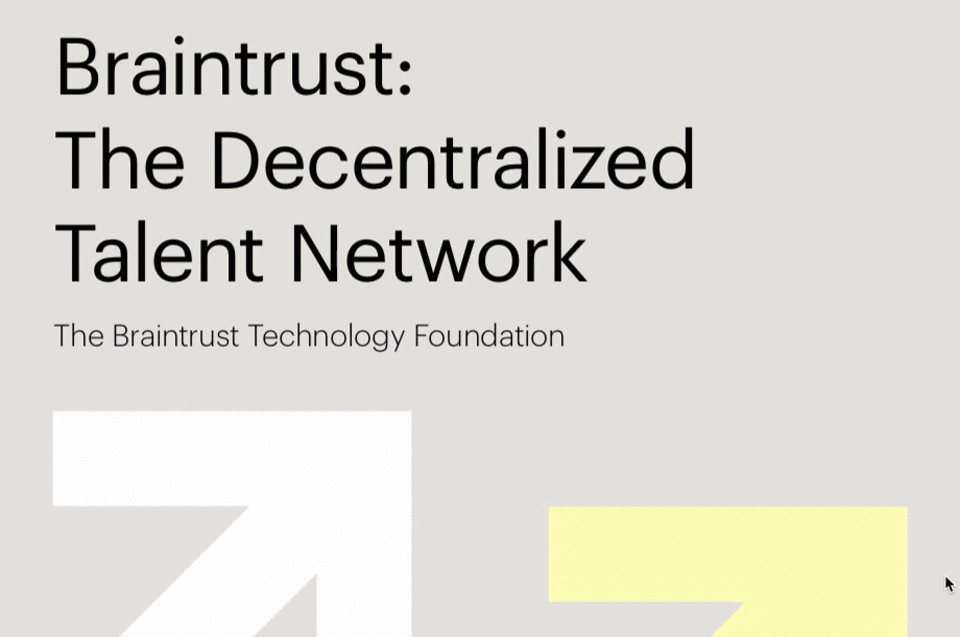 A quick glance at the Braintrust whitepaper.

For a quick and comprehensive understanding of how BTRST works, check out the Token Economics breakdown!

If you're looking for a lighter read, check out the announcement blog that breaks down how the BTRST token launch enables Braintrust to decentralize ownership, control, and governance over this network. That's blockchain-powered democracy right there.

And the press? They can't get enough of BTRST!

Then tweet at us and tell us why you're excited for the BTRST launch!
👪 Community Spotlight.
Community is BOOMING! Braintrust is proud to welcome so many users to the network. The token launch surely drew a lot of new eyes on us, and the community has been more than up to the task of helping orient new people, provide answers to important questions like "how can I earn BTRST?" (Hint: go 2 sections down to product), and share their enthusiasm for the Braintrust movement.

Let's take a moment to appreciate these awesome community members and reflect on what they love most about Braintrust: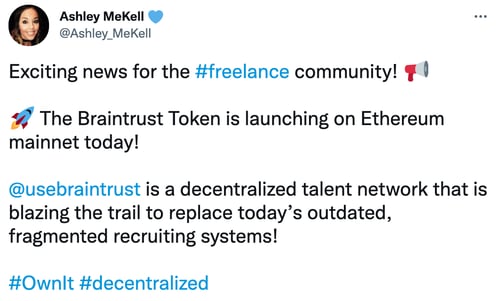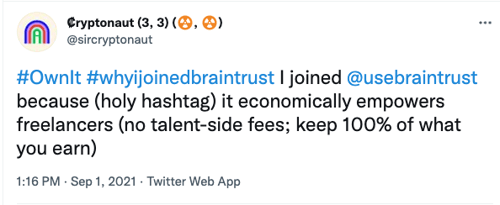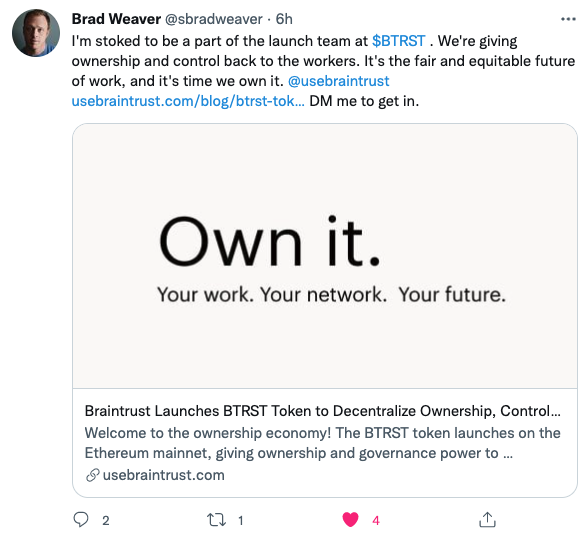 🏛️ Network Infrastructure.
Infrastructure win: The token.

Period. End of update. Nothing more to report.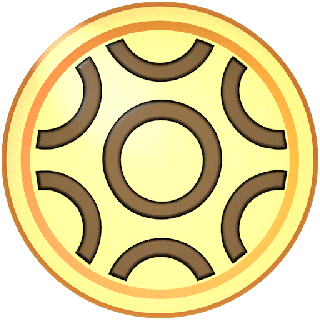 BTRST gets a fun, old school Nintendo-style gif on Discord, courtesy of Dragos Jurca!

...just kidding. Infrastructure at Braintrust is always working on improving something, and this week in the wake of the token launch, that something is withdrawal functionality. Now that BTRST is live on mainnet, it's important to test that withdrawal functionality and make sure all BTRST holders can (and know how to) move their tokens.

Other infrastructure projects in progress:
Development on Braintrust's public dashboard #transparency
Continued development on the Help Center
A node program to automate payments

💻 Product Improvements.
The #1 questions we've been hearing since BTRST launched is "how can I earn BTRST?" And we can't blame you. Shiny new token that comes with ownership and governance power? Who wouldn't want to get their hands on some BTRST?

A new update to the Earn page helps all Braintrust users - talent, clients, or network participants - find ways to earn BTRST. They include things like referring talent, referring clients, special projects, screening new talent, and more! It's never been easier to start earning BTRST - and ownership - on the Braintrust network. And what's more, there's a handy tally for reporting how much BTRST you've earned for your efforts!

Now let's get your numbers up higher than this 👇 Join today.
Updates, fixes, and shine on the new Wallet
Connector accounts! Now you can join Braintrust with ease if you're just looking to refer people + earn BTRST
Email-only sign up + questionnaire are in mobile testing… because everybody hates forms

👤Living Braintrust's Values.
One of Braintrust's core values is "own it" (maybe you recognize this from Twitter lately?). And this week, community members from all over the world have embodied this value perfectly, reaching out to help orient new members, answer questions, and share their excitement around the Braintrust launch.

Here are a couple names you may recognize… Ardvis and Marri been active in the Braintrust Telegram helping provide much-needed info to this burgeoning community! They saw where there was a need for help, and jumped at the chance to help. That is some serious "act like an owner" energy! Give it up for Arvids and Marri!



🚩 Weekly challenges and red flags.
BTRST is 🔥 🔥 🔥. We're overwhelmed by the masses who have joined onto the Platform, Telegram and Discord - overwhelmed in a good way, though. Hello from your new best friends! And sorry if it's taking us a little longer to get back to you. We're working on getting even more community members trained to help this growing community.