It's just so obvious: Anthony Daga is having fun.

The Senior Full Stack Software Engineer used to tinker with tech as a kid, building games out of gadgetry. That playfulness is still evident, except software is now his virtual playground — and he's having the time of his life while working for some of the top clients in the world on Braintrust.

"Everything has been spot-on: the quality of the companies, the jobs, the Talent," Anthony says. "I get paid my full rate without fees, I get to do work that I enjoy and I get to joke around a lot with the people I'm building the future with."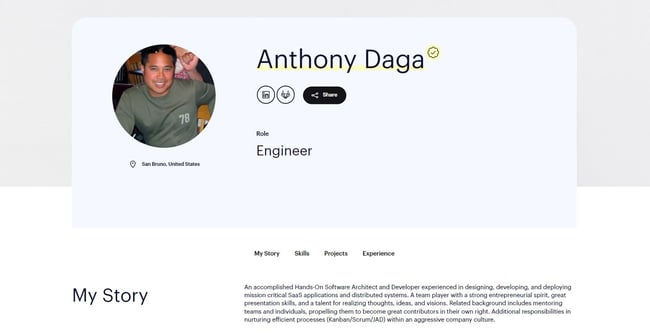 Before Braintrust, Anthony bounced between full-time gigs at startups and development consulting work, doing projects for everyone from Qualcomm to Walmart Labs. But the jobs he found on other networks, such as AngelList, weren't as lucrative. "A lot of them were seed startups, and paid accordingly," Anthony says. "Braintrust has way better rates."

How much better? In his first year on the network, Anthony has made over $150K while working for Fortune 1000 clients like Black & Decker and Porsche. Plus, he's working for himself, allowing him to enjoy the freedom of freelance life that he discovered while spending decades living in San Diego while working for Bay Area companies.
All work, but plenty of play.
Anthony is the furthest thing from dull.

He laughs easily, and enjoys making his coworkers laugh too, whether he's known them for months or just a half an hour. He credits that warmth for helping him succeed wherever he's gone as a consultant, a position that often means he has to quickly integrate himself into his client's full-time team.

"You gotta know your stuff. And then, at the end of the day, communication is super helpful. I joke around a lot, and if you ever work with me, we're going to have fun. But I'm also someone you can reach any time of day: You need help? I'm there. All the time."

Anthony is the son of Filipino parents and, early in his career, tried to button things up to meet their high expectations. That drove him to take on the most prestigious (and hardest) major while studying at Cal-Poly in San Luis Obispo: electrical engineering.

"I hated it," Anthony says, before dramatically repeating himself: "I hated it."


He soon ditched those expectations and made his own path while exploring software, his true passion. He left behind his native San Francisco for San Diego, crashing at his parents occasionally while commuting back to the Bay Area for various clients.


"I would drive their car, my mom would do my laundry and my dad would cook for us: It was great," Anthony says. His career has fed his curiosity, with him working on everything from finance and health care projects to crypto and Internet of Things (IoT) architecture.


Now Anthony is back where it all began, recently moving back to the Bay Area. While using Braintrust, he has built Black & Decker software that allows house builders to manage their projects digitally and Porsche software that streamlines the sales process for far-flung car dealers and sales professionals.

Building the network he makes his living on.
Anthony prides himself on his talent for "realizing thoughts, ideas and visions," as well as mentoring others for success.

It's not surprising then that he's become a key contributor to Braintrust, earning BTRST tokens while recruiting and screening Talent.

Each token represents one vote, meaning Anthony also gets more say over the future of the network.

Which, honestly, is pretty dang fun.

Want to get started?