🎤 Founders break it down.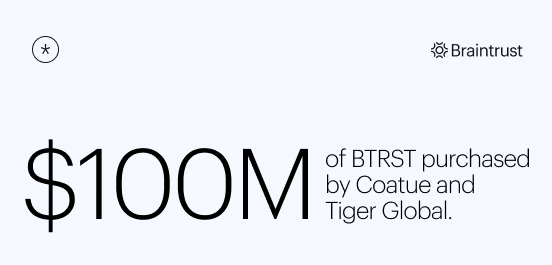 Something momentous happened on Braintrust in December.

Tiger Global and Coatue Management purchased $100M of BTRST to fuel rapid network growth and community-led innovation! These funds will be used to make your ideas, your projects, and your impact on the network real.

If you ever needed a sign that Web3 is the future, this news is it. Hear more from Co-Founders Adam Jackson and Gabe Luna-Ostaseski and find out how you can get involved:



🤝 Grants Program.
In December, the network got to work building out the Braintrust Grants Program. The $100M of BTRST purchase will be used to fund community-led projects through the Grants Program, and it's almost ready to launch! Sign up here to be the first to be notified of updates to the program.

💸 Talent earnings.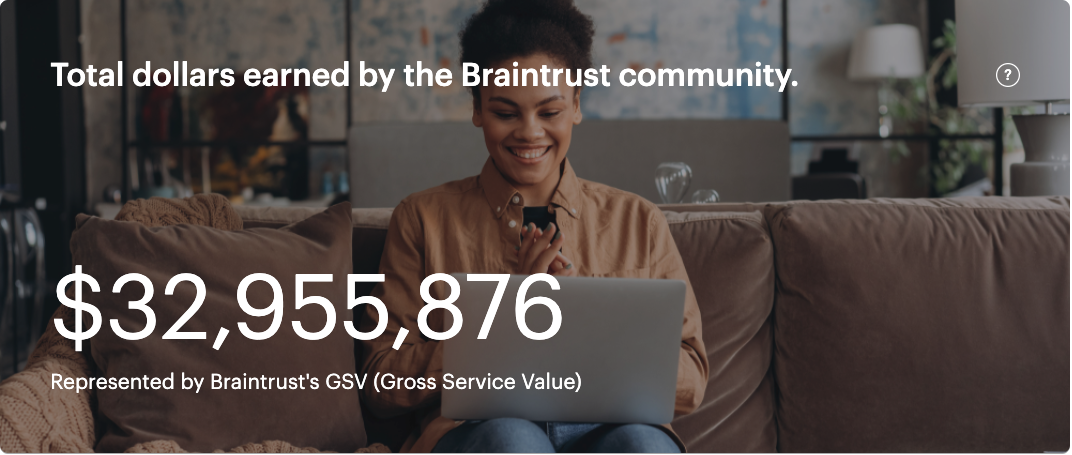 Our mission is to spread economic opportunity more equitably around the world. At the time of this writing, Talent have officially earned over $32.5M on Braintrust! And thanks to our Web3 model that cuts out the middleman, that's 100% take-home earnings with zero fees ever.

This is incredible progress in just 18 months since Braintrust launched out of stealth. And the network is just getting started.
💼 Client updates.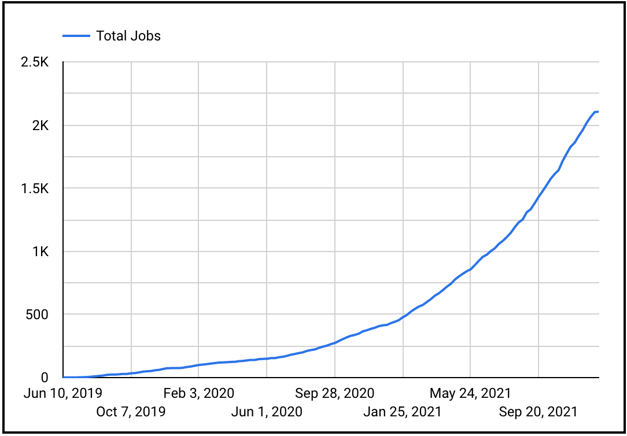 The total number of jobs posted to the Braintrust platform.
December marked a new job milestone: over 2,000 jobs have been posted to the Braintrust platform! This isn't just good news for Talent looking for jobs. It also represents a larger trend in corporate hiring practices toward building flexible, distributed teams. And it's proof that companies are embracing Web3, too.

Just check out a few of the brands who hired on Braintrust in December: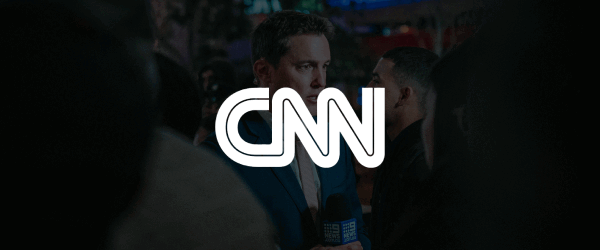 🦄 Network growth.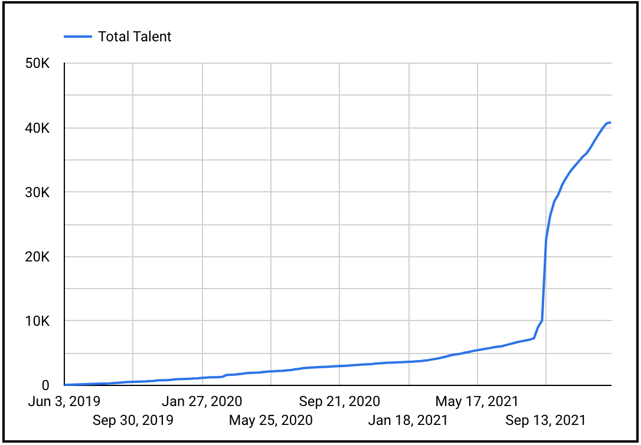 The total number of Talent who have signed up for Braintrust.
Talent are still coming to Braintrust by the thousands. Over 40,000 Talent have joined the network thus far, with members from all over the world and in 150+ countries. Workers everywhere are rejecting extractive work systems and choosing work on their own terms in the Ownership Economy.
🏛 Network infrastructure.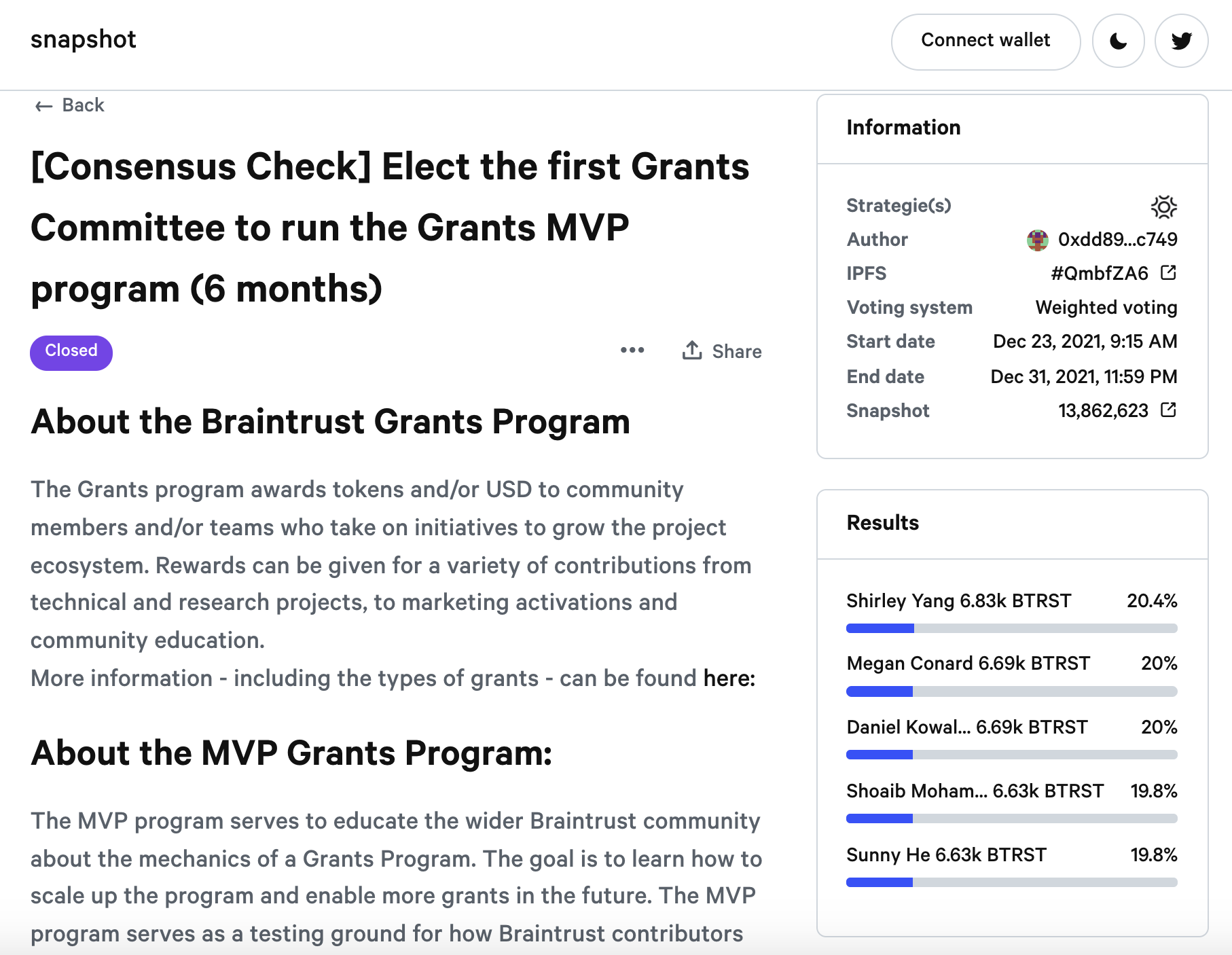 This is a major step forward in Braintrust's path to full decentralization (and a cool moment for Governance): The Braintrust community has elected its first-ever Grants Committee!

This committee will be responsible for managing the initial MVP Wave of the Grants Program, and helping make improvements for future Waves. The goal is to make this program even more accessible for members to contribute to building Braintrust, and to lay the foundation for decentralized, community-led network growth and development.

And speaking of governance highlights … the Braintrust community voted unanimously to allow Talent to be compensated in crypto! More updates to come as this functionality is built on the platform.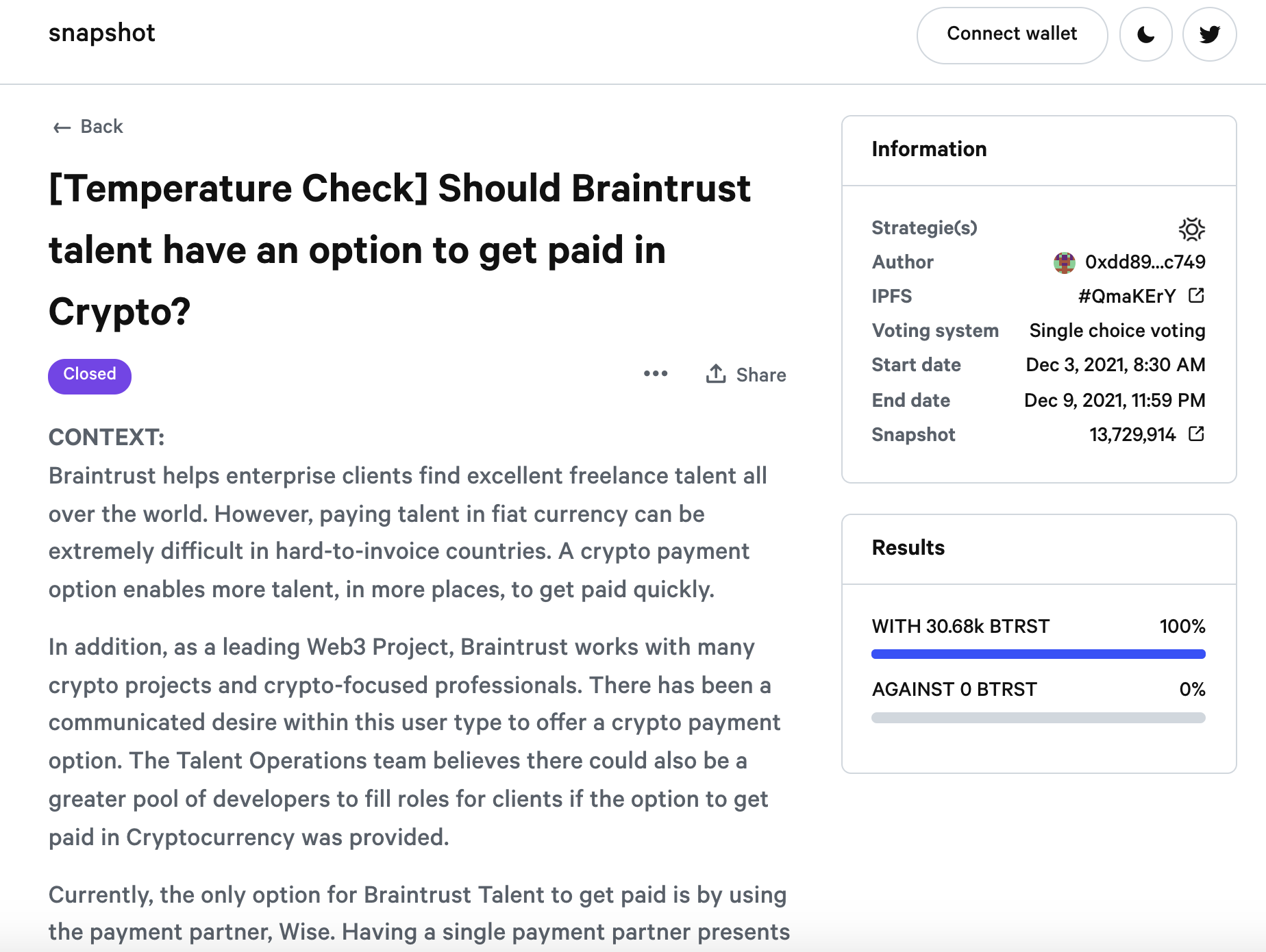 🖨 Hot off the presses.
Co-Founder Adam Jackson went on The Best Business Show with Anthony Pompliano in December! He shared the news of the $100M of BTRST purchase, chatted about all things Web3, and answered a few hardball questions. Give it a watch 👇 Or if you prefer podcasts, you can hear the whole conversation on The Pomp Podcast.

Braintrust was also featured in a number of other publications in December:
🚩 Challenges:
The community rolled out a new community membership leveling system in December, which rewards people who contribute to the network with perks, access to new features and permissions, and special privileges. But launching it required a total reorganization of the Braintrust Discord, building education programs, and answering a LOT of questions and support requests. It was no small undertaking.
For many people, hearing the news about the $100M of BTRST purchase sounded like a traditional fundraising event. Correcting that narrative where needed and explaining how the purchase will bolster decentralization and user-led growth was a big focus in December.
Moving over $30M to talent around the world can be tricky. 99.99% of the time (but who's counting) things work great. However, sometimes payment partners require an extra review step depending on local banks, currencies, and people involved. The community is working on a project to highlight this status to people who are waiting for payment, so they know exactly what is going on.

👪 Community spotlight.
Talent are the heart and soul of Braintrust, and it's important to tell their stories. Recently, the network shared a blog post about how Braintrust Talent Nicholas Fouriezos went from being overworked and undervalued to being an integral builder on the Braintrust network.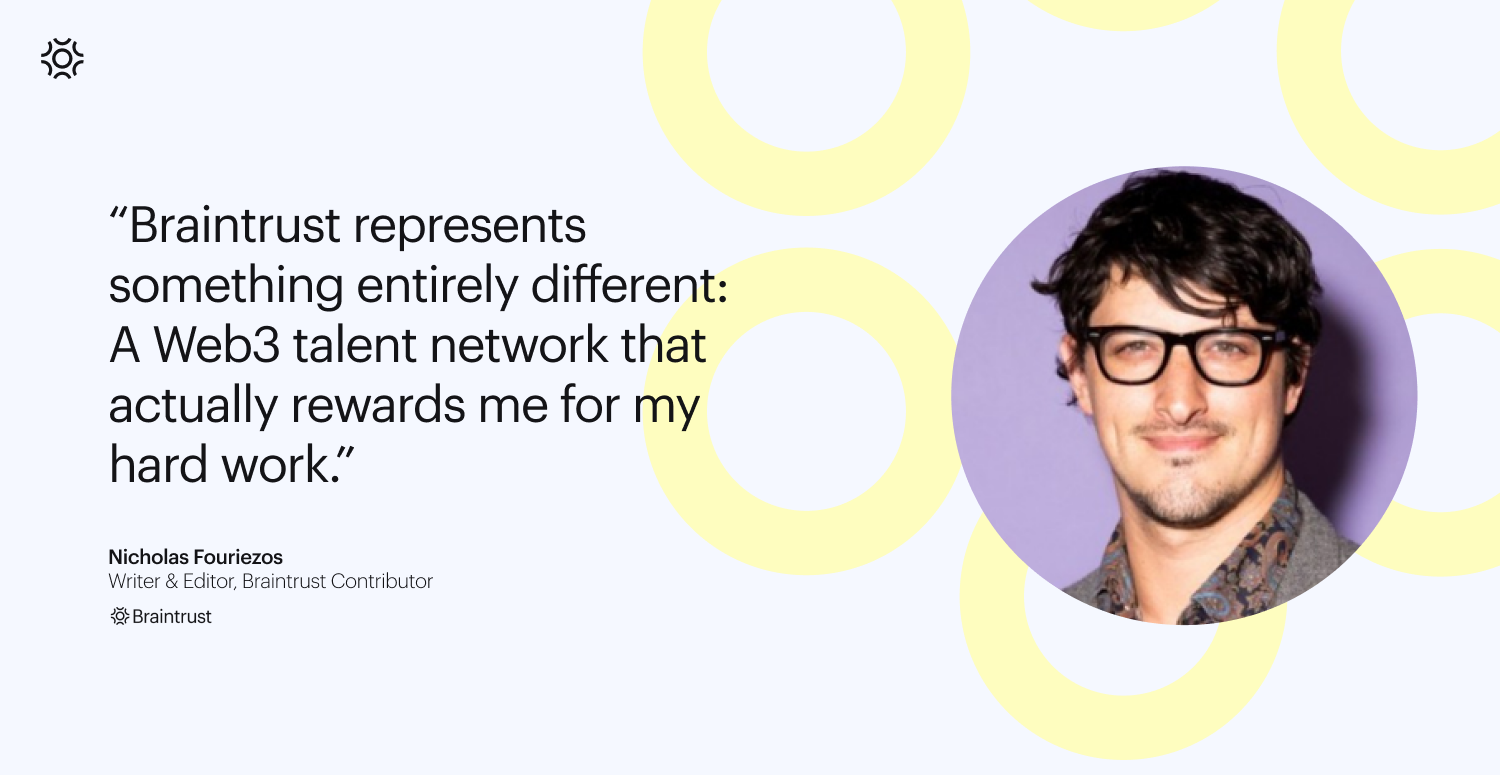 Like many of us, Nicholas spent years putting in hard work to build success for his employer, even at the expense of his own personal time and health, without receiving the benefits of that success. After deciding enough was enough, he joined Braintrust in July 2021 and has never looked back.

Now, he's an Editor for Braintrust and manages the Future of Work blog, gets to work on his terms, and has a say on the network he's helping to build 🙌 Read his inspiring story here.

Do you want to share how your life has changed since joining Braintrust? Send an email to community@usebraintrust.com!
💻 Product improvements.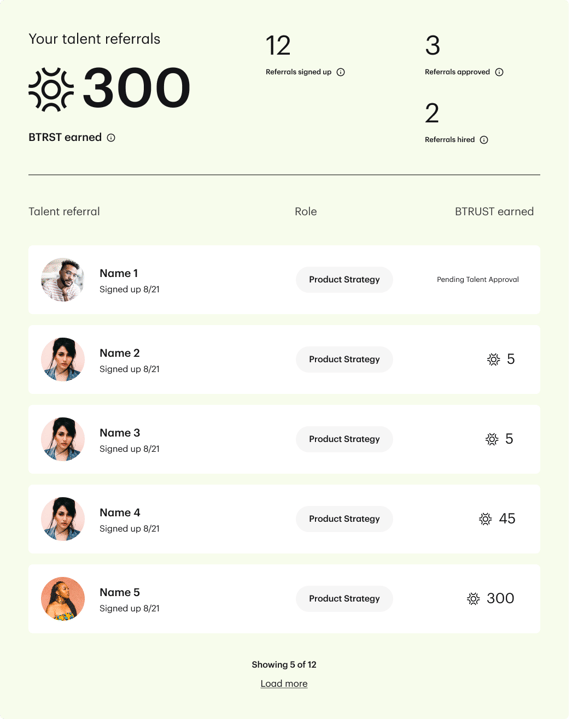 One of the easiest ways you can earn BTRST is by referring Talent and clients to the network. In December, Braintrust added some important product updates that make it easier to see your referral progress. Just log into the platform and head over to the Earn page to see your referral progress!

Referrals are also one of the best ways you can help Braintrust grow as a contributing member of this user-owned, decentralized network. Transparency into those rewards is essential - and, now, readily accessible.

🤝 How to get involved:
There's a lot happening on Braintrust, and there are tons of ways you can help build this growing network: