I was burnt. Bad.

My previous job as a national correspondent for a startup magazine had given me some beautiful moments, things a shy boy from Georgia never could have imagined for himself. In six years, I had interviewed CEOs and scientists, governors and senators, even the current American president and VP — all while writing stories from every U.S. state and six continents.

But for all of those joys, my employer completely owned and controlled my life. And while I prided myself on working hard, their demands became untenable. I finally quit in June 2021 after coming down with shingles, following a month of working 15 hour days while sleeping only 3 to 5 hours a night.



An episode like that forces you to reflect. In addition to my exhaustion, it just felt wrong to have a company take everything they could — giving literal blood, sweat and tears while spending most of my twenties there — and then not even profit from the success I helped create.

Going forward, I made two simple promises to myself. First, that I would never again let an employer put my health and happiness at risk. Second, that I would shape my work to fit my dream life, rather than settle with what others gave me.

Thankfully, it was soon after that moment that I came across Braintrust.

The magic of benefiting from the value you produce.
As soon as I heard of Braintrust, it fascinated me.

This was more than a mere freelance platform like Fiverr and Upwork, extractive Web2 networks I was thoroughly unimpressed with after trying them in the past. High fees, weak clients and no ownership? No thank you.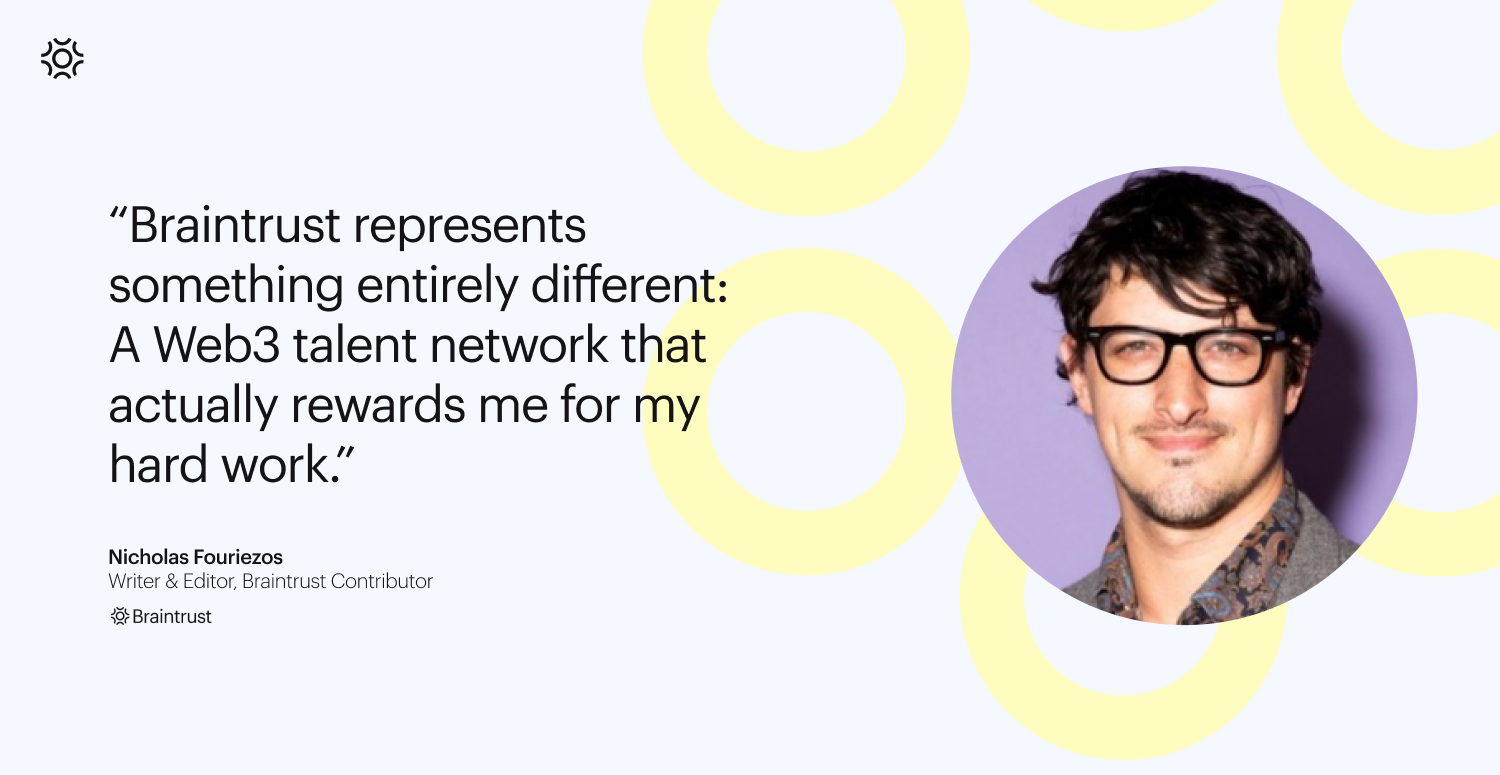 Instead of seeing the fruits of my labor get eaten up by high fees to an extractive middleman, Braintrust is a chance to make more money and to benefit directly from the value I produce.

Instead of a centralized leadership group hoarding information and making decisions that only benefited themselves, Braintrust is an opportunity — to have true transparency into, and control over, the place where I make my living.
To me, it was clear that the Ownership Economy built by Braintrust is the future of work, with crypto-powered decentralization leading the way.

I wanted in. And, after being recommended and vetted by other Braintrust users, I was soon more than just in the network. I was actually building it.
Building the future of work, together.
After joining Braintrust in July, I immediately became involved in the community, an opportunity that I couldn't have gotten at a Web2 talent network.

Working with co-founders Adam Jackson and Gabe Luna-Ostaseski, I helped write and edit the Braintrust whitepaper that outlined our shared vision for the Ownership Economy, a world where workers truly own the value they produce.

I was able to contribute to the BTRST token launch in September and the CoinList sale that expanded economic opportunity to token holders from more than 122 countries, a project that felt incredibly meaningful as a proud global citizen.

I even became a Community Screener, earning BTRST tokens while interviewing and onboarding new Talent into the network, so that they too could benefit from the chance to do amazing work with the hundreds of Fortune 1000 companies on the network.

Now I primarily contribute to Braintrust as editor of the Future of Work blog, where I get to spotlight great Talent and write about the democratizing promise of Web3 and crypto.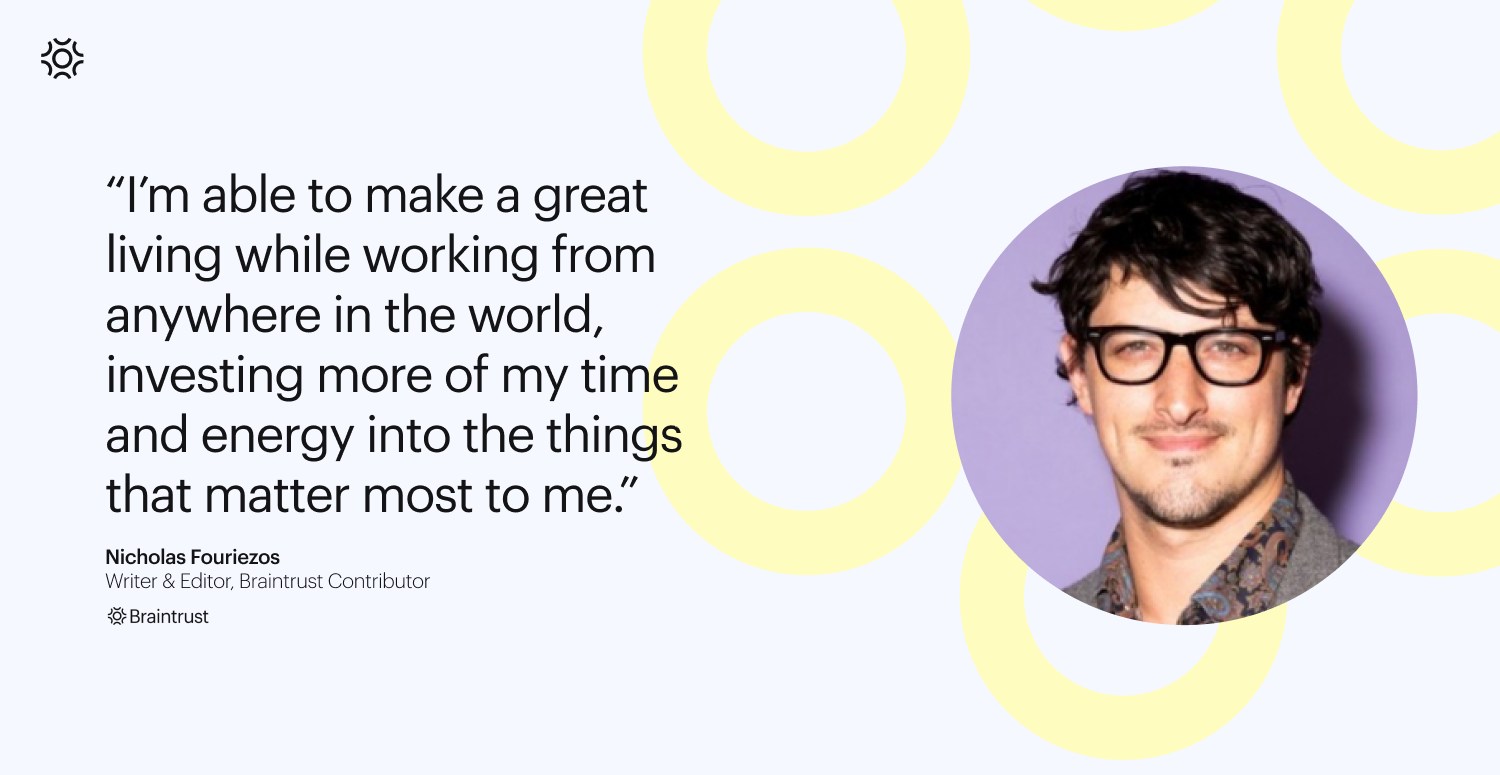 I've come a long way from having my work and value owned by an employer who didn't listen to my concerns and didn't care about my concerns, health or happiness.

And, thanks to Braintrust, I'm never looking back.


Coming soon: more opportunities for community involvement.
Our New Year resolution? To make it easier than ever for community members to contribute in their own way to the network in 2022.

With the help of the recent $100M BTRST purchase by Coatue and Tiger Global, the network will soon be able to expand its technological and structural capabilities so that Talent and clients can more easily contribute to the network.

That will include a number of part-time open-source opportunities to help build Braintrust, many of which will come with paid compensation — everything from coding on the platform to writing content for the blog.

Stay tuned for more information in the New Year. In the meantime, you can participate in other ways: