Braintrust is joining forces with Rise, the cutting-edge web3-enabled payroll and compliance solution provider, to provide an end-to-end talent acquisition solution for traditional companies and web3-native organizations alike.

This unique partnership takes the hassle out of hiring, with Braintrust sourcing highly skilled technical talent - FAST - and Rise offering a payroll solution to get new hires up and running as quickly as possible.


Introducing a Unique Partnership: Braintrust and Rise

Less time scouring for the talent you need, more time dedicated to the work you love. Less back and forth when you decide to bring someone on, more energy on getting this person up to speed.

Allow us to explain…

Braintrust helps customers of all sizes - from Fortune 1000 enterprises like Airbnb, Intel, and Colgate to Web3 start-ups like Skale, Solana, and Yuga Labs - find and hire top technical talent from around the globe.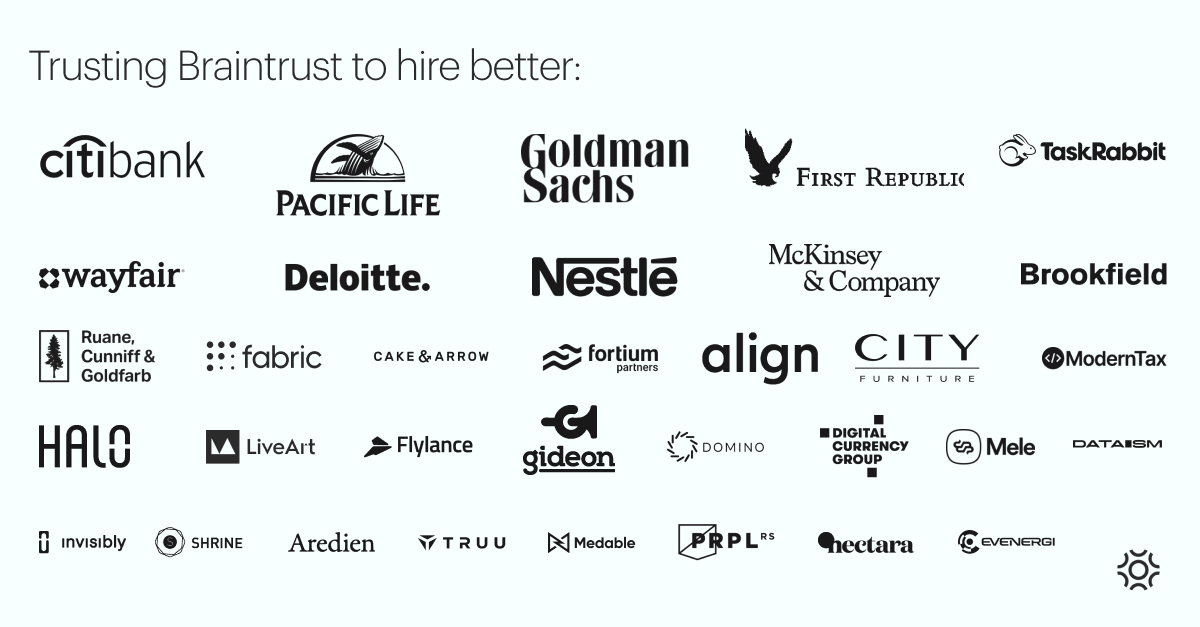 The network attracts the world's best technical talent because it allows them to keep 100% of what they make while doing what they love AND earn BTRST, a native cryptocurrency, for helping grow the network. And Braintrust charges customers a flat 15% fee for every hire - a fraction of the cost of traditional staffing firms. The result? Low fees, aligned incentives, happy talent, and happy customers.

Ready to hire?

Log onto Braintrust and post a job (for free!) and get matched with top talent within 48 hours. Review the candidates and their qualifications, and pick one that meets your needs. It's truly that simple!

Ready to get to work? Great! Rise provides a secure and efficient way to onboard and pay global contractors. Rise automates professional service agreements, handles global tax forms, and grants all users a RiseID - their unique, self-sovereign, on-chain identity. On top of the compliance layer, Rise provides a scalable and flexible solution for paying global contractors in crypto.

Built for both web3-native organizations and traditional companies, Rise supports a wide range of treasuries that include crypto held in digital wallets and fiat held in traditional bank accounts. Rise's dual payment infrastructure enables seamless routing between fiat and crypto. Organizations can fund payroll in the currency of their treasury while contractors can withdraw payouts in their preferred currency, from a selection of 100 cryptos and 90 fiat currencies.


A Glimpse into the Future of Work: Blockchain Empowered Services with Braintrust and Rise

The revolutionary potential of blockchain technology is reshaping the work landscape, paving the way for more decentralized, secure, and efficient services. Braintrust and Rise are at the forefront of this revolution, and we are excited to see what the future holds.