Braintrust is adding a new job type — "Grants" — to become the one-stop hub for Talent to get hired in Web3, accelerating the development of the entire Web3 ecosystem. Grants provide opportunities for top Web2 Talent to quickly begin building their Web3 careers, with Talent awarded USD, USDC, or partner tokens for specific work that expands the impact of Web3 projects.

These grants and other Web3 opportunities are being offered in an exclusive beta program led by inaugural partners ConsenSys, Harmony, and Skale, who also get instant access to Braintrust's already established platform for hiring full-time and part-time freelancers with expertise in engineering, design, and product.

More Web3 partners will be accepted in coming months, earning the opportunity to scale faster with Braintrust's proven ability to match top vetted tech Talent in just 48 hours and build entire development and design teams in as little as two weeks.
Opportunities from inaugural Web3 ecosystem partners will include:
ConsenSys: Full time jobs in engineering and design.
Harmony: Full time jobs for protocol, back-end, and devops Engineers.
Skale: Grants supporting core product, QA, and documentation.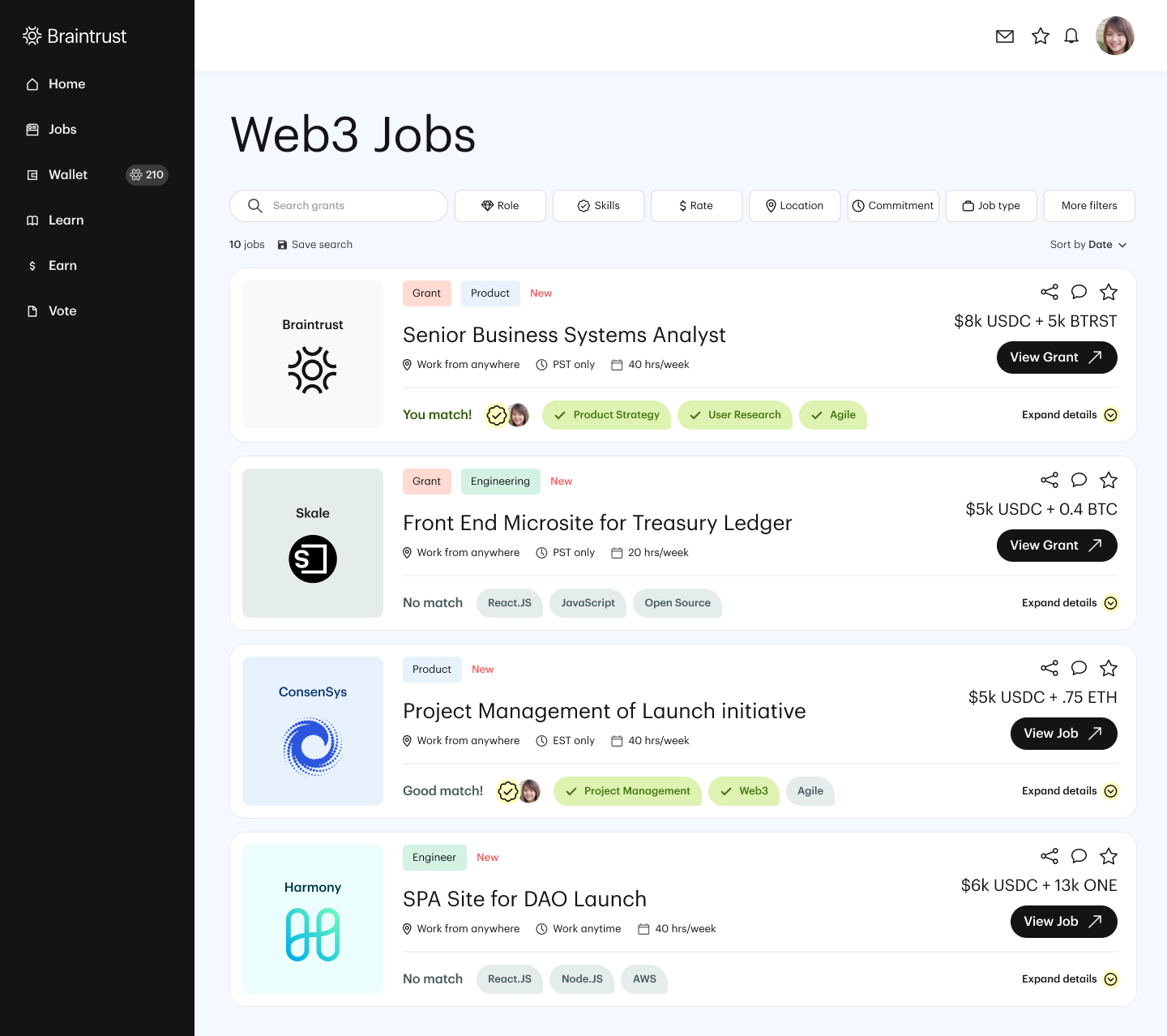 Example of jobs and grants from inaugural partners coming soon.
Building the bridge to bring Web2 Talent into the Web3 world.
Finding Web3 work can be messy and complicated, a cycle of searching through endless job boards, recruiter emails, Discord groups, and Twitter threads.

To make the process simpler for Web2 talent transitioning into Web3 work, members of the Braintrust community built the first public, open-sourced Web3 Talent Directory.

Those who sign up will be the first notified about Web3 opportunities, with curated emails for the latest opportunities with top Web3 projects.
All roles are welcome: Web3 projects have the same needs as other tech companies, rapidly adding engineers, product designers, content creators, community leaders and more.
Why we are building the one-stop solution for Web3 work.
On a basic level, it's the DNA of the network.

Every line of code and pixel of Braintrust was designed and developed by Braintrust Talent, each of whom have voting power over the largest, fastest-growing decentralized talent network.

Who better to build the future of the Web3 ecosystem than the largest Web3 talent network?

Even as Braintrust has been "dogfooding" a Web3 future the last two years, the need for top talent to develop Web3 projects has grown exponentially.

However, fragmentation in hiring hasn't allowed those projects to scale at the speed they need to take advantage of the tremendous opportunity in front of them.

Braintrust already has tens of thousands of top technical talent on the network, including highly-skilled developers, designers, and product managers.

This Grants job Type beta program will utilize Braintrust's sophisticated matching engine to connect ecosystem partners to top Talent in mere days and give Talent exclusive opportunities to build their careers in Web3 (with opportunities to build their Web3 credentials and earn not only USD, but also partner tokens).

That means Web3 projects can scale in weeks instead of months, the minimum time to hire using traditional Web2 platforms.

That's the difference between meeting the moment and watching it pass you by. And when it comes to building a better Web3 future, we can't afford to waste any time.

To be the first to hear about these opportunities and others coming soon to the network, join the Web3 Talent Directory.

Even more grants, full-time, and part-time opportunities are on their way, as Braintrust continues to expand its partnerships with interested Web3 ecosystem partners, who can get started with Braintrust here.
Ready to start applying to hundreds of exclusive jobs on Braintrust today?