Braintrust's mission has always been a global one: to spread economic opportunity more equitably across the world.
That mission has become a reality the past two years. The community grew 70x when the BTRST token launched in September 2021, from 10K to over 700K, with members from more than 140 countries.
Talent has boomed, from 2K then to almost 60K today, earning nearly $75 million without any fees while having a say over the network they make their living on — a network that works for them, so they can work however, and wherever, they want.
That is a radical departure from business as usual. And to help transform the future of work for good, the Braintrust community is bringing on as CMO Samantha Wu, a veteran executive of global brands including American Express, Visa, and Meta.
Wu's work as an experienced industry leader will help elevate the Braintrust brand, improve our product and performance marketing, and grow the Braintrust network globally.
She most recently served as the Global VP of Consumer Brand and Product Marketing for the Facebook App, launching their first brand campaign "More Together" and spearheading the "See Us, Hear Us" campaign to elevate Asian American Pacific Islander voices and stories. The latter campaign featured a series of interviews with leaders across industries, including Marvel star Simu Liu and singer, songwriter Hayley Kiyoko.
Her marketing teams at Facebook won numerous global advertising awards, including a Bronze Lion at Cannes and several Shorty and CLIO awards for exceptional social content and campaign work.
She was also recently featured in the #TheOtherSide Campaign led by the Ascend Foundation to inspire new representations of leadership.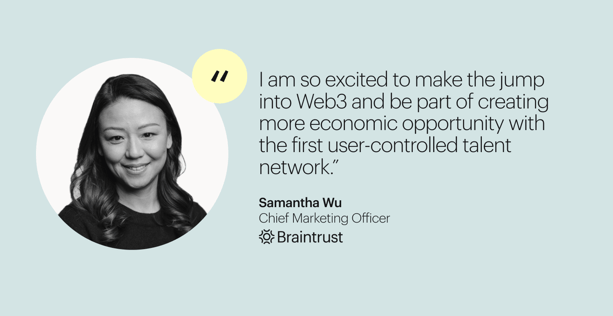 Want to help us build the future of work?
Wu brings experience and passion for building diverse and inclusive teams, elevating female leadership and all communities.
That track record will be a key part of her first major initiative: growing the Braintrust marketing team into the best in Web3.
Looking to kickstart your career in Web3? Add yourself to The Web3 Talent Directory here to be notified when new Web3 jobs are added to Braintrust!