Introducing new benefits programs and Web3 jobs.
Medical and retirement benefits. Get access to top health, dental, and vision insurance at a 20-50% discount through the Healthcare Benefits beta program launched with Opolis — plus retirement options including IRAs, Group & Solo 401(k) plans, and other benefits, too.
"I saved over $500 per month compared to health insurance on the government exchange, and the fact that it's accepted across state lines is huge," says Alexa Green, a Full Stack Engineer on Braintrust.


Career mentorship and exclusive training
Work for yourself, not by yourself, with coaching from highly knowledgeable peers in the Professional Network.
"My mentor's honesty and feedback was invaluable. I got critical insight into the psychology of a recruiter and how to land a job thinking from their perspective," says Nse-Abasi Etim, a Braintrust Talent who is participating in the program as a Mentee.
Even more exciting Web3 opportunities
You want to engage with exciting, meaningful work. You want to build "the next big thing," but don't know how to get started.
End the frustrating search with the one stop solution for finding Web3 work, as Braintrust expands its early beta with new grants, part-time and full-time work from top Web3 partners DFinity, Decentology, Sifchain, ConsenSys Mesh, and Provenance Blockchain Foundation.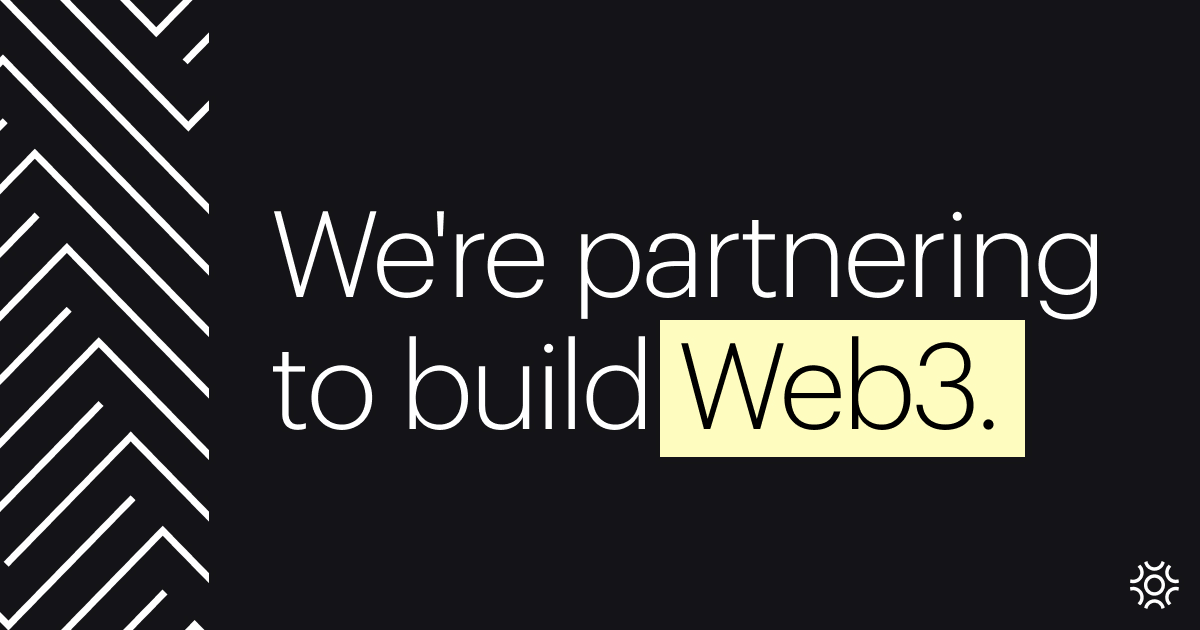 How freedom with stability empowers your career.

Top knowledge workers want flexibility in their careers. That desire has only increased during the "Great Resignation" during the pandemic. According to the January 2022 Future Forum report, 78% of workers want location flexibility and 95% want flexible hours.
Yet while freelancing has many benefits like this desired flexibility, it sometimes lacks the stability that full-time employment offers. For many, employer-sponsored health insurance is the biggest one. A third of knowledge workers said they would quit if healthcare weren't tied to their employer in a survey conducted last September.
What would having more career stability mean for your freelance career?
Would you be more selective in the projects you take on? Ask for higher rates and better contracts from clients? Take bigger risks, knowing you have a solid foundation to fall back on?
With Braintrust's new Healthcare Benefits beta program with Opolis, freelancers can finally access top insurance options at a reasonable price by cutting payments by 20-50%.
These plans travel with you, unlike state exchange plans, an essential benefit for remote workers.
Plus, as Braintrust Talent, freelancers still get the support and community of full-time employment.
Through the Career Mentorship program, experienced Braintrust Talent guide new Talent in 1:1 sessions to get their first contract — helping by reviewing proposals and profiles as well as conducting mock interviews.
You get even more expansive networking opportunities than you would just interact with your own work orbit, thanks to the robust Braintrust community and global network of 50,000+ Talent (50% of whom are based outside the U.S.).
And nothing says stability like maximizing your income. You'll never have to worry about being paid what you deserve since Braintrust publishes current market rates live on the network dashboard.
All this means spending more time doing what you love.
"I don't want to be a marketer. I just want to design cool things and help people. Braintrust made that a reality for me," says

Kate Bagoy

, who made $150,000 in just six months on the network.
Ready to start getting hired with clients like Nestle, WeWork, AirBnB, Nike and more?
Take the risk out of freelancing by joining the network that is owned by you and works for you.


More partnerships, making Braintrust the best place to get hired in Web3.
For many freelancers, the best part is getting to work on a variety of exciting projects that interest them — and nothing is more groundbreaking in tech than building the decentralized web.
That's why Braintrust is making it easier than ever as the best place to find Web3 work, with even more grants, part-time roles, and full-time jobs from top Web3 projects coming soon to the network.
DFinity: Contracts and full-time jobs in engineering and design, and grants.
Decentology: Grants in engineering.
Sifchain: Engineering and design jobs.
ConsenSys Mesh: Engineering and design contracts and jobs.
Provenance Blockchain Foundation: Engineering and design jobs(full time and contracts), and grants.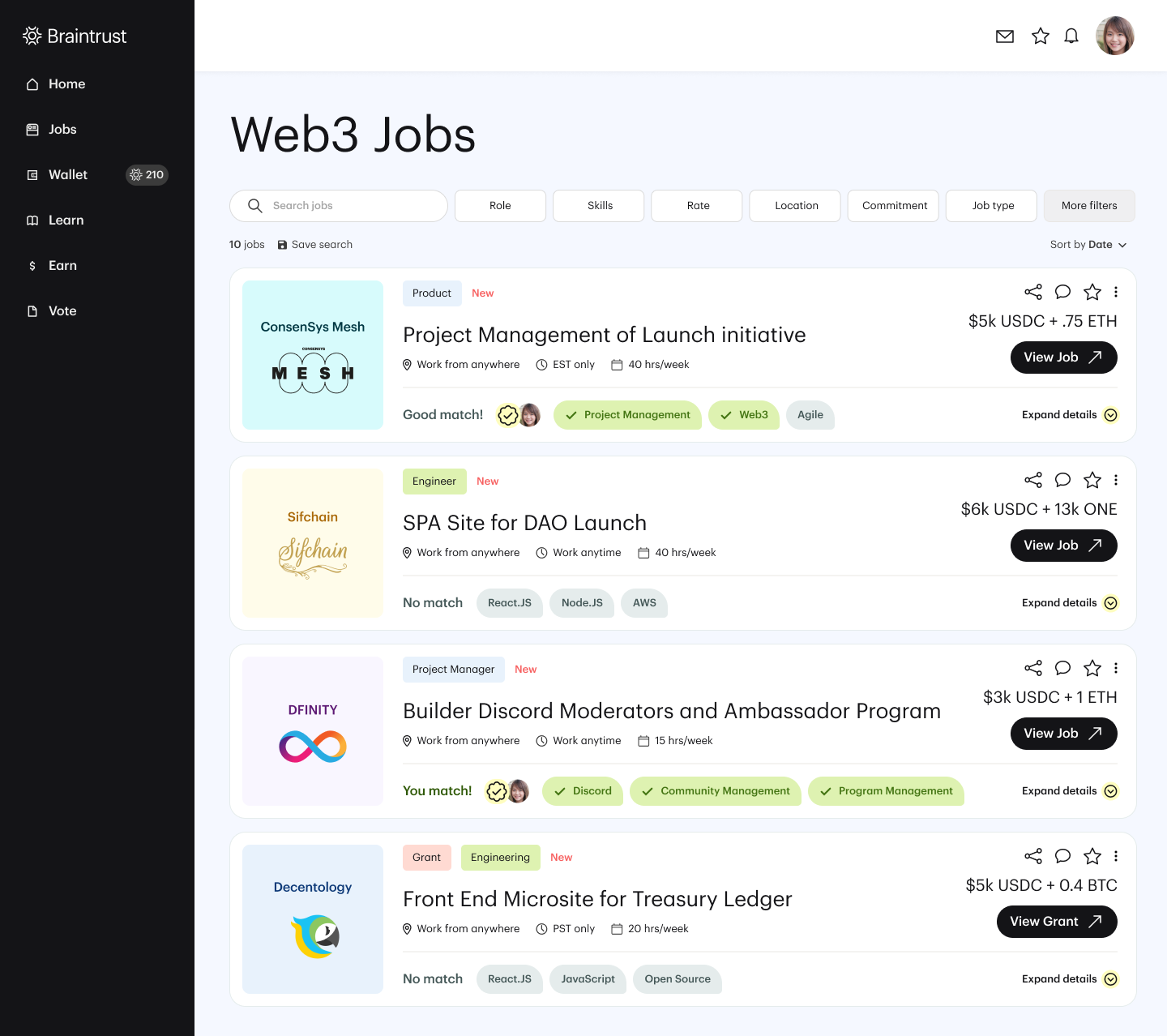 Example of jobs and grants from partners coming soon.
As the first Web3 talent network, Braintrust is committed to building a Web3 ecosystem that spreads opportunity more equitably across the globe. To accomplish that, Braintrust is also partnering with the communities of OdysseyDAO and RabbitHole to build them more paths to finding Web3 work.
To make the process simpler for Web2 talent transitioning into Web3 work, members of the Braintrust community built the first public, open-sourced Web3 Talent Directory. Those who sign up will be the first notified about Web3 opportunities, with curated emails for the latest opportunities with top Web3 projects.
Add yourself to the Web3 Talent Directory.
Swing big, knowing you've got a safety net in us.
You shouldn't have to choose between the freedom of freelance and the stability of full-time employment — and now you don't have to.