Kate Bagoy knows what freelancers want.

A Senior Product Designer and member of the Forbes Coaches Council, Kate created the Six Figure Freelancers Accelerator, an online business-training program, to help other independent workers build high-value brands & small businesses.

Through her own example, she taught thousands the importance of consistently networking and marketing themselves. And while she knew all that self-promotion hustle could be a grind, it seemed like an essential part of building a high-paying independent career.

That is, until she discovered Braintrust.

Suddenly, Kate found she didn't have to spend nearly as much time pitching clients or marketing herself.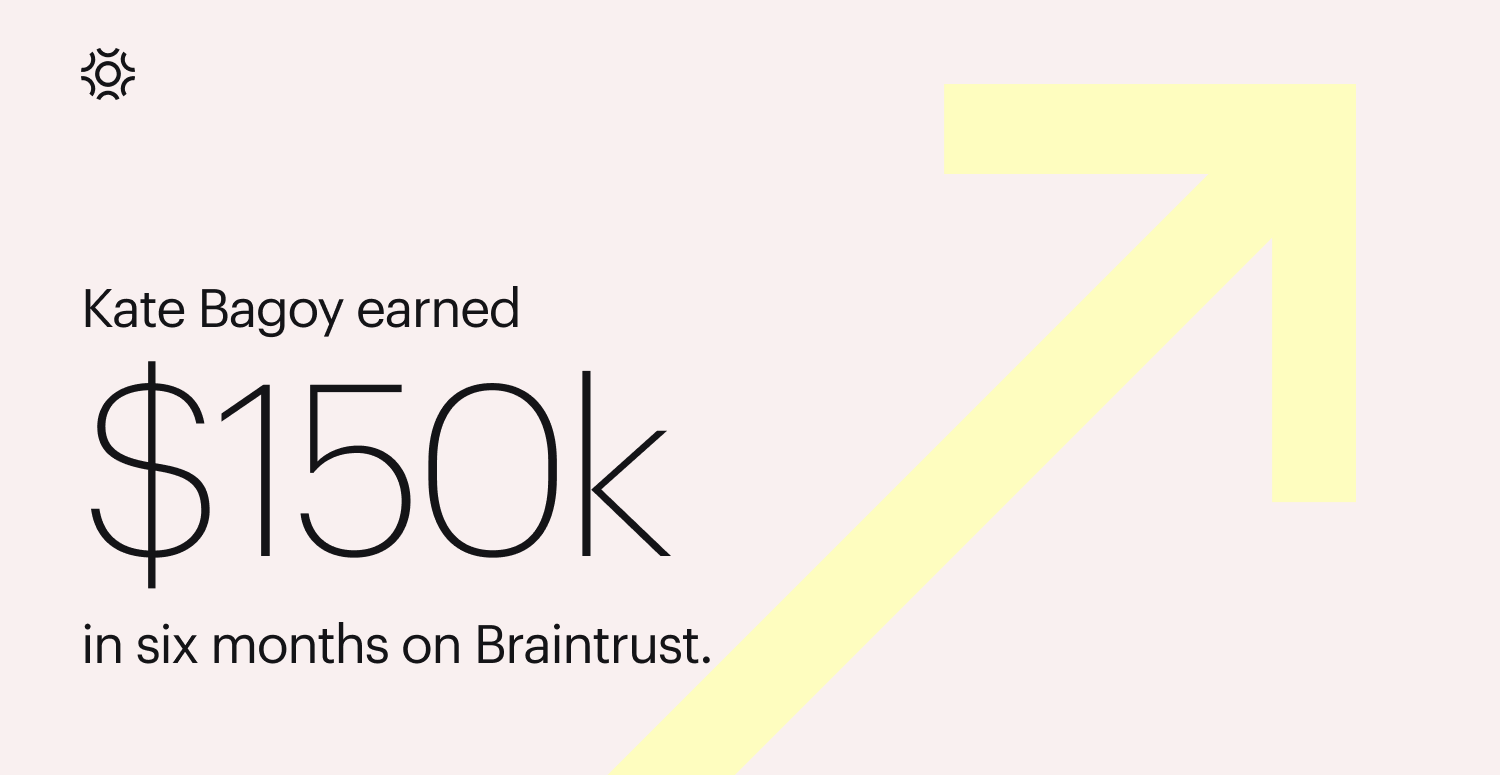 Instead, the network made it easy for her to find great clients, like Compass and Etsy. With the time she saved, Kate has been able to take on more paying projects, helping her earn over $150K in just the last six months on Braintrust.

Tips from the pro.
One of Kate's first keys to a successful practice is to stop telling your clients about your skills — instead, focus on the benefits your skills bring to them.

"They're buying the outcome of your skills, and buying your personality," she says, which leads to another point: "Don't be afraid of having a personality!"

Of course it's important to establish expertise. But clients care more about the tangible benefits of working with you than how exactly you do your work.

"You have to understand why your job, whether you're coding, designing, or anything else, is beneficial to the company — perhaps you're bringing that company happier users, better outcomes, or more money through cost-savings," she says.

Much of her practice focuses on teaching creative people the business side of freelance, and how to optimize it for them.

"I've told people that, yes, you can absolutely make six figures on Upwork … but you're going to hustle your buns off," Bagoy says.

The challenge of making traditional talent networks work is why Bagoy always encouraged people to create their own sales pipeline, by marketing and networking their own brand instead of bidding on platforms.

But on Braintrust, Kate has seen how Web3 decentralization makes it possible for clients to pay less and for talent like her to keep more of their hard-earned money thanks to the network's no-fee model.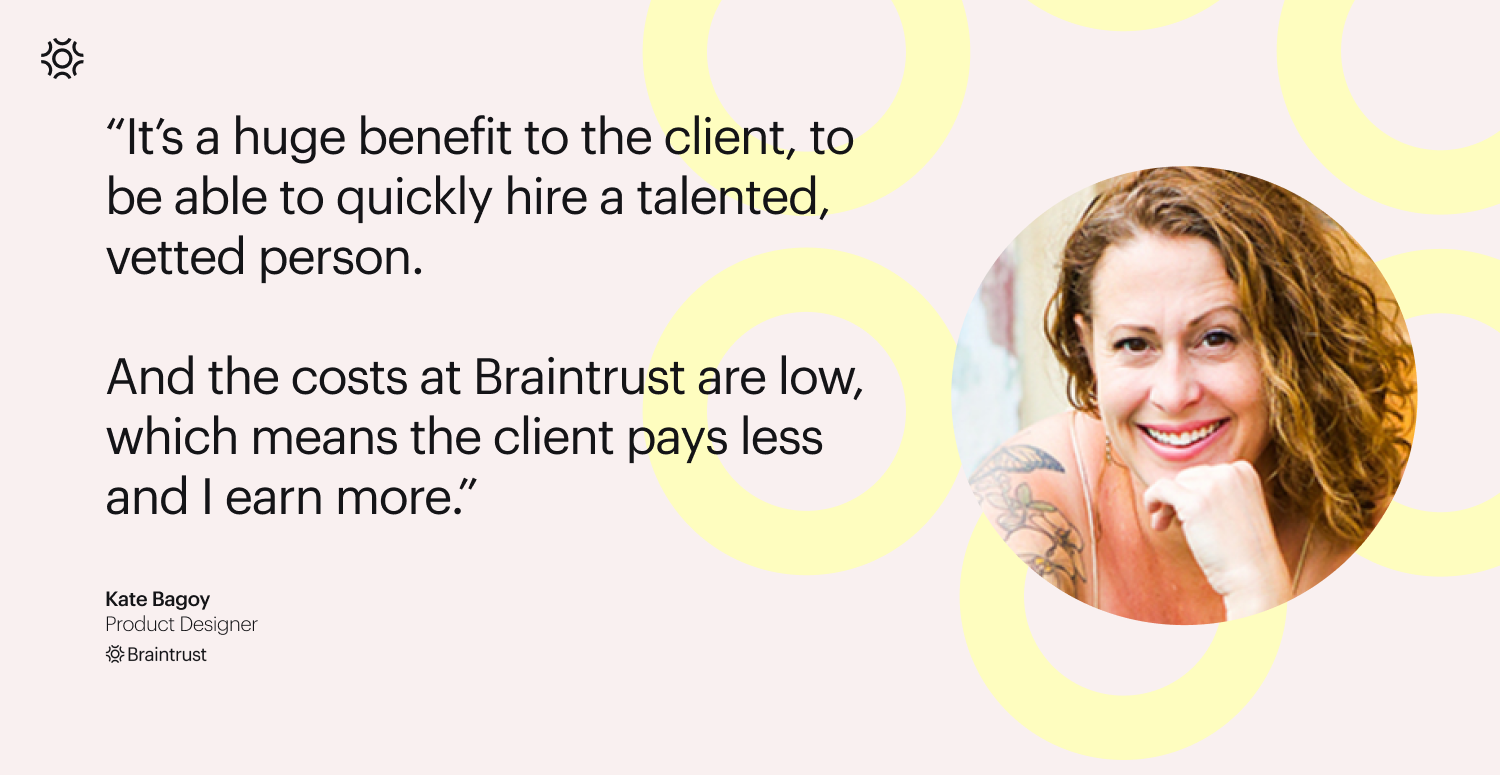 A 'beautiful blessing.'
Time is more than money. It's what enables connection, with the things you want to do, the life you want to live, and the people you want to live it with.

With Braintrust, Bagoy found the time she needed to do the things she loved — and not a moment too soon.

Before discovering the network, Kate was coming off a dramatic experience - recovering from longhaul COVID, which started in the fall of 2020. She was so fatigued, and her mind so clouded, that marketing her business & bringing in income was close to impossible for six-months.

"When I got vaccinated, I finally got my brain back," she says. "And it was this beautiful blessing that I then discovered Braintrust."

Being on the network allowed her to pick up the pieces quickly, getting back to her highly productive self.

Designing software that makes life easier for Compass real estate agents has been fulfilling and exciting, as Bagoy uses wide-ranging marketing design and UX skills.

Meanwhile, she's been able to build on her love for visual design on Etsy, launching new programs for buyers on the aesthetic ecommerce company.

"I don't want to be a marketer. I just want to design cool things and help people," Kate realized during her illness, "Braintrust made that a reality for me."

Kate can now focus her precious time on the most meaningful parts of her work, rather than on excessive networking, pitching and promotions — and it's all because of Braintrust.

"It's dramatically easy to be part of a network where I don't have to do much to promote myself. I just need to make sure my portfolio looks decent, that I've positioned myself for the types of projects I enjoy, and that the timelines work for me. Easy peasy."

Want to get started?
Meet the community on the Professional Network. Learn how to start earning and governing with the BTRST token.