🤝 Developer DAO partnership.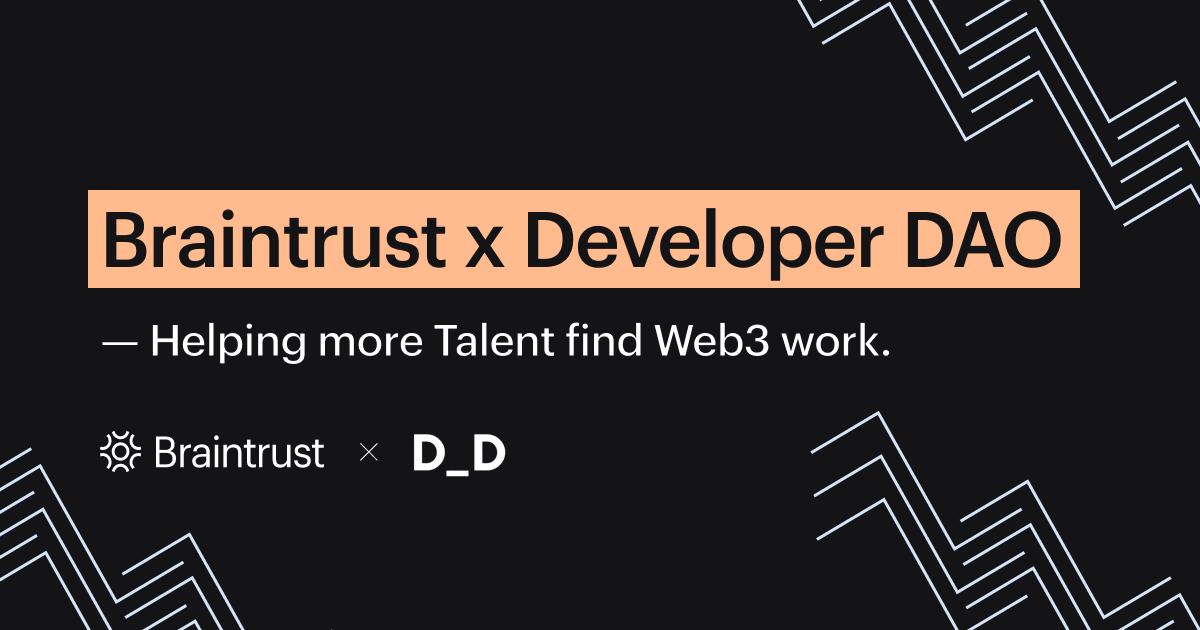 The crypto winter may have some feeling chilly. But we aren't deterred here at Braintrust, because we're busy expanding the Web3 ecosystem.

Braintrust is joining hands with Developer DAO in its mission to accelerate the education and impact of a new wave of builders, connecting its developers with key work opportunities in Web3.

It's only one of the many ways we're collaborating with communities to build a better web, with Braintrust announcing recent partnerships with Skale, Consensys, Harmony, DFinity, Sifchain, and others.

What else would you expect from the talent network dedicated to spreading economic opportunity more equitably across the globe?


💸 Talent earnings.

The Talent paving the future of work have now earned more than $70M on the network they own and control. This is huge. This is proof that Web3 projects can build real value now AND build toward a more decentralized future. Plus, thanks to Braintrust's no-fee model, Talent keep ALL of their earnings.

Some roles are seeing pay as high as $190 per hour — and Talent can check out the Network Dashboard to see live market rates right now, so they never have to wonder about the worth of their work again.


💼 Client updates.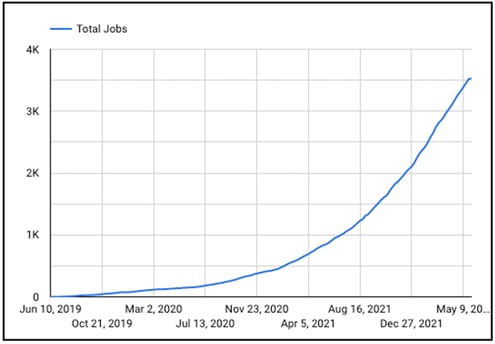 The total number of jobs posted to the Braintrust platform.
It's been two years since Braintrust launched out of stealth in June 2020, and the world has changed drastically during that time. Thankfully, Braintrust has changed with it — matching top Fortune 1000 companies, startups, and Web3 projects with the Talent they need to adapt in rapidly shifting times.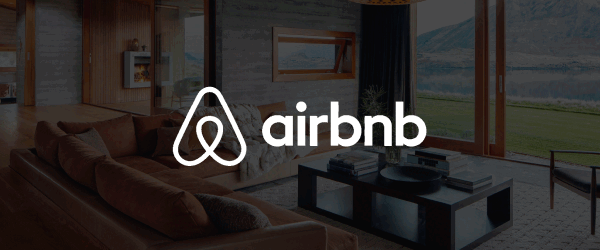 🦄 Network growth.

The total number of Talent who have signed up for Braintrust.
The network continues to grow exponentially, with more than 56,000 top software engineers, designers, mobile developers and others now working on the first user-owned Web3 Talent network!
🏛 Network infrastructure.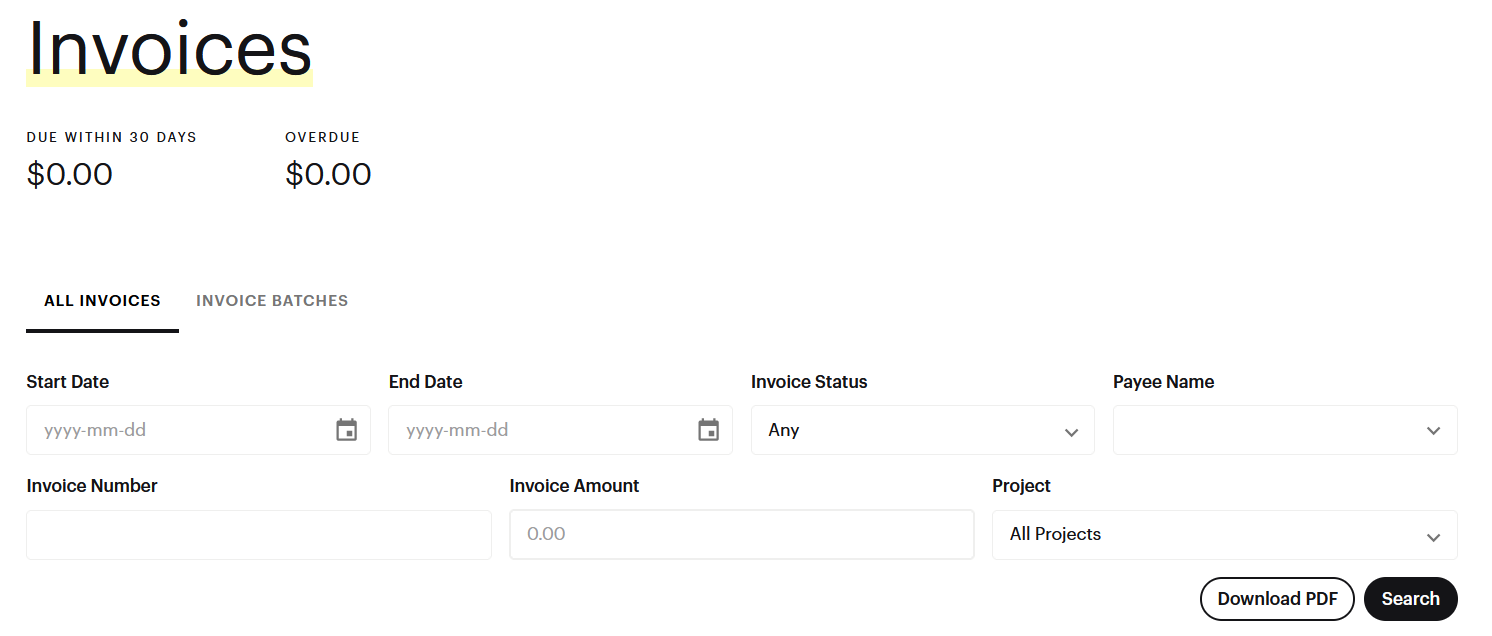 Sometimes you just want to do it yourself. That's why Braintrust is rolling out enhanced self-serve invoice reporting for clients, who currently have limited reporting, filtering, and progress tracking of invoices. This can lead to lots of support requests to Braintrust, lost time for clients, and inefficiencies for Talent who are waiting to get paid.
🖨️ Hot off the Presses.
Co-founder Adam Jackson appeared on Bloomberg recently to talk about the crypto winter, and received major attention for his clear-eyed look at the challenges and opportunities of the recent Bitcoin collapse.

This is a big sea change, Jackson said: "These Ponzi-economics, a lot of DeFi that never generated any real value, that was very self-referential, it's going away." The good news: While self-referential projects that create little value will fade, they can now be replaced by fundamental networks driving actual value to real-world users.

Braintrust is already seeing this: The collapse of the crypto market hasn't led to a dip in Braintrust GSV or hiring, as Co-Founder Gabe Luna-Ostaseski tweeted: "The whole crypto market is in shambles, but @usebraintrust is posting a record amount of new jobs in web3."

And it's been a busy month for Braintrust, which also saw coverage from:
The Billion Moonshots podcast, where Jackson spoke about how Web3 networks like Braintrust can align incentives where Web2 ones cannot.
Messari, the leading provider of crypto market research, which released a report detailing Braintrust's innovative approach and impressive growth multiple, after seeing 10x growth from 2020 to 2021.
Good Morning America

, which talked to Jackson about the crypto sell-off and how cryptocurrency can be used to power new businesses and services with real-world value outside of mere token value.
👪 Community spotlight.
The value of the Braintrust network isn't just access to a plethora of jobs that pay well. It's also valuable thanks to the hard work of our supportive talent community. And last month, we've seen a quintessential example of that value: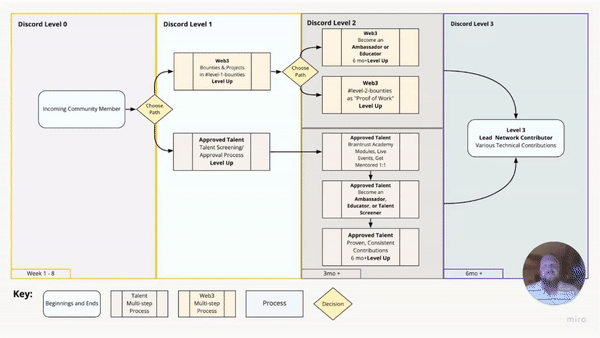 The Educator Grant from our MVP wave has wrapped and completed a suite of new programs to help Talent on Braintrust get hired! Grantee Calvin Blanchard published five new Braintrust Academy Modules, one for incoming Talent to help them get approved, and four more for approved Talent to help them get hired. From profile reviews to interview prep and more, these courses are helping Talent get a leg-up on their career journeys.

Calvin also revised all workflows and messaging to help talent know how to find these new offerings. And now he's expanding his team! If you're interested helping other Talent get onboarded into the community and help them get hired, apply today to join the Educator Program.
💻 Product improvements.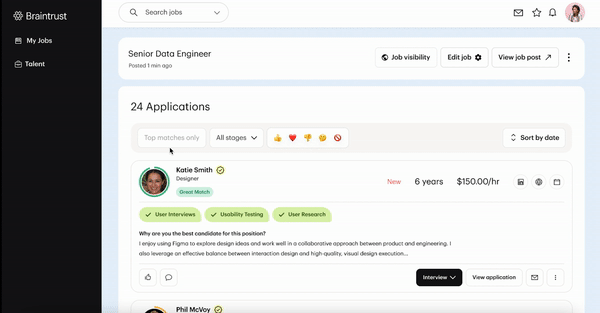 Braintrust has been working hard on some product improvements to make it easier for clients to find the right Talent they need and hire them quickly.

This month, Braintrust made updates to badging in the product so hiring managers can easily see which Talent are a "great fit" for their project, as well as those who come "matcher recommended."

Next up: Talent filtering capabilities for clients to make it easy to sort Talent by required skills or time zones, as well as other factors.
🛠 Grants progress.
Grants from the MVP Wave are moving along and, in some cases, coming to a close! Here's an update on how they've been doing:

A-0001 Program Manager for Social Media Ambassadors
Grantee Temira Kaser has been finalizing strategy for the pilot program for this grant, and is in the final stages of solidifying goals, participant requirements, and incentive programs.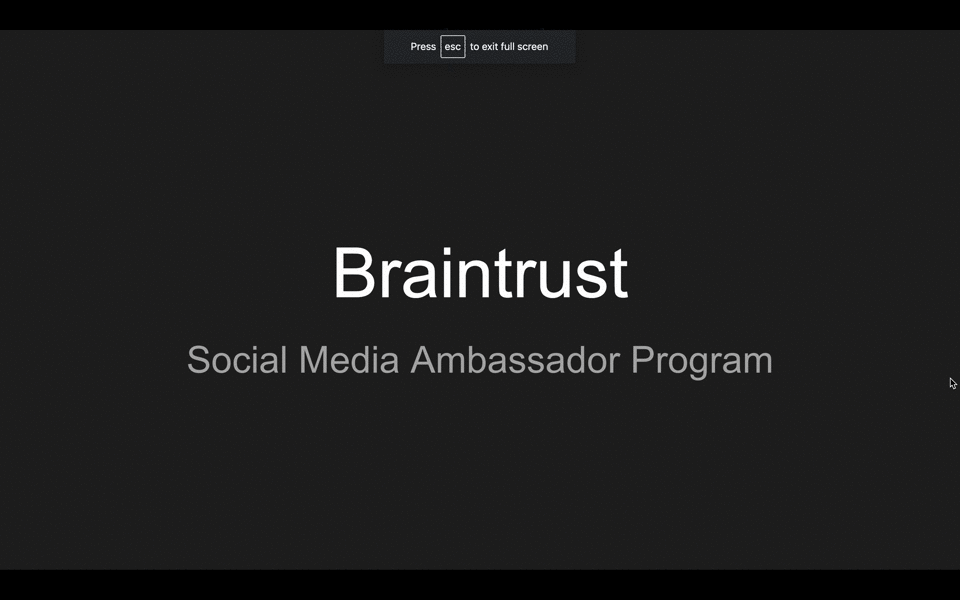 A-0002 Program Manager for Discord Moderators and Ambassadors
The four-week test pilot program for recruiting and training Discord Ambassadors was recently completed. Congrats to Arisa F., Ayoola Q., Sahil M., Ugochi I., Yahia B., and Nicholas B., for participating, with each of them advancing to Level 2 Contributors in Discord!
🚩 Challenges:
The collapse of the crypto market: As you can see, business at Braintrust hasn't been impacted: GSV, network growth, clients, all keep going up. However, the collapse does create a new challenge, and opportunity, for us.

Self-referential, high-risk crypto is out, as it always should have been. Fundamental networks that add real value are in.

We have to keep demonstrating that value to users every single day. That means helping Talent get hired, helping companies hire, and empowering owners on this network to shape the future of Braintrust through governance. And if we do that, the rest of the world will see that value too.
🤝 Get involved.
New to Braintrust and want to get involved? Sign up to join the fastest-growing Web3 network!