⏳ The TL;DR.
Porsche, Freedom Financial, Cisco, Fabric, MyFitnessPal, Albertsons, ForeVR Games, DataCamp, Teladoc, Stanley Black & Decker, and more hired on Braintrust last week!
It's not even a competition. Web 3.0 does what Web 2.0 can't: aligns incentives, gives power and control back to the users, and eliminates fees.
Garth Boyd's favorite thing about freelancing on Braintrust? Freedom. That's why he's never going back to full-time.
Token staking is officially on the Governance docket: Off-chain voting starts this week!
The Braintrust wallet gets a telling upgrade.
Connect, learn ways to earn BTRST, and stay up to date with all things Braintrust by joining the conversations on Discord and Telegram.
Want to be a part of this movement… full time? Braintrust is hiring for a Social Media Manager, Senior Product Manager, Talent Operations & Matching, Senior Product Manager, Talent Experience, and a Crypto Community Lead!
📸 Growth Snapshot.
The teams building Braintrust share their progress and plans for the week in this Growth Snapshot.
💸 Client Updates.
New milestone alert! 🚨

Over 1,500 jobs have been posted on Braintrust! This is huge news, especially for a network that's only been out of stealth for 16 months. It's a major accomplishment and testament to the value that businesses find in hiring on Braintrust. Just take a look at a few of the companies hiring now - you'll probably recognize at least a few brands: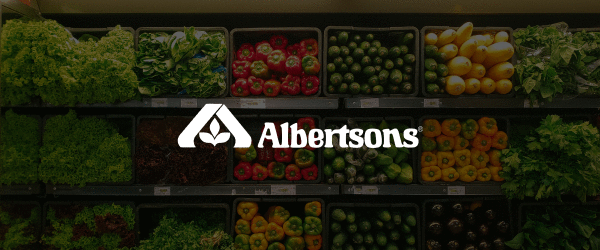 🦄 Network Growth.
And it's not just that there are a lot of jobs on Braintrust. It's that those jobs are quality, high-paying, long-term jobs that can provide Talent with the security and experience they're looking for.

Last month, the average project size on Braintrust was $76,000 and the average project duration was 5 months! Now let's take a moment to celebrate some amazing Talent on the network who have recently landed jobs: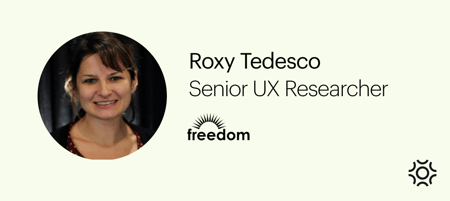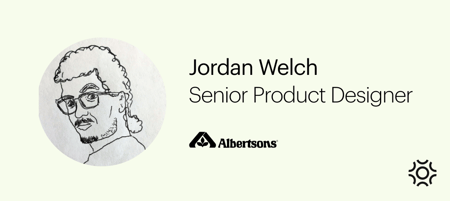 📝 Hot Off the Presses.
Misaligned incentives are the reason why Web 2.0 networks so often work against the needs of their own users. Imagine who wins in this everyday scenario on Web 2.0 networks:
Talent, who want good jobs & fair pay.
Companies, who want good talent at a fair rate.
Networks, who want to make a profit.
Who comes out on top? The answer should be obvious. Web 2.0 networks will never serve their users first because they're not designed to. Web 3.0 networks can, though.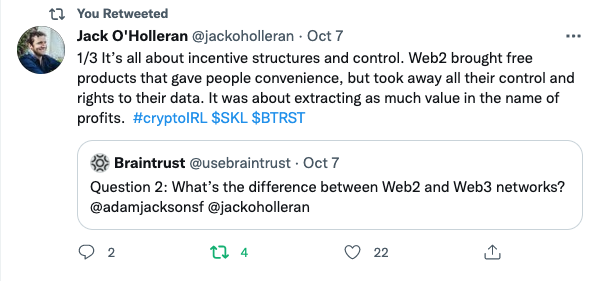 Read more about why incentives matter and how Braintrust is using Web 3.0 technology to build a better talent network. And while you're at it, a few other interesting thoughts:
Co-Founder Gabe Luna-Ostaseski asks the tough question: Why are workers sharing their paychecks?
According to Co-Founder Adam Jackson, marketplaces suffer from a fatal flaw: misaligned incentives. And he should know… he's founded 4 of them.
CoinMarketCap: Braintrust doesn't just want to match clients and talent. It's a decentralized platform that aims to benefit both parties.
👪 Community Spotlight.
Garth first started freelancing in 1996, but it wasn't until 2020 that he decided to give up full-time employment for good and take charge of his freelance career.

"Organizations like to pigeonhole you. 'You can only do this. You can only do that.' But as a freelancer, you get to do things you actually want to do", says Garth.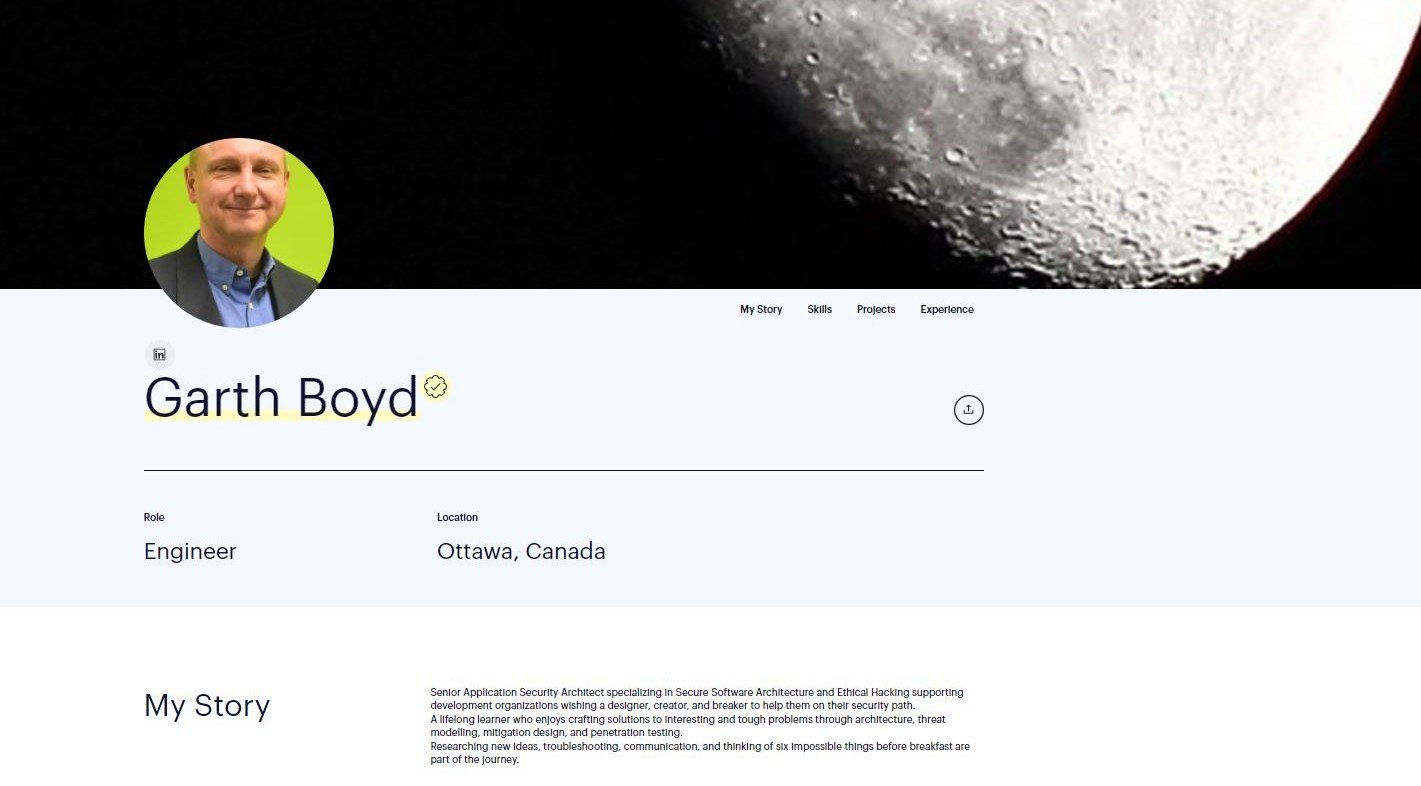 Garth found the freedom he craved on Braintrust. Garth gets to own his career, his business relationships, his future ...and of course, his network. All that combined with the wealth of quality engineering opportunities available here, and that makes Braintrust a no-brainer. Read his full story.

When not celebrating Garth's great success story, the Community teams are focused on:
Finding new ways to engage with global Telegram groups (even if it means a little extra time with Google Translate)
Building bounty programs
🏛️ Network Infrastructure.
The stakes are high. Remember last week when we shared that Governance was live on the platform?

Well, it's in full swing on Braintrust, and there's a big proposal up for vote in this user-owned and governed network. There's an Off-Chain vote currently running to determine if Braintrust should implement token staking. Learn how you can make your vote and your voice count by reading this quick guide here.

The Off-Chain vote for token staking in Snapshot.
(What's token staking? It's the concept that Braintrust token holders could stake their BTRST tokens to indicate urgency and interest for certain actions on the Braintrust platform. Staking is a differentiator that can help users stand out with their proposals, their jobs, or their referrals. It's also the second use for the BTRST token and offers greater control and influence in the network for BTRST token holders.)

Other important Governance update: the first two off-chain votes have officially been completed! Calvin Blanchard was elected as a Jury Arbitrator, and Know Your Customer passed unanimously. This is all just more proof that user-ownership rocks. Also, that it works.
💻 Product Improvements.
Uh oh, something happened to your wallet.

It just got an upgrade. Since the launch of the BTRST token on mainnet and listing on Coinbase, people are actually using their tokens in a real way for the first time. So product released material improvements to the Wallet in-app that help users see their transaction history, including withdrawals and earnings. And a bonus?

There's information on how you can use your BTRST token on-platform, and how token staking will work (did we mention that there's a vote going on about this? Check it out, get set up, and get to voting).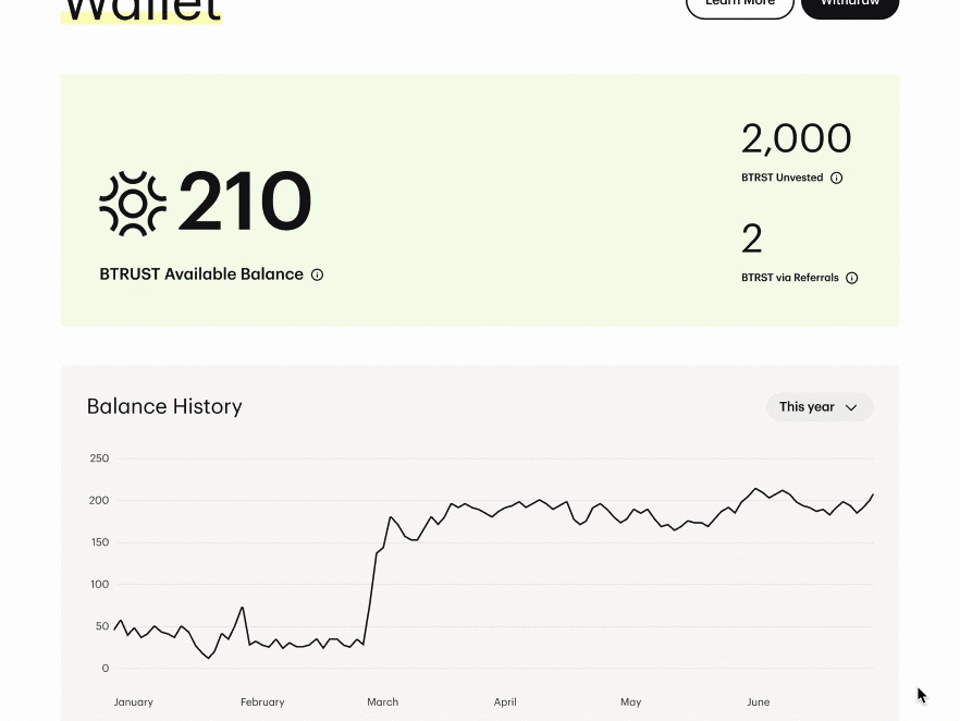 A look at the new wallet designs.
Other Product initiatives include:
Improved and expanded Learn page
Testing a "nudge" to complete your profile for new applicants
Improving onboarding flows
👤 Living Braintrust's Values.
As a blockchain project with a recent token launch, it could be easy to get lost in crypto commentary weeds. But thanks to community members and folks like 👇, we stay focused on what really matters: matching amazing brands with world-class talent to help spread economic opportunity around the world.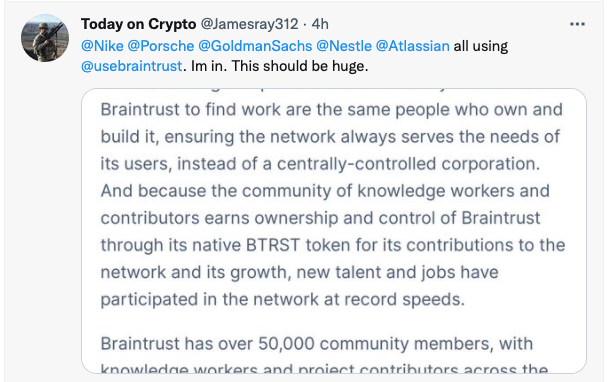 🚩 Weekly challenges and red flags.
The Braintrust community has grown exponentially in the past month. Like, 50k to 700k exponentially. And a lot of that growth has been international - which is great and aligns with the network mission to spread economic opportunity more equitably around the world. But to make that happen requires sharing the Braintrust story that much, too. So there's a big focus right now on making sure everyone shouts about what's happening on Braintrust and helps spread the word around the world!