⏳ The TL;DR.
The BTRST token is about to launch very soon!
Over 7,000 total talent on Braintrust… that's a lot of prospective BTRST token holders.
Nestle, Keller Williams, Autolist, Allstate, MyFitnessPal, Ceridian, and more are hiring great talent on Braintrust.
The BTRST token has passed withdrawal and governance voting testing. This token is locked and loaded and ready for launch!
Get in touch with the Braintrust community and learn ways you can earn BTRST by joining Discord.
Want to be a part of this movement… full time? - Explore open roles with Braintrust here.
This is the home stretch, folks. The BTRST token is launching publicly on Mainnet very soon, and our lives will never be the same. If past token launches have taught us anything, it's that there are about to be a lot of eyes on Braintrust.

It's our job to make participation opportunities available to them and to work together to build this decentralized talent network.

The way we work has been broken for a long time. Talent and companies alike have been extracted from and taken advantage of, resulting in poor working relationships and little upside for either party. But not anymore.

The time has come for us to take charge and fix the system. The time has come for a more fair and equitable system of work for everyone. The time has come for us to own it.

- Adam Jackson and Gabe Luna-Ostasesksi

💸 Client Updates.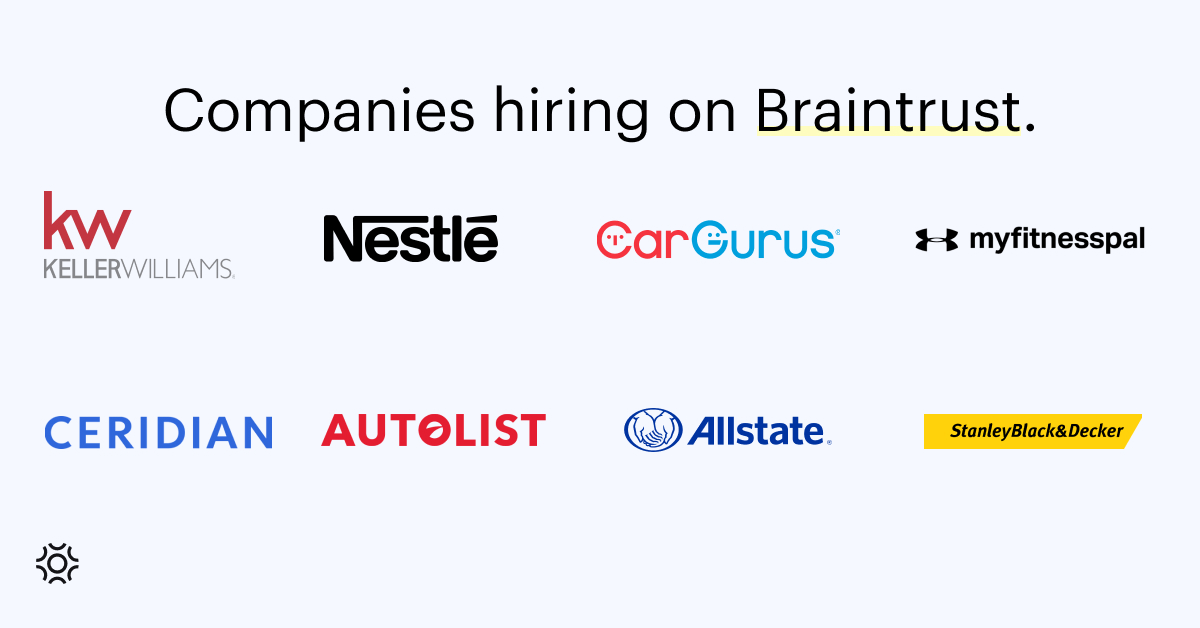 A few clients who are hiring on Braintrust!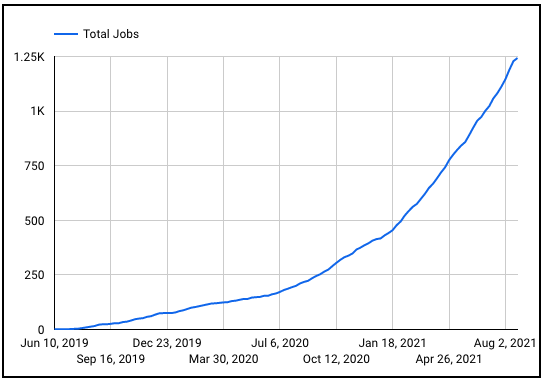 Total jobs on Braintrust over time.

What do new clients have to do with the BTRST token launch?

Everything, it turns out. Demand for talent on the network has never been higher, and that's great news. As new clients come on board, more jobs get added to the platform. So when a big surge of new prospective talent hit the network looking for great jobs, they'll find them. And the companies hiring? They're about to benefit from a broader pool of Talent ready and capable to take on their projects.

Here are just a few of the job opportunities on Braintrust right now:

Designers: Medable, MyFitnessPal, Nestlé, Compass, Freedom Financial, Myriad, Keller Williams, Courier, Ceridian, Pacific Western Bank, Twitter - see them here.

DevOps/Admin: Crosslake Technologies, Fulcrum Workforce Solutions, Mesmer, BRD, Compass - Check out the roles.

Engineers: American Eagle Outfitters, BRD, Ceridian, Citi, Diligent Robotics, Fabric, Goldman Sachs, Guardian Life, Lab Zero, Oak Security, Porsche, Supersapiens, Twitter - See all the opportunities here.

Product and Project Managers: Braintrust, Nike, Citi, Nortal, Medable, Fulcrum, XBTO Group, Lendkey Technologies, Pacific Western Bank, Chartbeat, Wakefully - check out the job board.

Marketing and Writer/Content Creators: Freedom Financial, Medable, Myriad, Solana Labs, Serotonin, Rapyuta Robotics - check out the roles here.

And many, many more on the job board!



🦄 Network Growth.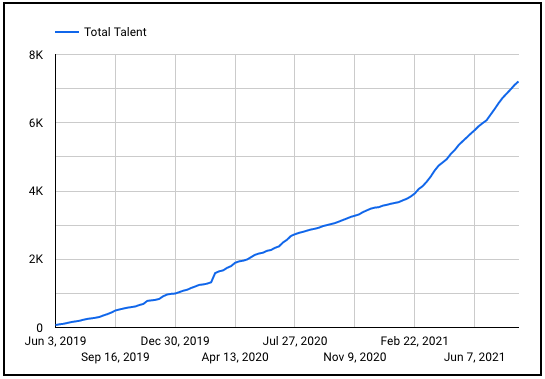 How the Braintrust network has grown. Now that's a steep curve.

A launch-critical project for Braintrust is ensuring the protocol (see what we did there?) for processing new talent applications and screenings is spickety-span. To achieve this, the team has been ramping up new talent sourcers and screeners to get the process sped up, and everyone is excitedly bracing for a big influx of new applicants.

Pay close attention to these growth metrics… post-BTRST-launch, these numbers miiiiight just blow up:
7,210 total talent have signed up for Braintrust
5,139 total referred users
1,229 total jobs

If you're a Braintrust Talent reading this and you're looking to get hired, there may be improvements you can make to your profile. Take a look at these Braintrust Talent who recently landed jobs, and see how they told their unique stories to attract clients!

📝 Hot Off the Presses.
What's the most important asset in a token launch (besides enthusiasm, of course)? A whitepaper. Braintrust has been heads-down honing the BTRST whitepaper, making sure it covers all the important info about the Braintrust mission, how the BTRST token works, and how folks can get involved to join the movement that's building a better future of work. It's about to be glorious - stay tuned for its much-anticipated release.

And here's a peek at our personal favorite graphic from it. We think Talent will appreciate this: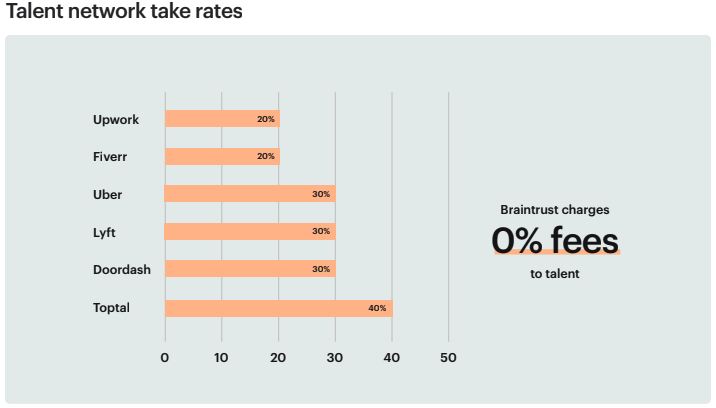 And few good reads in advance of the BTRST launch to get you in the talent revolution mood:
How Braintrust's fair model enabled freelancer Kartik Ramakrishnan to earn $212,000… and counting.
All the buzz about remote work is missing the point. What Talent want from work is changing, and businesses aren't adapting to provide it.

Then tweet at us and tell us what you think!


👪 Community Spotlight.
When BTRST launches, there's going to be a lot of new eyes on the network. And Braintrust is preparing to welcome those people into the community, and provide avenues for them to participate in this movement. Community's launch-critical project is to prep the existing talent community, the tech stack, and the processes for a potential influx of new members.

And a great test-run for that occurred earlier this week with a Prospective Talent AMA on Discord! Community leaders ran an informative session helping aspiring Braintrust Talent learn what they can do to get through the screening process and become approved to start submitting job proposals.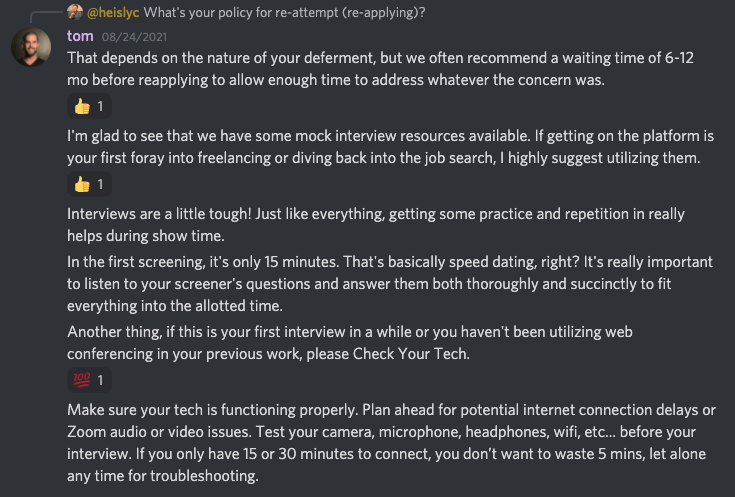 Other things on Community's plate pre-launch include:
Providing information to all token-holding network members about what the BTRST launch means for them
Helping generate buzz about the ongoings at Braintrust through a groundswell campaign (want to help out? Tweet at us and tell us why you're excited for the BTRST token to launch!)

🏛️ Network Infrastructure.
Only the most important thing in the history of Braintrust is happening with Infrastructure right now. And no, that's not an exaggeration.

Prep for the mainnet token launch is in full swing, with live testing of token withdrawal and voting capabilities going on early this week. These processes ensure that when BTRST is launched, token holders can easily use their BTRST to vote in governance processes and exercise their ownership privileges. Which, NBD, is the most important function of BTRST. It's the ideal the network was founded on.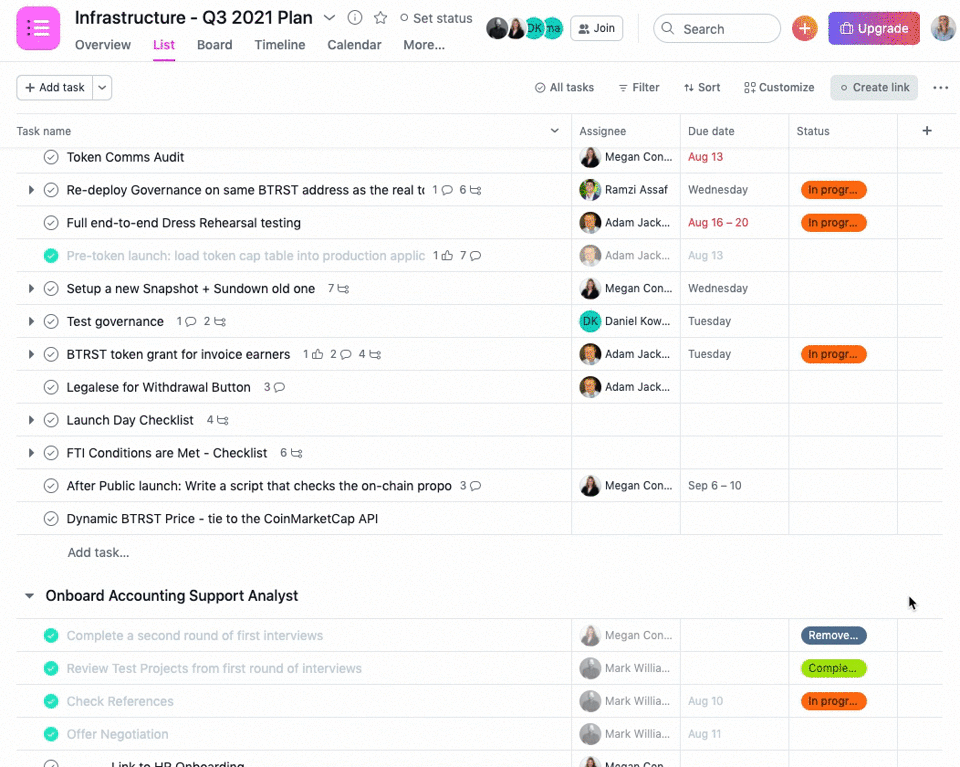 A peek at the insane and impressive workload on Infrastructure's plate to support token launch.

What else is Infrastructure doing that's launch-critical?

To support all these super-important functions, they're building out important documentation in the Help Center and a Braintrust Academy Course.

💻 Product Improvements.
When the BTRST token launches publicly, where will you keep track of yours? We've got you covered.

Product just launched the new wallet, where token holders can easily check their BTRST token balance, recent token rewards, referral bonuses, and more. Go check out your wallet, and explore the informational resources on the page about how to earn and use your BTRST tokens.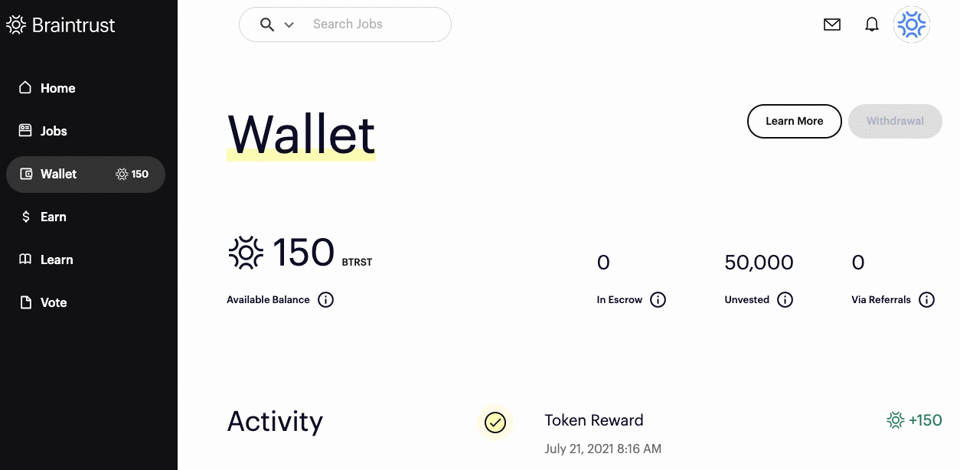 Wallet isn't the only thing getting a pre-launch makeover. Check out these other awesome improvements that are currently in development and testing and coming to a product screen near you:
Earn page - more ways to get BTRST in your wallet!
A refresh of all product emails
Upgraded Connector Accounts (yet another way you can earn BTRST… by referrals!)
Improved onboarding experience
👤 Braintrust HR + Culture Updates.
When BTRST launches on mainnet, things on the network might get a little crazy (in a good way). To prepare for the likely flood of new prospective network users and participants, HR + Culture is hyper-focused on staffing up where it counts the most.

And a big win: Braintrust hired 5 new talent team members to help improve the application, screening, and onboarding process for talent!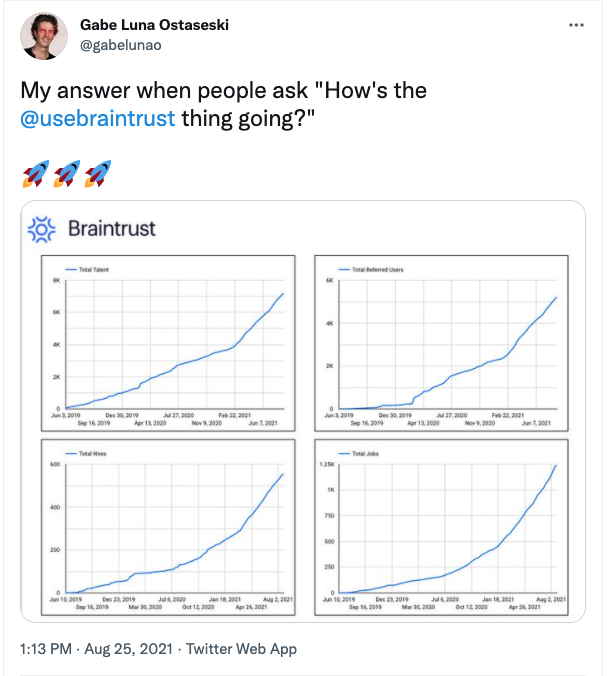 Want to check out other job opportunities with Braintrust? Here are a few:
🚩 Weekly challenges and red flags.
Containing our excitement…..