The media have it all wrong. Remote-work jobs aren't becoming the norm. In fact, just 6% of job openings today are remote-first. It turns out, the pandemic is revealing just how much companies are resistant to adapting to what talent want.
Love it or hate it, most of us have spent some part of our professional career inside an office.

The question of how we got to this point is still unclear, though. Some say today's obsession over the workplace didn't start until the end of World War II when business leaders adopted the old military model of strict hierarchies. (Sir, yes sir!) Others put the blame on medieval monks for creating the first cubicles. (This is true.)

Whatever the origin story actually is, the point remains: the way we work is old–very old. Maybe that's why the media is making such a big deal about today's companies that are going remote. But beneath all the hype, the statistics show that most companies still prefer the old military and medieval way of working. So what does that mean for the future of work?

Let's take a look.
Things are shifting.
When the pandemic hit, job turnover plunged, but not necessarily because people loved their jobs. People just loved being employed, especially during uncertain times, which meant no matter how much they hated their jobs–they weren't going anywhere. According to a monthly report compiled by the U.S. Bureau of Labor Statistics, employees spent the past few years job-hopping at historically high rates. Then in March 2020, the quit rate dipped to the lowest in five years. In April, it fell to the lowest level since the Great Recession.

Meanwhile, millions of essential workers never had a choice but to keep showing up at stores, on deliveries, and in factories–often at great risk to themselves and their families.

But now as the economy comes surging back, millions of knowledge workers appear poised to jump ship–and maybe even careers. But what are they looking for in their next job? And what do companies need to do to win them over? To find out, Braintrust analyzed more than 150,000 open knowledge worker roles to create the first report of its kind, The Knowledge Work Demand Index.

A third of those surveyed have started taking courses or job retraining. This is a 180° turnaround from a 2016 survey when 80% of people reported being happy with their jobs.

A pew survey in January also found that 66% of unemployed people are seriously considering changing occupations. What's significant though is that this phenomenon is happening at every income level, not just the top 1%.

In a post-Covid world, it turns out that Talent are taking back control of their lives and choosing what they want out of work.
Talent are taking back control.
We're seeing this same thing happen with remote work preferences. After millions of workers got a taste of remote work during the pandemic, many of them are now looking for remote work opportunities long-term.

But instead of prioritizing the needs of a workforce that is re-imagining its future, many of today's companies can't wait to get back to the way things were (i.e. bring on the medieval cubicles). By doing so, they're throwing away all the work they did to adapt to remote and distributed work, along with the processes that got them there.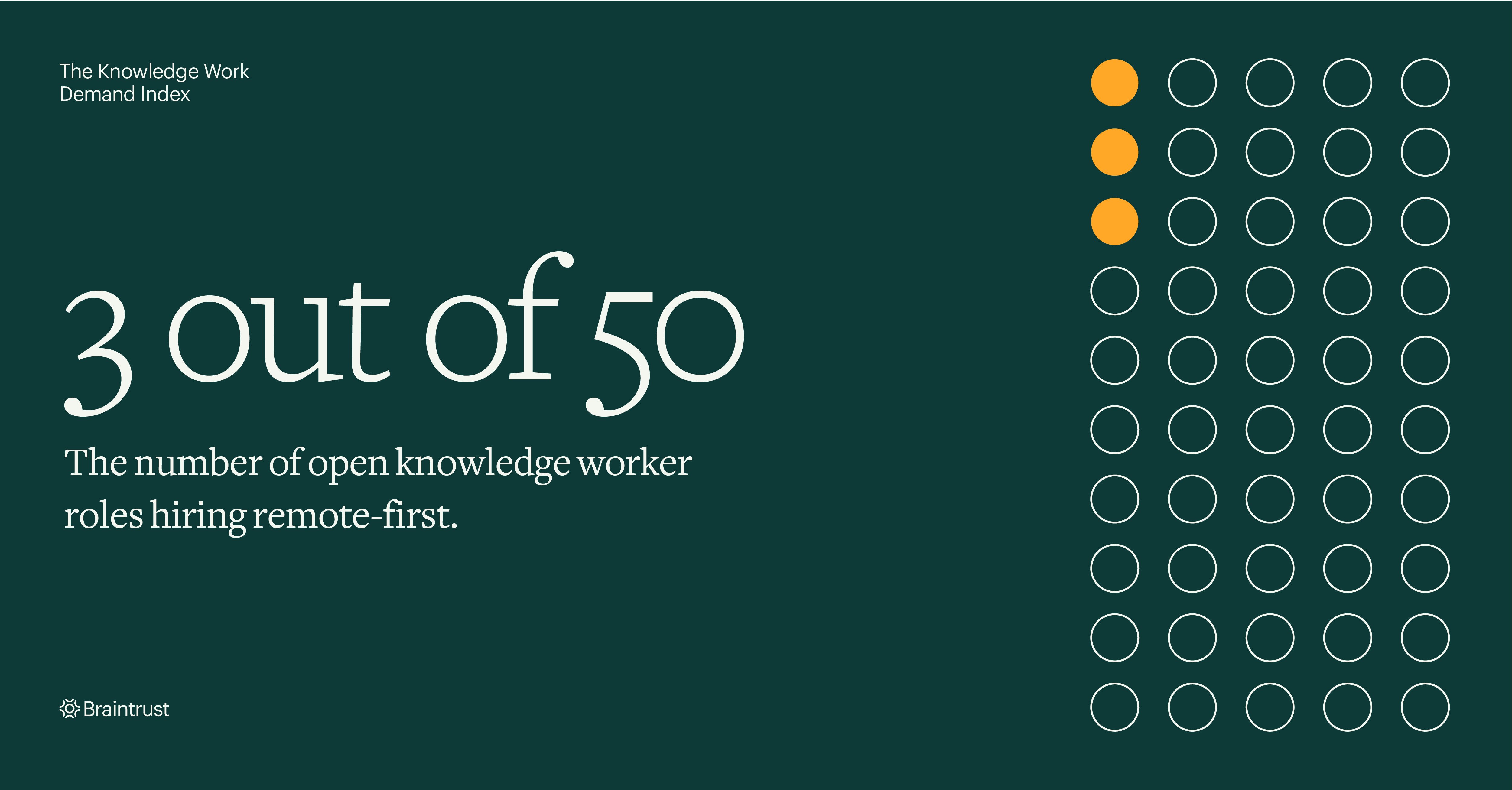 If you're a knowledge worker that's holding out for a remote future, it turns out that there are specific industries you should start with.

The tech and finance industries are the most likely to be remote-first, but at substantially lower rates compared to total open knowledge worker roles.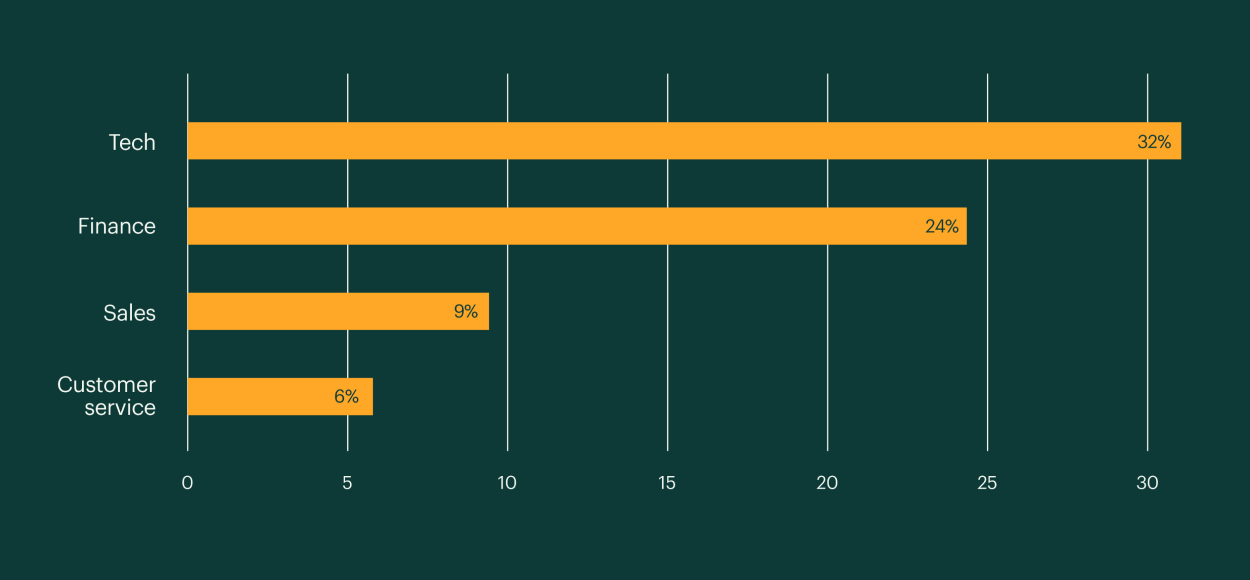 Check out the top 10 companies hiring the greatest percentage of remote-first talent.

These remote-minded organizations in the top 10 all share something in common–they're all technology-focused. In other words, technology companies seem to have a broader acceptance of a remote-first approach than more traditional industries.

But don't be fooled, even within the Technology sector, far more roles are tied to an office than are offering a remote-first position.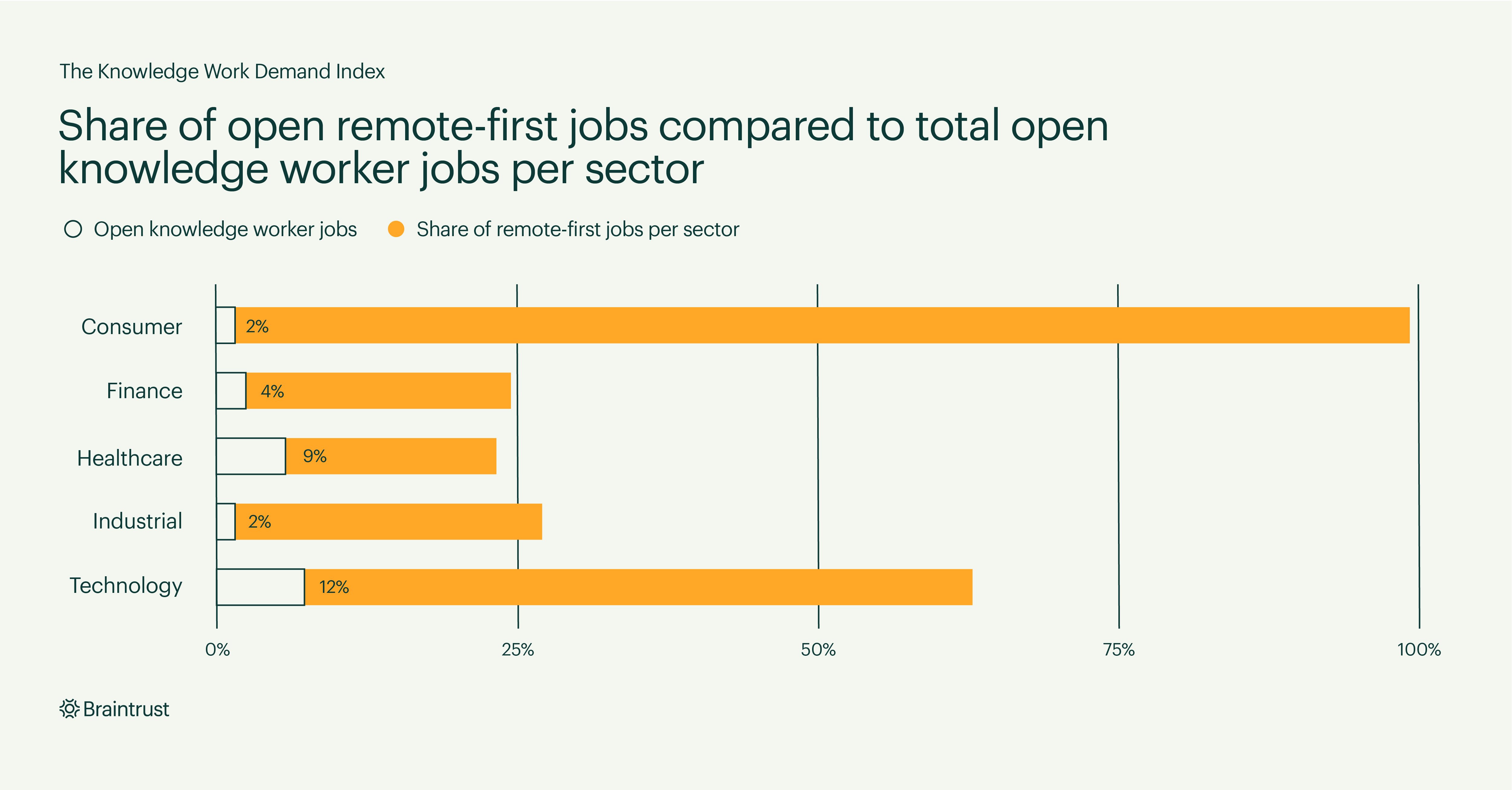 It shouldn't be shocking then that companies headquartered in the West boast the highest number of knowledge worker job openings as well as the highest percentage of remote roles. But this is in stark contrast to the strong demand for knowledge workers in the South, which currently has the lowest percentage of remote roles.

This brings us back to the biggest problem facing employers today: there simply aren't enough localized knowledge workers to fill roles.

To close the Talent gap and get more Talent inside their organizations, they need to start thinking beyond the military structures and medieval practices passed down to them and develop an effective remote work strategy.

But what goes into that strategy? Check out the index to find out.