⏳ The TL;DR.
New logos on the job board - Twitter, WeWork, Freedom Financial, and more are hiring on Braintrust!
The 10 Biggest Misconceptions About Braintrust and the truth behind them… inspired by an insightful conversation with Harvard Business School
The network is about to take transparency to an unheard-of level with a public dashboard sharing all the raw growth metrics
Braintrust is hiring like crazy - explore open roles here
Get a behind-the-scenes look at what's going on at Braintrust on Discord

💸 Client Updates.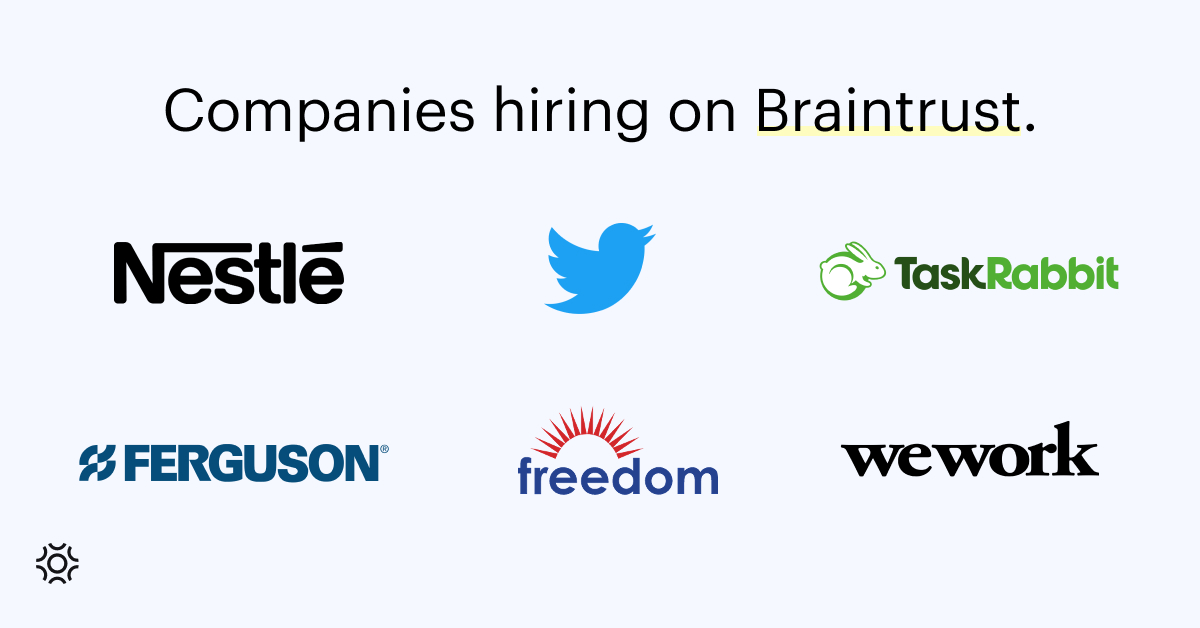 A few clients who are hiring on Braintrust!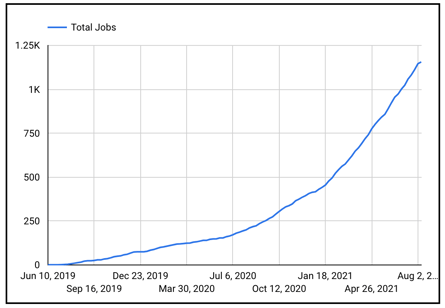 Total jobs on Braintrust over time.

There are a TON of job opportunities on Braintrust right now. Check out a few of the companies hiring per role below:

Companies hiring Designers: Compass, Medable, Pacific Western Bank, Fabric, MyFitnessPal, Keller Williams Realty, Nortal, Nine Labs, Goldman Sachs, Pacific Life, and more.

Companies hiring DevOps/Admins: BRD, Noumena Partners, Guardian Life, Mesmer, Pyxis, Fulcrum Workforce Solutions, Compass, Ferguson Enterprises and more!

Companies hiring Engineers: American Eagle Outfitters, Fabric, Goldman Sachs, IBM, Medable, Noumena, Porsche, Sifchain, Stanley Black & Decker, Versusgame, Wayfair, and more.

Companies hiring Product Managers: Braintrust, Pacific Western Bank, Nortal, Medable, Goldman Sachs, Millicent, Chartbeat, Livepeer, Wakefully, and more.

Companies hiring Marketing and Writer/Content Creators: Ceridian, Serotonin, BRD, Guardian Life, Medable, Rapuyta Robotics, Myriad Genetics and more!

And many, many more on the job board!

🦄 Network Growth.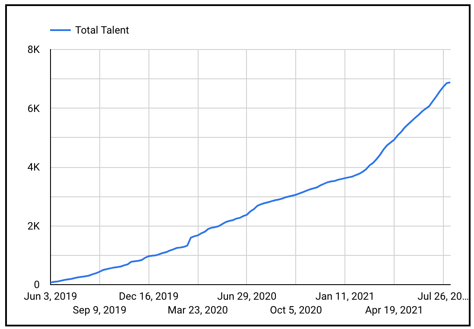 How the Braintrust network has grown.

Braintrust is growing at rapid speed, with a 46% increase in total sign ups last quarter alone. Here's a high-level look at some impressive growth metrics:
6,882 total talent have signed up for Braintrust
4,953 total referred users
1,167 total jobs
And if you're looking to get hired on Braintrust, there are lots of ways you can build up your profile to showcase your skills. Take a look at these Braintrust Talent who recently landed jobs, and see how they told their unique stories:

📝 Hot Off the Presses.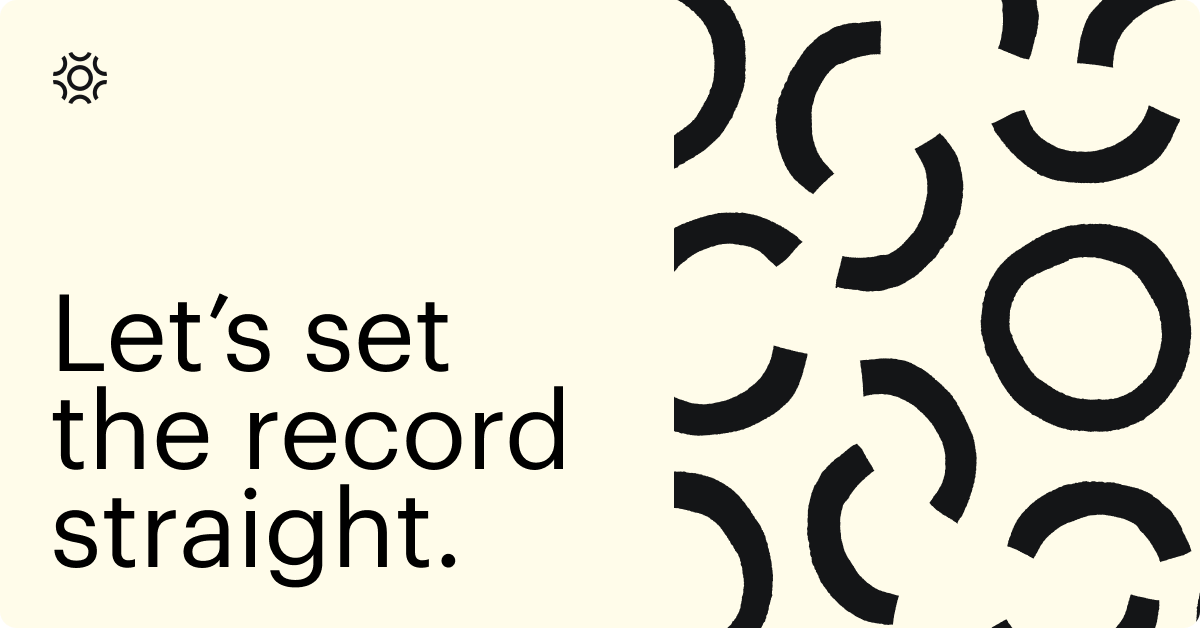 We all have a thing or two to learn from the folks at HBS.

Introducing The 10 Biggest Misconceptions About Braintrust (and the real truth behind them)! This latest blog post is inspired by a conversation with Harvard MBA students who had some misunderstandings about the Braintrust model, and this is our chance to set the record straight! Because if Harvard MBA students who studied our network model extensively had questions about it, then we knew there were some serious points we needed to clarify.

And a few other ICYMI hot content pieces:

Then tweet at us and tell us what you think!

👪 Community Spotlight.
Not to go all Rotten Tomatoes on you, but we've got some seriously impressive ratings to share. Talent have been reviewing the development events on Braintrust, and the scores are impressive!
Profile Reviews: 4.9 stars out of 5
Proposal Reviews: 4.7 stars out of 5
Public Network Update: 4.7 stars out of 5
Interview Training: 4.5 stars out of 5
Newly Approved Talent Onboarding: 4.6 stars out of 5

Many of these events are run by Braintrust talent themselves! These talent development opportunities are just another example of how user-owned, user-controlled, and user-lead growth works on Braintrust.


A little community love for these events in Discord.

Want to shout about what Braintrust means to you? Share away.

🏛️ Network Infrastructure.
Braintrust is taking radical transparency to a whole new level by building a public dashboard! This project will share real-time updates on all the most interesting metrics about the Braintrust network: revenue, network size, average pay rates for different role types, total number of BTRST wallet holders, total jobs on the platform, and much, much more. It's in the final stages of design, take a peek here: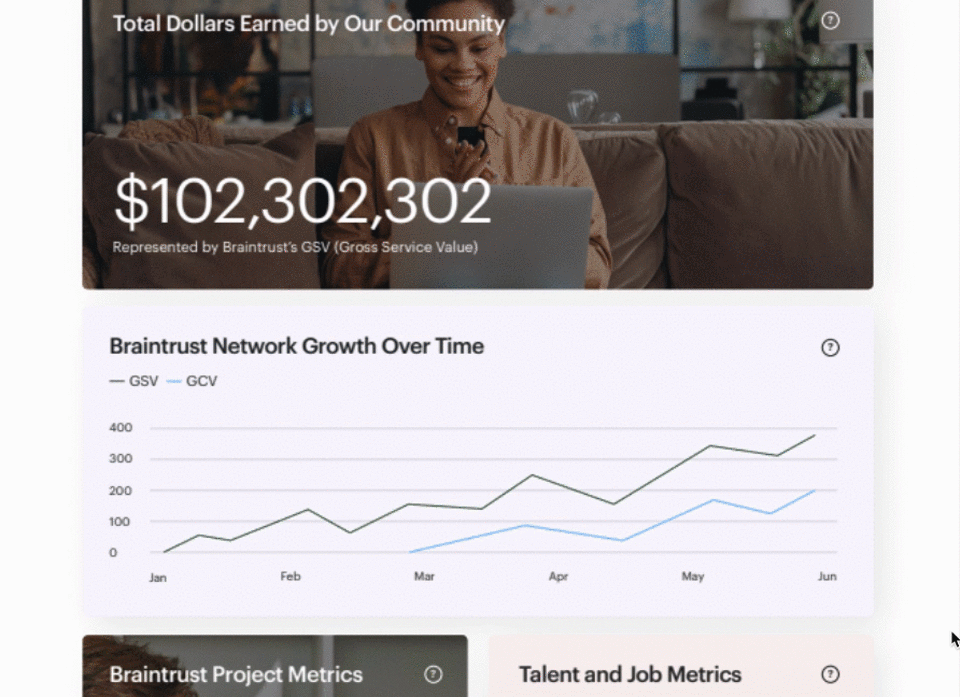 Note: data not accurate yet, used as placeholder for design purposes.

By the time this thing is live at the end of the month, Braintrust will be so knowledgeable in the art of transparency that we should host a TED Talk about it.

A few other notable infrastructure updates:
Everything you ever wanted to know is now documented meticulously in Braintrust's new Help Center
Braintrust is scoping building a Chrome extension that would enable talent to auto-fill their profiles for faster, easier completion
Progress is under way to open-source more of the Braintrust app!

💻 Product Improvements.
Braintrust's love language is product updates.

This week alone, Product is testing new features that will benefit Talent including new and improved Talent profiles, a streamlined profile creation workflow, and better Talent settings.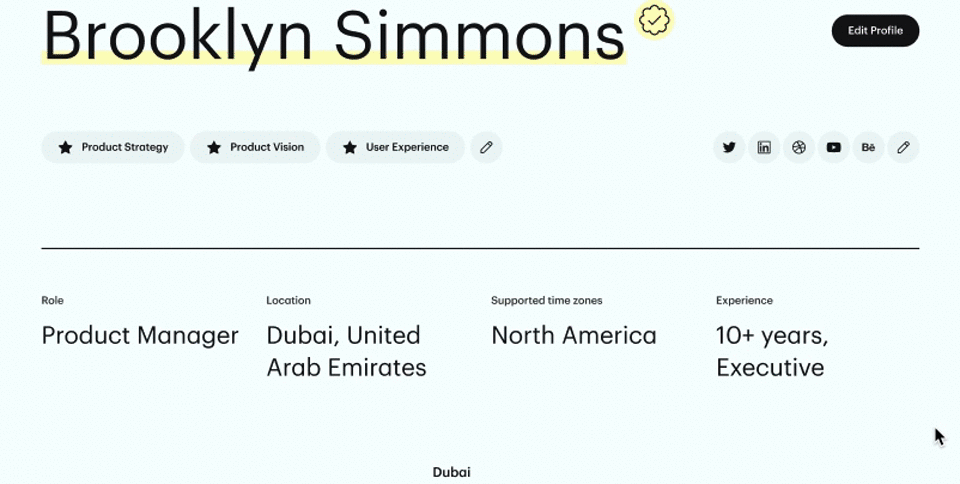 A peek at the new profile designs currently in testing.
Other projects in the queue (that you should be equally as stoked on) include:
Email-only sign up (if you hate forms)
BTRST wallet (if you care about your BTRST… which you should)
Product email redesigns (if you like a beautiful emails in your inbox…. By the way, are you receiving our job newsletter?)
👤 Braintrust HR + Culture Updates.
Feedback is fuel.

That's the motto at Braintrust, and this week HR + Culture is really putting it into practice by collecting feedback on Q3 planning sessions (ICYMI, you can see those plans here), scheduling employee review sessions, and creating an annual review process.

Because feedback is the best way a team can learn, improve, and grow. Have some feedback you'd like to share? Pop it into the #help-support channel on Discord.

And if you're interested in joining the team building the decentralized future of work, then Braintrust has options for you! Check out a few of these full-time, fully remote, open roles at Braintrust:
🚩 Weekly challenges and red flags.
Talent are joining the network at record rates, and it doesn't look like the influx will end. It's time to scale up the network's screening processes to make sure everyone gets an answer ASAP. Interested in becoming a Technical Screener for Braintrust? Apply here.