Why do tokens matter?

Most casual crypto watchers may only hear about Bitcoin or Ethereum for their emerging financial utility as value holders: the new gold, a chance to strike it rich.

In its earliest days, Bitcoin was seen by outsiders as, at best, an oddity: a piece of code that online libertarians were using to resist government censorship and buy pizzas.

Later, it was seen with a more nefarious eye: as a currency used by criminals to skirt regulatory eyes — to enable a dark web.

But while these use cases have served as headline-grabbing fodder, crypto's greatest potential is actually found in a far different utility.

To put it simply: Tokens present the opportunity to build a better web.



The evolution of the web


The internet's initial iteration, Web1, was the readable web: for the most part, users could access but not change what they encountered on it.

Next came Web2 technologies, which enabled the interactive internet we know today, with early platforms like Napster and Myspace that eventually became dominant ones such as Spotify and Facebook.

The interactive web allowed the casual user to create content, paving the way for explosive platform growth, unimaginable information abundance and massive wealth creation.

However, the value created by those users (ordinary people interacting with, and producing both content and knowledge on the web) was not evenly distributed.

Instead, it was marked up and taken through disproportionate fees by gatekeeping intermediaries — consolidating nearly all internet activity and wealth generation around five for-profit Big Tech companies in the American West Coast: Amazon, Apple, Facebook, Google and Twitter.

This was not a wholly shocking development: In human history, power accumulated in the hands of a few is hardly new.

But it was perhaps a bit surprising, given the hopeful initial creation and vision of the web: as an open source tool meant to democratize knowledge and value, rather than hoard it.

At some point, the incentives between the platforms that presided over most internet activity and the users who created value for those platforms had become misaligned.

These misaligned incentives are an inherent trait of Web2 platforms, as Andreesen Horowitz partner Chris Dixon explains with the below graph from his piece, "Why Decentralization Matters."

Which is where tokens come in.

How Web3 technologies enable a better internet

The Web2 model of value distribution served to line the pockets of investors but not of those who created value on the internet. The Web3 is the next step for a better internet, one in which the incentives of major platforms are aligned with the users who frequent it through the use of crypto.

Tokens can be simply described as units of value that allow organizations to self-govern while sharing rewards and benefits to all stakeholders, as JM3 Capital's William Mougayar, the author of "The Business Blockchain," describes them in this "Tokenomics" post.

Web3 platforms use the blockchain to serve as an immutable public ledger of both value and the person producing it, allowing for peer-to-peer interactions that get rid of the need for the fee-extracting middlemen of their Web2 predecessors.

Web3 platforms use cryptocurrency, to distribute ownership — returning both power over the platform and control over its value to those users who produce it.

Because users share in the benefits of the platform's success, they are naturally encouraged to help grow it. And because users have a say over the platform's direction, the platform is naturally poised to operate in a way that serves their interests.

Web3 is the full realization of the web's democratic potential. And it is enabled through tokens.

BTRST, the token fueling the decentralized talent network

Web2 talent networks, everything from Uber and GrubHub to Fiverr and Upwork, are a prime example of the extractive old model, with diverging incentives that lead them to charge 20-40% in fees on their own talent while upcharging services to clients as much as 70% of their true market value.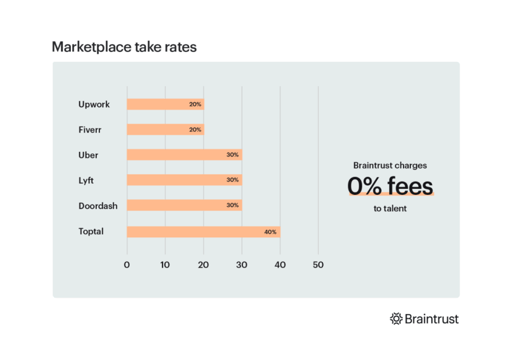 Braintrust is a fully user-owned, decentralized talent network, using Web3 technologies to return value to the Talent who create it. It does so through BTRST, an ERC-20 token that launched on the Ethereum mainnet with a fixed supply of 250 million tokens on September 1, 2021.

What BTRST does
BTRST drives decentralization by giving governance to users who transact on the Braintrust marketplace, from the clients offering jobs and the Talent filling them to the connectors recruiting both to do business on the network.
One token represents one vote on key network decisions. It can be used to propose ideas for improvements and vote on them off-chain, before they are then passed through an on-chain voting process. They can also be "staked" — offered up as collateral — to make job offers and bids more competitive.

How BTRST is earned
The BTRST token is programmatically earned by referring and screening new Talent and clients to the network, meaning those who do the most to build the network have the most say over its future.
Those Connectors who refer new Talent or clients receive a portion — currently 1% — of each future transaction their referrals make on the network in BTRST tokens.
BTRST can also be earned by contributing to the growth of the network.

The use of the BTRST token aligns incentives on the talent network.

The Braintrust network is incentivized to work in the best interests of its users because they are the ones who are in control of it.

And because they reap the awards of the network's success, in the form of BTRST tokens, they are incentivized to make decisions that help it grow.

Join the movement making a better web

Braintrust is using BTRST to fuel the first user-owned, decentralized talent network, handing value back to those who produce it on the marketplace where they make their living.