Earlier this week, we invited executives from Fortune 500 companies including Airbnb, Citi, EY, Dropbox, Fidelity, Nestle and more to participate in a live webinar where we explored strategies, tools and tips to help companies successfully manage distributed teams.
In addition to members of the Braintrust team, we were thrilled to feature James Everingham—Head of Engineering at Calibra (Facebook)—as our expert speaker. As a long-time virtual and remote leader, James offered some terrific real-world tips and insights to help businesses that are just now beginning to operate virtually.
This new reality we're facing means that nearly every company today is a distributed company—and organizations are being forced to adapt quickly with very little room for error. Braintrust Co-Founder and CRO Gabriel Luna-Ostaseski reminded the group, "In times of great challenge there are also opportunities to improve the speed and efficacy of how organizations get critical work done and have your organization come out better than it would have otherwise."
In the short term, this will likely create some chaos. You're probably feeling this already, as hierarchical structures transform into dynamic networks. The upside of these networks is they are highly flexible and adaptable, and better-equipped to meet the challenges today's businesses are facing.
Communication plays an absolutely essential role in ensuring this transition runs smoothly. "You have to change your communication dramatically in order for this to be effective," Everingham noted.
Our attendees agreed. We conducted live polling during the session, and a majority of respondents identified "communication with my team" as a top concern about working remotely ("losing momentum on ongoing projects" was a close second).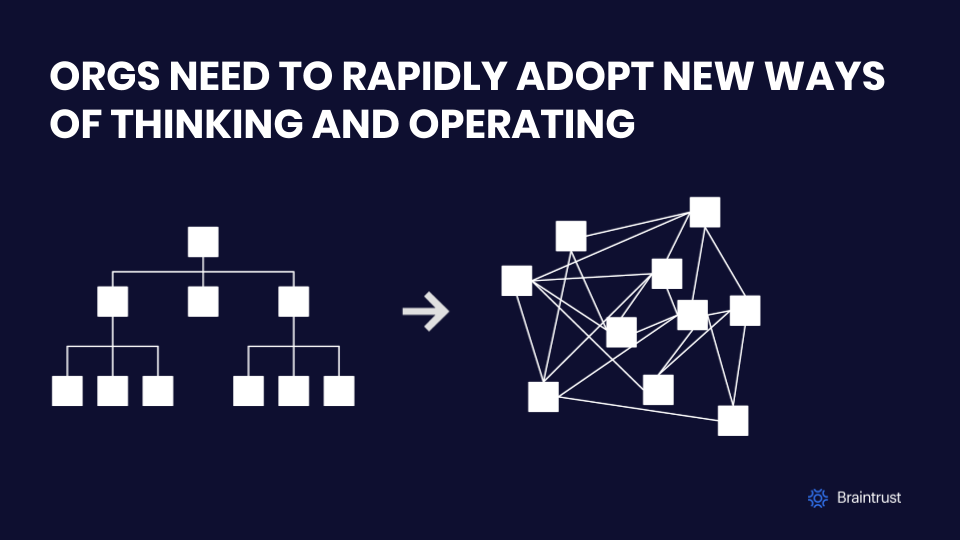 James and his team at Facebook have gone to great lengths to communicate the protocols for communication through the various channels; email, Slack, video conferencing and even texting for priority items. For an added line of communication—particularly during this transition period—James has been hosting a morning stand-up with his team every day, going around the virtual meeting room and asking each person what they are going to accomplish that day and that week. He finds it helps to hold people accountable and address it quickly if anyone is off track.
James also encouraged employees to lean on one another. "If you're having anxiety or trouble meeting a deadline, raise your hand and your teammates will help you deliver."
You can click here to watch the full webinar recording.
Bonus Offer: Looking for a deeper dive to help make #remotework at your organization? We're offering custom Executive Briefings to work directly with businesses and help build processes and structures for success in this new remote world. You can click here to request a personalized session.