💡 The WYSC (Why You Should Care).
Braintrust has 2 big projects on the plate right now: increasing job pricing and increasing fill rate. And these 2 things are related: well-paying jobs attract great Talent, who in turn apply for those great jobs and help improve fill rate, and then attract more Talent and more clients to the network, and on and on.
And because Braintrust is user-owned and user-controlled, it's important to provide transparency around how these decisions (that impact Talent the most!) are being made and who they're being made for. Interested in learning more about why Braintrust is building in public? Tune in Friday at 11 AM.
🧠 Braintrust Core Team Job Opportunities.
Braintrust is looking for a UI/UX Strategic Managerial Designer Unicorn! Know of anyone who might fit the bill? Send them this link.
Braintrust is also looking for a Technical Sourcer, needed YESTERDAY. Help find the perfect person to get hired and earn a $500 cash reward for your referral! Here's the link.
✋ Interested in getting involved another way?
As always, you can refer great Talent to join Braintrust by sharing this link!
👨‍💻 Network Updates.
It's the 2nd week of Q2 and the team is already making progress on their goals for the quarter. Keep an eye out in these weekly updates to see reports from each department on their progress.
And amidst all this excitement and forward-thinking, CEO Adam Jackson also shared an important reminder to the team: Pace yourselves. There's a lot going on, and a burnt out team is helpful to no one.
💸 Sales Updates.

This past week, these amazing brands hired Product Managers, Product Management Consultants, Service Designers, Lead UX/UI Designers, Senior Product Designers, IT Support Engineers, and more.
Plus, Pacific Life is actively hiring for 4 MORE roles!

Aside from making sales, the team is focused on a couple big initiatives:
Building more ruthless job qualification processes (no lame jobs, no mercy!)

Building upon the job surge strategy from a couple weeks back
🦄 Talent Updates.
How the network has grown the past week:
45 new approved Talent added
10 Talent were hired
153 new job proposals submitted
📝 Marketing Updates.
Notable Marketing wins from Q1.
Marketing is kicking off Q2 ready to get more and more people interested in Braintrust! Their biggest focus to make that happen? Talent marketing (big surprise! ….said no one).
And because they like to keep it fresh, here's the new content coming out this week:
👪 Community Updates.
Meet Zed Mupambirei, a Full Stack Blockchain Developer in the Braintrust Community. Last week, he shared how he used storytelling to win a job with Snowfork:
It just goes to show you that this community isn't just about finding jobs. It's about learning and development and belonging with an incredible group of talented individuals.
Priorities for Community this week:
April showed that 32% of all Talent sign ups came from approved Talent sharing the sign up page. Time to figure out how to increase that number!
A more robust referral program strategy, including an exploration of how to integrate this effort more into product
🏛️ Infrastructure Updates.
Here's an example of how user-owned, user-controlled governance works:
Infrastructure released a payment preference survey to the Community to evaluate the best payment options for Talent. And Talent voted OUT net30 payment options! So, the team will be working on phasing net30 out.
Areas of focus for the week include:
Governance: Completing a high-level roadmap to help guide efforts over the next quarter.
Token staking: Kicked off the design brief for wallet and staking - things are getting real!
Dispute resolution: The program is in review, keep a lookout for launch coming soon!
Payments partner: Still in the weeds of evaluating options here. Payments are important, so no steps will be skipped in the vetting process
Automated customer service: In the early planning stages and have kicked off the process with dev!
💻 Product Updates.
Product has 2 wins to boast about this week: Refer from Job is live, and the brand reskin is almost live! Won't it be nice when all the branding across Braintrust is uniform? (or is it just Marketing that cares about that?)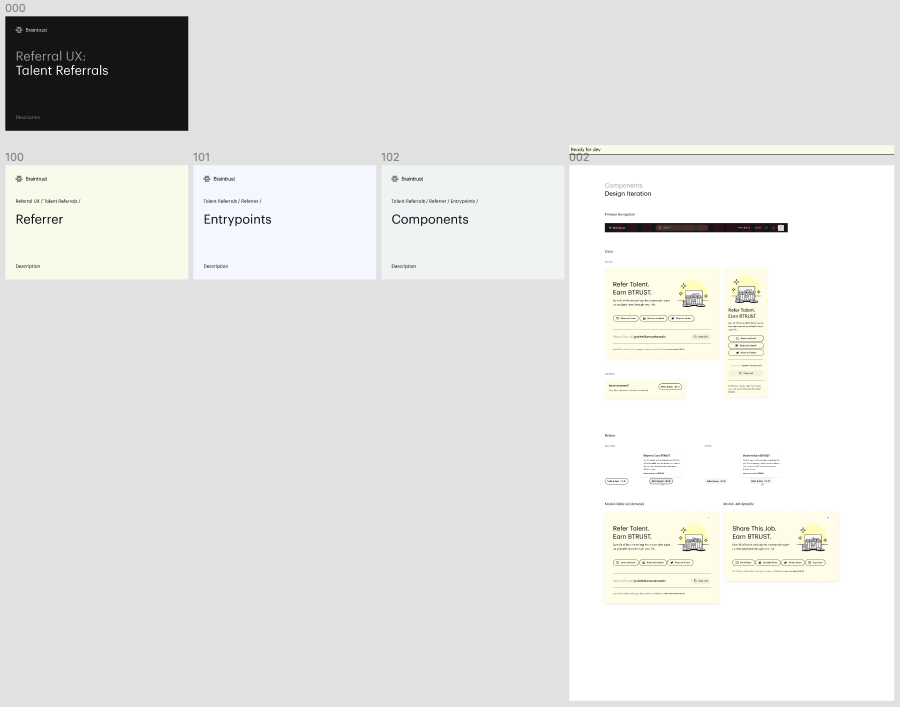 A sneak peek at some of the product designs… can't spoil too much before the big reveal!
Have you heard that Braintrust is looking for a UI/UX design leader? Do you know of anyone who might be interested? Send them the job description!
👤 HR + Culture Updates.
The Braintrust Core Team has grown a LOT, with 5 new members in the last 2 weeks alone! So, HR + Culture is very busy with onboarding.
Did somebody say UI/UX Designer? Again? Well, Braintrust really needs help finding a person for this role. Check it out and share it with your friends!
Other priorities include:
Culture documentation
Onboarding process & documentation improvement
Planning fun activities for the team!
🚩 Weekly challenges and red flags.
Because not everything is roses all the time.
There's another big priority on the to-do list: making sure that jobs added to Braintrust pay top dollar! More on this later.
Fill rate improvements are getting a little sidelined by other (important!) projects. It's a balancing act to get all this work done, and the team is paying close attention to how to improve this.