🤝 New benefits for Talent.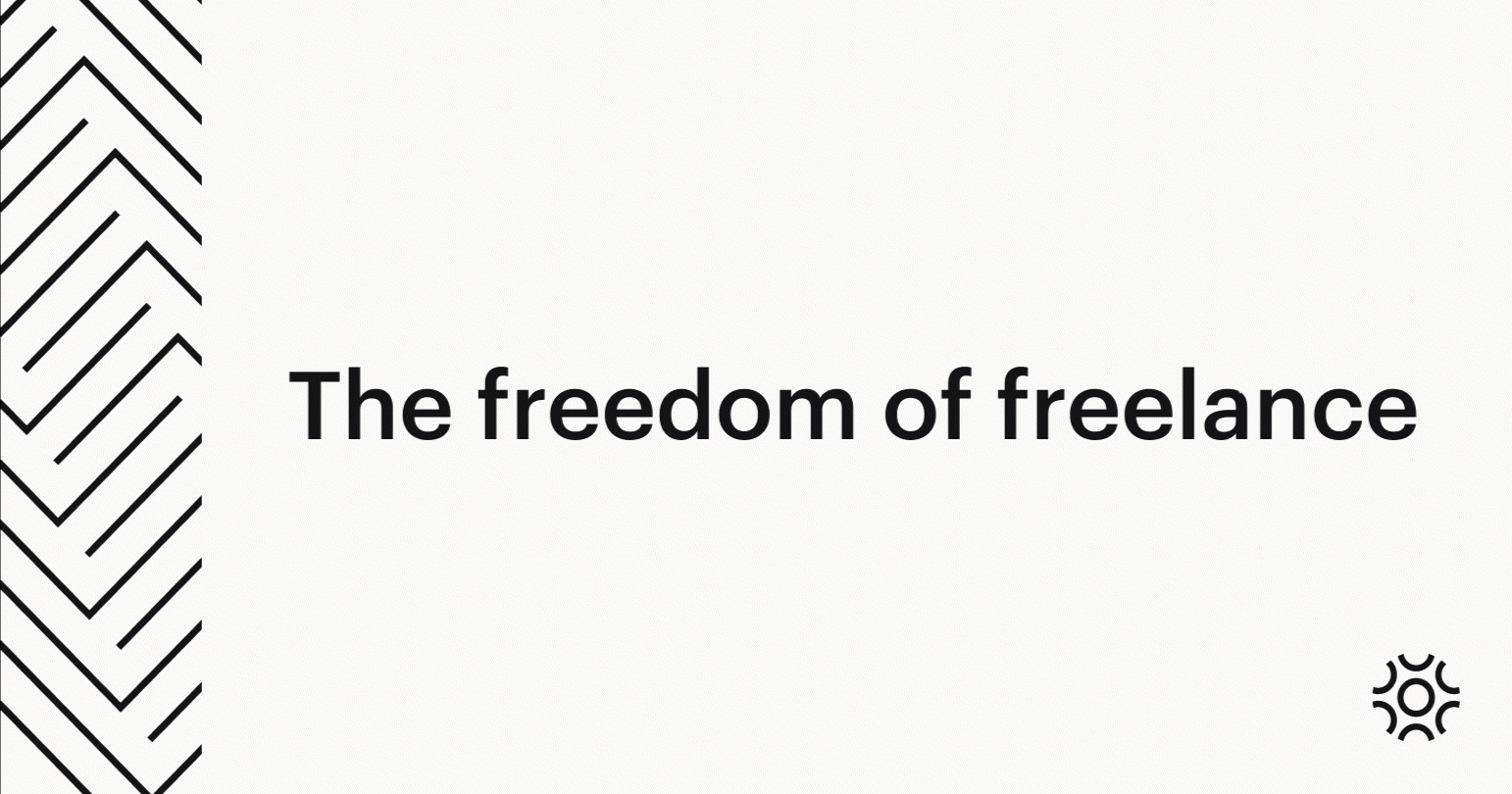 Freelancing isn't for everyone. Some feel full-time employment offers more security — steady pay, health benefits, and the expectation of ongoing work.

That may have once been true, but now freelance can have all those things too: Braintrust is proud to offer health benefits, career coaching, and even more job opportunities for Talent!

We're taking the risk out of freelancing and empowering workers to build their dream careers on their own terms. Learn more about the benefits we're offering Talent.
🚀 Even more new Web3 partners.

Finding work in Web3 just became even easier.
We're partnering with DFinity, Decentology, ConsenSys Mesh, Sifchain, Provenance, and others to bring even more Web3 jobs to the network! We're talking full-time, part-time, and grant-based projects that can provide a gateway (or a next step!) into Web3 for Talent on the platform. Learn more.
💸 Talent earnings.


As of this writing, Talent on Braintrust have earned over $65M! Our mission is to spread economic opportunity more equitably around the world, and we're now millions of dollars closer to that goal.


💼 Client updates.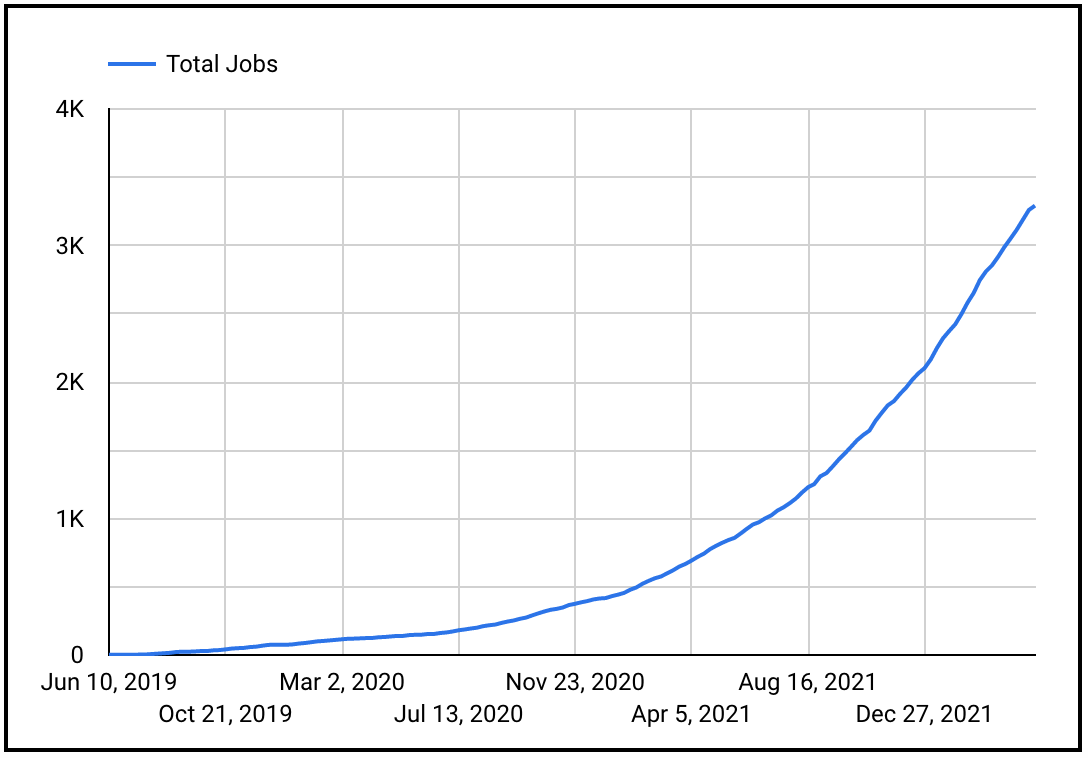 The total number of jobs posted to the Braintrust platform.
Braintrust isn't just helping Talent find great work. We're helping companies achieve their goals, build fascinating projects, and make an impact by pairing them with that great Talent.

Nearly 3,300 jobs have been posted on Braintrust since launching out of stealth in June 2020 — that's a lot of trust from clients who believe our Web3 model can find them game-changing talent.

In April, more than 60 clients hired on Braintrust! We're proud to work with these brands, and others, to help them drive innovation. 👏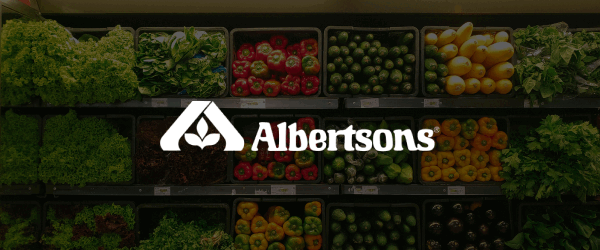 🦄 Network growth.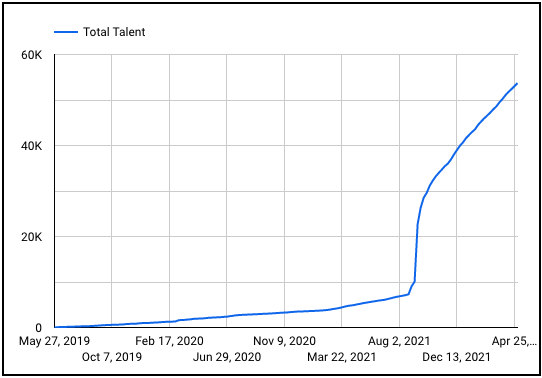 The total number of Talent who have signed up for Braintrust.
The movement is global and growing: Over 53,000 Talent from all over the world have signed up for Braintrust!
🏛 Network infrastructure.

Soon, you won't have to delete a submitted invoice to make changes.
Getting paid shouldn't be a pain. That's why we're making improvements to invoicing. Up until now, if you had to make an edit to an invoice, you had to delete it and resubmit it.

We know nobody likes to re-do work. Braintrust is now working to implement an edit invoice option. Soon you'll be able to make any minor (or major!) changes to submitted invoices without hassle and without help.
🎟Event recaps you need.

The Web3 event you shouldn't miss — How to Land Your Dream Job in Web3 — is now on YouTube!

The event included Web3 leaders Jack O'Holleran from SKALE, Jack Chan from Harmony, and Scott Olson from ConsenSys giving practical advice for how to stand out in the Web3 hiring process.

It also featured Caryn Tan, the host of the Braintrust Web3 Cohort Course, and Aidan Musnitzky, the builder of the Braintrust Fee Converter, sharing their personal stories about how they got into Web3.

In other news, our Co-Founder Adam Jackson has been busy at events and on podcasts sharing some insights of his own.
👪 Community spotlight.
The community-created Fee Converter has been getting some serious attention on social media. More community members have been creating flywheel visualizations to show how the Fee Converter is taking client fees, converting them to BTRST, and funding more community projects. Here are a few:
The Fee Converter is a testament to the transformative power of this community, which saw an opportunity to improve our tokenomics. This ensures the community will always have funds to fuel its projects, and change Braintrust for the better—and you all made it happen. Learn more about the impact of the Fee Converter here.
💻 Product improvements.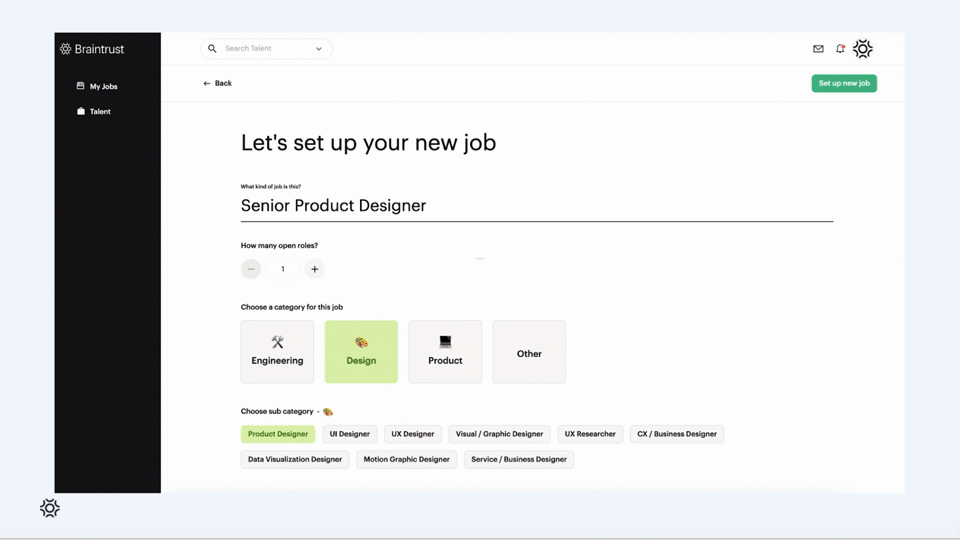 Last month, Braintrust pushed a whole new "Create Job" workflow live in the product! Aside from making it easier for clients to post jobs, this new workflow has some seriously positive impacts:
It empowers more self-service capabilities for Clients. No more needing to ask for help when posting a role, it's all smooth sailing.
It provides the platform with better, higher-quality, and more streamlined data which helps improve algorithmic Talent matching.
It enables the addition of new job types — hello, Grants!
🛠 Grants progress.
Grants from the MVP Wave are moving along and, in some cases, coming to a close! Here's an update on how they've been doing:

A-0001 Program Manager for Social Media Ambassadors
Grantee Temira Kaser is finalizing strategy and preparing to kick off recruiting next week. Here's a peek at the deck she's been building the program structure in.


A-0002 Program Manager for Discord Moderators and Ambassadors
Grantee Arvids Godjuks has kicked off the pilot program and the Ambassadors are up and running in Discord. He's been hard at work onboarding them — just take a look at these training materials: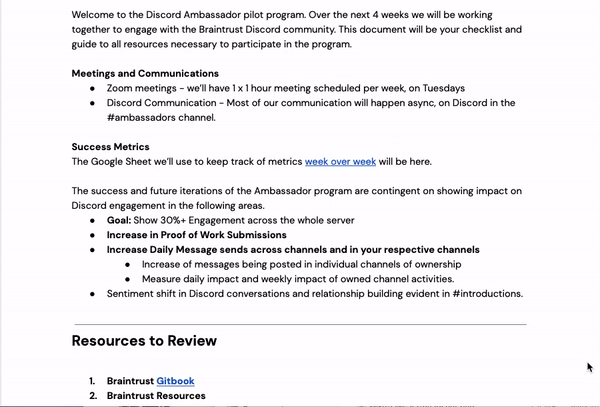 A-0004 Reporting Dashboard: Social Media Analytics
Grantee Andrew Fraine has wrapped up the social media dashboard! Thanks to this work, Braintrust can now easily track growth and engagement on our busiest channels, Twitter and Youtube. Here's a peek at the dashboard: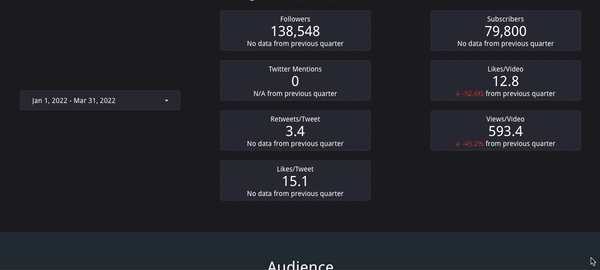 A-0005 Web3 Landscape Explained
Grantees Sandy Sanchez and Allison Chen have wrapped up the grant. Learn how to get oriented in the Web3 space in their final wrap up video.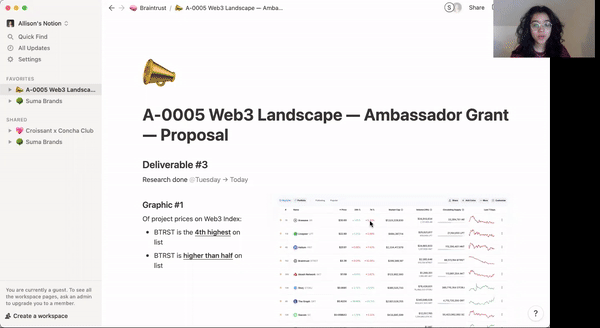 B-0004 Helpdesk Ticket System
Grantee Sameer Kanda has the Zammad ticket system installed in our production AWS environment! We are configuring the product and it will undergo a thorough round of UAT this month.

E-0001 Educator Program: Onboarder
Grantee Dr. Calvin Blanchard has completed the grant. His success metrics video shows how the program has simplified the onboarding process for Talent, improved attendance for onboarding events, and published certain events on the Braintrust Academy to make onboarding a more on-demand experience for Talent.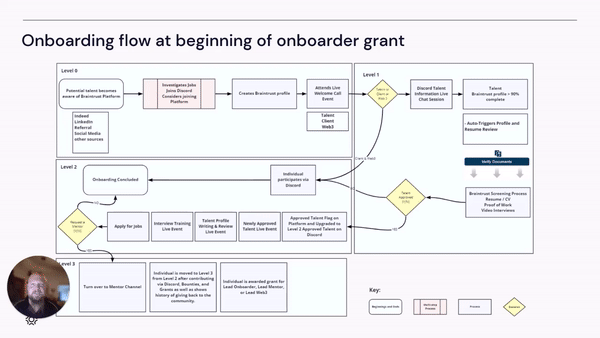 E-0002 Educator Program: Mentor
Grantee Chad Amon has also completed his grant. In his video, he shares how impactful this mentorship program has been. There was strong interest from the community in becoming a mentor, and even stronger interest in getting matched to a mentor! The next steps are to streamline BTRST reward allocations in order to scale future iterations of the program.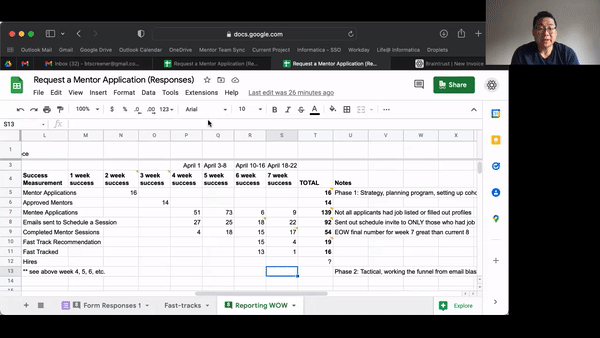 🚩 Challenges:

The MVP Wave of the Braintrust Grants Program has shown us that plugging in community members to a core node's system and processes is easier said than done. In order to empower all the grantees to build their projects, Braintrust first needed to provide access to tools, information about how systems are organized, and clear frameworks for success. The challenge of making all these things accessible took longer than originally anticipated, and set a few of the grant timelines back by a couple weeks.
🤝 Get involved.
New to Braintrust and want to get involved? Sign up to join the fastest-growing Web3 network!