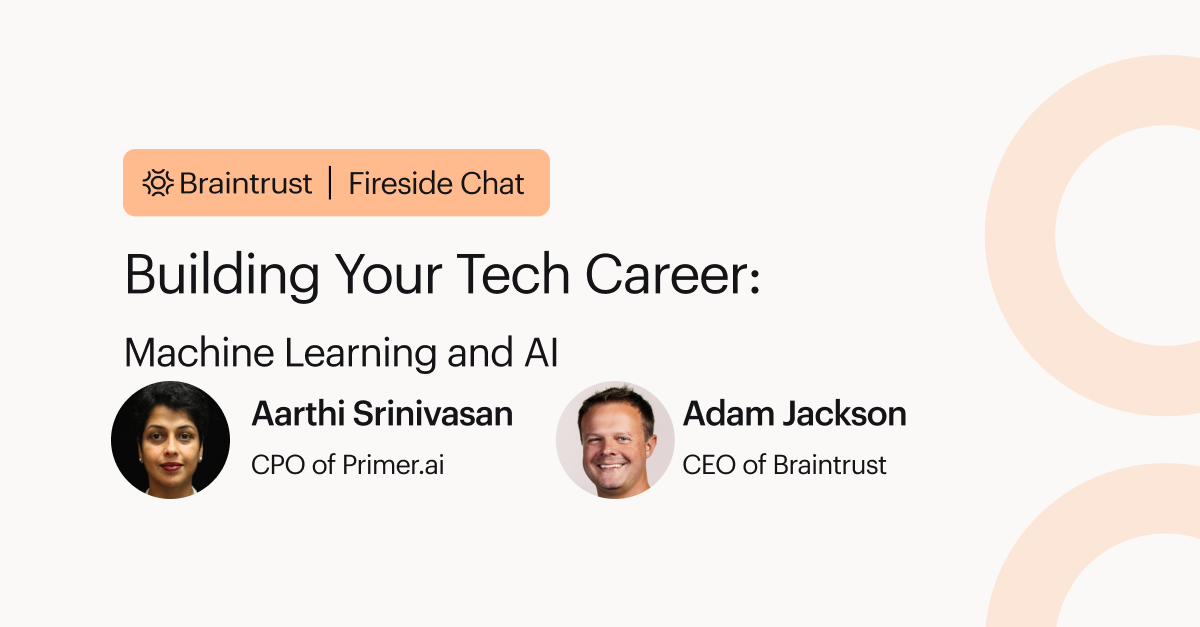 Introduction
Braintrust has experienced a surge in AI and ML job posts this year. 18% of the current jobs are in the field of Artificial Intelligence. Based on the overwhelming requests from our talent community to up-skill and learn, we began our series of Career Advancement chats with marquee professionals.
Aarthi Srinivasan, the X-Chief Product Officer at Primer.ai, shared her journey and valuable insights on AI, Machine Learning, and building a successful career in the tech industry in conversation with Adam Jackson, the co-founder, and CEO of Braintrust. The chat was part of Braintrust's ongoing fireside chat series featuring prominent individuals in the technology field.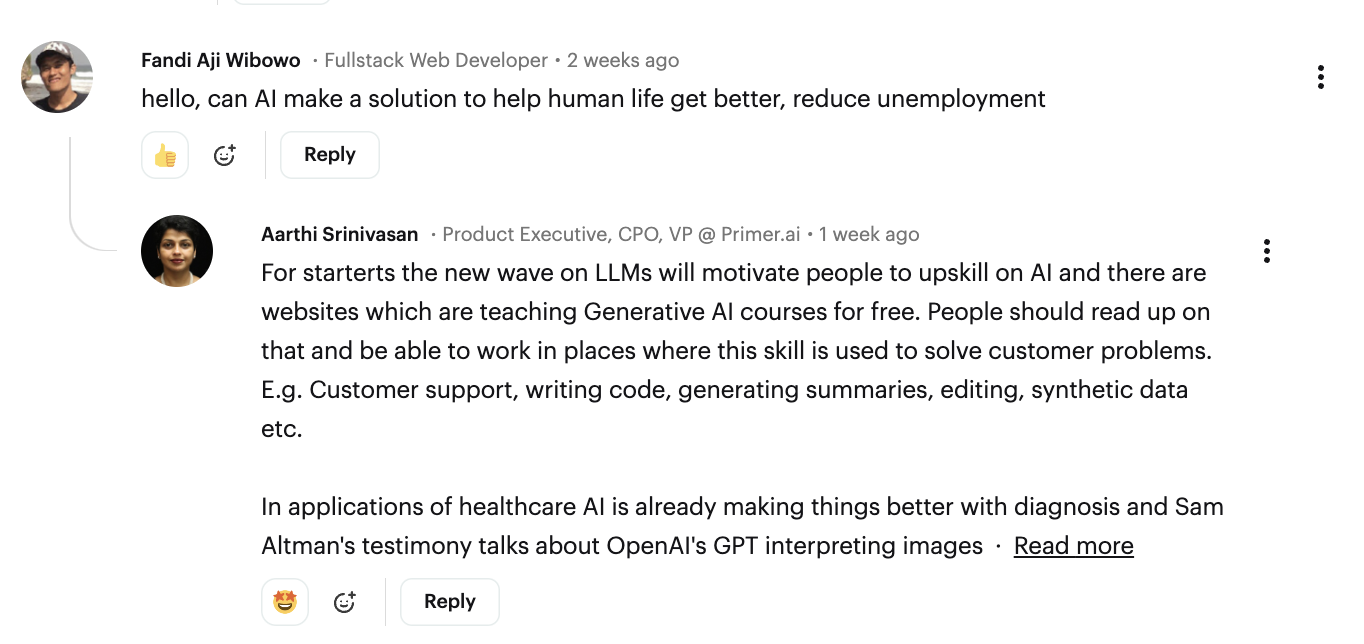 Aarthi is an inspiring leader, product executive, and contributor to value-driven growth. She has a proven track record of leading product, design, and engineering teams for operational excellence across digital products with industry thought leadership. She is a data-driven professional, abstracting complex technology, optimizing processes/organizational structures, and leading new product initiatives to deliver customer value.

The first ten years of her career were focussed on financial technology products and the last decade has been in AI/ML portfolios. She has an educational background in Finance (MBA) and Computer Science (MS, BE).
In this recap, we'll delve into the highlights of the conversation and explore Arthi's perspective on various tech topics.
AI Tech Professional Career Journey
Arthi Srinivasan began the chat by sharing her career path to her current role. She emphasized that career progression is not always a linear journey but rather a result of taking risks, embracing learning opportunities, and being open to new experiences. Arthi highlighted the importance of maintaining good connections and leveraging networks to explore exciting career prospects. She also emphasized the value of continuous learning and the significance of curiosity and personal growth in one's professional development. Something that professionals in the Braintrust network related to deeply.
What is AI and Machine Learning
The discussion then shifted toward clarifying the concepts of AI (Artificial Intelligence) and ML (Machine Learning). Arthi explained that while these terms are often used interchangeably, AI is a broader field encompassing the development of intelligent systems that mimic human behavior. On the other hand, ML is a specific approach within AI that utilizes algorithms to enable computers to learn and make predictions or decisions. Arthi highlighted the role of deep learning, neural networks, and foundational models in solving complex problems in the field.
The Potential Impact of AI on Technology and Society
Arthi shared her perspective on the potential impact of AI and machine learning on technology and society. She discussed how advancements in LLMs (Large Language Models) and foundational models have revolutionized various fields, including coding, task automation, and art. Arthi highlighted the ethical considerations surrounding AI and the need to address concerns related to data privacy, unbiased models, and secure deployment. She emphasized the proactive efforts of technologists and governments in collaborating to ensure responsible and trustworthy AI practices.
Check out event notes by Deb Shell, writer, creator, designer, and Braintrust's Community Member.

Future Market Prospects for AI Careers
Participants were eager to know about the future market prospects for AI careers and the fields expected to experience significant growth. Arthi acknowledged the disruptive nature of AI in coding, task automation, and customer operations. She stressed that AI would enhance productivity, generate economic value, and create new opportunities rather than solely replace jobs. Adam quoted that "McKinsey research estimates that generative AI could add the equivalent of $2.6 trillion to $4.4 trillion of value annually". Arthi pointed out the areas of customer operations, sales and marketing optimization, summarization, and software engineering as potential growth areas. She also highlighted the increasing importance of AI in fields like arts, gaming design, and fashion.
Getting Started in the Field of Artificial Intelligence
There were a lot of questions from the community about starting in the field of AI. Arthi provided valuable advice; she encouraged individuals to embrace a customer-obsessed attitude and a willingness to learn on the job. Arthi recommended taking online courses, such as Andrew Ng's introductory ML course on Coursera, and distilling complex concepts into easily understandable formats, such as notes and slide decks. She stressed the significance of attending conferences, joining meetups, and engaging with professional networks to stay updated and expand one's knowledge base. Arthi also mentioned the value of resources like Google, which provides a wealth of information and tools for AI learning, in addition to learning from your peers and others going through the same struggles. Based on the hashtag #AI in the Professional Network, people are learning from each other.
Enhancing Qualitative Research with AI
Arthi addressed the question of how AI can enhance qualitative research, particularly in the context of product management. She emphasized the interpretation and generation aspects of qualitative research. Arthi suggested using natural language processing techniques to extract insights and common themes from surveys, customer calls, and other documentation. Arthi highlighted the potential of AI in generating alternate prototypes and ideas, optimizing for specific goals, and assisting in the customer journey.
Conclusion
The fireside chat with Arthi Srinivasan provided valuable insights into building a career in tech, AI, and Machine Learning. Her journey and expertise shed light on the evolving landscape of AI and its impact on various industries. Arthi's advice for beginners, along with her thoughts on ethical considerations and future market prospects, highlighted the importance of continuous learning, adaptability, and responsible AI practices.
In addition to the fireside chat, it's worth noting that Braintrust's Career Help is a great source to ask #AI questions. This feed offers a wealth of resources and information for professionals seeking guidance in the AI field.
Stay informed through Career Help, connecting with industry networks, and embracing continuous learning, aspiring professionals can position themselves for success in the dynamic world of AI and machine learning. Join us for the next event.
Continue the conversation about AI and how to get into the space, transition, or just tackle an on-the-job question by posting in the Professional Network.

Check out past videos.
Subscribe to our newsletter