Companies are looking for faster, better, and more cost-effective ways to find quality Talent — and a host of research shows the old ways simply don't work.


The traditional technical interview process is failing companies, eliminating potentially qualified candidates to their own detriment.

Even when they do find a candidate, outdated processes take too long and cost too much, with recruitment agencies taking an average of four months to fill jobs while marking up Talent by 20-30% of their first year salary.

Braintrust was created to eliminate the expensive middleman and match clients with the top tech Talent in the world for a fraction of the cost and time.

The network has reduced hire times from months to just weeks, all while charging just a 10% fee to clients ranging from Fortune 1000 companies to innovative startups and top Web3 projects including Nestle, TaskRabbit, Goldman Sachs, Solana Labs, ConsenSys, and more.

But top Talent is hard to find. When you find it, you want to keep it.

That's why Braintrust is now giving its clients even more options to meet their needs, offering them direct placement for full-time roles while still benefiting from the network's thousands of top vetted tech Talent, industry-low fees, and a resume-to-hire ratio that is three times faster than most staffing firms.
More Value, Less Cost: A Braintrust Promise
Get more, for less.
Braintrust only charges a 10% fee of the first year salary, compared to the 20% to 30% upcharge by recruitment agencies.

No lengthy recruitment process.
Braintrust makes hiring faster and easier, instantly matching clients with high-quality applicants within 48 hours on average, reducing hire times from four months to two weeks or less.
Flexible to meet your needs.

Braintrust offers the largest network of qualified contractors, plus clients pay no extra fees if they contract for 6+ months and then later hire them on a full-time basis, giving clients a one-stop solution for trialing and onboarding the world's top tech Talent.


On Braintrust, building your team is easy, with brands like McKinsey, Freedom Financial, Pacific Life, Guardian Life, and more already hiring full-time talent on the network.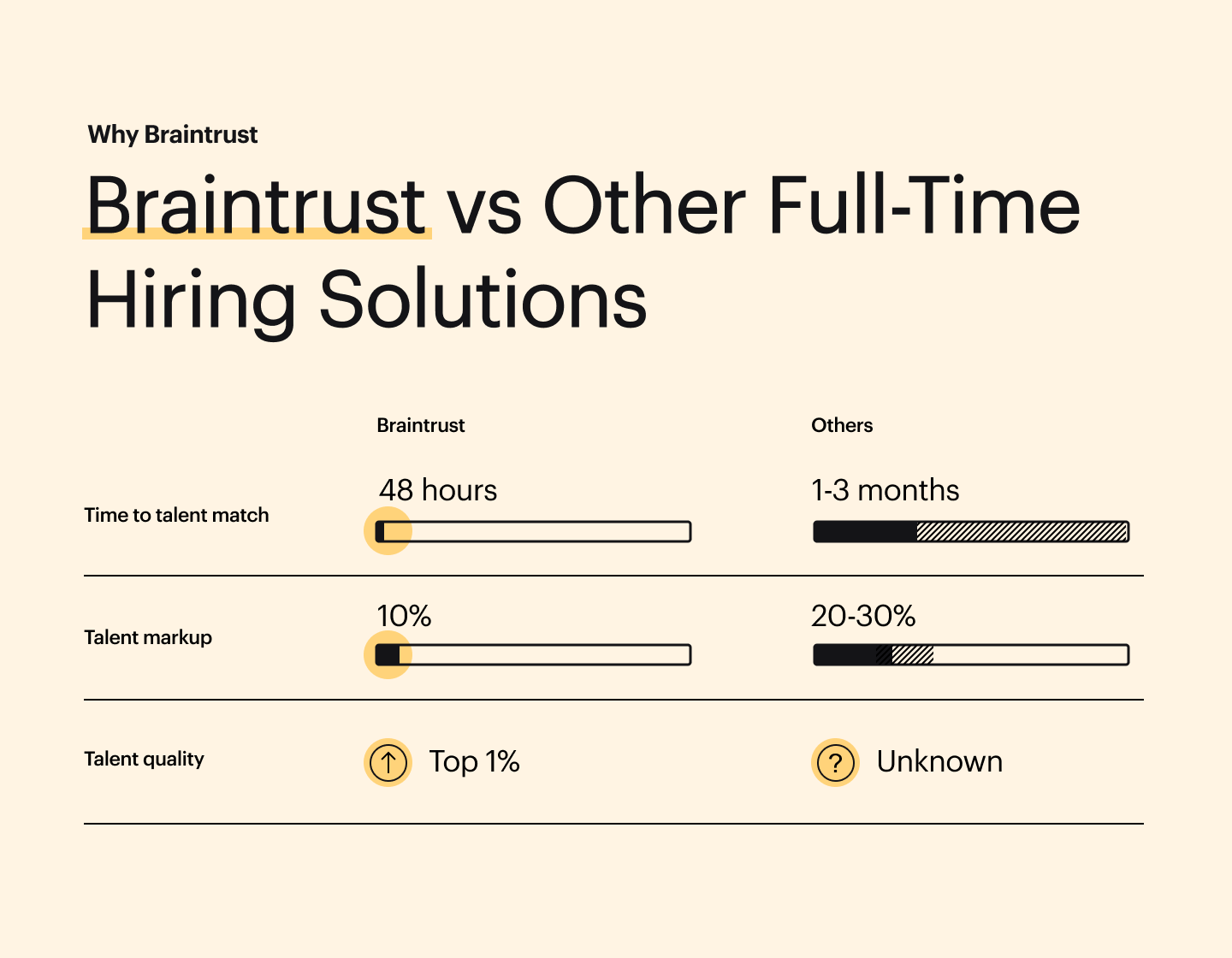 Braintrust makes hiring faster and easier, matching clients with high-quality applicants within 48 hours on average, able to fill key roles or even rapidly scale entire teams from scratch.

Talent is pre-vetted by Braintrust's community of peers, which means the only resumes you see are the best. Plus, the network's low fees allow you to grow bigger and faster.

Success Stories: Global Brands Trusting Braintrust
That's how Pacific Life was able to build its 13-person innovation team in just two weeks during the pandemic.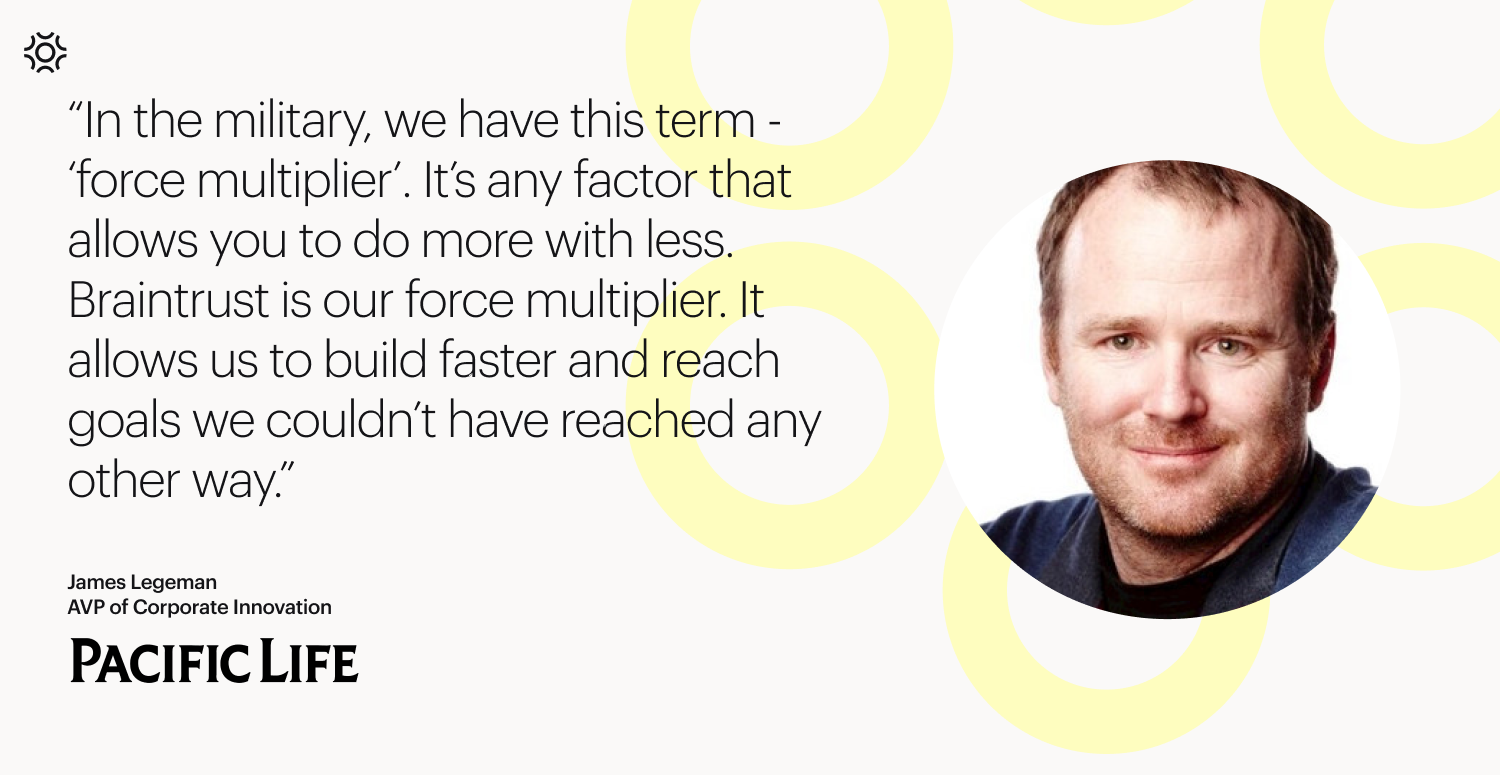 Industry-low fees, plus no extra charges for hiring contractors full-time.
Braintrust's Talent base is marked by self-starters who are used to working in new environments, so they can break ground on day one — whether you start them as full-time employees or on a contract.

Clients pay no extra fees if they choose to contract those freelancers for 6+ months and then later hire them on a full-time basis, a major difference between Braintrust and agencies that charge as much as 20-30% of the Talent's first-year salary.

That gives clients even more flexibility, with the ability to bring on Talent from the largest network of US-based contractors in whatever roles best fit your changing needs.

While Braintrust began as a network for hiring freelancers, the addition of direct placement was implemented thanks to a vote by the community, after seeing that many clients would benefit from being able to hire full-time workers as well.

That's the advantage of working with the first Web3 Talent network, owned by the clients and Talent on it, and working each day to better serve the community's needs.