Part of the challenge lies in how you explain this new norm to children who may not understand why you are working from home and the fact that although you are working from home, you cannot spend all your time with them.
If you are looking for some ways to help organize your home space and plan your days during a pandemic, here are some tips you can put into practice to help balance learning and entertainment while maintaining some kind of sanity at home.
Setting the right intentions.
This post from a teacher says it all. We need to remember that almost everyone is going through the same thing -- subbing as the school Principal, teacher of all subjects, lunch lady, parent, and balancing a day job.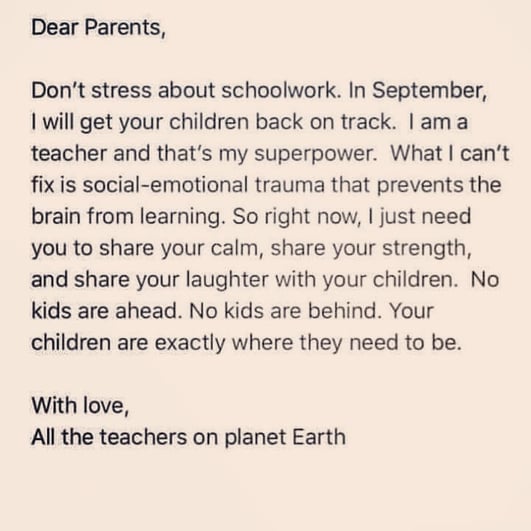 Draw a line between work time and free time.
Setting working hours and playtime hours with your kids is one of the first steps when establishing routine and trust. For instance, for every one or two hours of work, you spend 15-20 minutes with your kids. This way your kids know you will spend time with them, but it needs to be on a set schedule. The next time you tell your kids that you are going to be working, the child will understand that after you're done, you will be able to participate in playtime.
Encourage fun and educational activities.
Think about what your child likes to do most and what keeps them engaged. It is important that the activities are not too difficult and is something your child can do alone. You can opt for a coloring books, puzzles, online activities, audiobooks — the list goes on.
The time when a parent is working from home is also a good time to test and try new games or interactive toys, which usually involve more of the child's attention. And if you have more than one child, it is good to encourage siblings to play together.
The following is a list of resources we've compiled for children of all ages to keep busy.
Educational Printables.
Check out Education.com and Greatschools.org for free printable worksheets you can filter by topic and grade.
Physical & Mindfulness Exercises.
Get moving with Go Noodle -- a fun collection of videos that promote movement and mindfulness.
Yoga-based storytelling (including themes like Pokemon, Star Wars, and Frozen) Cosmic Kids.
Learn new dance moves with KIDZBOP.
Arts & Crafts.
Discover at home art classes from Totally The Bomb.
Schedule art classes from Skillshare.
Lunch Doodles with Mo Willems! teaches kids how to draw their favorite book characters.
Science & Math.
Science Kids offers a wide selection of games, lessons, and videos.
Access math lessons and games for 4-12-year-olds with The Maths Factor.
General Online Learning.
Scholastic has a broad range of books and activities centered around a theme.
Funbrain offers reading and math games for Pre-K through 8th Grade.
Variety.com put together a list of the most popular educational shows on Netflix for kids.
Audible is offering free kids book downloads.
Offline Learning Ideas.
What Do We Do All Day is a great site that offers a variety of activities and educational game ideas.
Virtual Tours.
Go on a virtual tour with Google Earth. Google Earth has over 20 virtual tours of US National Parks.
Take a self-guided virtual museum tour of the Smithsonian National Museum of Natural History.