View The Knowledge Work Demand Index here!
What Happens When the Future of Work Doesn't Align with the Future of Your Workplace?
Today, Braintrust published its first-ever Knowledge Work Demand Index. It's our first foray into quantitative analysis and it puts hard data to the trends all of us have seen first-hand this past year: that the way we work is changing and to keep up, enterprises need to re-evaluate how they recruit, hire, and build their businesses.

This study focuses on two major components:
An analysis of 150,000 knowledge worker job openings that uncovers how and where the biggest US companies hired during the second quarter of 2021
A qualitative survey analysis of over 800 workers that highlights the top job characteristics knowledge workers are looking for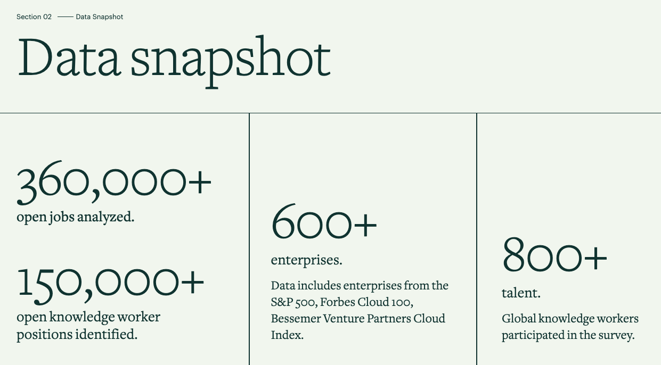 Why did we focus on knowledge workers?
Simply put: knowledge workers are the lifeblood of the global economy. And they're impacting global business in three major ways:
They represent a growing chunk of today's earners. Gartner pegged the number of knowledge workers at over 100 million in the U.S. and over 1 billion globally.
Knowledge workers account for a ton of production. As the cognitive "glue" inside global businesses, they power core functionalities from product development to financial accounting, and everything in between.
They're the tip of the worker transformation spear. Their roles (and the companies they work for) underwent a huge transformation this past year in terms of how, where, and when they work.
What we found at the end of our analysis affirmed a lot of the things Braintrust had already observed over the last year. Other findings left us scratching our heads, wondering what the future of work looks like for employers and workers.

We take a deep dive into all of those findings, and more, below.


What we discovered about employers.
1.
Wouldn't you know it... enterprises are hiring!
Perhaps more significant than that tongue-in-cheek revelation though, was how high the demand for knowledge has gotten. While the median business we analyzed was looking to fill a whopping 66 knowledge worker positions, the fact that nearly 25% of those same companies had over 200 open roles illustrates just how dire the talent shortage is.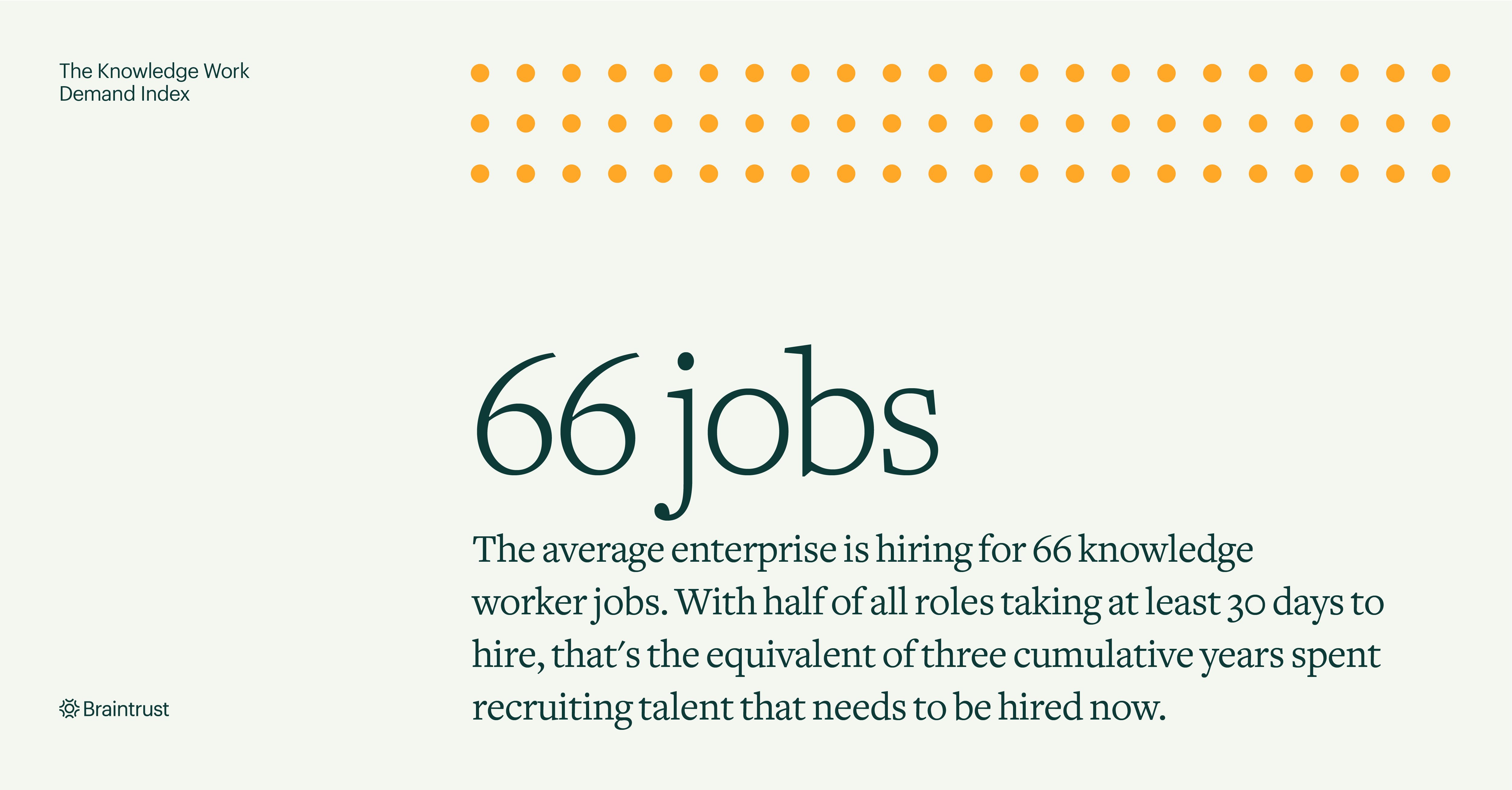 This should make us feel good to some degree. After a year of economic hardship for many in the U.S., we're continuing to add jobs, which means businesses are continuing to grow.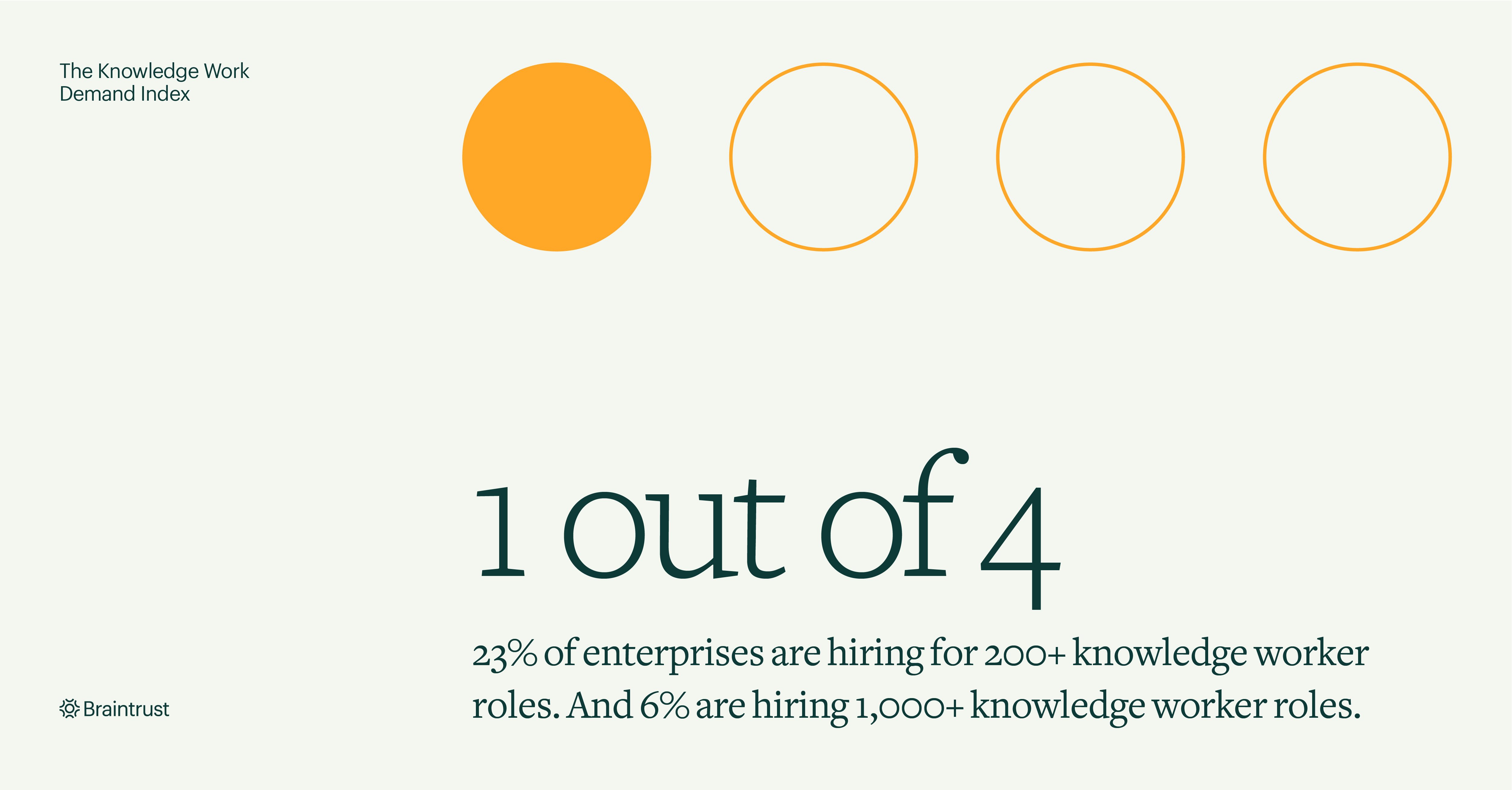 The problem is how long it's taking to fill those jobs.
2. Despite strong demand, employers of all sizes are struggling to fill their headcounts.
Braintrust's analysis showed that roles are staying open an awfully long time–with over half of them staying open longer than 30 days.

Why is that?

Out of the 150,000+ knowledge worker roles, nearly 1 in 3 were tech-related roles like Data Scientists, Product Managers, Engineers, and Designers.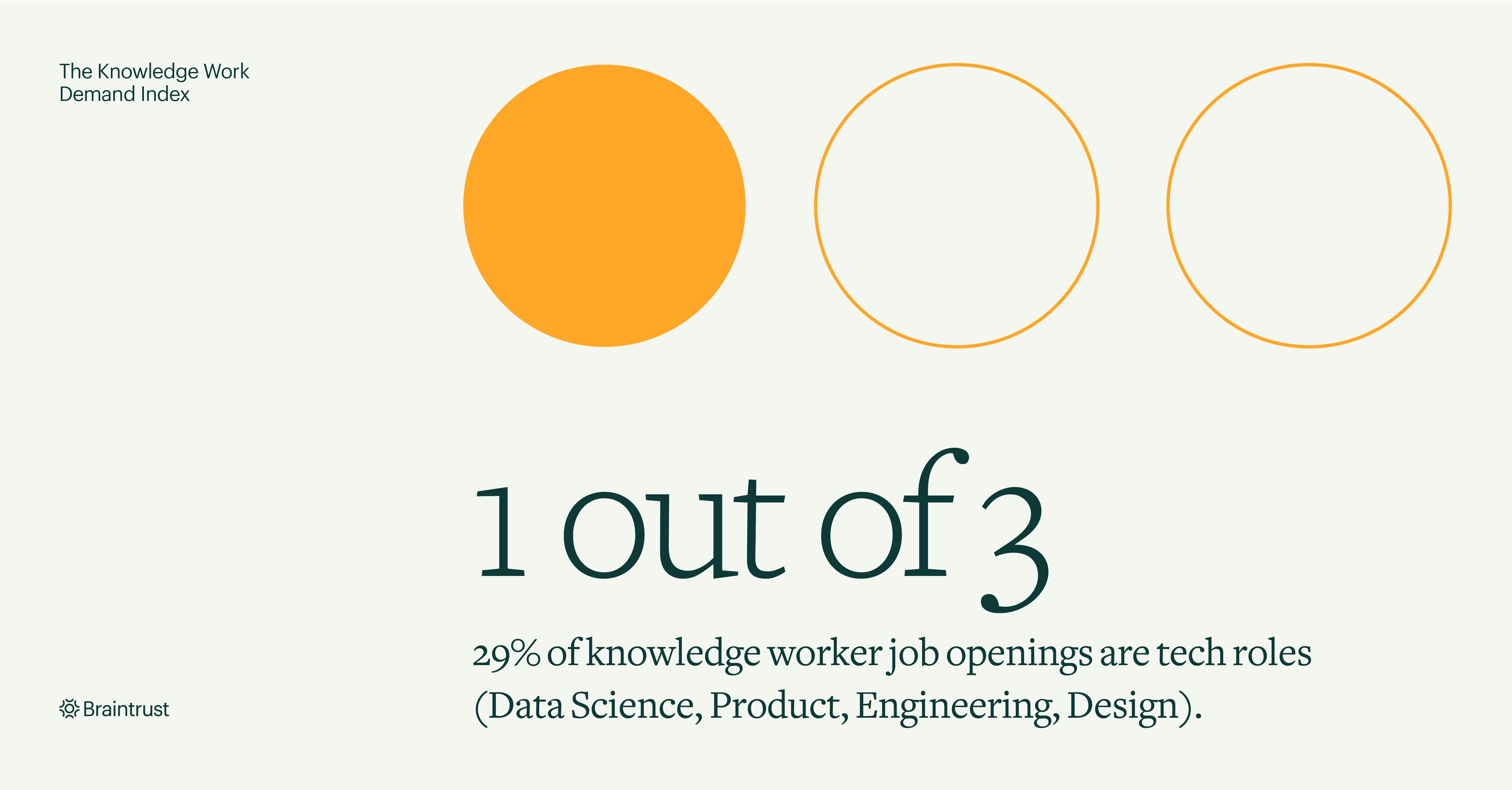 These kinds of specialized roles are hard to find, especially when you consider where some of these businesses are located. You may be able to find five data scientists in Seattle, but you'd be a lot harder pressed to find them in Fayetteville, Arkansas.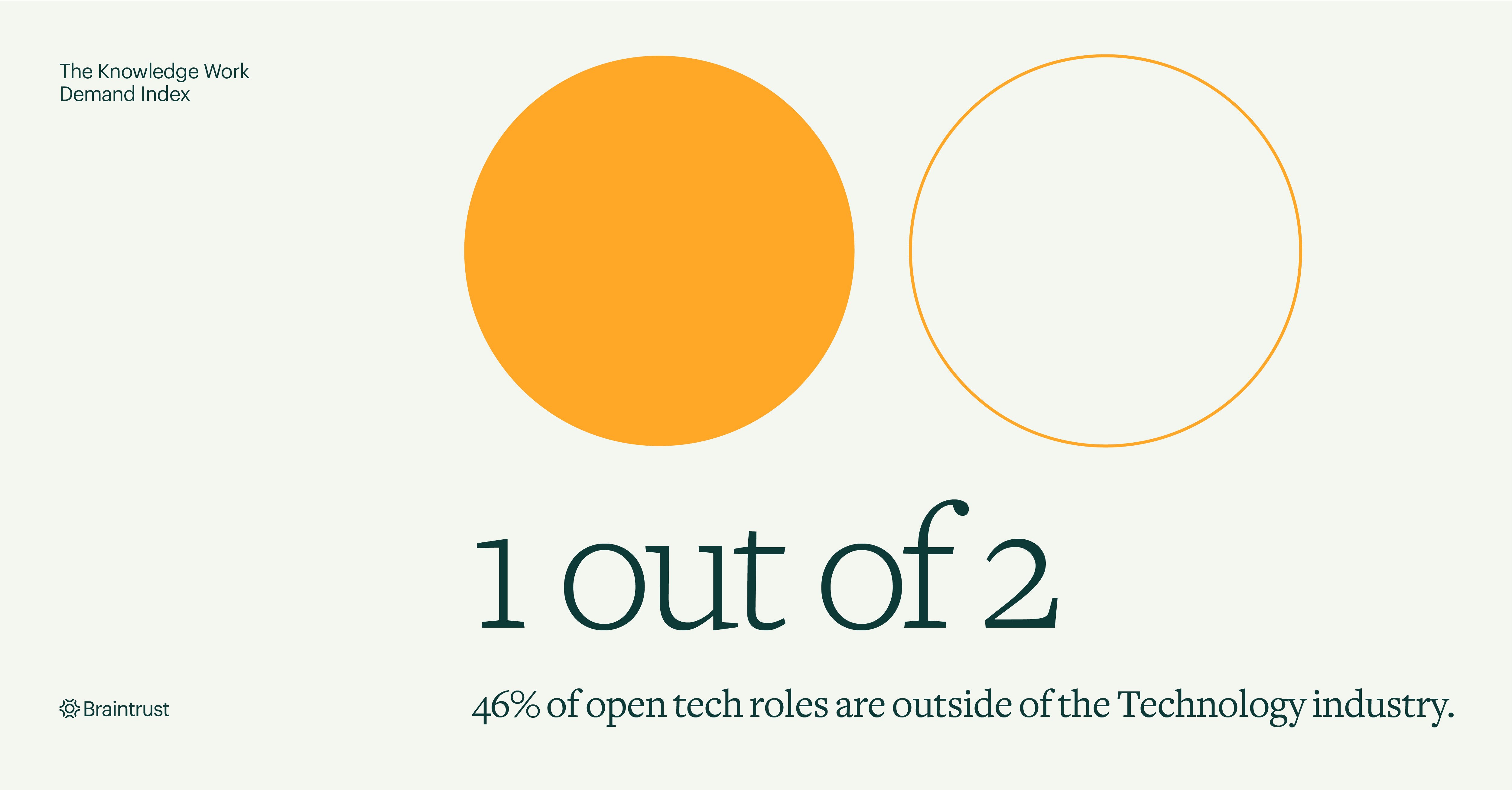 And that brings us to our third major learning.

3. Very, very, very few of these open roles are remote-first.
In fact, just 6% of total knowledge worker roles were designated as remote-first.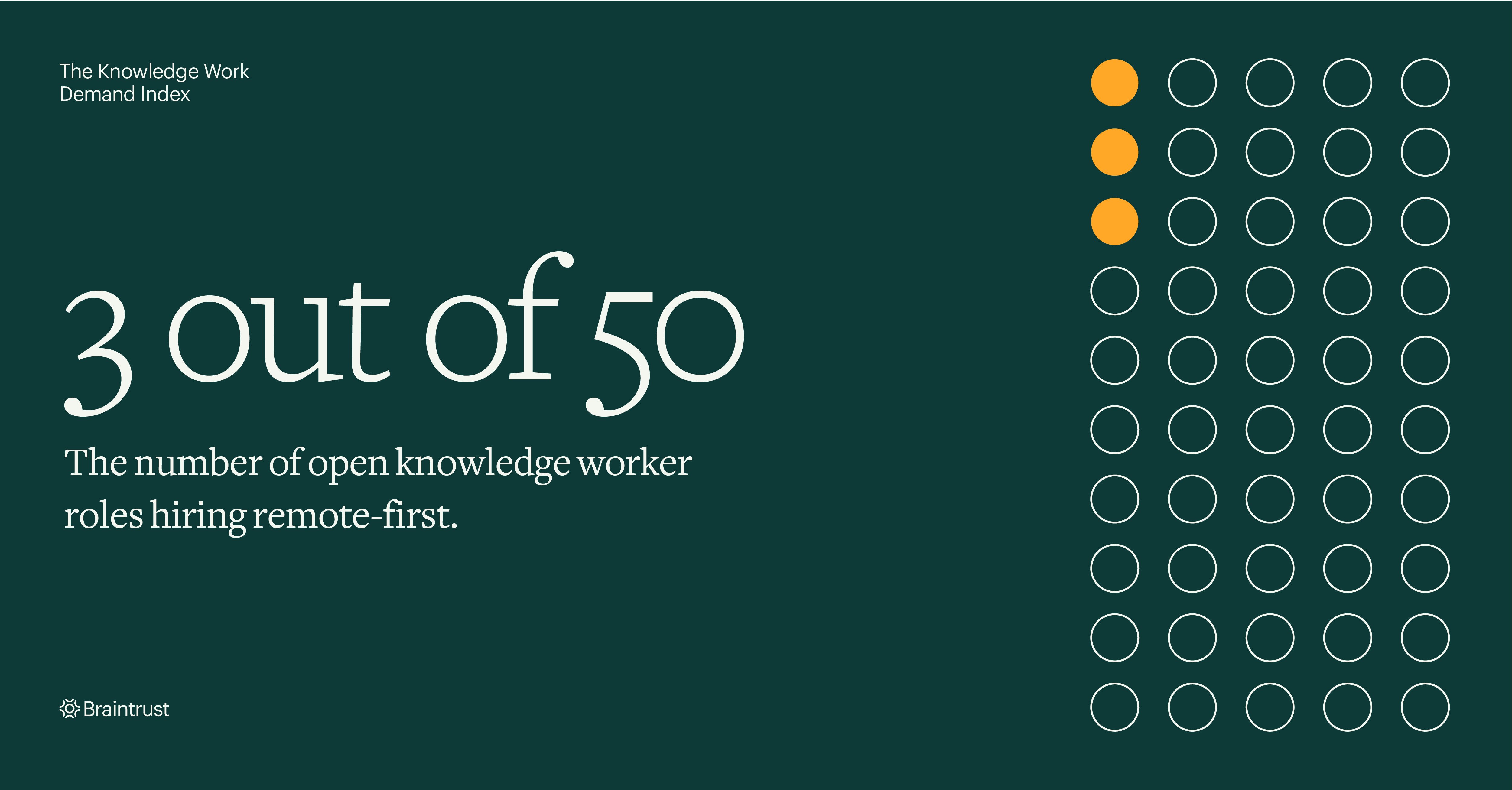 At first, we thought this might be closely connected to where employers were located. Would the majority of these remote-first roles be located in the same areas where knowledge workers were the hardest to come by?

The answer surprised us.
Our analysis indicates that remote roles are heavily skewed to the western United States (mainly in the Bay Area) and not the southern United States–where the demand for knowledge workers is actually the highest.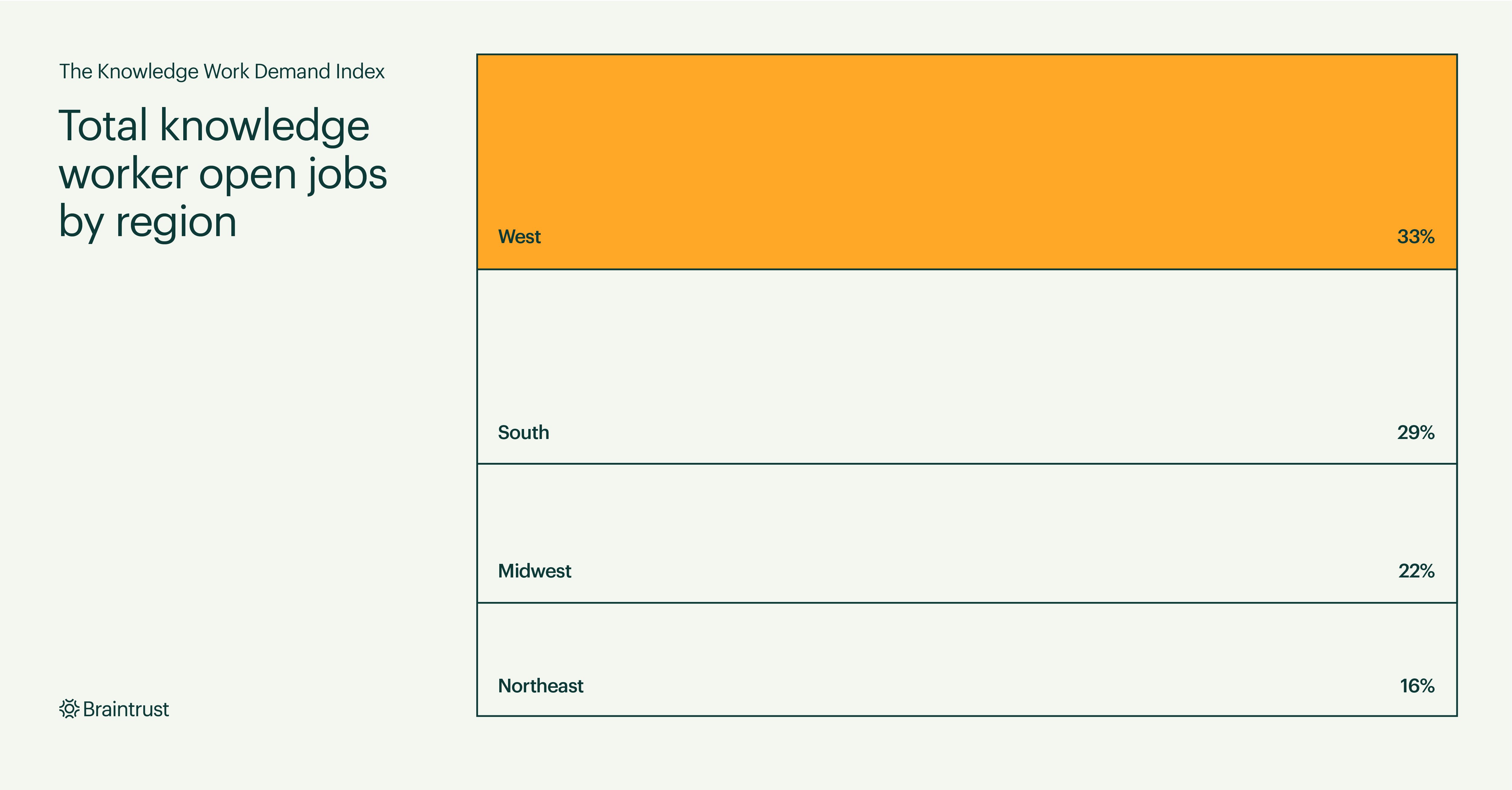 That West Coast dominance can be attributed to an industry bias. Even after a year where millions of Americans were forced into a remote role overnight, 55% of today's remote roles are directly connected to the tech industry.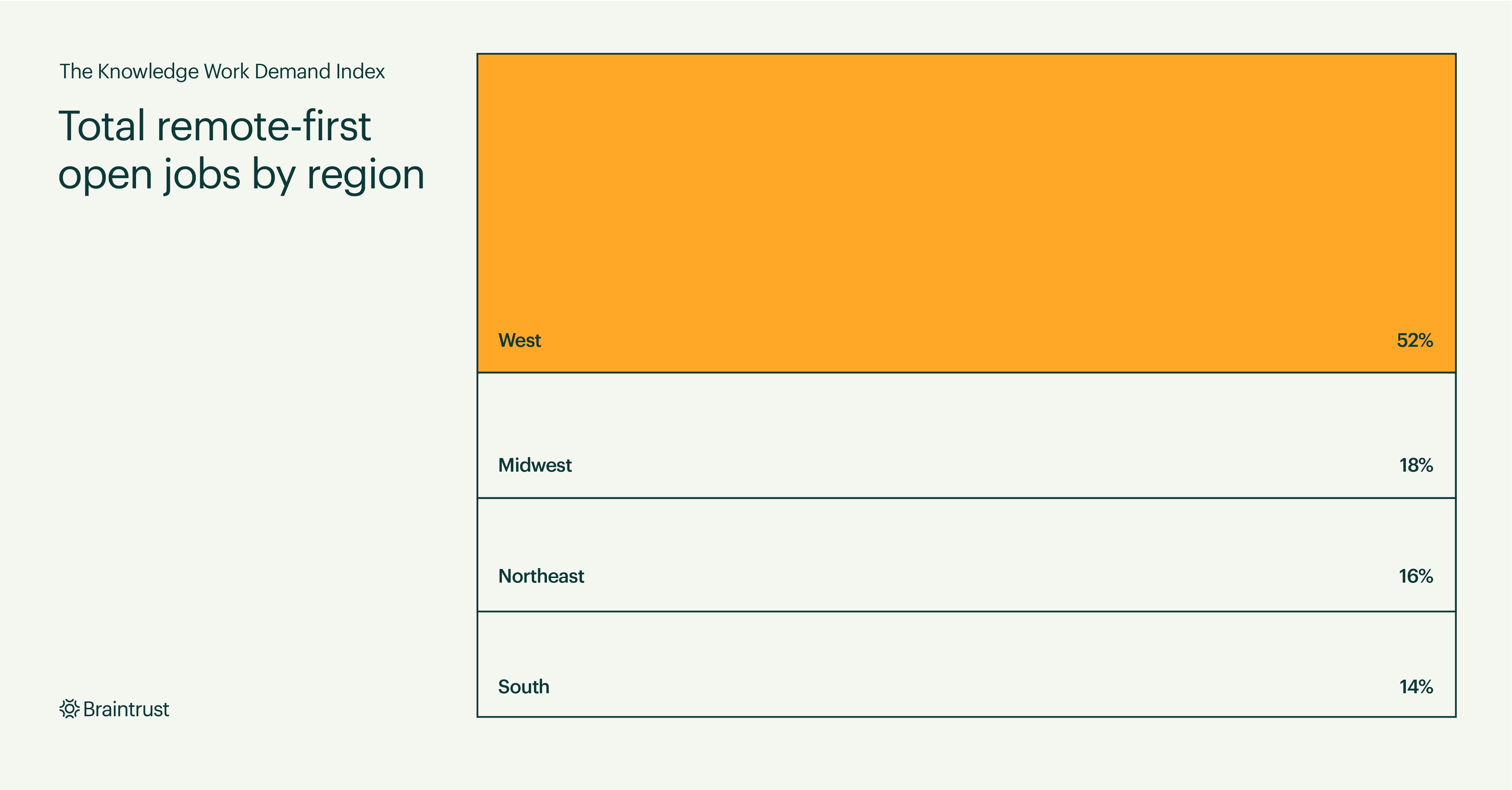 Let's take a look at the second piece of our study to get some context and clarity around what knowledge workers are looking for in a job.

What we discovered about knowledge workers.
1. Knowledge workers have adapted, and they've done so rapidly.
A year of remote working hasn't just caused organizations to rethink everything; workers themselves have adapted to a new world order. Nearly 85% of workers surveyed said they had to learn a new skill in the last year, while almost 40% had to re-learn a significant set of skills.

The demand to re-skill on the fly across new tools like collaboration apps may have presented a steep learning curve for some, but it ultimately untethered workers from the office, opening the door for new work locales.


2. Freedom is the top priority for knowledge workers in today's economy.
Nearly 2 out of 3 workers we surveyed chose "freedom of location" as their primary desire out of their jobs, with nearly half choosing "freedom of hours." It's no surprise then that given their desire for freedom, 85% of them said they were open to the idea of working independently.

That opportunity becomes especially clear when the significance of traditional benefits is called into question.
3. Traditional employment benefits don't carry a significant allure.
When asked about what was most appealing about full time employment, only 1 out of 25 respondents listed traditional benefits like health insurance and 401k programs.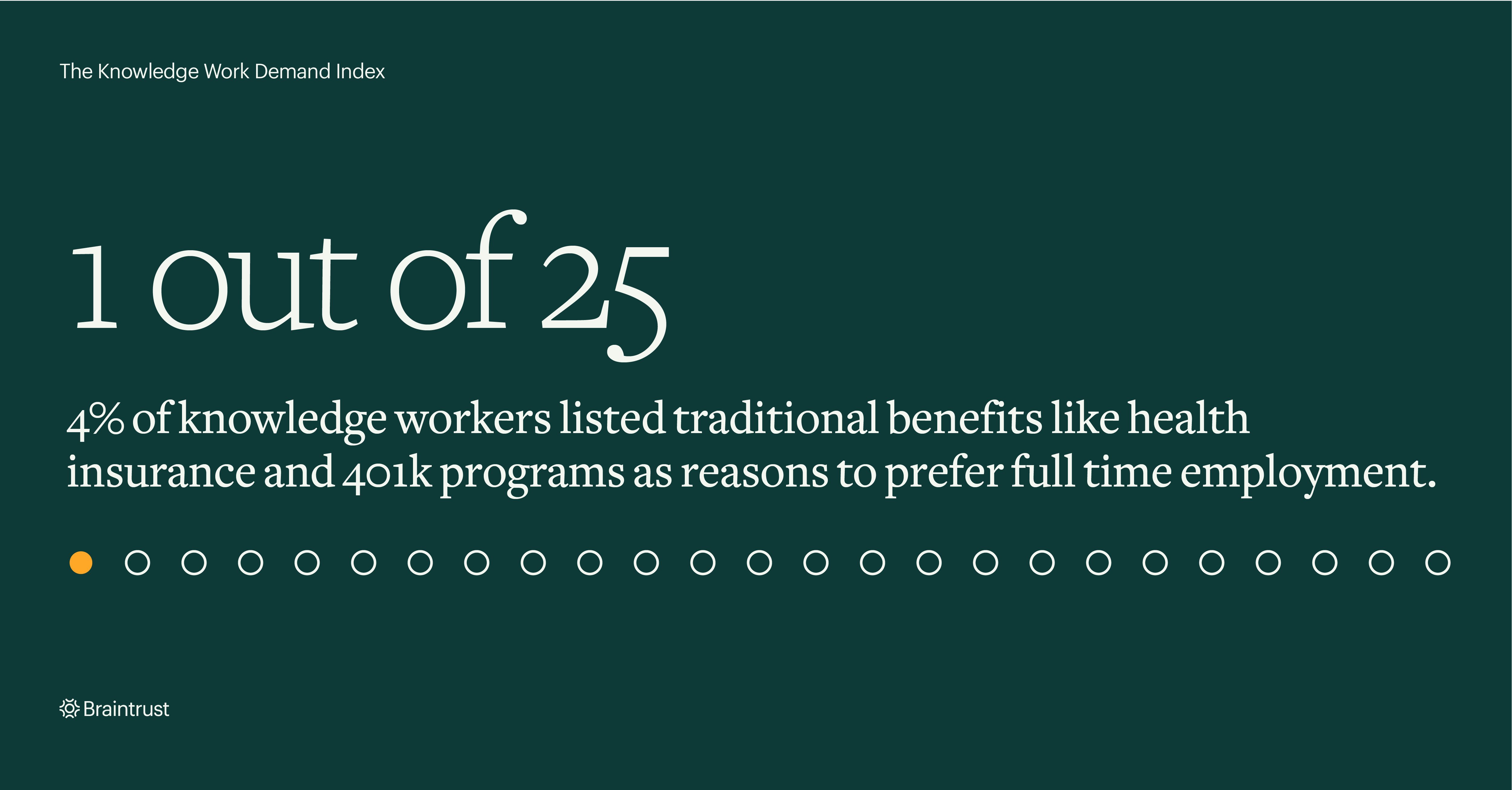 As one of the primary differentiators of full-time employment versus independent contracting, the limited emphasis on traditional benefits illustrates just how vital other factors like freedom are in driving employment decisions.

So how does this align with how employers are currently hiring?

It doesn't.

That contrast points to a potential reckoning within the American workplace.

Why this matters for the future of work.
We believe that the combination of massive knowledge worker needs, extended hiring times, and limited remote work openings are all indicators of misdirected hiring efforts and unmet knowledge worker demands.

We even see this manifesting at major employers like Apple and Google, where many employees are refusing to give up the freedom they've enjoyed for over a year. From what we know, these aren't just empty threats. As much as 40% of workers are planning to leave their jobs–which is why this is already being dubbed "The Great Resignation".

It doesn't have to be this way. There can still be a win-win.

But in order for that to take place, two things need to happen.


1. Organizations need to embrace the idea of distributed teams.
Even in the midst of a pandemic, we've seen firsthand how the combination of cloud collaboration technologies and re-thinking office cultural norms can make teams, departments, and entire organizations more successful and more productive.

The more companies embrace that mentality, the easier it will be for them to get access to the world's top talent and fill those hard-to-find roles, build more effective teams, and accelerate innovation.


2. Organizations need to re-think the rigidity of who contributes to their businesses.
There was a time when hiring FTE was the only option that made sense for employers. But those days are gone. With extended hiring cycles and distributed contributors already across teams, hiring FTE doesn't just limit the talent you get access to–it can slow you down. Especially when you can source, hire, and onboard top remote talent in a matter of hours.

Businesses also need to understand that a large percentage of today's best workers are the ones who value freedom and autonomy, and would rather contribute as contractors rather than full-time employees.

The companies that ignore this and diminish the value freelancers can bring to their workplaces are doing so at their own peril.


More insights to come.
The role of Braintrust is to spread economic opportunity more equitably around the world.

This report is just the beginning. Going forward, Braintrust is going to continue to invest in understanding the needs of global independent knowledge workers and work to help them contribute to enterprises around the world.

By doing so, we aren't just creating a better way to work. We're creating a future where it's easier for enterprises to build faster, accelerate innovation, and reach their goals.

And that's good for everybody.

View the full report now.