Serial entre/intrapreneur and current Head of Product at Nextdoor Tatyana Mamut has spent her life studying human behavior and translating it into cutting edge product design.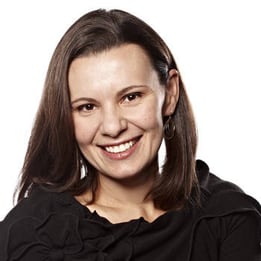 At Amazon Web Services, Tatyana was General Manager & Director of Product, where she built a revolutionary new software product and scaled the team from 2 to 150 engineers, product managers, and designers. At Salesforce, she was Vice President of Product Experience for the IoT (Internet of Things) Cloud, where she led the vision and development for the democratization of IoT technology.
As a refugee from eastern Ukraine with a PhD in cultural anthropology, Tatyana defies many of the stereotypes associated with Silicon Valley engineers. While studying economics, Tatyana watched the Russian economy collapse in 1998, and recognized not even the best economic models could have predicted human behavior. This sparked a passion and career pivot to anthropology. Tatyana traveled the world seeking to understand what habits, behaviors, and rituals that drive people and what they actually do in the world versus what they say they will do.
In this interview, Tatyana explains how she has leveraged a lifetime of studying human behavior to design and build products that people love.
People-First Process
"In technology, the hard part is the people part…. Why would people want this versus another alternative? The technology part is difficult, but it is more of a known quantity," says Tatyana. Tatyana views her job as finding and organizing the right people to build products for other people they will love.
The first question she asks herself: What should we build and how should we build it? At Nextdoor they have a three-step process to guide them through these questions:
Discovery

Definition

Development
Tatyana cautioned that while there is a lot of hype and documentation around the development phase, discovery and definition are really the areas to focus on. "If you don't have the right approach and systems in place to make sure discovery and definition happen in a repeatable way that really starts and end with the customer, you might say you are customer obsessed, but unless you have that process that everyone in the product team and organization understands and follows, it's very hard to stay customer-focused."
Discovery starts with company goals and observations with real customers. Tatyana explained that everyone on the product team, including herself, speaks to customers. "I have a goal of talking to customers two times per month. I am a very busy person, but if I can't take the time to talk to our customers, I have my priorities wrong as a Head of Product. In order for me to understand and have good intuition about the product, I need to stay very closely connected to the customers."
---
"If I can't make the time to talk to our customers, I have my priorities wrong as a Head of Product."
---
Before the onset of Covid-19 and Shelter-in-Place, Tatyana explained she spent significant time in various communities; going into people's homes, speaking to local business owners, and observing community members interact with each other and Nextdoor to really understand their mindset.
With this critical piece of their process disrupted, the team quickly pivoted and began leveraging virtual tools. Tatyana explained they invested in training the entire product management team on user testing because the process for uncovering usability issues on the back end can also be utilized for understanding customers on the front end, particularly when the team cannot be in the field.
Jobs to be done. From those observations, the team leverages Clayton Christensen's "Jobs to be Done" framework to get into the mindset of the customers they are designed for and understanding the jobs they need to be done. Nextdoor developed an "attitudinal segmentation" to understand and classify the various behavioral types that could help solve the problem. At Nextdoor, they are focused especially on the content creators in local neighborhoods, and inspiring these users to post uplifting content, and making it easier for them to post.
Charrette vs. Brainstorm vs Design Sprint. After defining 3-4 jobs to be done, the team moves into the design charrette. Tatyana defined a charrette as "a cross-functional collaborative process for understanding opportunities and getting to solutions quickly." Key stakeholders with various perspectives on how these jobs could be accomplished; a project manager, designer, etc. are divided into cross-functional groups to take one of the jobs and develop real solutions. Then they come back together, share out, and try to connect the dots before moving to the final step in the Discovery process which is experimentation and selection, in which solutions developed in the charrette should be pursued.
Here are some tips to make these charettes super productive:
1. Start the Charrette with real customer stories/quotes and their JTBDs
2. Build real empathy for the struggles that make these Jobs difficult to accomplish today with personal examples and observations
3. Split up into cross-functional groups of 2-5 people
4. Make sure you have paper and sharpies ready for sketching new ideas
5. Build on each other's ideas and keep asking yourself: "will this idea accomplish the most painful JTBDs for the customer better than any other alternatives?"
Here's an overview of the product development process that Tatyana developed and refined over her career at IDEO, Amazon, Salesforce and now Nextdoor: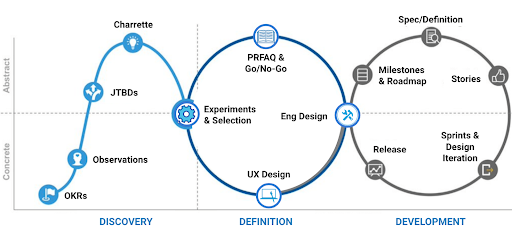 Image courtesy of Nextdoor
Definition
When they move into the definition phase the first step is the PRFAQ. "We use a PRFAQ which is the Amazonian process for defining products because it is a customer-obsessed document. You define the value, why they would care." Tatyana explained Nextdoor uses a PRFAQ versus a Products Requirement Document (PRD) which is more technology-focused or a Markets Requirement Document (MRD) which is more market-focused because they are "neither technology nor competitor obsessed" but rather customer-obsessed.
Here's a great article that walks you through the process of developing a PRFAQ.
Parting Words of Advice
For those managers who look at all of these steps and feel daunted or overwhelmed, Tatyana recommends approaching it like you would starting a new fitness routine. It's hard at first, but over time you build the muscle memory. As a result of Covid-19, her team recently had to rebuild the muscle memory for this process working entirely distributed. "Transitioning to different movements was the hard part," said Tatyana, going on to explain that after a messy start about two weeks in, the team hit their stride and successfully rebuilt those critical muscles.
Ever the inspiration (and anthropologist) Tatyana wanted to leave readers with this:
"Moments of rapid environmental change are moments of evolution," said Tatyana.
"Right now we have the opportunity to evolve ourselves as a species towards a better outcome because the environment has forced us to reconsider our sacred cows."