The WYSC (why you should care):
The theme of the week at Braintrust is fill rate, the rate at which jobs on Braintrust get filled by amazing Talent. It's a process that involves the platform, several team members, and a lot of work - and improving that rate is an all-hands on deck effort. Read on for more details.
In addition, the Braintrust team is setting their sights on Q2 planning and goal-setting (because what is life without goals, anyway?).
🚩 Weekly challenges and red flags:
The team took a hit when it lost a top Talent sourcing candidate last week and an agency partner started to slow on sourcing Talent leads. This is creating urgent need around sourcing, since sourcing efforts → new Talent on the platform → more people applying to jobs → increased job fill rate.
The team encountered a couple incidents that created an urgent need to establish formal talent protocols. This unforeseen priority has shifted focus for a few team members as they navigate building effective, fair protocols quickly.
🧠 Braintrust core team job opportunities:
Braintrust is hiring for a few full-time positions. Apply to join the fully-distributed, fully-remote, fully-awesome team that's building the future of work:
📣 Interested in getting involved? Refer great Talent!
Especially if you're an engineer, there are so many jobs that could be perfect for you. Apply to join, check out the opportunities, and get hired by amazing companies (#fillrate).
Fill Rate

👨‍💻 Company Updates.

Fill rates are…. STILL a priority! All the hard work the team has been putting forth is paying off - kudos to Braintrust core team!
Increased the number of approved Talent on Braintrust 40% WoW (and 3x-ed this total output over the last 6 weeks)
Number of job proposals submitted is up 15% WoW
The progress of proposal rate and fill rate over time.
The team is also setting new goals for Q2. More to come on this in a few weeks!
Fill Rate

💸 Sales Updates.

There's a first time for everything and this week, Sales has got two to share:
Teladoc and Guardian Life are both making the first of many hires this week (hello fill rate!)
And, there are several RFPs and RFIs in the works that can't be announced quite yet, so check back in the next couple of weeks...
Fill Rate

🦄 Talent Updates.

What you really came for:
Fill rate: 200 proposals - up 15% WoW (that's up 194% in the last 6 weeks)
Screening: 70 new approved Talent (that's up 40% WoW)
Sourcing: 88 scheduled screenings last week

The rate of approved Talent added to Braintrust.
Fill Rate

📝 Marketing Updates.

🏆 This week, Marketing is feeling extra justified about all the work they spent on launching a new website last month because...
Website visits last week were the SECOND HIGHEST they've ever been in all of Braintrust history at 3,548 sessions. Talk about goals.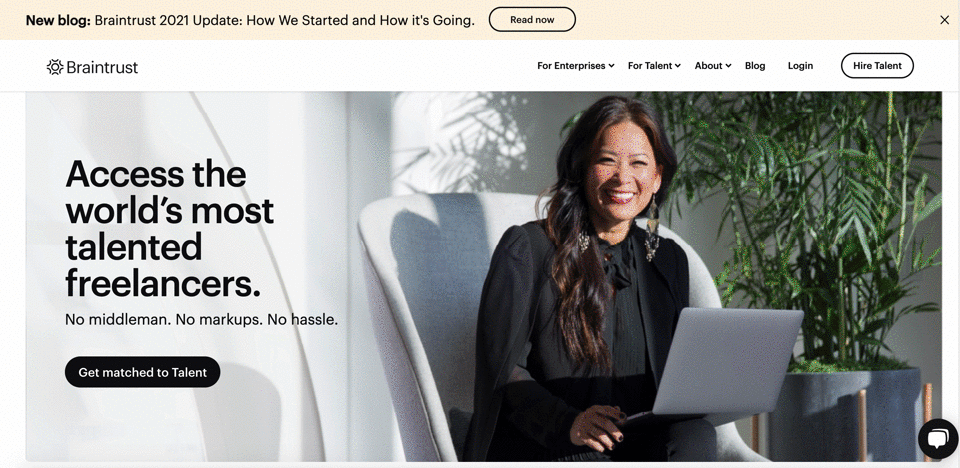 📈 When they're taking a break from basking in all that traffic glory, they'll be working on:
Talent Marketing: working to improve and create repeatability for biweekly Talent newsletters that share hot jobs on Braintrust to…. improve fill rate!
Data report: this is in the "sort through a million different data points" stage right now, which probably only sounds interesting to all you data analysts out there.
Fill Rate

👪 Community Updates.

🏆 Dev forum sourcing has yielded tons of sign ups, and the experiments are proving that talented people also have talented friends:
67% of these referrals coming from Talent (referrals → new Talent → new job applications → fill rate)
37% of these sign ups moved to the next phase
+ Here's a sneak peek at governance in action: The Community is voting on if they want to get paid in USD Coin!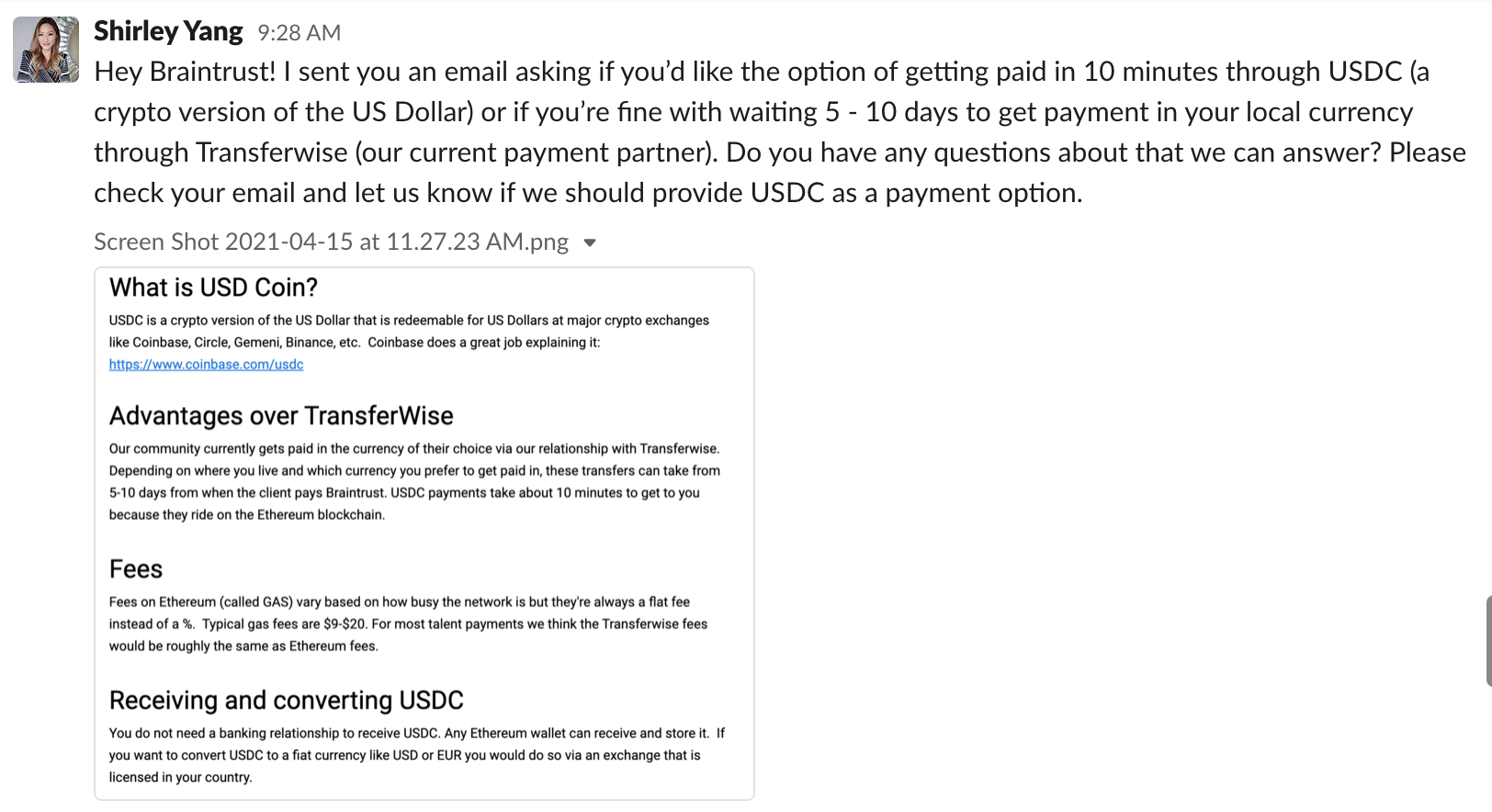 Fill Rate

🏛️ Infrastructure Updates.

Infrastructure is breaking serious ground this week:
Governance: Beta test in progress
Token staking: In the spec phase (this might not make sense to you yet but trust that this applies to fill rate)
Payments partner: In the spec phase to explore additional options
Dispute resolution: lots of solution research happening here.
Automated customer service: what was once a stretch goal is now a real goal!
Fill Rate

💻 Product Updates.

Wondering where in the world these product features are? Check the roadmap:
✅ Delivered:

In App Notification for Talent Survey

⌨️ Delivery:

Remove Multiple Roles from Jobs
Refer from Job (job referrals → fill rate)
Top Skills
Brand Reskin Lite

Navigation
Talent Profile
New Role & Skills Taxonomy
Fill Rate

👤 HR + Culture Updates.

AKA the glue responsible for holding all of that ^ together:
Hiring: let's call this internal fill rate
Q2 planning: a team-wide effort
Culture: new values deck + learning and development opportunities
Process: improving onboarding