⏳ The TL;DR.
The Knowledge Work Demand Index was published, Braintrust's first-ever data report covering 150,000 jobs across top US corporations and insights from top knowledge workers across the globe
Guardian Life, Ceridian, Nextroll, BRD, Medable, and more hired Talent on Braintrust last week
The network broke another record (for the third week in a row) for highest number of approved Talent joining at 110
Earning BTRST is about to become a whole lot easier with a new Earn page developing in product
Braintrust is hiring like crazy - explore open roles here
Get a behind-the-scenes look at what's going on at Braintrust on Discord
💸 Client Updates.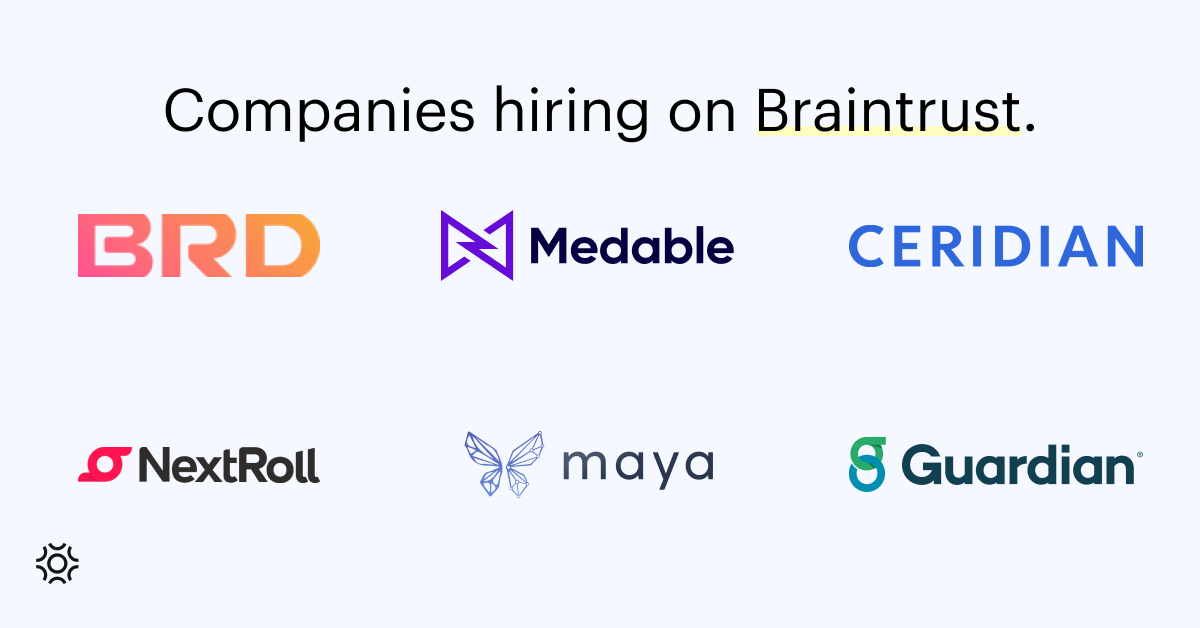 A few clients who have recently hired freelancers on Braintrust!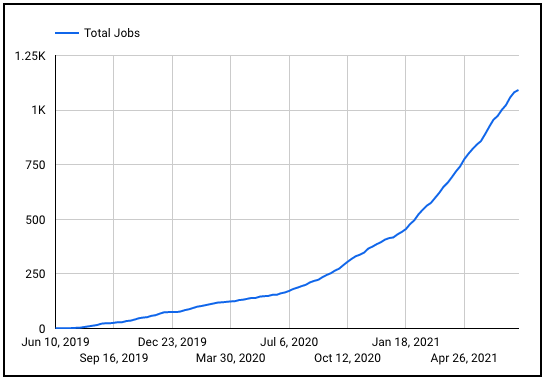 Total jobs on Braintrust over time.

All aboard for Sales jobs! You've probably seen an uptick in new roles added to the platform. That's because Braintrust clients are looking for a LOT of Talent. Here's a peek at a few of the latest interesting roles added to the platform:

🦄 Network Growth.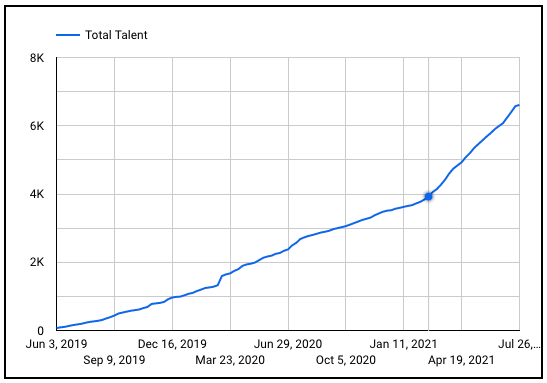 How the Braintrust network has grown.

Remember last week when the buzz around the network was that a new weekly record was made when 102 new Talent joined? Well, that became old news FAST.

This week there's a new record: 110 new approved Talent have joined Braintrust! As CEO Adam Jackson says, we can barely keep up with all these new growth milestones. And that's a good problem to have.

A few other metrics from last week:
207 proposals submitted
9 Talent hired


If you're looking to get hired on Braintrust, you can take inspo from these Talent profiles. They all won jobs with clients recently, so take a look at how they've described themselves and their experiences to help attract clients:

📝 Hot Off the Presses.
Enterprises are facing an unprecedented talent gap, but are they relying on an old approach to solve it?

The short answer is yes. The long answer is a lot more complicated than that.

Check out the first-ever data report by Braintrust, The Knowledge Work Demand Index! This beautiful (kudos to Braintrust designer Chris Allen!) report analyzes a monster amount of data (150,000+ open knowledge work jobs and 800+ Talent surveyed) to find out what exactly is happening with the state of hiring right now.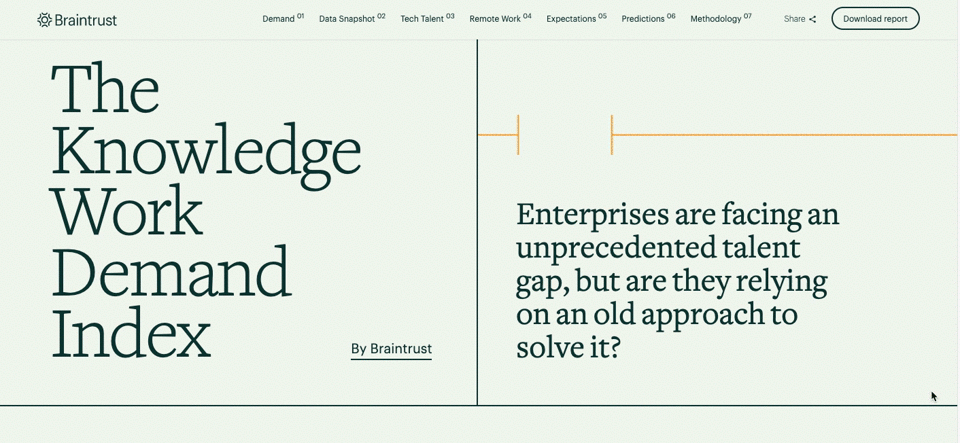 A few key findings:
The top 15 metro areas hiring knowledge workers
The top 10 companies hiring remote knowledge workers
The industries hiring the most amount of knowledge workers (because it's not just tech companies anymore)
What Talent really want from a job (hint: it's not just about pay or remote work)
Ways companies can adapt to fit the changing needs of talent

Check out the report and get all the insights. Then tweet at us and tell us what you think!


👪 Community Spotlight.

Braintrust's mission is to spread economic opportunity more equitably around the world. To create a system where everyone is treated fairly and where the people who do the work are the ones who get rewarded. And tweets like these from Braintrust community members prove that it is happening every single day.

Want to shout about what Braintrust means to you? Share away.

Other notable happenings this week:
The #introductions channel on Discord is the feel-good friendly place to learn more about your awesome network-mates (it's a word, we're #coining it)
Community launched a bounty for Talent to design the new Discord icon and banner! Interested in participating? Details in #bounty-3-animated-icon-banner on Discord.
Further exploration of community infrastructure and measurement capabilities

🏛️ Network Infrastructure.
User-owned, user-controlled, and user-supported.

That's the Braintrust reality, especially with the development of Community Support! Braintrust is building a program where Talent in the community can provide support information, respond to inquiries, and share relevant docs when users run into problems. This will help quickly solve the most commonplace problems AND continue putting more power into the hands of the Community.

A support request in Discord which will soon be handled by Community members.
Other things in progress:
Expanding the Knowledge Base/Community Customer Service centers
Building a public dashboard to share Braintrust growth metrics
Developing a page for Dispute Resolution

💻 Product Improvements.
If you're wondering "how can I get my hands on some BTRST?" then this is the perfect update for you.

Product is designing a new and improved Earn page that highlights all the myriad ways Braintrust users can earn BTRST, including referring Talent and clients, helping build the product, taking Braintrust Academy courses, and much more.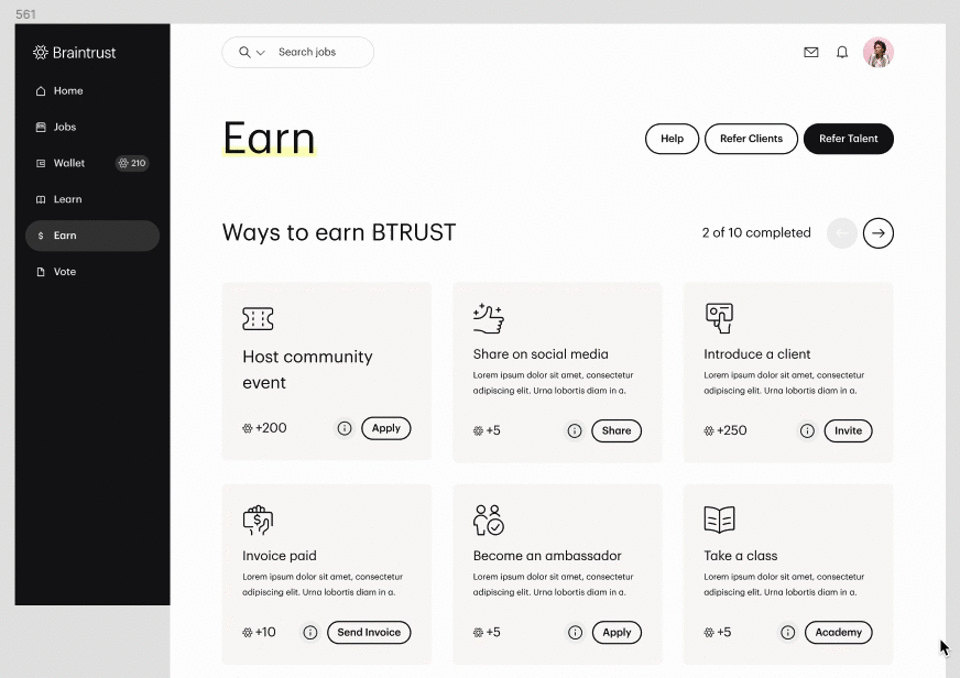 A peek at the improved Earn page early designs.

And if you don't know what to DO with that BTRST, the page will provide information for that as well. But if you really can't wait for the answer, check this link here or tweet at @adamjacksonsf…because that guy really loves to talk about it.

Other priorities include:
Developing the new and improved BTRST wallet
Developing the Connector Accounts
Improving Talent onboarding flows

👤 Braintrust HR + Culture Updates.
HR and Culture is doing so much recruiting that Chief of Staff Anne Muscarella got banned from LinkedIn for looking at too many amazing Talent profiles. This is a punishment worn with pride - when you've got mad hustle and dedication to helping this user-owned Talent network grow, sometimes you have to take a hit or two.


Want to help out? Here are a few key roles Braintrust is hiring for. Apply today or refer a friend!

While HR + Culture solves that little hiccup, they're also working on Q3 planning. More to come on this next week!

🚩 Weekly challenges and red flags.
Growing pains are… painful. And Braintrust is working through them on all fronts. A big focus to help make this exponential growth a little smoother in the future is to continually decentralize as much of this growth effort as possible. Because thousands of helping hands > just a handful.