⏳ The TL;DR.
Governance officially launched, giving Braintrust users the power to exercise control over how the network grows and evolves
Porsche Digital, Sifchain, Molex, Noumena Partners, Kelly Services, and more hired Talent on Braintrust
Another new milestone happened this week: a record-breaking 102 newly approved Talent have been added to the network
Braintrust Talent and Full Stack Developer Daniel Miranda shares how he created real, meaningful impact for his client
💸 Client Updates.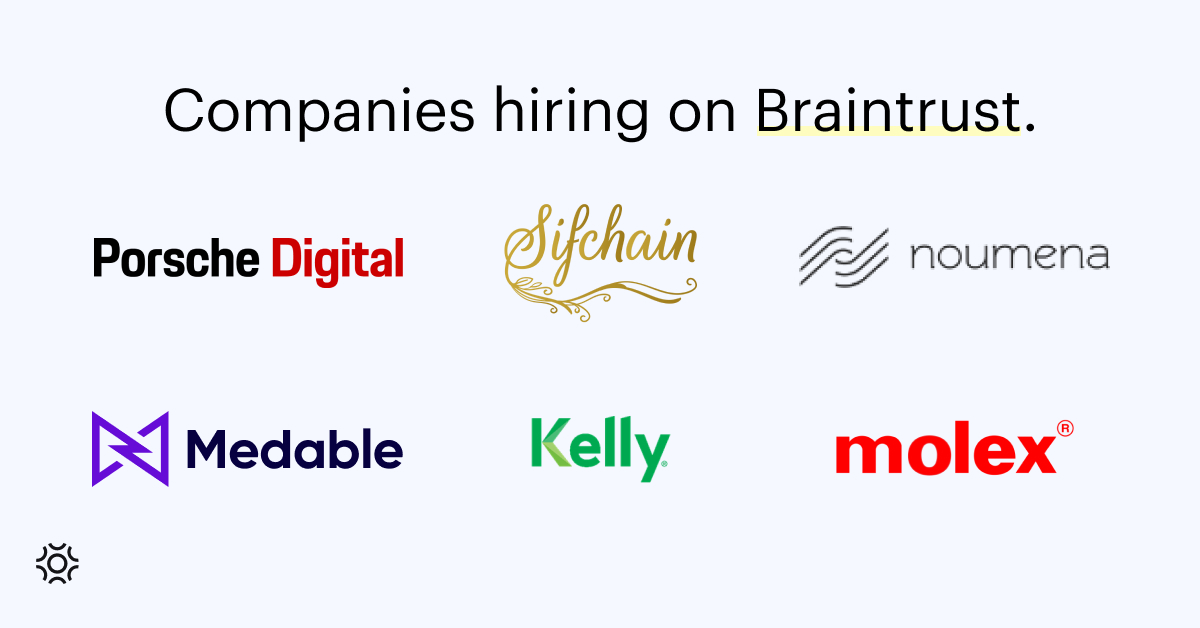 A few clients who have recently hired freelancers on Braintrust!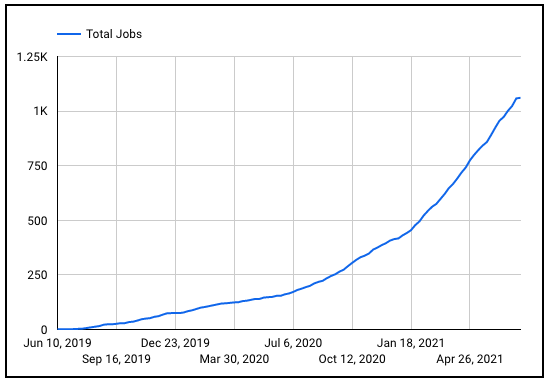 Total jobs on Braintrust over time.

The Braintrust network has achieved some major wins for the network this quarter, including surpassing 1,000 total jobs on the network and seeing a 14% wage increase for Talent in June.

Here's a peek at a few of the latest interesting roles added to the platform:
🦄 Network Growth.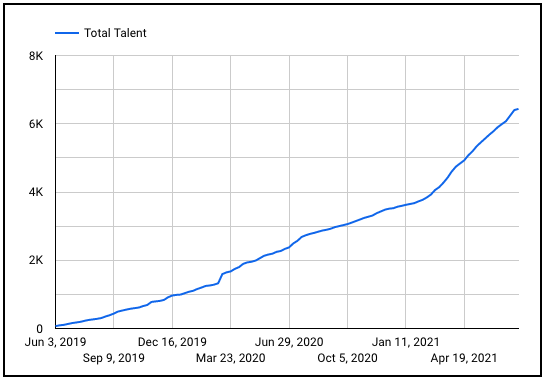 How the Braintrust network has grown.

Not to brag, but there are even MORE impressive growth milestones to report this week: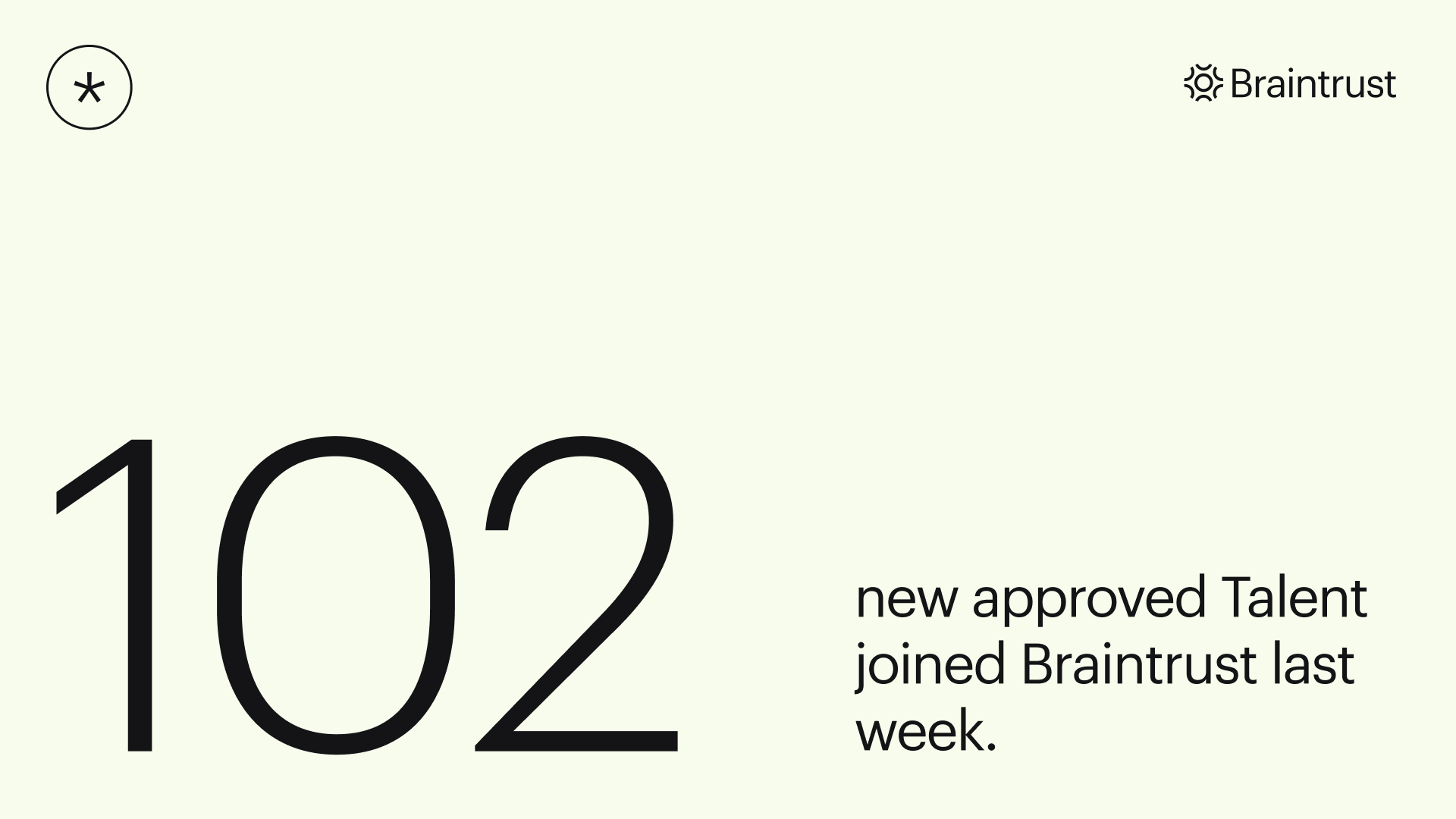 Seeing this kind of growth on the network is inspiring. A huge thanks to everyone in the wonderful Braintrust community and to valued customers for believing in the Braintrust vision and referring great Talent to join the network!
A few other metrics from last week:
140 proposals submitted
12 Talent hired

If you're looking to get hired on Braintrust, you can take inspo from these Talent profiles. They all won jobs with clients recently, so take a look at how they've described themselves and their experiences to help attract clients:

📝 Hot Off the Presses.

Meet Daniel Miranda, a Full Stack Software Engineer on Braintrust. He's got a great story about a project he did on Braintrust that created real business impact for his client. Because saying projects on Braintrust are interesting is simply an understatement -- they're impactful, too.

And, it's the best kind of success story because it's one where everybody wins (oh shoot, that was a spoiler). Check it out here.

Do you follow Braintrust on social media? How about co-founders Adam Jackson and Gabriel Luna-Ostaseski? Check them out to stay up to date with all things Braintrust, including growth updates, hot content, spicy commentary on the future of work, and work (and life) lessons from 2 seasoned professionals.
👪 Community Spotlight.
If you didn't know, Braintrust is hosting weekly events to help Talent get hired - including open profile reviews, open proposal reviews, and interview training. And here's a real comment from a real Braintrust Talent about how helpful these events are: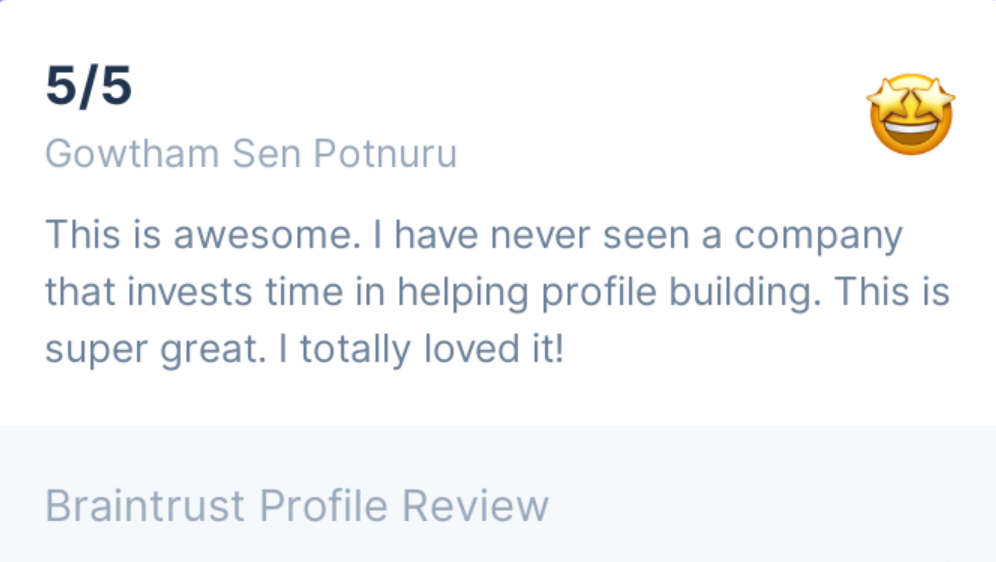 Because Braintrust isn't just about finding great jobs. It's about landing them. And it's about the people who help you get there. Apply to join this amazing Talent network here.

Other focus for the Community this week?
Recruiting more Community Screeners (interested? Email shirley@usebraintrust.com)
Making further improvements to the Discord set
up
Investing in building stronger Community infrastructure

🏛️ Network Infrastructure.
We've talked and talked and talked and talked your ear off about all the great things being developed for Governance. And now…. We're ready to put our BTRST where our mouth is and announce that Governance is officially LIVE! And it comes with 2 amazing pages you should 100% check out:

The official Governance page on the Braintrust website! (Hint: if you click on that photo of Adam, you'll see a quick explainer vid!)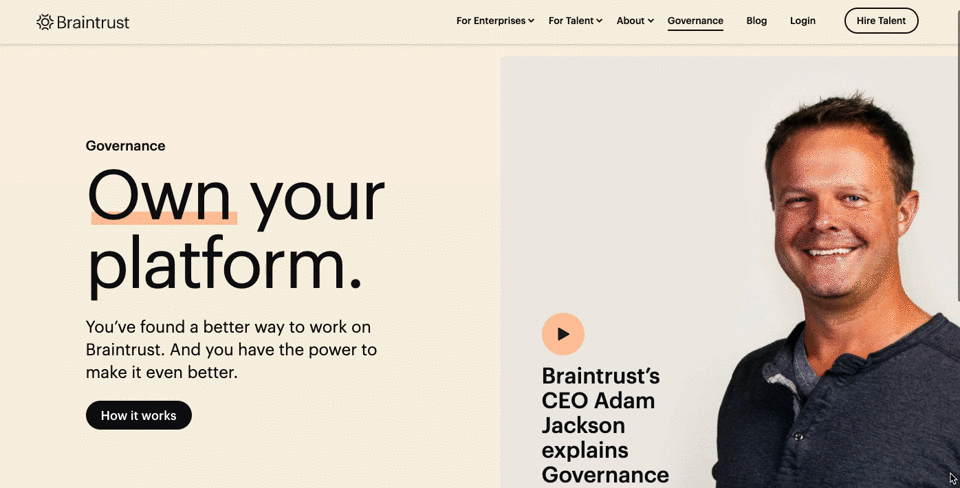 The official voting portal in the Braintrust app!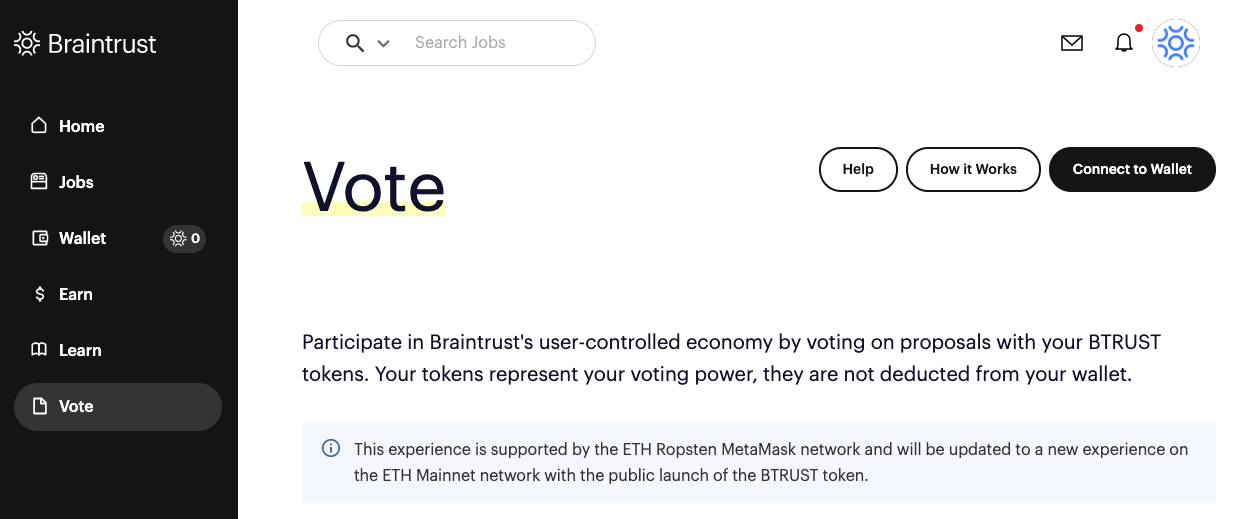 Aside from giving you a lot of info on Governance processes, these pages give Token holders an all-important power: The ability to exercise control over how the Braintrust network grows and evolves. It's what all this user-owned and user-controlled business comes down to, and it ensures this decentralized network always serves its users first.

When the Infrastructure Team stops happy crying basking in the glory of this momentous occasion, they're working on:
Developing the Help Center and Community Customer Service Program
Building the public dashboard to share all Braintrust's growth metrics
Launching the Dispute Resolution process

💻 Product Improvements.
Great news coming for you and your inbox (please check your spam folder)! Product emails are getting an upgrade.

You've probably noticed that product emails are still rocking the old Braintrust brand. And since the massive brand refresh back in March, it's been on the to-do to get those emails up to par with the rest of the Braintrust brand because #continuity. And now, the time has come!

Designs are in early stages, but here's a quick peek:




Aside from that, Product is focused on:
Reassessing delivery timelines for onboarding improvements (slight delay here)
Kicking off Working Hours designs
Celebrating the launch of the voting portal

👤 Braintrust HR + Culture Updates.
Remember fill rate? Making sure that jobs on Braintrust get filled with amazing Talent is ALWAYS a priority, and HR + Culture is all-hands on deck to help find a long-term solution to improve this metric. They're sourcing for a Technical Screener and a Technical Recruiter (several, actually). Know someone who might be interested?

How about for a Social Media Manager or a Remote Human Resources role? Apply now or refer a friend and come join this awesome team of hard-working, inspiring, innovative people… like Patsy Petrová, Braintrust Talent Operations Lead: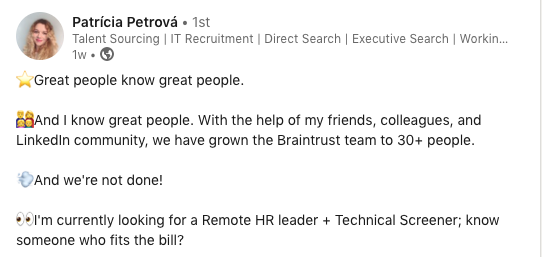 Other priorities for HR + Culture this week include:
Diving into Q3 planning
Organizing small group happy hours for summer
Scheduling employee feedback sessions - because #feedbackisfuel

🚩 Weekly challenges and red flags.
The team has experienced some unexpected delays on very important projects - some avoidable, and some not. The challenge is to roll with these punches and figure out what priorities can be shifted and which to be firm about sending on the fast track to completion. In other words: it's grind time.