Braintrust believes that great talent is the foundation of innovation and the superpower any company needs to thrive in today's market conditions. That's why Braintrust is the largest user-owned professional network and job marketplace helping companies thrive through flexible hiring models, fast.
Why Hire Freelancers? The Competitive Edge Your Company Needs
Cost-Effectiveness: Maximizing Output, Minimizing Expense
By hiring freelancers, businesses pay for the value they need, when they need it. This eliminates the cost of hiring full-time employees for short-term projects or specific tasks, resulting in significant cost savings and satisfaction for the freelancer. Plus,the freelancers gets to work on the projects they want to work on like Kate Bagoy.
"It's a huge benefit to the client, to be able to quickly hire a talented, vetted person.

And the costs at Braintrust are low, which means the client pays less and I earn more."
Kate Bagoy, Product Designer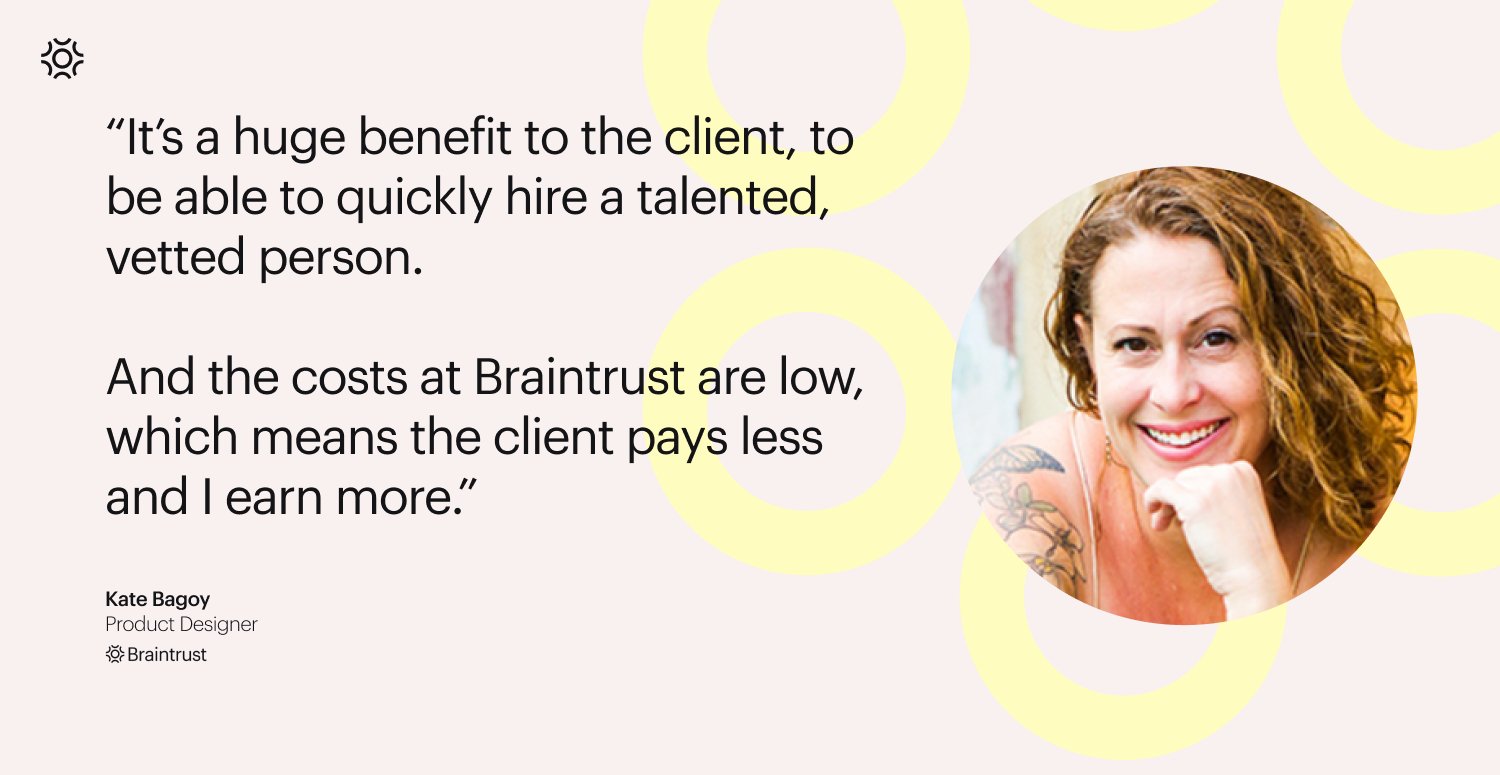 Access to Specialized Skills
The global nature of freelance work means businesses can tap into a vast pool of global talent. Whether it's AI expertise, blockchain development, or user interface design, freelancers provide an array of specialized skills that might not be available or affordable in the local job market. Braintust constantly selects the top global talent and invests in product development, community, and upskilling each person through the Professional Network, to ensure talent meets the demands of the market today and tomorrow.
Flexible Project Engagements
In our dynamic business reality, project needs fluctuate. Freelancers offer the flexibility to scale teams up or down as required, providing agility that can be a game-changer for business success.
Harnessing Freelancing: Tips for Hiring Freelancers
Successfully integrating freelancers into your business requires the right staffing approach. Here are essential tips for hiring freelancers. For a successful example of how Pacific Life tripled its innovation and hired 13 freelancers check out the case study here.
Define Project Scope Clearly
Before you start with freelance hiring, it's essential to define the scope and expectations of the project clearly. This will help you timebox the hiring and onboarding. Clearly defining the scope and responsibilities can then help craft the appropriate job descriptions for the roles you need. This clarity helps attract freelancers with the right skills and sets the stage for successful collaboration and minimizes hiring time.
Tap into Dedicated Platforms
Platforms like Braintrust connect Fortune 1000 companies, startups and SMBs with top-tier tech freelancers. Braintrust provides the tools for easy collaboration and secure transactions, simplifying the process of hiring and managing freelancers. Because Braintrust is a talent-owned network, Braintrust puts talent first and constantly invests in partnerships that benefit freelancers. The community invests in talent upskilling, education and mentorship raising each individual's opportunity for success.
"Unlike other platforms, I love how Braintrust doesn't take advantage of talent. I feel good knowing that the talent I hire get to keep 100% of what they make. And because Braintrust allows my budget to go 3x further, it's a win-win."

Jim Legeman, AVP of Corporate Innovation at Pacific Life
Value Communication
Effective communication is critical in most successful job collaboration but even more so when working with freelancers. Setting explicit objectives, establishing a cadence of regular check-ins, and providing constructive feedback enhance productivity and ensure project success.
Here are pro-tips for working with freelancers in an asynchronous work environment from
Emma Teng, Data at Braintrust


"In an asynchronous work culture, effective collaboration with freelancers, particularly AI engineers, requires a systematic approach to boost productivity and guarantee project success.This includes:
Setting explicit goals that define project objectives, milestones, and deliverables to align expectations.

Creating a seamless onboarding process to provide freelancers with essential tools, data, and relevant business context.

Conducting regular check-ins, utilizing shared 1/1 documents and communication app like Slack. This setup promptly address questions and blockers. Seting up recurring meetings for live discussions, perhaps once or twice a week, to dive deeper into complex questions and offer guidance.

Conducting regular performance reviews, including both managerial assessments and freelancer's self-evaluations. These also offer a venue to celebrate accomplishments, align on future objectives, and offer constructive feedback, empowering freelancers to thrive in their respective projects."
Ready to get started with hiring freelancers?
Braintrust's global talent community of 415,000 is growing every day. Post your job FREE today and get matched instantly with only the right, vetted candidates for your job.