As the job market rapidly evolves, tech-centric and non-technical roles alike are experiencing surging demand, driven by digital transformation and organizational needs. This comprehensive article not only demystifies the employment landscape but also highlights the emerging roles AI is creating. It further offers actionable insights for adapting to an automated future, emphasizing the lifelong learning mindset and providing proven strategies for seamless career transitions.
Jobs for the Future
Top Jobs in Demand
In today's dynamic and rapidly evolving job market, certain roles emerge in the employment landscape, experiencing significant demand across various industries. Notably, tech-centric jobs, such as software developers, data scientists, and cybersecurity experts, are leading the charge as digital transformation accelerates and companies prioritize safeguarding their virtual environments (The Muse, 2023).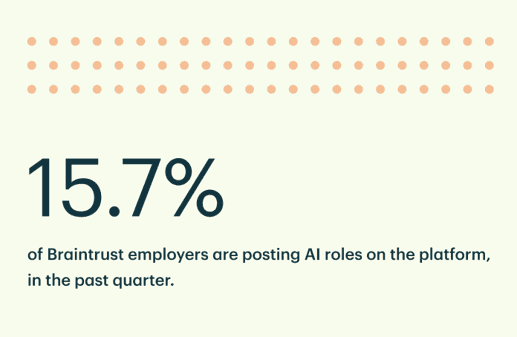 In fact 15.7% of employers on Braintrust are posting AI roles.
But what about non-technical roles? For the past few months, Braintrust has started to see a bigger need for non-technical roles, including copywriters, integrated producers, trade show exhibit designers, motion designers, art directors, and business analysts.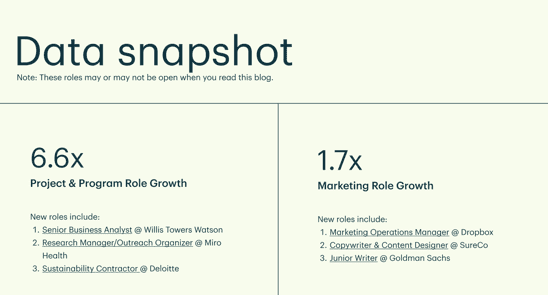 A 6.6X increase in Project and Program Manaager Roles is leading us to infer that companies are continuing their investment in impactful cross team efforts that require this in demand skill set. To help clients hire for these specialized roles we've put together a hiring guide for Program and Project Management roles.
This quarter we also see a return of marketing roles with a 1.7X increase quarter over quarter after a slite dip in the months prior.
These roles are resurfacing for a few reasons:
The re-emergence of in-person events, like conferences and trade shows.
The escalating significance of SEO as companies strive to amplify their brand discovery and focus on growth.
In light of widespread layoffs, organizations are retooling and staffing up around innovating that enables them to achieve automation and efficiency with fewer resources.
The demand for the above roles is growing to address these market needs.
Job Roles that AI is Creating
Contrary to popular belief, AI generates new job roles, not just takes them away. Forbes listed the top 20 new jobs that AI is creating, including Trainer and Operator, Prompt Engineer, and Compliance Manager.


Our data supports this job expansion and re-allocation trend. We see that AI projects at large are not just data science/AI/ML, they include:
Digital assistant / chatbot / conversational AI
Process automation / optimization
Personalization and Customer Experience
Risk management
Creative projects
Underlying tech - Data modeling/ML/NLP/LLM/Vision/etc
Underlying data integration
The corresponding roles that align to the AI project demand are:
Data scientists (Python, R, etc.)
Data engineers
AI engineers
Prompt engineers
Conversational AI Designers
Product managers
Project managers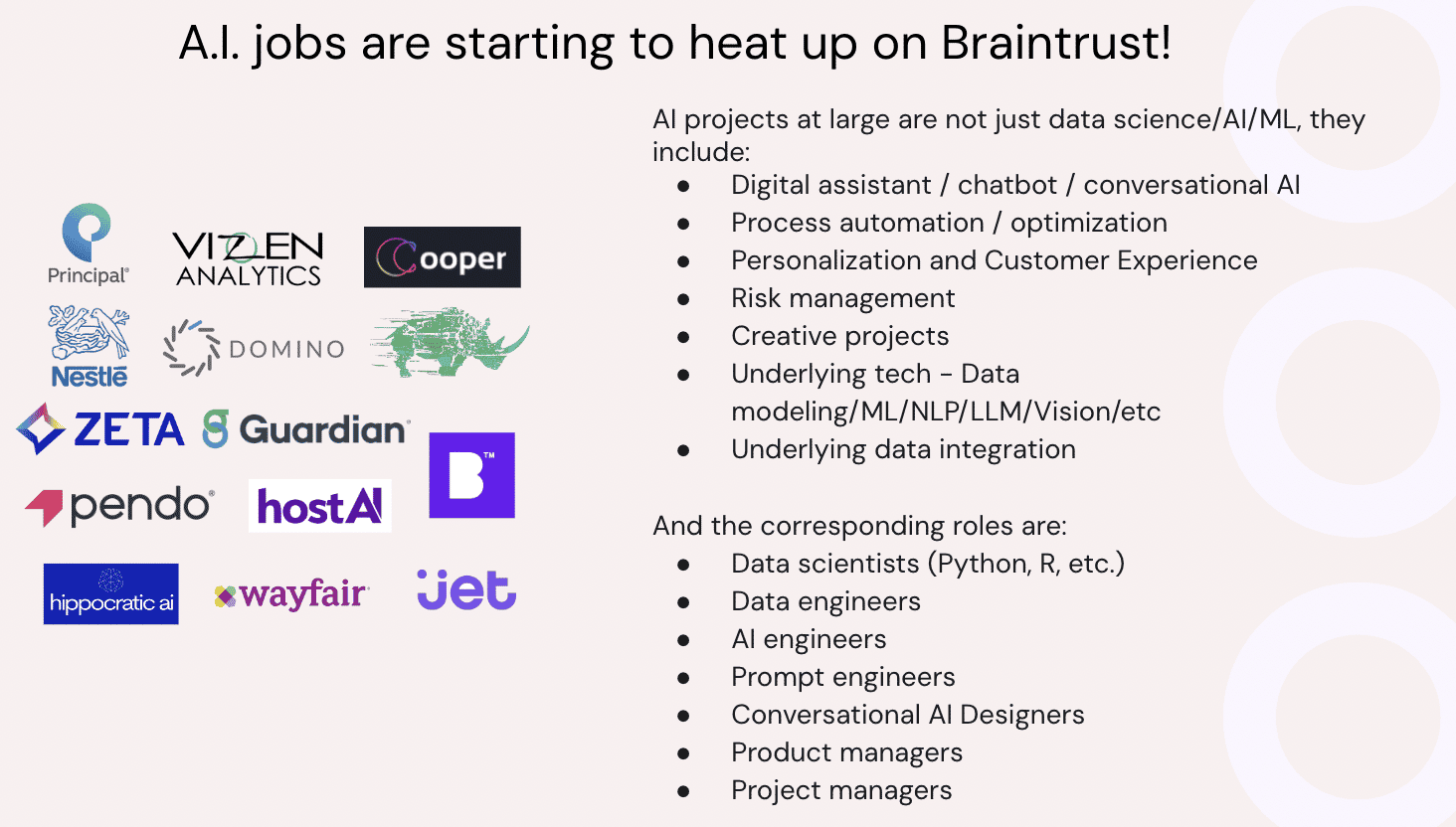 We highlight these job insight trends and how we're positioning Braintrust, our clients and talent for success in our August Talent All Hands.
Preparing for the Automated Future
In an automated future, dare we say present, individuals will need a diverse skill set. A blend of technical - data analytics, machine learning, with an understanding of algorithmic frameworks and the communication and influence abilities to effect the cross company changes needed.
Preparing for an automated future requires nurturing skills that machines can't easily replicate: creativity, critical thinking, and human connection. Furthermore, learning to work alongside machines and leverage AI in your current toolbox is a mindset we see trending.
The Importance of Continuous Learning
The Lifelong Learning Mindset
The lifelong learning mindset is emerging as a career necessity, not just a personal philosophy. In fact federated learning - the ability to learn from others is something machines are not great at. This approach champions continuous education as a cornerstone of both professional and personal development, acknowledging the need to regularly refresh and update skills in response to new challenges and opportunities.
Educational Platforms for the Modern Worker
We polled the Braintrust talent pool, and here are their top picks for educational platforms. Coursera rises to the top with 65% of votes followed by Udemy with 34% of votes.

Throughout comments, talent also indicated that Youtube and Chatgpt were valuable resources.
Navigating Career Transitions
Reinvention in the Age of Disruption
In today's Age of Disruption, marked by rapid advancements in technology and ever-changing industry landscapes, the ability to reinvent oneself has become a crucial skill for survival and achievement. This requires a proactive approach, where individuals consistently adapt, learn, and reposition themselves to navigate the turbulent waters of change, converting obstacles into opportunities for growth and innovation. We have discovered that combining this approach with storytelling is an effective way to clearly communicate where you came from, and where you aspire to go, which has resulted in success for candidates.
Strategies for a Successul Pivot
Navigating the transition into a new industry or role requires strategically repositioning your skills and experience—a process that can be challenging yet doable. We compiled these top 10 tips from the Braintrust Network to craft your career story designed to serve as your starting point:
Assess Your Strengths and Passions:

Take stock of your existing skills and identify what genuinely excites you; this becomes the starting point for articulating the answer to "Why are you the right person for this job?"

Research and Identify Growth Industries:

Comming from a position of context will enable you to understand the application nuances of the skills you have to the industries and skills in demand. As Jacob puts it:

"

...Try and get as much information as you can about the field you are going into, join communities where you can learn about that field, and most importantly, start learning what you don't know yet,"

by Jacob Halton, Braintrust Talent.

Network Intentionally:

The majority of job opportunities you receive and the people you hire come from your network. Networking intentionally is a high ROI investment into your career success. We think David puts it succinctly:


Invest in Education:

Enroll in relevant courses, certifications, or workshops to build the skills required for your new direction or the repositioning of your current one. That said courses are not the only way people find an impactful way to learn. People have found success in getting curious about what their peers are doing, and contributing to ongoing projects in an effort to uplevel their skills.




Craft a Compelling Narrative:

Articulate your journey and the unique perspective you bring to your new role, making your transition a strength rather than a hurdle. However, be mindful that this starts with the ground work of understanding your opportunities.

Update Your Branding Tools:

Revise your Braintrust profile, resume, LinkedIn profile, and portfolio to reflect your new career focus and highlight transferable skills to reflect your narrative. The biggest deterrent is a hiring manager seeing incongruence amongst your social narratives.

Secure a Mentor or Coach:


A mentor or a coach helps us see the things directly in front of us that we cannot see because we are too close and ask the questions we are not asking in order to get us unstuck. We think Casey captured it:



Test and Learn:


Consider taking on freelance or project-based work in your new field to gain experience and validate your pivot before making a full commitment.

Be Resilient and Patient:


A career pivot is a significant change; expect challenges and give yourself the grace to learn and adapt without undue pressure. Sometime having a group to achieve your goals and hold you accountable is a way to keep going.

Continuously Reflect and Adapt:

As you embark on your new career path, regularly assess your progress, gather feedback, and be willing to make further adjustments as needed to ensure continued growth and satisfaction.
Stuck at a career crossroads or looking to level up professionally? Post your questions in the Career Help Feed and tap into the collective wisdom of seasoned experts eager to guide you on your journey!
Prepare for the Next Wave
The future of work is undeniably exciting, filled with opportunities but also with significant challenges. By staying informed about emerging job roles and trends and by proactively adapting to these changes, you can position yourself to thrive in this dynamic landscape.
If you want to kickstart that journey, check out open roles on Braintrust by signing up today!