One of our core beliefs at Braintrust is that talent is everywhere but opportunity is not. And now that we're seeing tremendous growth in the number (and value!) of roles posted on the Braintrust platform, we should probably update that to talent is everywhere and now, opportunity is too.
Or at least starting to be.
Because we have a huge number of opportunities from amazing companies on Braintrust, and we're looking to bring top talent to great brands. If you saw our founder update this week, you'll know that we're now putting $1 million in freelancers' hands every single month (and that number is growing!) and our average project size is $57,000.
In other words, opportunity is knocking on your door right now, and it doesn't really matter where on planet earth that door happens to be located. Even better: we're talking unique, interesting, and challenging projects for top-level developers. These aren't building software for TPS reports or maintaining decade-old projects written in extra-obfuscated Perl.
Instead, these high-paying, high-profile projects will help you diversify your work experience, maybe in ways you haven't seen elsewhere.
I'd love to highlight just three of the many opportunities currently available on the Braintrust platform. One's in crypto, another is in the modern gig economy, and the third is in automotive.
Let's start in automotive with Porsche.
Porsche - Senior Software Engineer.
If you have 5+ years of full-stack engineering experience and 2+ years with React or Angular, this long-term ongoing project building and upgrading Porsche's websites might be for you. They're not kidding when they say "full stack" … Porsche is looking for someone who can handle design, architecture, development, code review, and testing.
You can be just about anywhere, but you do need three or more overlap working hours in the Central Time Zone.
This is full-time employment: 40 hours/week.
Sign up today to get all the details and submit a proposal.
TaskRabbit - Full Stack Engineer.
TaskRabbit is on the front line of the gig economy and they're looking for a senior engineer to keep them there. If you have 5+ years of experience developing web applications in Ruby on Rails, Javascript, and React.js, this is worth taking a look at. Extra props for API experience and a love for continuous integration.
They're also looking for someone who can be a leader on the team and mentor junior engineers.
This is a full-time long-term commitment at 40 hours/week.
Sign up to get all the details and connect with TaskRabbit here.
Flipside Crypto - Backend Developer.
If you happen to be crypto-passionate, then this one's for you. Flipside Crypto, a data analytics engine for blockchain organizations, needs a backend engineer with deep knowledge of blockchain. Python and SQL expertise is essential, plus an analytical mindset that eats challenges like Cheerios.
Flipside Crypto says they like to think of themselves as "blockchain detectives," so maybe they'll provide a pipe and a magnifying glass too.
This is a long-term ongoing project at 40 hours per week, and you'll work closely with Flipsides' CTO to understand and solve challenges analyzing data and activity on multiple blockchains.
Sign up, check all the details, and connect here.
Huge growth of engineering jobs on Braintrust.
We're seeing huge growth of back, front-end, and full-stack development jobs on Braintrust, so if these don't exactly match your unique set of skills and interests, there are other opportunities to explore. New jobs are always being opened on Braintrust.
And those opportunities aren't just interesting - they also pay well. We're on track to put $10M in the hands of freelancers every month by the end of the year, so it's definitely worth checking out what other projects might work for you.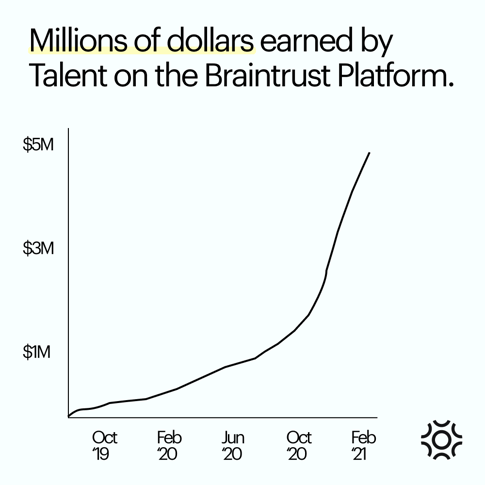 New to Braintrust?
If you're new to Braintrust and you're wondering how this all works and how to apply for these opportunities, this is a good place to start!
Braintrust is a new, unique community that connects Talent to brands. You keep 100% of your earnings, and you become a community member helping to steer Braintrust as we build the features you want and the opportunity you need.