Meet Diana Chen, a product executive and growth enthusiast with two decades of experience driving innovation, monetization, and positive change at many Fortune 500 companies, including Lyft, Amazon, eBay, and Eventbrite. She has spent over a decade developing diverse high-performance teams that built several products from scratch, growing these businesses into multi-billion dollar enterprises with millions of customers. Diana is currently the Sr Director of Product Management at Shipt, a same-day delivery service owned by Target Corporation.
As a career and leadership coach, Diana is passionate about Diversity, Equity, and Inclusion (DEI), elevating marginalized voices, and helping others take control of their careers. Her path was not without obstacles, but she overcame them with resilience and strength and by embracing chances to step out of her comfort zone. Now, she shares her insights to help others avoid similar pitfalls and grow into the best version of themselves.
Introduction: The Interdisciplinary World of Product Management
Product management sits at the crossroads of technology, user experience, and business strategy, shaping the trajectory of products and services and, ultimately, company growth. In a recent discussion with Diana Chen, she shared insight about getting into product management and thriving at Fortune 500 companies, strategies around building impactful products for hundreds of millions of users, and creating product team rituals for highly effective teams. Our hope is her experiences will guide product managers through the constantly evolving landscape of product development. This blog post distills these insights to reveal the secrets of succeeding in product management.
Braintrust is a professional platform of over 400 thousand talent. Professionals have earned $169M through quality jobs on the platform. 5% of Braintrust jobs posted on Braintrust today are Product Management jobs. 2 months ago, we launched the Professional Network so each of you can learn from each other, upskill, and be positioned for the rapidly evolving demands on talent.
The Build Your Career ama series is just one of the many ways this community helps each other earn, learn and grow. As part of our commitment to fostering knowledge sharing, we have an engaging #AMA Career Help feed, where talent share their questions before the events and continue the conversation after it. In anticipation of the event with Diana, the community has asked an astounding 200+ of questions, making Career Help a vibrant space for meaningful exchange and thought-provoking conversations.
For past events check out the conversation on AI with Aarthi.
Transitioning into Product Management
Transitioning into product management requires translating your existing skills into product management skills in addition to acquiring strategic thinking, an understanding of market dynamics and the customer. Excellent communication skills are a must! Diana's experience in transitioning from management consulting at Accenture to a senior product management role at eBay is one of many examples that it can be done. According to her, shadowing PMs, networking, and joining customer interviews are some of the best ways to get started.
For those looking to make a similar career move, Diana recommends immersing yourself in customer needs, business strategy, and market trends. Developing a product mindset—thinking from the perspective of the user and the business—is fundamental.

Growing from an Individual Contributor Product Manager into a Product Management Lead
Climbing the product management ladder requires a mind and prioritization shift. Your success is no longer solely measured by the impact of shipping individual features but rather by the breadth of influence you have across the company and the effectiveness of your team(s). The journey from being an individual contributor to a product management leader involves a dramatic shift in responsibilities—you transition from execution to strategic planning and people management.
One of the major opportunities Diana faced during this transition was learning how to delegate effectively and trust her team. Not only did this lighten her workload, but it also empowered her teams to grow, providing her the space to take on strategic work and foster valuable relationships.
Clear Strategies: The Foundation of Success
According to Diana, well-defined strategies guide product teams. They ensure alignment with the organization's overarching Objectives and Key Results (OKRs) and prevent uncoordinated efforts and ambiguous targets. With a clear strategy, product managers can confidently pursue their long-term objectives and not get distracted by ambiguously set metrics moving up or down. Without that clarity, just setting metrics based on top-down requests does not deliver results and leads to disappointment.

Embracing Data-Driven Decision-Making and Risk Management
Data is essential for product decision-making, however, not without strategy and context. Diana emphasized the value of A/B testing, thoughtful data analysis, and iteration based on actual user behavior rather than projected outcomes. This iterative approach helps make informed decisions and the ability to pivot in light of new information.
Diana also introduced the concept of "one-way door" versus "two-way door" decisions championed by Amazon's Bezos. She argued that most decisions are reversible and should be made in an informed but not drawn-out approach.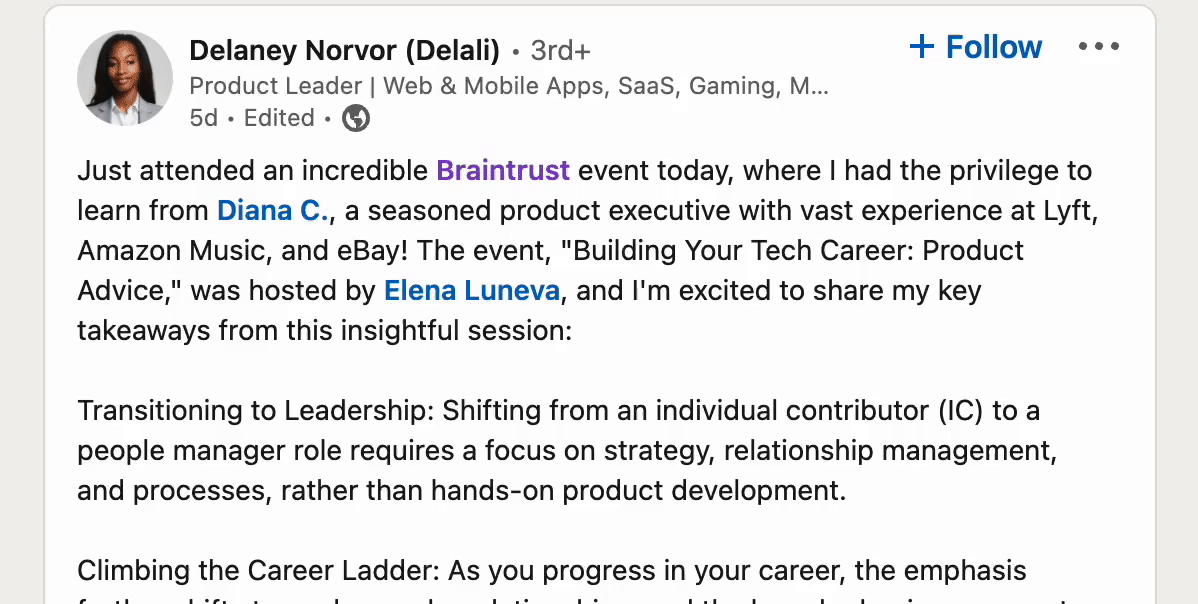 Driving User Engagement and Adoption Strategies
PLG and Product Managers focused on consumer engagement are often tasked with user adoption, a top-of-the-funnel metric for product success. Diana outlined the stages of driving user adoption - awareness, consideration, and conversion - each needing careful messaging and partnership with marketing or product marketing to articulate the product's value proposition.
Furthermore, leveraging marketing techniques and incentives can boost adoption rates. Personalized notifications, targeted emails, or exclusive incentives create urgency among users, leading to increased engagement.
Building Effective Product Teams: A Managerial Perspective
Diana's insights into transitioning from individual contributor to manager demonstrated the unique challenges product managers face as they advance. As they rise in their careers, their focus shifts towards strategic thinking, relationship management, and process development as they get further from product development and direct partnership with engineering and design. Mastering delegation, mentorship, and team culture development are crucial at this stage, as is overall relationship building as you adapt to affect the company on a different scale.
Product Rituals and Cultural Differences: The Organizational Flavor
The diverse practices of different companies impact product management rituals more than geographic ones. Diana emphasized the importance of appreciating and adapting to these cultural differences, with the understanding that the outcomes remain very similar - shipping solutions to customer problems. Being able to integrate into the company culture and fostering collaboration is a vital part of a product manager's role, though she emphasized that the differences seemed more apparent at the company rather than at geography levels.
Conclusion: Charting the Course for Success in Product Management
The conversation with Diana provided guidance ranging from landing a product management role at a Fortune 500 company to growing in your product management career to a team manager and VP, as well as the cultural differences at different types of companies. With clear strategies, data-driven decision-making, thoughtful user adoption tactics, effective team-building abilities, and cultural adaptability, product managers are well-equipped to tackle the challenges and opportunities in the ever-evolving world of product management. To keep up with this pace, cultivating a continuous learning mindset, learning from your peers and advocates, and staying on top of industry trends is critical.
What's your product management question?
Post it on Career Help today. Braintrust's Career Help is the perfect place to seek answers to your #Product-related questions. Product Managers across industries and companies provide resources and information for professionals eager to excel in product management and other careers.

Stay informed through Career Help, be a part of the industry network, and embrace continuous learning to position yourself for success in the ever-evolving world of product management. Join us for the next event, and remember to check the jobs page to discover the exciting opportunities that await you in product innovation!