Braintrust customers worldwide are struggling with not only how to efficiently and effectively drive results, but to stand out in a competitive business environment. This question led Braintrust co-founders Adam Jackson & Gabe Luna-Ostaseski to host a special event entitled Breakthrough, designed to offer best practices on managing resources effectively, leveraging proprietary platform data, customer insights, and offering sage advice on navigating hiring freezes, the push to return to the office, and the AI revolution.
Navigating a difficult macroeconomic climate
Adam opened the event by speaking about the macroeconomic environment, based on what's happening on the front lines at Braintrust, a network of over 500,000 talent members with thousands of customers globally.

He shared that at the beginning of the year, three quarters of Braintrust customers were on hiring freeze, but today, we're starting to see that thaw slightly, with more jobs posted to Braintrust in September than in the past 12 months, a leading indicator of positive momentum.

Meanwhile, the opposite is happening in the skilled labor market, where we've experienced massive layoffs over the last year. As a result, Braintrust has added over 290,000 new talent just in the first nine months of this year, versus 40,000 in the same period last year, and seen more talent sign ups in the previous three months than we saw in all of 2022.
Because there are more talent competing for every job, rates have softened an average of 23% quarter over quarter for our top three roles; engineering, product, and design. One of the things that makes Braintrust unique is as a user-owned network, the rates are market driven, unlike if you go to a big staffing or big design agency, where the price is the price regardless of market forces.
All about AI
Unsurprisingly, demand for AI jobs defies all of the macroeconomic headwinds and was a topic addressed from multiple angles during the event. Adam made an impassioned plea to the leaders on the call saying, "Every business should be thinking about AI. I firmly believe AI is a technology trend that will end up creating more jobs than it destroys."

This is something we've observed at Braintrust, with AI skills commanding rates 50% higher than traditional engineering roles. The Network has added many more talent with these skills to meet the seemingly insatiable demand.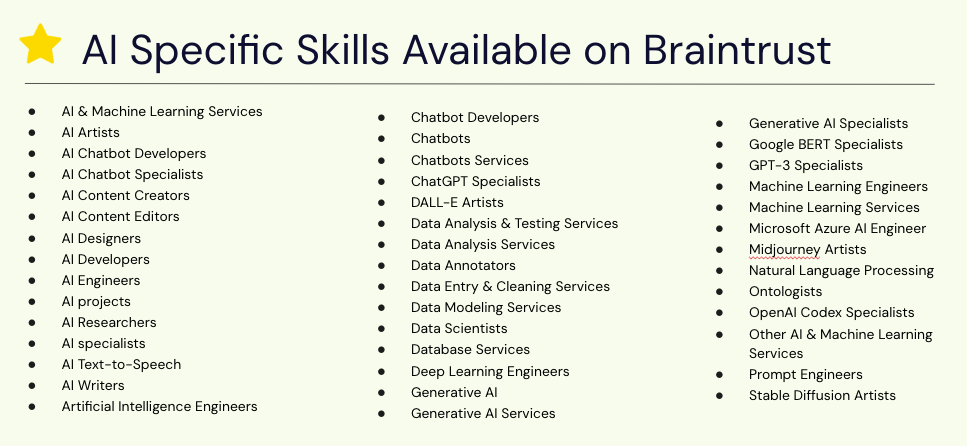 AI, while adding incredible efficiency for many businesses, has introduced new challenges on the hiring front. Grady Gardner, CEO of Distributed Labs, shared that a year ago, customers came to Braintrust having too few applicants, and now, the opposite is true; they're experiencing a deluge of applications as a result of AI automations that makes posting externally untenable. Customers are coming to Braintrust for the curated, high quality applicants in order to hire better talent faster.
In a direct effort to make hiring faster and more frictionless for customers, Braintrust CPO and GM Elena Luneva provided a sneak peek into Braintrust's new AI Matching technology launching in November. The technology uses the job description, verified talent information, and proprietary platform data to deliver top matches for a job instantly. This streamlined selection process enables the hiring manager to provide feedback with the click of a button, helping the algorithm further hone the search. No more sorting through a mountain of resumes. Over time, the algorithm will get smarter from customer feedback, making even more accurate matches, and soon be able to integrate other information, like design portfolios, for example, to ensure we have a complete picture of the candidate.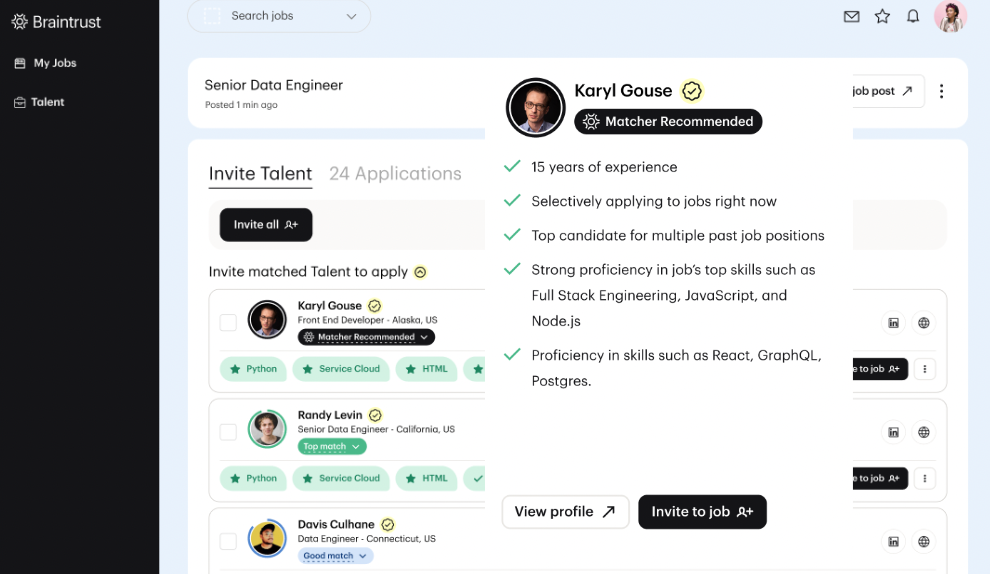 What else are we doing at Braintrust to make hiring using the platform faster and more frictionless? The answer is a TON. Improvements to the dashboard to make it easier to navigate, simplification of the invoicing process to ensure comprehensive visibility into the talent working on your projects, ATS integrations to remove the manual, duplicative work of posting to multiple sites, and job description templates and interview questions based on thousands of successful jobs posted and completed using the platform.
Remote work
One of the persistent sources of consternation among customers and talent is the in office vs. remote work divide. Grady shared that among customers, he sees an impulse to return to in office requirements, but he is urging people to keep the parameters open to secure the best talent. "Every restriction you add to your role drops our fill rates on average by about 10 to 20%. When you're open to global remote talent versus in office in a single city, we're seeing our fill rates of over 60%."

A customer who joined the call echoed this perspective saying, "It's really hard to compete with a strict kind of office directive." For those customers set on some location requirements, we've added filters, verifications, and restrictions to ensure only qualified talent applies.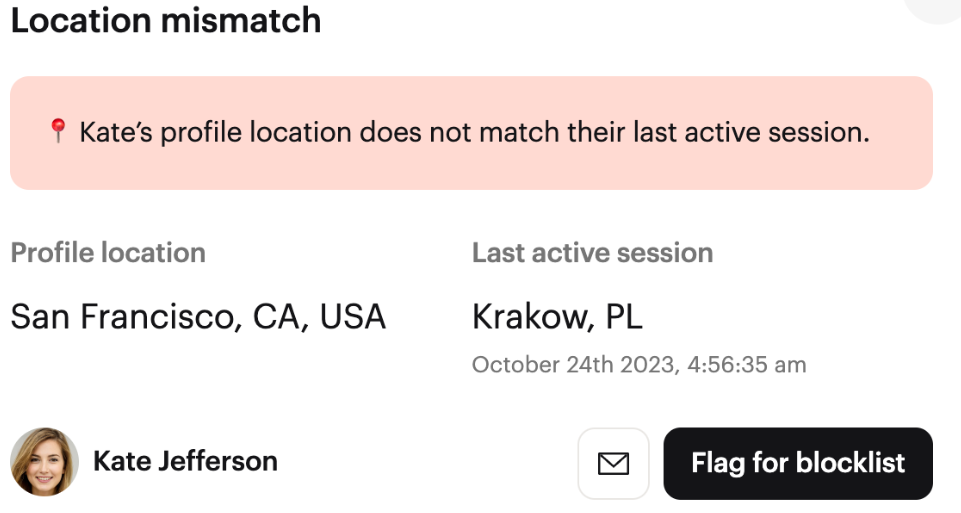 49% of Braintrust talent resides in North America (US + Canada). The other 51% hail from over 156 countries around the world, with the biggest pockets in Europe, Eastern Europe, and India. Latin America has the added benefit of time zone coverage.
"Remote is table stakes now for a lot of tech talent," said Adam, "and the best talent are not ready to go back into an office full time in a very specific location, or move anywhere for that matter."
Fortunately, many Braintrust customers agree that hiring globally is the way to go. In fact, today 90% of jobs posted on Braintrust are fully remote. This is the opposite of the nationwide trend to pull people back to the office. But, it's not without challenges which is why recently Braintrust has invested in international compliance capabilities, where we can now do contract or EOR in 140+ countries.
Braintrust: the unfair competitive advantage
A long-time Braintrust customer, Carole Pirozzi, Head of Consumer Engagement Programs at Guardian Life, joined to offer insight into the challenges she faces in her role, trying to move Guardian from being a traditional insurer to a trusted advisor and a champion of wellbeing, and how Braintrust has been able to help.

"Internally, it's all about costs and expenses, and making sure that we have the right people to be able to deliver on big challenges."
Carole's team operates as a startup within a bigger company, doubling down on an investment in a digital to consumer business channel, with two mandates: grow the business and take the learnings and operationalize them to the rest of the company.
"It gives us the freedom and the flexibility, along with the extreme accountability, to deliver," said Carole. Carole and her team developed a three-pronged talent model, including full-time staff, freelance, and agencies. When looking for freelance talent, Carole said they tried many different platforms and networks however, "the talent Braintrust has brought us has been a real win… often above what we get from other networks."
"I really believe the reason is because of your user-owned model. The whole way you operate drives quality talent, flexibility, transparency, and cost efficiency. That same freelancer might be on multiple networks, but they are better for being part of Braintrust," said Carole.
This is a sentiment we hear from Braintrust customers often; that our talent is higher quality, higher skilled, more committed to the work, and overall a better culture fit than contractors from other companies.
We share this belief, and in addition to being user-owned, we're committed to reinvesting in our talent, Our top priority. We're also investing in The Professional Network, which builds on our mission to be a destination where talent can earn, learn & grow.
A better future of work, for everyone

We're in the midst of a dramatic shift in how the world works. Companies that proactively plan for these changes and embrace the opportunities and challenges it presents will be better off. And Braintrust is here to help. We are committed to building a better future of work for all people, and are grateful to have such incredible champions in our Talent & Clients around the globe.
To view the video from the Breakthrough event, click here.