One-third of the U.S. workforce is now freelance by choice. That means over 50 million Americans have already joined the Talent-Led Revolution, and the global ranks of freelancers continue to grow. Despite the trend, many organizations struggle to tap into this deep vein of highly skilled workers.
The good news is, the key to reaping the rewards of talent on-demand starts with you. We know, no pressure. But don't worry, we're here to help.
Working with remote talent requires additional attention to detail at the outset; tightly scoping projects, identifying skill gaps on your existing team, and sourcing the people you need to fill those critical roles. But the payoff for doing this time-consuming and often tedious work is huge: a more adaptable, efficient, and innovative company.
We developed a three-step process that's easy to remember as the three P's -- Priorities, People, and Planning -- that'll show you how to thrive in this new world of work.
Priorities: What are my company's strategic priorities?
It may sound obvious, but this is the threshold question, and your answer here should frame the answers to every question that follows. Until you know where you're going, you can't know how to get there -- but plenty of companies start adding headcount before clarifying their goals.
Is growing your customer base the top priority? Product development? Reducing production costs? Beating a competitor to market? The same thoughtful consideration given to your business strategy should be given to forming the plan to meet those goals. Understanding your strategic priorities will tell you the technical skills you need to execute and the positions you need to fill -- staffing well is how you win.
Here's a checklist we created to help you prioritize effectively:
Pare down with the future in mind: You'll have to make hard decisions, but remember that if everything's labeled a priority, nothing actually is. Limit strategic priorities to the 3-5 that are the most important over the next 4 years or so -- this timeframe is a sweet spot because annual goals are too tactical and longer-term goals are too abstract. Tradeoffs must be made, so focus on the strategies that require a sustained effort for you to succeed in the future, not reinforce what you've done in the past.
Focus on how you win, predict how you might lose: Your strategic priorities should not only identify the elements that are most critical to your success but also account for the difficulties you'll face in execution and identify the most likely points of failure.
Unified leadership and actionable information: Your leadership team must be aligned on the strategic priorities to ensure that a single, unified understanding of them will cascade throughout the organization. And, the strategic priorities must be unambiguous so that people throughout the organization can understand and use the strategic priorities to make good decisions and take effective and appropriate action.
People: Where is my team effective and can our existing capabilities be augmented or improved with additional expertise?
After you've articulated your strategic priorities, it's time for an honest assessment of your staff. What skills does your team already possess that serve those priorities? What positions need filling to meet your long-term goals? Do you have leadership capable of executing the vision? Do you have skilled workers with potential, but need someone with the experience and know-how to get the best out of them? Will a few strategic additions suffice, or do you need an influx of talent to execute? Are the people you need available locally or should your talent search be global?
Consider whether your team can expand its skills in areas of need with the addition of a few key freelancers to lead, teach, and show them the way. Maybe your elite performers' impact can be amplified with the addition of collaborators from a different field. Adding freelancers with new experiences and insights to your team can be a boon for innovation.
The way to assess your company's current strengths and skill gaps is to create a competency map. To build your map, break down your strategic priorities into the tasks that must be completed to meet them, and list the job roles necessary to complete those tasks. Then define the essential approach, aptitude, skills, and knowledge needed for each job role in your company. From there, it's a matter of assessing the skills you already have, and identifying the ones you don't.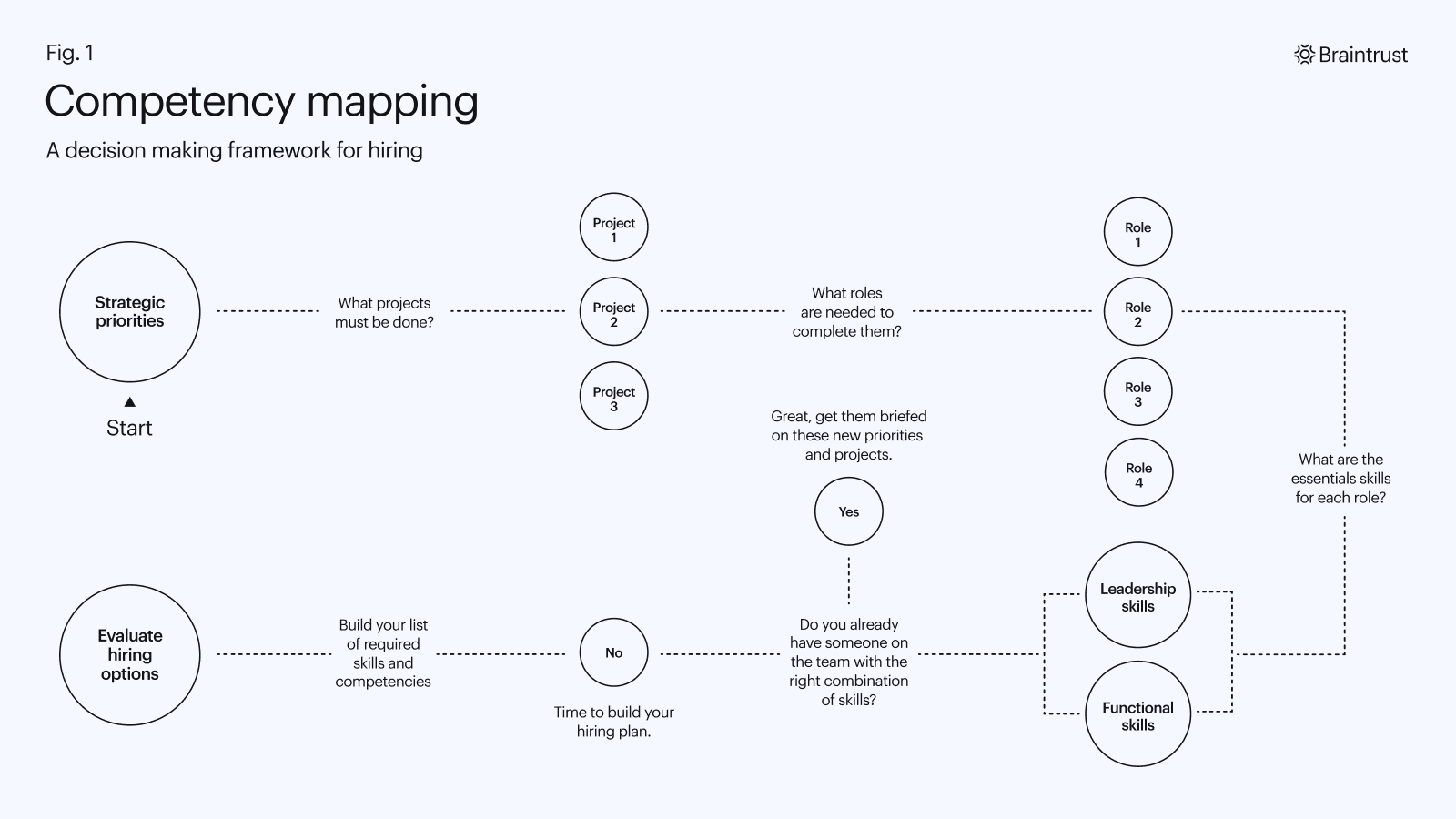 Taking inventory of your in-house capabilities and potential will show you what you need out of your talent pipeline moving forward. The realities of the labor market dictate that people with the most in-demand skills are growing increasingly difficult to find, but sourcing freelance talent is an efficient solution that allows for maximum flexibility as strategic priorities evolve over time.
Planning: What is your approach to acquiring the talent you need?
Hiring full-time employees, assuming people with the skills you need are even available to you, takes time and resources. Maintaining a full-time workforce is expensive, and it hinders your ability to scale up or down quickly to adapt to changing market conditions.
If you've figured out your strategic priorities, the jobs you need to do to execute, and the skill gaps in your organization, then filling those gaps becomes a recruiting problem.
Here's what you need to consider as you form up your approach to talent acquisition.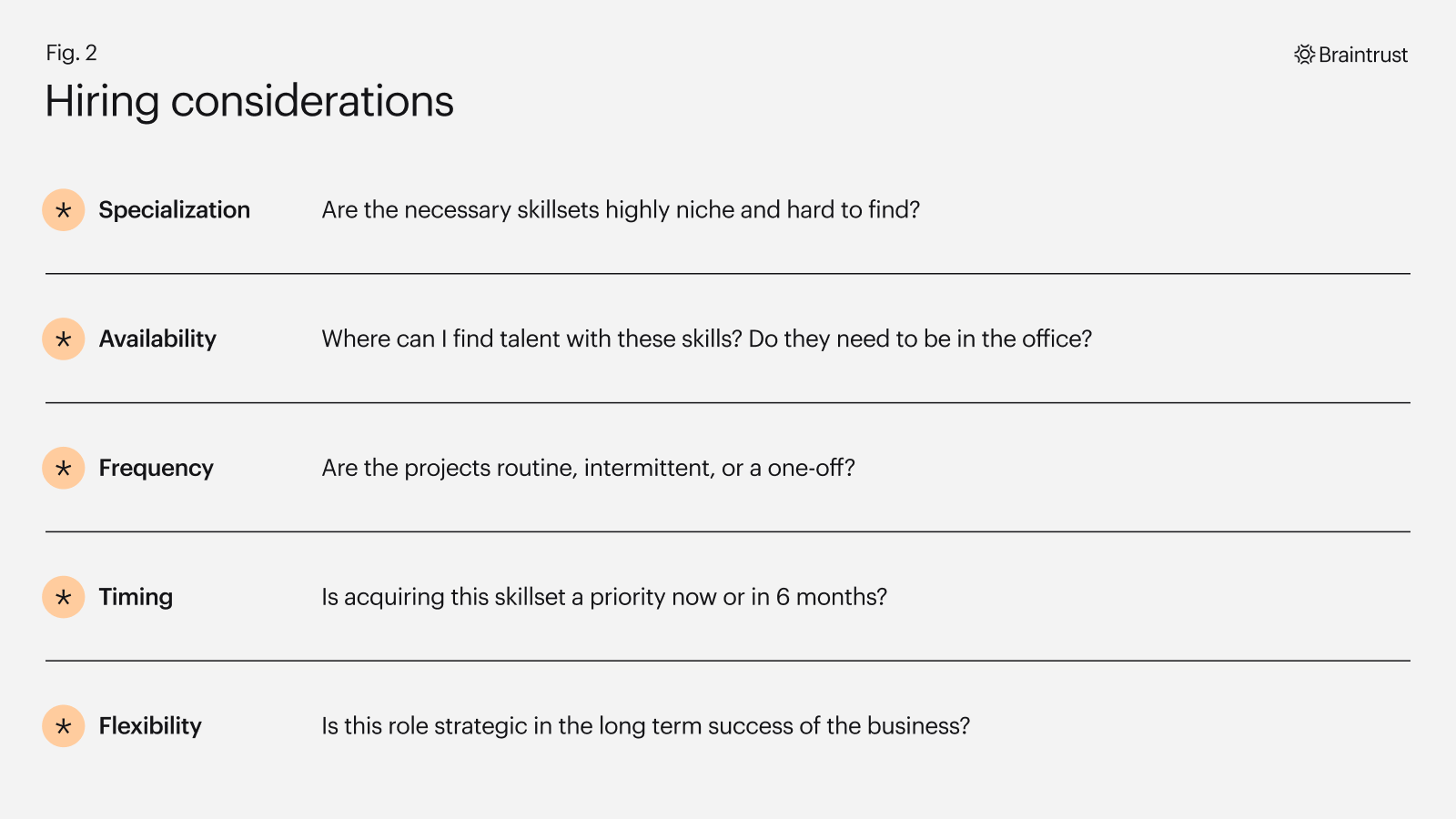 Answering these questions will force you to map your talent acquisition strategy to your financial, temporal, and geographic constraints so that you can be strategic with your hiring. Having identified the urgency, frequency and duration of your needs and considered your access to talent, you can move forward pursuing the right folks to fill each role at the right time.
From plan to action.
So now that you've identified the skills you need and the timeline for the roles you need to fill, how do you meet your immediate talent needs fast?
First, download the Distributed Innovation Playbook, which explains how to set up your organization to onboard talent fast and effectively so that when you hire them, they're up to speed in hours, not weeks.
Next, go get the talent you need:
Evaluate options to fill these roles: internal talent sourcing, traditional talent agencies and consultants, talent marketplaces
Lay out the timeline & budget for the project
Select your partner to build your dream team
Do your best work
---
Traditional agency models take months and cost a fortune. Braintrust will put 3 pre-qualified candidates in your inbox within 48 hours, and we just charge a flat 10% fee, only when the work is done, and done right.