Future of work research paper
The Talent-Led Revolution.
—Learn how leaders from NASA, Facebook, Accenture, Deloitte, SAP, Blue Cross & Blue Shield, IDEO, and more are planning for the future — and leveraging elite technical talent to accelerate innovation.
Yes! I want to
Download the paper now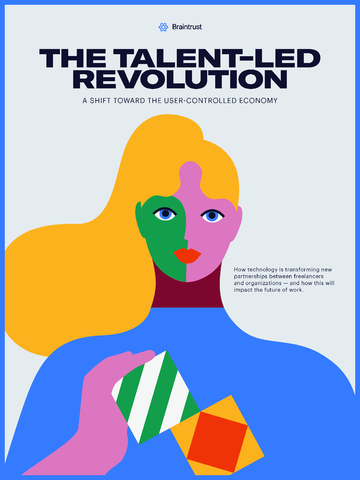 The Talent-Led Revolution is a free research guide for HR, IT, and Innovation Leaders to:
Discover why elite technical talent are leaving companies like Google, Facebook, Airbnb and Amazon to become professional freelancers.

Understand the emergence of a new user-owned economy powering the future of workforces around the world.

Learn how to take advantage of distributed work and turn it into disruptive potential.
Are you ready to join the talent revolution?
About Braintrust
The way work should work.
Braintrust's unique business model allows talent to retain 100% of their market rate, while enabling organizations to pull together flexible teams of highly-skilled technical and design talent, no matter where they're located. What's more, with Braintrust, organizations can make their budgets go 2-3 times further by cutting out unnecessary, expensive middle men. This new business model of minimizing fees and enabling users to own the network is uniquely enabled by a blockchain token.