It's no secret that COVID-19 forced enterprises and small businesses to put their digital transformations into overdrive. For some, this past year and a half accelerated their transformation by as much as six years.
But if businesses want to actually deliver on that transformation and not get left behind then they need to evolve–and fast.


To give you a better understanding of what's happening, Braintrust released The Knowledge Work Demand Index–a first-of-its-kind data report that analyzed more than 150,000 open knowledge worker roles and surveyed more than 800 skilled freelancers to find out where the jobs are, who's hiring, and what enterprises need to do to fill the talent gap.

First, here's what you need to know.


The demand for knowledge workers is surging.


The average enterprise today has a total of 66 job openings for knowledge workers. But that's just the average! 23% of enterprises have 200+ job openings and 6% have more than 1,000 open knowledge worker roles.


That's not just a talent gap. That's an unprecedented one.


Click here to take a look at the top 10 companies hiring the most knowledge workers across all industries including consumer, technology, healthcare, and others.
Before COVID-19, these kinds of numbers would have been central to markets like San Francisco and New York. But not anymore.


The up-and-coming city of Charlotte became one of the top markets for workers moving out of the Manhattan area during the pandemic. And in March 2020 alone, more than 4,300 people changed their address from San Francisco to cities like Austin and Nashville–more than double the previous March.


As a result, new metro areas are joining the list of the nation's top talent hubs.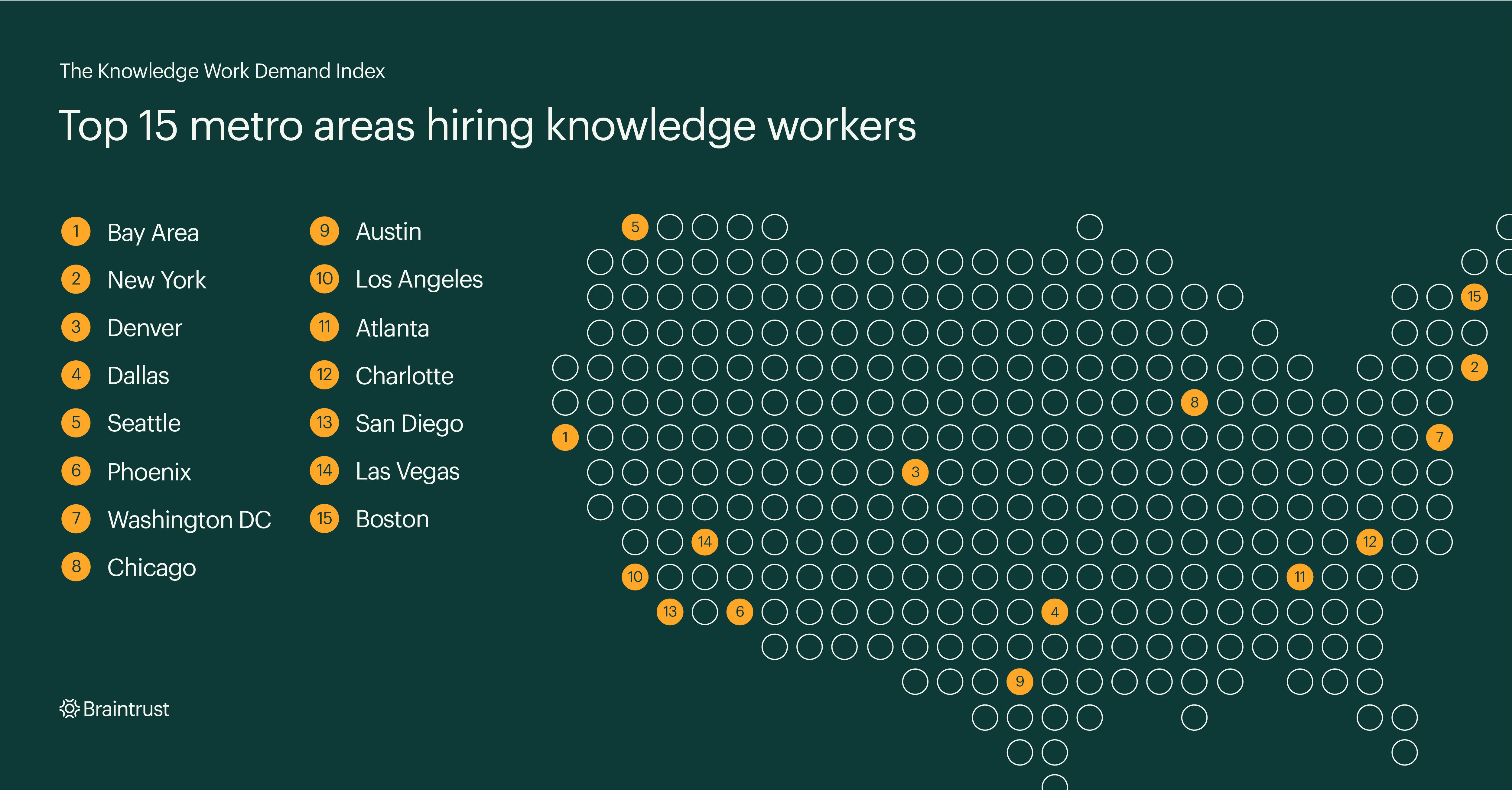 This is all great news for talent. And it could be great news for enterprises, too, but not if they don't evolve.


Half of today's open roles are taking a minimum of 30 days for enterprises to fill. That's the equivalent of three cumulative years spent recruiting talent!


For enterprises still trying to recover from the pandemic or fast-track their transformation, the check engine light is flashing.


So what does the surge in demand and slow hiring times actually mean for enterprises? And what do they need to do to evolve and close the talent gap?


Check out the index for all those insights–and more.