In today's digital age, our online experiences are increasingly defined by the content we consume. Whether it's social media, news websites, or professional networks, the order in which content is presented can significantly impact our user engagement and overall satisfaction. In this blog, we'll explore an intriguing experiment that harnessed the potential of feed ranking to revolutionize the way Braintrust users interacted with content on the Braintrust Professional Network.
The Premise: A Chronological Feed Limitation
Imagine scrolling through your favorite professional networking platform, trying to stay updated with the latest industry trends, connect with like-minded professionals, and learn from experts. However, there's a limitation – the feed is presented in chronological order, and everyone sees the same content, regardless of their interests, professions, or preferences. This can lead to a suboptimal user experience and reduced engagement.
The Problem/Idea
The problem was clear: the current feed presentation method wasn't effectively catering to the diverse needs and interests of users. The idea was equally clear: introduce feed ranking to ensure that users saw the most relevant and engaging content first. Feed ranking is a mechanism that personalizes the content displayed to each user based on their past behavior on the platform, their professions, and other factors. It's like having a tailor-made feed of content curated just for you.
But what benefits would this bring? Let's delve into the understanding and goals behind this experiment.
Alignment and Understanding
Feed ranking goes beyond mere content presentation; it's about optimizing the user experience on a professional networking platform. Here are the key goals:
Personalization: Users have different interests and preferences. Feed ranking tailors the content to each user, ensuring they see posts and discussions that align with their professional interests and interactions on the platform.

Surfacing Questions to Domain Experts: To foster knowledge sharing and professional growth, the platform optimized questions to domain experts. This ensures that talents receive timely and high-quality answers, enhancing their learning and networking experience.
Maximizing User Engagement: By showing users content that is relevant to their interests, they are more likely to stay on the platform and engage with other talents from the community. Engagement is a vital aspect of any online community's success.
Filtering Out Spam and Low-Quality Content: Feed ranking algorithms can identify and filter out spam and low-quality content. This ensures that users only see high-quality and relevant content on their feeds, maintaining the platform's credibility and user satisfaction.
Results Speak Volumes
The experiment yielded some fascinating results, with a primary metric that clearly demonstrated the efficacy of feed ranking:

Primary Metric: Control vs. Treatment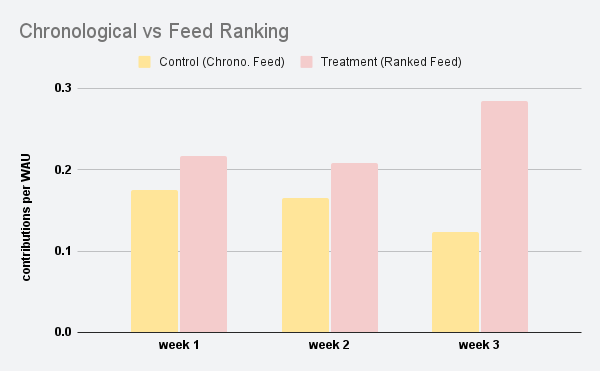 With a P-value of 0.006, the results are statistically significant. This data reinforces the effectiveness of feed ranking. Talents in the treatment group were not only more engaged but also more actively contributing to the platform. In contrast, the chronological feed witnessed a drop in contributions over the span of three weeks.
No Concerns with Secondary Metrics
While there was a noticeable decrease in overall engagement and scroll depth in the ranked feed, it's essential to highlight that users were dedicating more time to valuable activities such as posting, commenting, voting, and reacting. This suggests that users don't necessarily need to scroll further down the feed to actively contribute to the content and discussions. Thus, the secondary metrics did not raise any concerns.
Additional Notes
Feed ranking is not just about boosting numbers; it's about enhancing the quality of interactions and content on the platform. By prioritizing relevance, this experiment demonstrated that talents were more willing to participate actively in discussions, share their expertise, and connect with peers.
In conclusion, the introduction of feed ranking in professional networking platforms has the potential to transform the user experience. It's a testament to the power of personalization and relevance in keeping users engaged and satisfied. As the digital landscape continues to evolve, such experiments pave the way for more user-centric innovations that make online communities richer and more rewarding for everyone involved.